PGA Championship
Saturday's Birdies and Bogeys
Who were the winners and losers on Day 3 at Oak Hill? It's time to take a closer look with another edition of birdies and bogeys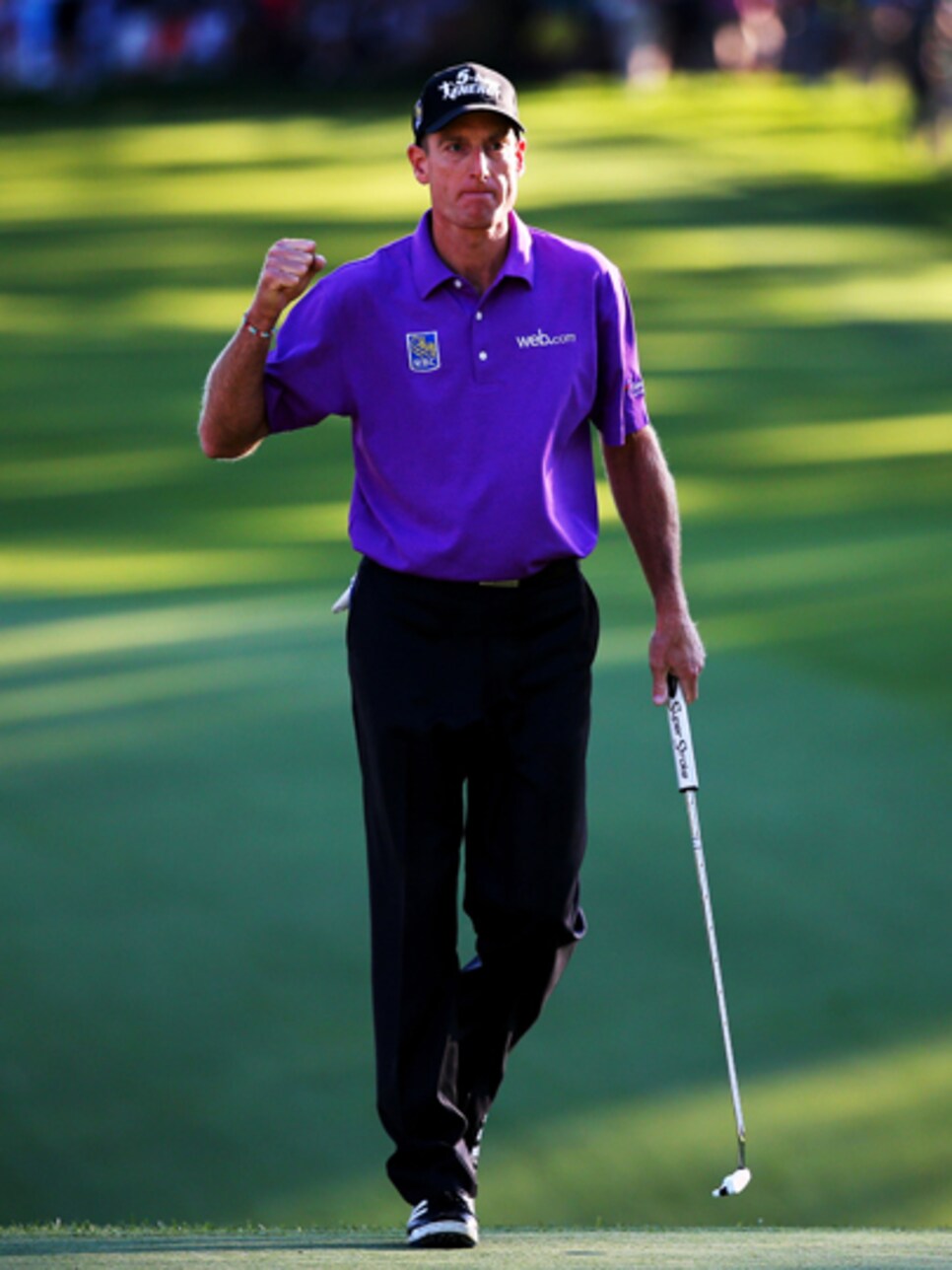 Birdie: Jim FurykThe way Jim Furyk sees it, his position is simple. "There's going to be a winning score tomorrow," he said. "Whatever that score is, I don't have to shoot as low as everyone else." So there. For the third time in his career, Furyk will take at least a share of the lead into the final round of a major, his third-round 68 giving him a one-shot cushion over Jason Dufner. The first time he had such a lead, Furyk claimed his lone major title at the 2003 U.S. Open. The second time was last year, when he shared the Open lead with Graeme McDowell, but ended up blowing it late and finishing two strokes back. This time? Who knows? But thanks to a rare birdie on the brutal par-4 17th and his 15-foot par putt on 18, Furyk is in a better position than anyone else.
Photo By: Getty Images
Bogey: Adam ScottNo player loomed larger on the leader board on Saturday than Scott, the Masters champion who found himself in contention on the weekend in a major for the third time this year. That's still the case, but Scott lost some important ground in the third round. After JUST missing a number of birdie putts in the middle of his round, Scott made double bogey on the par-4 16th when he pushed his tee shot right then caught a branch with his second shot. It was a sequence that typified Scott's difficulty all day in finding his groove. "I was just a little off," he said. "I didn't quite hit it straight down my lines as I would have liked. It's hard to do that four days in a row."
Photo By: Getty Images
Birdie: Henrik StensonThe Swede was a popular "dark horse" pick before the start of this tournament. One problem: He's not a dark horse. In the last month, Stenson has finished T-3 at the Scottish Open, solo second at the British Open and T-2 at the WGC-Bridgestone Invitational, where he played in the final group on Sunday with winner Tiger Woods. That stretch has Stenson, who shot a Saturday 69 to climb to third place, back to No. 11 in the Official World Golf Ranking, a ranking that could get a lot better if he posts a fourth straight round in the 60s at Oak Hill on Sunday.
Photo By: Getty Images
Bogey: Tiger WoodsMuch has been made of Woods never mounting a Sunday charge to win a major, but it's Saturday that has been his biggest obstacle. During his major drought, in particular over the past two years, Woods has consistently made big moves on moving day . . . in the wrong direction. While guys like Rory McIlroy, Dustin Johnson and Kevin Streelman took advantage of early third round conditions at Oak Hill to at least stay relevant, Woods played his way out with a 73 to fall to T-48. A week after entering the final round at Firestone with a seven-shot lead, Woods will start the final round 13 shots behind and will likely finish before the leaders even tee off.
Photo By: Getty Images
Birdie: Rory McIlroyFive over par at one point on Friday, the defending PGA champ was unlikely to even make the weekend. Now he has at least an outside shot of hoisting the Wanamaker Trophy a second straight year. After four birdies on his back nine in the second round, McIlroy closed with a flurry on Saturday, holing a 50-foot birdie putt on 17, then chipping in on 18 for a three-under 67. Six shots is a daunting gap to try to make up, but for a player who has been adrift for much of 2013, he's grateful for the chance. "It was good to feel that sort of rush again," McIlory said.
Photo By: Getty Images
Bogey: Phil MickelsonPerhaps it was too much to ask Mickelson to sustain the same level of play after his dramatic win last month in the British Open. But we didn't see THIS coming. After a birdie on the par-3 third on Saturday, MIckelson's week fell apart. He played the rest of the front nine in five over, and fared just as bad on the back, with his 78 matching his worst score in a PGA Championship. It isn't the way Mickelson hoped to end his major season, but it's still going to end a lot better than most.
Photo By: Getty Images
Birdie: Phil MickelsonWhen you plummet down the leader board in such dispiring fashion, you're not much in the mood for signing autographs. But even after such a frustrating day, Mickelson still took time to sign for fans outside the clubhouse. It's a small gesture, sure, but it helps explain why Mickelson has crowd support wherever he plays -- and why they still want his autograph even when he shoots 78.
Photo By: Getty Images
Bogey: Justin RoseA front-nine 29 on Friday (his second nine of the day) put the reigning U.S. Open champ in position for a second major title in 2013. "I just need to figure out the back nine," Rose, who shot a front-nine 32 on Thursday, commented after his round. Think again. This time, Rose went out in 42, including double bogeys on Nos. 3 and 5, to make him an afterthought heading into Sunday. The lesson of the story? Don't get too comfortable talking about a golf course until the week is over.
Photo By: Getty Images
Birdie: Oak HillIt was OK for a little while, seeing this venerable course submitting to birdies en masse the first two days. But it was also nice to see that Oak Hill wasn't quite the pushover Jason Dufner and others made it seem on Friday. With the help of sunshine and light breeze, the Donald Ross course was penal enough to give many of the world's best players fits. Although Oak Hill's third round scoring average of 72.17 was slightly lower than it was the first two days, that number was inflated somewhat by the presence of 20 club pros. With only touring pros in the field Saturday, there were still 36 scores of double bogey or worse.
Photo By: Getty Images
Birdie: Jonas BlixtYou'd be surprised at how short the list is of players that have won two PGA Tour events in the last calendar year. You'd probably also be surprised to know that Blixt is on it. A winner at the Frys.com Open last October and the Greenbrier Classic last month, the Swede shot a Saturday 66 to give himself an opportunity to win his first major. Playing in the second-to-last group in one of golf's biggest events might be his most daunting yet, but playing a comfortable pairing with countryman Henrik Stenson can't hurt.
Photo By: Getty Images
Bogey: Matt KucharA kick-in birdie on No. 1 to get within a shot of the lead appeared to be the start of a great day for a man looking for his first major. Instead, it wound up being the lone bright spot of a tough third round. Kuchar shot a 76 to fall to T-12 entering the Sunday. If he's to capture his first major, he'll have to make some PGA Championship history. No player has ever come from eight shots back on the final 18 holes to capture the Wanamaker Trophy.
Photo By: Getty Images
Birdie: Dustin JohnsonAfter an early-season victory in Hawaii, 2013, for the most part, has been a lost year for Johnson. But on Saturday, he flashed the talent that's made him a seven-time tour winner before age 30. An early 65 wound up being the low round of the day on a more difficult Oak Hill and moved Johnson 50 spots up the leader board. He'll still only have an outside shot of winning a first major, but prior to Saturday, he didn't even have that.
Photo By: Getty Images