The Players Championship
Golfers speak their minds about the famed 17th hole at TPC Sawgrass through the years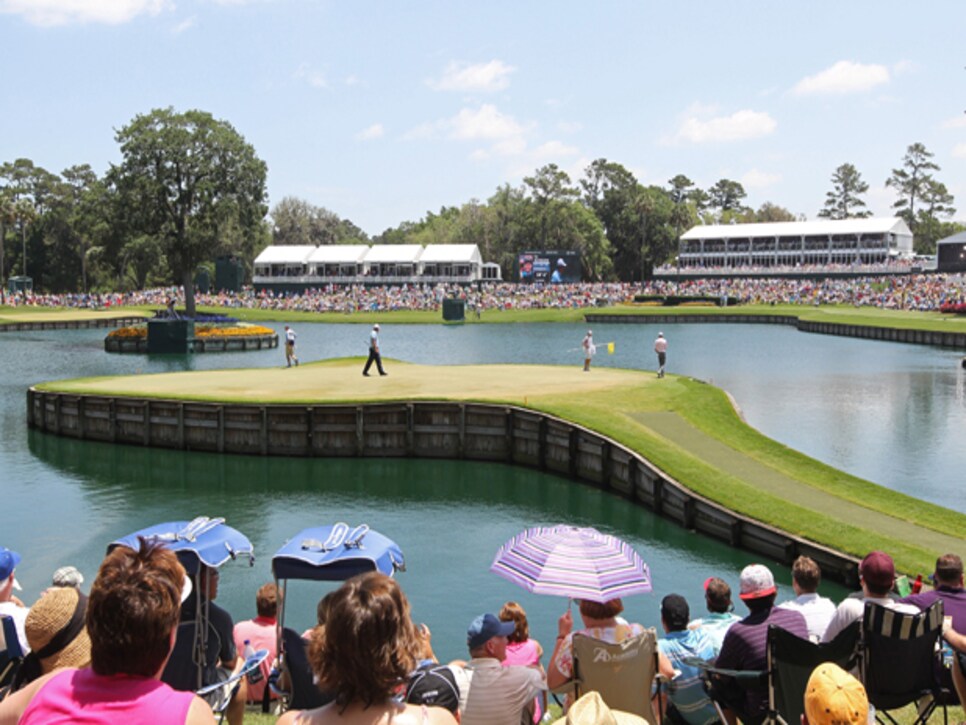 Johnny Miller, 1984
"Every course needs a hole that puckers your rear end."
Mark Calcavecchia, 2009
"It is like having a 3 o'clock appointment for a root canal. You're thinking about it all morning and you feel bad all day. You kind of know sooner or later you've got to get to it."
Tiger Woods, 2009
"I've always thought that that hole is too gimmicky for the 17th hole of a championship."
Phil Mickelson, 2007
"Most holes, most every golf hole in all of golf has one side that's a severe penalty and the other side that's open, that's playable. And this is one of the few holes that I can think of that has no bail-out, that has no margin of error, that has no area for recovery. It's an all-or-nothing type shot. Very few holes have that, are like that."
Jack Nicklaus, 2007
"You knew you were in trouble when you got on the tee. No matter what -- you knew sooner or later it was going to get you. And it was going to get you good, probably. When you're playing at noon on Sunday at the 17th hole, you knew you weren't much of a factor and you could care less if you hit it in the water. You didn't want to hit it in at 6:00 on Saturday or Sunday. It's probably -- I know it's exciting, adds a lot to the tournament, but maybe almost a little bit too much at times because it really becomes such a big factor in the golf tournament, where a guy has played great all week and all of a sudden he can make a 6 or 7 pretty quickly there, and all of a sudden he's gone from 1st to back into about 10th."
Paul Goydos, 2008
"You know, we had talked about 17 a lot in (the press room). You guys seem to be obsessed with the hole. But I kind of told myself before yesterday that I was going to think about Gilligan's Island and try to get on as a castaway. I was trying to calm myself down a little bit and make levity, I guess is the word we use." -- On playing the hole on which he would ultimately lose a playoff on to Sergio Garcia by finding the water
Vijay Singh, 2005
"I think it's a great hole. I mean, it's not a difficult hole if you go out there on Monday or Tuesday or Wednesday and just play it. You know, come tournament day, for some reason that green just shrinks. It only seems six foot square near the hole, and the rest of it feels like it's all water. ... I think it's just atmosphere and I think we just get nervous on the 17th hole, simple as that."
Adam Scott, 2005
"It's fantastic because you know all day, you know 17 is coming. You put it out of your mind all day, and when you get to the middle of the 16th fairway, it's sitting right there, you cannot look, you've got to have a look. And it's just it's a fabulous hole, it's just a wedge or a 9 iron but it creates havoc in everyone's mind. I think that's what makes the drama of this tournament and this course.
Dale Hayes, 1984
"The only way to improve it would be to put the green on a barge and have it float around the lagoon."
Jim Furyk, 2011
"I'm looking at the crowd, at all the people that came to watch the car wreck. I'm focused on the pin, where I want to land the ball, what number am I going to hit, and trying to take the periphery out of play and just hit a good, solid shot. But you can hear the buzz, and you know what they're looking for."
Sean O'Hair, 2007
"I thought it was good. I mean, like I said, I hit a perfect shot. Right when it came off the club, I'm posing, and when the crowd screamed, I thought it was going to be a cheer, and it was a groan. That's when I knew. I was a little bit shocked and deflated." -- After arriving to 17 just two strokes behind eventual champion Phil Mickelson and making a 7
Davis Love III, 2004
"If I were commissioner for a day, what would I do with it? ... That's a good question. Can it be a major championship with an island green? But then you go back and say would it have grown as fast if it didn't have that recognizable hole? And it's probably the one hole in golf that more people want to play to see if they can do it."
Ian Poulter, 2009
"Oh, that green was enormous. I've made birdie there all the time on the computer."
Len Mattiace, 1998
"When I hit it in the water, my heart came out of my body two or three times because it was disappointing. When you hit a good shot and you get penalized, you get a little shock that: Oh, my God, because you are thinking it is going to be good and now it is really bad." -- After making an 8 in the final round to lose to Justin Leonard by four shots
John Mahaffey, 1984
"The easiest par five on the course."