The Loop
There was golf -- and Hurricane Louise -- on the islands before the tour came
For decades off-season golfers have been so enticed by seeing professional golfers play in Hawaii in a variety of events, from tour stops to skins games, lured by pineapple-shaped tee markers, blue skies, ocean waters, beaches, palm trees, and shots of hula girls. But while PGA Tour records say it's been 50 years since the Hawaiian  Open has been on the tour schedule, professional golf was no stranger to the islands prior to 1965.
For the record, the first Hawaiian Open was played in 1965, won by Gay Brewer at Honolulu's Waialae Country Club, where the now-named Sony Open in Hawaii has always been played. And here's a tidbit: The Hawaiian tour stop wasn't in its present January configuration on the tour schedule at first. From 1965 to 1969, the tournament was played in November, except for late October in '66. But after the event took 1970 off, it went to February in 1971 and has been at the start of the year ever since.
The Hawaiian Open had been attracting pros well before that, however, and well before it became a state in 1959. Waialae hosted a tournament in 1928, attracting a group of well-known mainland pros returning from a tour of Australia. From then until 1965, a Hawaiian Open was held every year but five, spread over five venues, but mainly played at Waialae. During that time, mainland players such as Gene Sarazen, Craig Wood, Horton Smith, Harry Cooper, Tommy Armour, Olin Dutra, Ed Dudley, Billy Burke, Paul Runyan, Denny Shute, Jimmy Thomson, Ed Furgol, Leo Diegel, Cary Middlecoff, Lloyd Mangrum, Lawson Little, Bob Rosburg and Jerry Barber competed along with a host of local talent, led by Francis H. I'i Brown and Ted Makalena, who was the 1966 champion.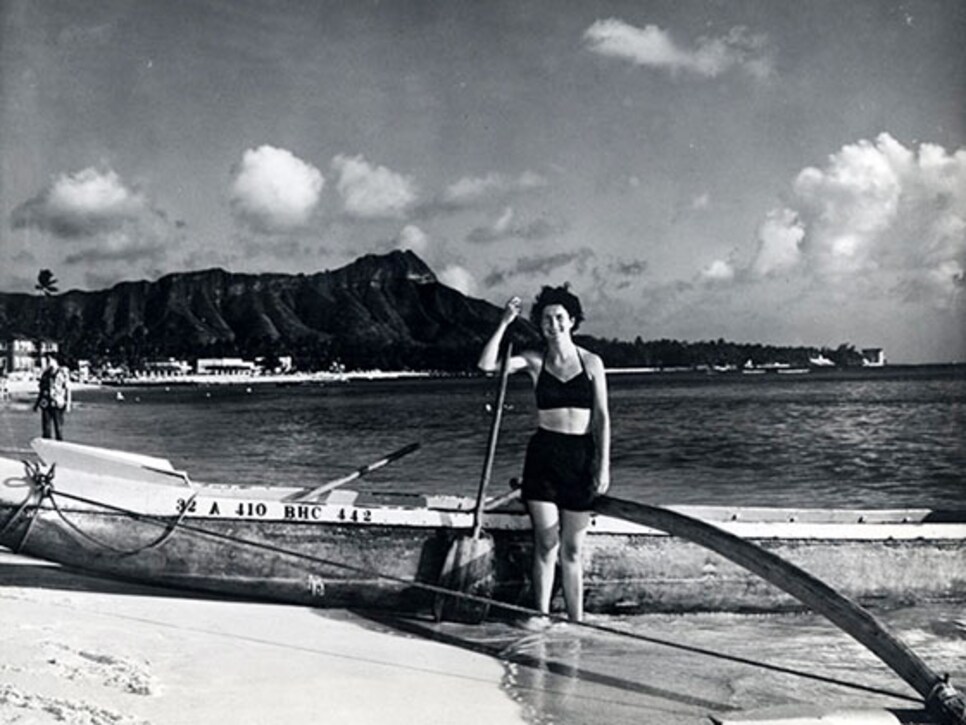 *Louise Suggs in Hawaii in 1952.*Photo from the Golf Digest Resource Center
Golf in Hawaii was promoted in many other ways, of course, over the years, with 1952 U.S. Women's Amateur winner Jackie Pung alone serving as an ambassador for the game. But one promotion especially ambitious travel-wise for the time was in 1952, when the PGA of Hawaii invited Louise Suggs, that year's National Open winner, to spend three weeks on the islands starting Oct. 22. Representing MacGregor equipment company, she played several exhibitions at a number of courses, including a team match against Pung, and gave a few clinics, all in her inimitable firecracker style and flair. A Honolulu sportswriter, Red McQueen, wrote approvingly, "Miss Suggs, a trim number with a fetching smile and cracker drawl, is a stylist in every sense of the word. She is as fast a player as ever appeared here. She walks up to her ball, selects a club, fixes her little tootsies and without hesitation or hula, smacks the ball cleanly toward the pin."
With the PGA Tour once again in Honolulu this weekend, you're likely to see some of the men hesitate over the ball but let's hope, like Ms. Suggs, none of them hula.