Masters History
Masters: Most Important Clubs
These are the golf clubs that have helped seal 13 significant Masters wins.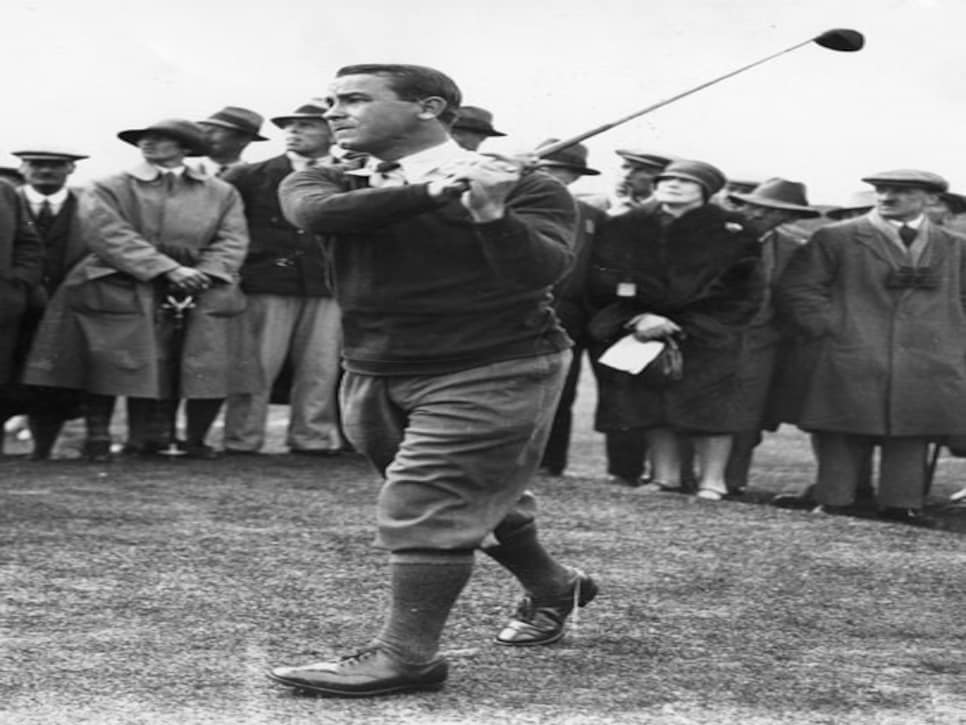 Gene Sarazen's 4-wood, 1935
Three strokes behind Craig Wood in the final round, Sarazen was considering club selection in the 15th fairway when Walter Hagen's booming voice pierced the air: "Hurry up, will ya?" called his playing companion. "I've got a date tonight." Sarazen went against his caddie's suggestion to hit a 3-wood, opting for his Jim Gallagher model persimmon 4-wood instead, and sped things up dramatically by holing the shot for a tying double-eagle 2. He won a 36-hole playoff the next day.
Art Wall's putter, 1959
Tied for 13th entering fourth-round play, Wall used a new fiber-glass shafted, mallet-headed putter (with which he had won the week before), to erase a six-stroke deficit and win by one over Cary Middlecoff. Wall, who had three dots on the head of the putter to remind him not to three-putt, birdied five of the last six holes (including a 12-footer at the last) with the club for a final-round 66 to defeat defending champion Arnold Palmer by two shots. "I knew I needed that putt [on 18]," Wall said. "And when it was a foot from the hole, I knew it was in."
Ray Floyd's 5-wood, 1976
In winning the 1976 Masters in runaway fashion, Floyd set champion scoring records for 18, 36 and 54 holes and tied Jack Nicklaus' Masters record 271 total from 1965. Key to the eight-stroke romp was Floyd's playing Augusta National's par 5s in 14 under par (also a record for champions). Floyd used a 19-degree custom persimmon 5-wood for his second shot on many of the three-shotters despite never having used the club in competition before.
Jack Nicklaus' putter, 1986
The putter Nicklaus wielded during his epic final-round 65 to win his historic 18th career major was the mammoth MacGregor Response ZT 615. Nicklaus was intrigued by Tom Watson's Ping Pal putter and asked designer Clay Long to come up with something similar. Long's first effort -- a large putter with an overhang -- was rejected by the USGA, but after eliminating the overhang it was approved. It also gave the putter an extremely large moment of inertia, leading to the ZT -- "Zero Twisting" -- in the putter's name.
Larry Mize's wedge, 1987
Mize's jump for joy after holing a miraculous 100-foot chip at the 11th green to defeat Greg Norman in a playoff is an image forever frozen in Masters history. The club Mize used for the shot was a MacGregor Jack Nicklaus Muirfield 56-degree wedge that Mize had put in the bag just before the tournament. "You have big dreams as a child and mine came true today," said Mize, an Augusta, Ga., native, of his improbable victory.
Sandy Lyle's 7-iron, 1988
Level with Mark Calcavecchia and facing a 150-yard shot from the back fairway bunker on 18, Lyle hit a Mizuno 7-iron (the same club he used in making birdies at Nos. 9 and 16) and put the ball 10 feet above the hole. When the putt dropped moments later, the Scot -- with his lucky 7-iron -- had won the Masters in (what else?) his seventh try. "I personally thought it was over," Lyle said. "I didn't think I had a chance of getting it out of that bunker and to the green."
Nick Faldo's putter, 1989
Faldo finished a disappointing third-round 77 on Sunday morning then grabbed a different putter -- a TaylorMade TPA VIII model -- and headed for the practice green. Rarely has an equipment switch proved so fruitful. Faldo carded eight birdies during a final-round 65 before sinking a 25-footer on the second playoff hole for the win. The clincher was the seventh putt of 10 feet or longer that Faldo made over the 20 holes of the final round and overtime.
Mark O'Meara's putter, 1998
"This is what it's all about," O'Meara said to himself as he looked over the 20 feet that stood between him and his first major title. "I've got it in my own hands and I can finish it off." Also in his hands was a Ping Anser2 putter. Moments later, O'Meara sank the birdie putt (for a birdie-birdie finish), allowing him to slip on the green jacket. O'Meara's work with the Anser2 wasn't confined to the final hole. For the week he had a tournament-low 105 putts and didn't record a single three-putt.
Tiger Woods' wedge, 2005
In Sunday's final round, Woods hit his 8-iron tee shot over the green on Augusta National's par-3 16th. Clinging to a one-shot lead over Chris DiMarco (who hit his tee shot to 14 feet on the hole), Woods sized up his shot from the tightly mown area, picked out a spot 20 feet left of the pin and pulled his Nike TW Forged 60-degree wedge from the bag. Woods nipped the ball and watched as it hit the green, checked and trickled toward the only to see it stop on the edge of the lip -- Nike Swoosh in full view -- before tumbling into the hole. Woods went on to win in a playoff over DiMarco.
Phil Mickelson's 6-iron, 2010
There's a reason one of Mickelson's nicknames is "Phil the Thrill" and his 207-yard 6-iron shot from the pine straw that just cleared Rae's Creek and settled four feet from the hole on Augusta National's par-5 13th in the final round is a shining example. Lefty used a Callaway MB prototype blade iron for the shot -- a model he had put in the bag earlier that season.
Bubba Watson's wedge, 2012
On the second hole of a playoff against Louis Oosthuizen, Watson hit his tee shot into the pine straw right of Augusta National's 10th fairway. Faced with a 134 yards to the front of the green and 153 to get it all the way to the back-right hole location (provided the lefty could hook the daylights out of the shot), Watson took his 52-degree Ping Tour W gap wedge and hit one of the most memorable shots in Masters history -- a sweeping hook of some 40 yards that miraculously landed on the green and trickled to within 12 feet of the hole. After Oosthuizen failed to make par, Watson two-putted for the win.
Adam Scott's putter, 2013
When you make a 25-foot birdie putt on the 72nd hole -- that turns out to be the one you need to get into a playoff -- and then hole a 12-footer for birdie to win your first major title, there's little doubt what club was the game changer. For Scott, it was his Scotty Cameron by Titleist Futura X long putter, the first broomstick to win one of the four men's majors. The clubhead of Scott's Futura X was made from aluminum and had 3 degrees of loft with a length of 49 inches.
Bubba Watson's driver, 2014
Holding a two-shot lead on Jordan Spieth playing the par-5 13th Sunday, Watson unleashed one of the more impressive tee shots in Masters history -- a 360-yard bomb that skirted the trees, leaving a mere sand wedge from 140 yards. The ensuing birdie stretched his lead to three, the final winning margin. The driver Watson used was unique. In fact, it was two drivers in one. The pink-headed Ping G25 (8.5 degrees) featured the racing stripe on the crown found on Ping's i25, making Watson's one of a kind. The shaft is a True Temper Grafalloy BiMatrx, a model he has used since 2004 made of graphite with the bottom section made from steel.