Golf Style
The Top Ten Most Stylish Masters Champions
A ranking of the best dressed winners at Augusta National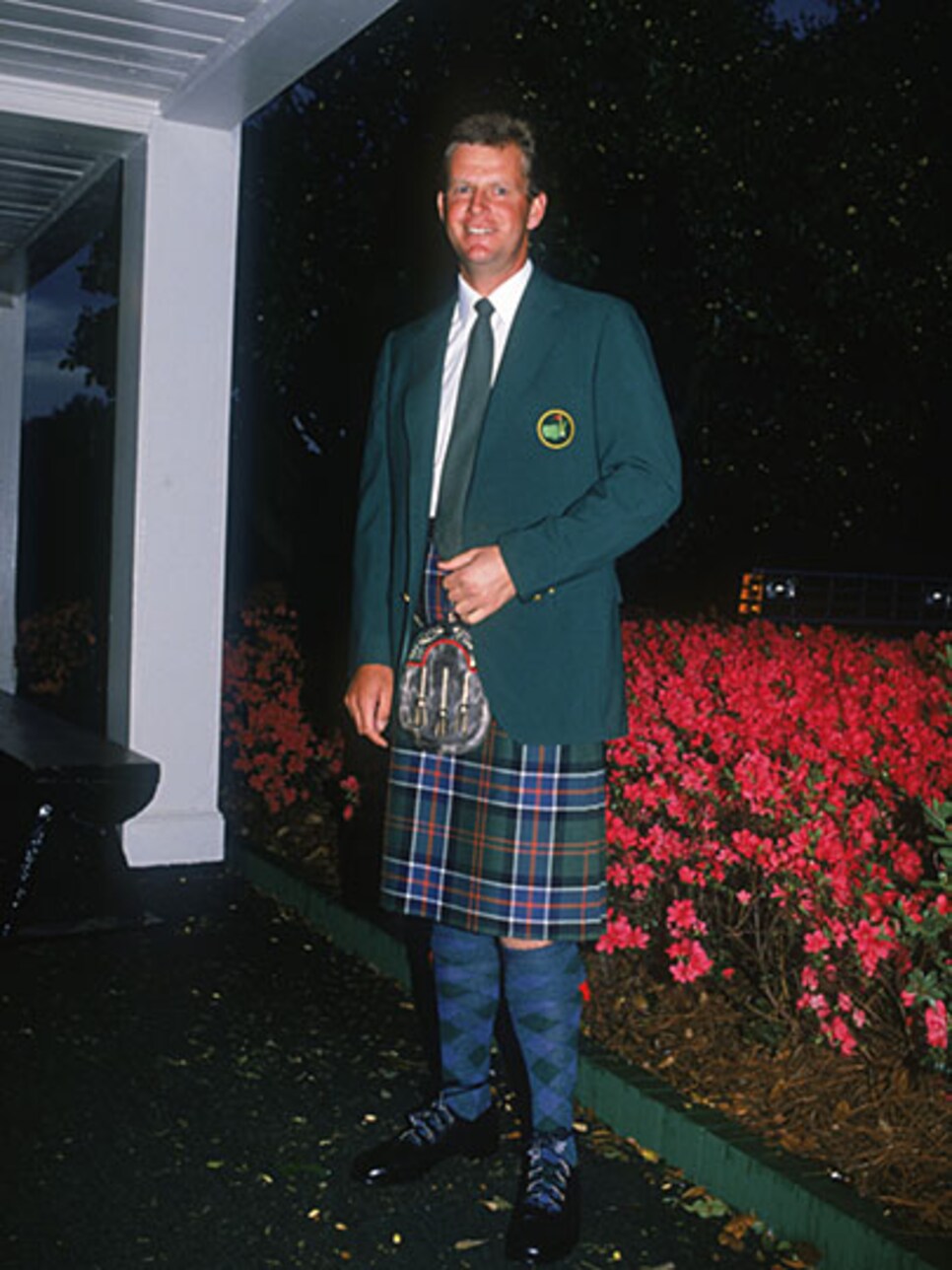 Photo By: David Cannon/Getty Images
Photo By: Andrew Redington/Getty Images
Photo By: Jamie Squire/Getty Images
Photo By: Augusta National/Getty Images
Photo By: Augusta National/Getty Images
Photo By: Augusta National/Getty Images
Photo By: Augusta National/Getty Images
Photo By: Augusta National/Getty Images
Photo By: Augusta National/Getty Images
Photo By: Augusta National/Getty Images
Sandy Lyle
When Lyle won the green jacket in 1988 he put haggis on the Champions Dinner menu and coordinated his new coat perfectly with his green tartan kilt. In a room full of green-jacket-clad champions, Lyle still managed to stylishly stand out with his own Scottish touch.
Photo By: David Cannon/Getty Images
Adam Scott
Scott, who signed as Uniqlo's first golf ambassador shortly before winning in 2013, balanced the best of golf's classic and contemporary worlds in simple styles with updated details like his contrast extended placket and button-down collar polos.
Photo By: Andrew Redington/Getty Images
Angel Cabrera
I'll never forget watching that 2013 playoff between Scott and Cabrera. Specifically, Cabrera playing his approach to the front of the 10th green and then Scott dropping his inside 15 feet to set up the winning putt. Cabrera, a ways ahead of Scott in the fairway, turned around, smiled and gave Scott the thumbs up. El Pato won his green jacket in 2009, and his fun-loving outlook on the game has never gone out of style.
Photo By: Jamie Squire/Getty Images
Byron Nelson
Lord Byron was a winner on and off the course -- and a stylish one at that. You'd be hard pressed to find anyone who looked more comfortable in a shirt and tie than Nelson.
Photo By: Augusta National/Getty Images
Ben Hogan
The Hawk was an icon of the mid-20th-century American aesthetic, and the cornerstones of his style are just as applicable today as they were in 1950. His sharp lines, smart fits and simple elegance defined the difference between style and fashion and created one of the game's most timeless images.
Photo By: Augusta National/Getty Images
Seve Ballesteros
The Spaniard looked more iconic in a Lacoste Polo than Rene Lacoste himself. Ballesteros was as creative with his clubs as anyone, but when it came to his style, he'll always be remembered as one of the simplest and most stylish to play the game.
Photo By: Augusta National/Getty Images
Sam Snead
The three-time Masters champ was golf's smooth-swinging one-man rat pack. The coolest cat to wear a cardigan, Snead would probably sit at the top of this list if it weren't for these three …
Photo By: Augusta National/Getty Images
Gary Player
The forefather of golf fitness, Player always knew how to fit his clothes to his frame. His sharp silhouette is still one of the Master's most recognizable images.
Photo By: Augusta National/Getty Images
Jack Nicklaus
Nicklaus hung six green jackets in his locker by the end of his career, winning the first three by the time he was 26. If he didn't look good in green, you wonder if Augusta National would have decided to change the color of their jackets.
Photo By: Augusta National/Getty Images
Arnold Palmer
Palmer was equally strong and silent as he was affable and emotive -- an unflappable competitor with a gracious and kind smile. His balance of boyish charm and rugged masculinity endeared him to men and women alike, and made him one of the most marketable men in sports. Palmer still embodies a sense of casual cool that is as easy to see as it is difficult to emulate.
Photo By: Augusta National/Getty Images