News
Trinity Forest Golf Club promises to be the PGA Tour's most intriguing venue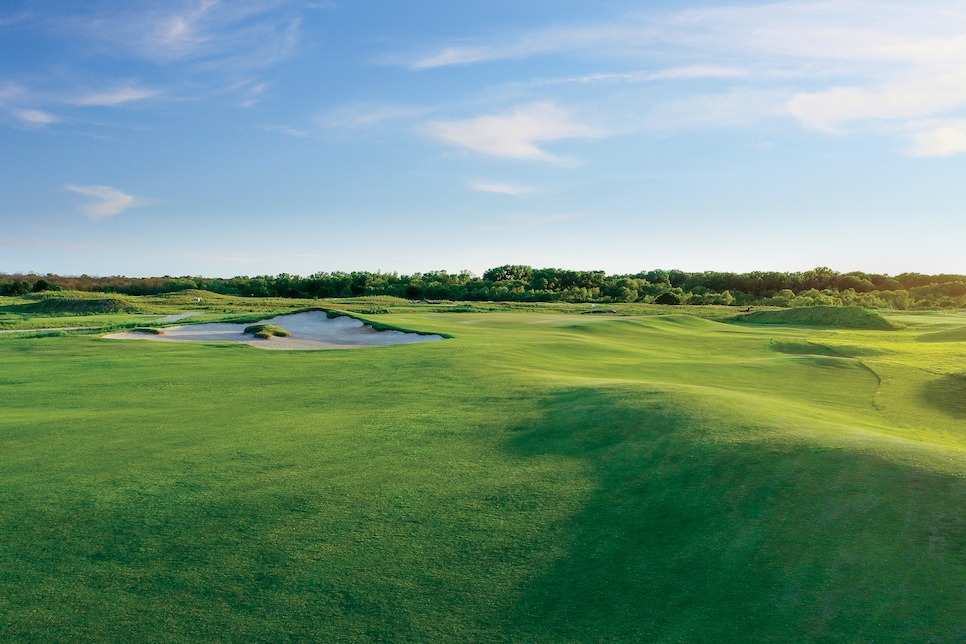 Editor's Note: This story first ran in May 2017.
The AT&T Byron Nelson isn't just changing courses, it's changing course.
As you may have heard, next year's Nelson will be played on Bill Coore/Ben Crenshaw-designed Trinity Forest Golf Club on a sand-capped landfill in rough and tumble South Dallas. The tournament, which has carried Mr. 11 Straight's name since 1968, is leaving TPC Las Colinas, a bastion of the shiny affluence that distinguishes the northern reaches of the Metroplex, for a less glamorous area that retains the look and feel of a pre-boomtown past. Most importantly, it's moving from the inherent artificiality of modern golf architecture to the elemental design values that harken back to the origins of the game.
In fact, Trinity Forest is night and day from any other venue on tour. A windswept, nearly treeless expanse of dunes, waving prairie grass, and fast, undulating turf, the new place has every attribute of a links except cawing sea birds and an ocean.
It's a big risk for everyone involved. You can almost hear the hushed clatter of dice hitting the side rails, including those thrown by the sponsor (AT&T), the developers (Jonas Woods and Thomas Dundon), the members, the city of Dallas and the Salesmanship Club, which runs the Nelson.
Uncertainty will prevail for the next year. Everyone may miss the cozy confines of the Four Seasons, an infrastructure that helped make the Nelson No. 1 on tour in charitable dollars raised and a perfectly adequate—if not revered—golf course. The only way this thing works is if Trinity Forest is a home run.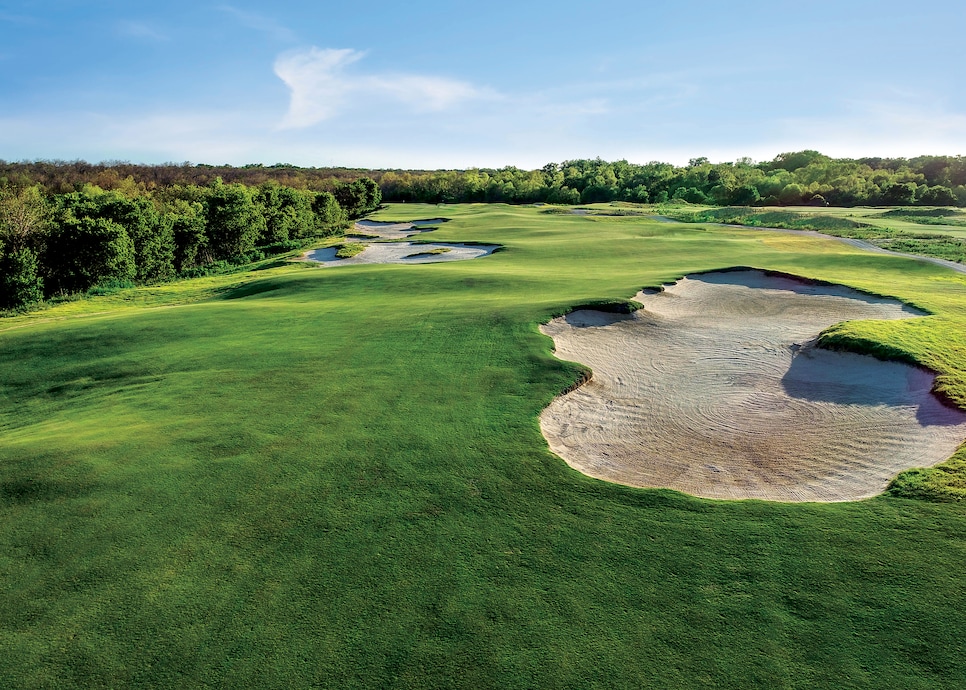 That next year's Nelson will cause a sensation is a given. There will be lavish praise, and there will be howling. Some players will love the cerebral, pinball-ish ground game at Trinity Forest, its ice-sculpture greens and the shabby chic of its out-of-play areas. Other expert practitioners used to hitting high shots to soft targets just aren't going to get it. Someone will four-putt or five-putt and pitch a fit. Some viral videos may result.
Although architect Crenshaw, a traditionalist in such matters, will concede only that Trinity Forest is "links-like," it's essentially a links. That could be a problem. Tour players don't do links or links-like (except for the one week in the U.K. in July) and they never have. Yes, Pinehurst hosted the North and South Open from 1902 to 1951, as well as U.S. Opens in 1999, 2005 and 2014, and some think of that North Carolina ground as linksy. But: pine trees.
The crux of the Trinity Forest matter is more than just Dallas's venerable PGA Tour event. The TF guys set the bar really high. Take the first sentence on its website. The club, it says, "was created explicitly to attract prestigious golf championships back to Dallas."
That means bringing a major, and hopefully more, back to Big D. Jordan Spieth's hometown hosted the U.S. Open once, in 1952, at Northwood Club. Julius Boros won. Dallas Athletic Club staged the PGA Championship once, in 1963. Jack Nicklaus won. And that's been it.
Is Trinity Forest worthy of another major? Or will it be?
Yes. Short of the British Open crossing the Prime Meridian, there's no other feasible site (sorry Sand Hills and Bandon Dunes) that could offer as good a linksy, adrenaline-fueled thrill ride for the U.S. Open or PGA Championship as Trinity Forest. And with the possibility in a few years that the PGA Championship will be moving from its traditional August date to May, Dallas' Sunbelt geography could make it a more attractive candidate in a month when Northeast sites tend to be too cold and soggy, and summer heat hasn't yet overtaken Texas.
Such positive forecasting might sound foolish, but at least I know the place pretty well. For reasons that include a sharp desire to get my ass out of the office, I have been a part-time caddie at Trinity Forest since it opened last October. I have been on the bag of touring pros and abject hackers and all varieties in between. I have tended the pin for a gentleman putting from 79 yards on the double green for holes 3 and 11; he got it within eight feet and bumped my fist. I have endured many what-the-hell looks after a putt that I predicted would go a little left went a little right. I have managed not to point out that the sun was in my eyes, that the ultra-dwarf Bermuda greens are extraordinarily good for a new course but they're not yet perfect, and that you, Mr. Golfer, are not exactly a surgeon with the putter.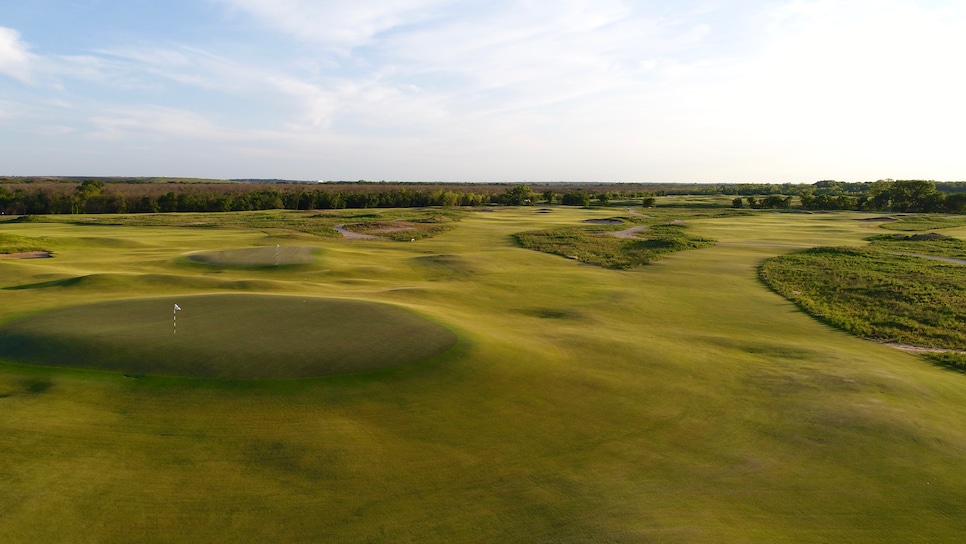 What I've learned from repeated exposure is that your usual game ain't gonna work. A hockey stick is literally more useful than a 60-degree wedge on these tight and dry zoysia fairways. Those who can't bring themselves to putt or bump from off the green will give away strokes.
The first green accepts like a catcher's mitt. The second green repels like the left field wall at Fenway. The fourth green is an infinity pool; you will very likely putt right off it. Ground zero for short-game tragedies is the adjacent fifth and the 15th greens, which are shaped like overturned cereal bowls. Five plays at around 340 yards and it's not tight and there's just the one bunker to miss but triple bogeys and Xs outnumber birdies there by a wide margin. At the grand opening, Crenshaw made a 20-footer—for 6.
"I love it," Ogilvy said. "Strategically, it's so interesting. It's got everything that's missing from modern architecture. There are ways to challenge golfers besides long rough and narrow fairways."
Also: Imagination and feel can be as important as yardage, particularly on a windy day, which is most of them. And something Crenshaw said should be printed on the scorecard: "The closer you flirt with trouble, the greater advantage you gain … [that's] the cardinal principle of strategic design."

On Wednesday, 2006 U.S. Open champion Geoff Ogilvy had his first look at the place since he tramped around the raw land on behalf of the design firm that he and Mike Clayton partner, which didn't get the job. I forecaddied and the lanky Aussie talked between shots. Weeds and wild flowers—rebranded "native areas"—swayed in the breeze. So did the leaves on the trees in the dense surrounding forest, which is the largest urban hardwood forest in the U.S. Only two buildings were visible all day: the clubhouse and the Bank of America tower 10 miles away in downtown Dallas, which is the aiming point for the tee ball on 15th.
"I love it," Ogilvy said. "Strategically, it's so interesting. It's got everything that's missing from modern architecture. There are ways to challenge golfers besides long rough and narrow fairways."
On Thursday, I spoke with two local, low-handicap amateurs who'd ridden the wild pony. "Hated it," said one. "Ben Crenshaw can't hit a green so he made it a contest of who can make 12-footers—and Jordan wins."
"It was incredible," said Mark Krasovec. "I've seldom stepped on a course and said, 'I wanna be a member,' but I did at Trinity Forest. Had a great caddie, too. Jesse. A fireman. Has about five kids."
None of this clears up the major question, of course. But on Monday the tour caddies will gather at Trinity Forest for their annual tournament. Those guys know golf courses. And they know majors. Let's see how they like the only links on the schedule.