Golfers Who Give Back
Game Changers: Amateur Golfers
Amateur golfers who care about more than their score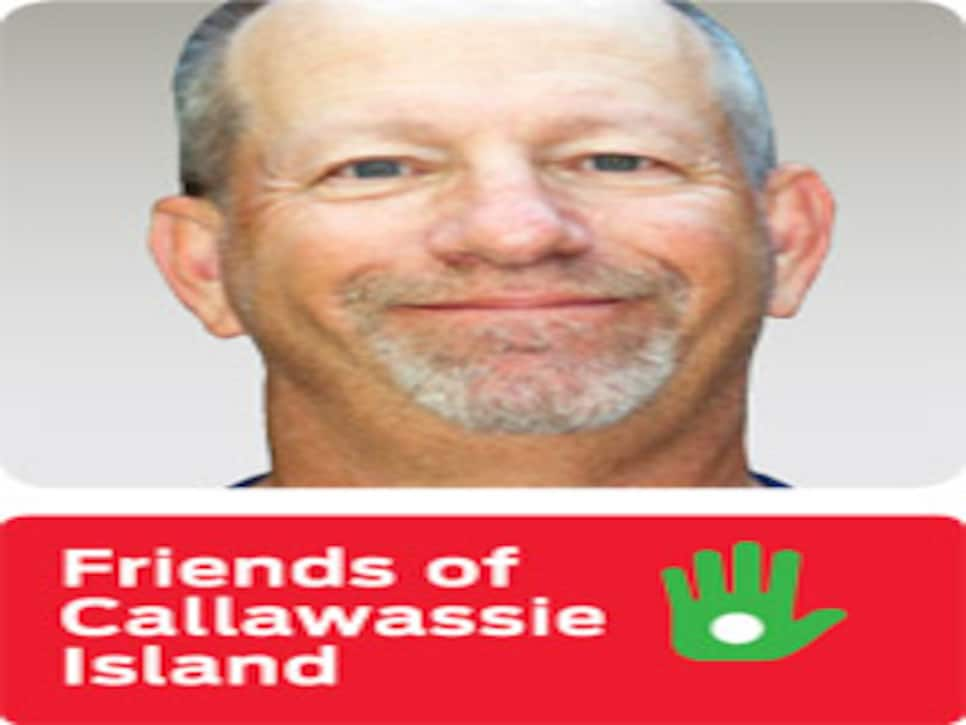 DAVID DENTONCallawassie Island, S.C.
A single-digit-handicapper, Denton, 61, played infrequently during his youth and career, but he's playing more since retiring. He thinks of Friends of Callawassie Island as "a mini United Way." The group, funded largely by the golf tournament he has run for the past five years, awards grants totaling about $35,000 a year to lowcountry nonprofits, including a food bank and literacy, job-training and child-care programs.
PAT FALLON Rutland, Mass.
When his cousin and best friend, minor-league baseball pitcher Greg Montalbano, died from testicular cancer in 2009, private-plane financier Fallon, with other relatives and friends, fulfilled Greg's dream for a charitable golf event. The One Ball Two Strikes Greg Montalbano Classic in Grafton, Mass., supports recreational programs and the Dana-Farber Cancer Institute's pediatric activities fund through the Jimmy Fund Clinic.
DIVYA MANTHENA Camarillo, Calif.
Manthena, 15, last fall won individual and MVP honors in her high school's league tourney for the second time, "but education always comes first," she says. She's intent on attending an Ivy League school and a career as a pediatrician. Her foundation and golf event have raised money for earthquake/tsunami victims in Japan and the St. Jude Children's Research Hospital. In 2013 proceeds will benefit Special Olympics of Ventura County.
PATTY WALL Riverhead, N.Y.
After her brother Bob Hathorn died in a 1990 auto accident, Wall, a former New Hampshire nurse, launched the Bob Fest Tournament at Vermont's Lake Morey Resort to fund high school scholarships for students in Belize—a place her brother loved. With brother Byron and sisters Bobbi Duval and Mary Shave, Wall, 61, enjoys hearing from beneficiaries of the more than $110,000 raised, much of which has been put into an endowment.
MIKE LUJAN San Antonio
A successful businessman who shoots "in the 80s," Lujan, 47, is pastor of San Antonio's Southwest Baptist Church. In addition to counseling those served by the faith-based Teen Challenge of Texas, he supports the program's golf event (one of three statewide) that helps underwrite residential addiction-recovery mentoring. Almost $13,000 was raised in 2012. "You never know a program's impact in your community until you get involved," says Lujan.
ALBERT AGUILAR Oklahoma City
In addition to being an officer for Oklahoma City's Young Professionals in Energy, Aguilar, 31, is an avid 15-handicapper and the 2013 golf chair of the YPE golf tournament, founded in 2011 to benefit city charities. In 2011, $10,000 in proceeds was raised for Youth Services of Oklahoma City, and last year more than 200 veterans received items from the VA Medical Center homeless-outreach team as a result of funds generated by the tournament.
SCOTT PUETTMANN St. Albans, Mo.
As president of Summit Transportation Services, Puettmann, 59, has committed his company to sponsoring the annual Chip in for Rainbow Village tournament. The event has raised $190,000 and is the second-biggest fundraiser for the nonprofit, which provides housing for almost 250 developmentally disabled people in St. Louis. "It's great to help people with challenges live on their own," he says.
TOMMY HORST Knoxville, Tenn.
Horst sees helping kids out of poverty as similar to guiding clients of his family's pension-administration firm: Both require years of planning. When the 14-handicapper thought about inviting clients to his home club, Fox Den, it occurred to him he could generate funds for KICKO, a program adopted by his firm. "I want to eventually raise half a million dollars," Horst says. Last year's inaugural scramble raised almost $7,000; he hopes to net $10,000 this year.
MARTY SWAB Menomonee Falls, Wis.
Swab, 10, showed his passion for fundraising at 7, when he asked for donations to The First Tee and the Muscular Dystrophy Association (in honor of a friend's dad) instead of gifts for his birthday. A year later, he organized a fundraiser to replace a stolen van used by The First Tee. In the past three years, the now fifth-grader has raised more than $4,000 by selling golf balls and raffle tickets, and securing sponsors for a 100-hole marathon.
NEIL BANERJEE Chapel Hill, N.C.
After his mother was diagnosed with colon cancer in 1997, Banerjee, now 56, responded by inviting 15 friends to play in what has now become the Polar Challenge to Conquer Cancer at Duke Golf Club in Durham. "I felt helpless and wanted to do something," he says. Although she wasn't a golfer, his mom—who died in 1999—was responsible for getting Banerjee into the game as a kid. The annual event she inspired has raised more than $330,000.
TAMERA BAXTER Riverside, Calif.
As president of the Western State Golf Association, an African-American membership organization, from 2008-'11, Baxter made a mark by growing brand initiatives and promoting opportunities for juniors and women. "Golf presents so many chances to network." The 13-handicapper also enjoys helping local nonprofits and her late husband's alma mater, Meharry Medical College.
DAN O'HALLORAN Brighton, Mich.
With a son who needed a new liver at age 5, O'Halloran, an NHL referee, and his wife, Michelle, started a tournament 10 years ago to raise money for a camp for pediatric-organ recipients at the University of Michigan's Transplant Center. O'Halloran, 49, is a five-time Stanley Cup finals and Olympic gold-medal-game official (and a 7-handicapper). They raise an average of $25,000—over a third of the camp's annual budget.
BRET HOWEY Nazareth, Pa.
Active through the American Junior Golf Association's Birdies for Charity program, Bret Howey, 17, raised nearly $600 through pledges last year and aims to solicit more sponsors in 2013. A junior at Nazareth (Pa.) High School, Howey is passionate about raising money for AJGA tournament scholarships and a local shelter, Pets in Need. (He has two dogs rescued from the shelter.) A 3.8-handicapper, Howey aspires to play college golf.
JOSEPH P. NOLAN Trumbull, Conn.
Army Sgt. Joseph M. Nolan died in action in 2004 at age 27 in Iraq. A year later, his father (pictured) and high-school friends started a tournament to fund scholarships in his memory. Nearly $100,000 has been directed to his alma mater, Saint Joseph's in Philadelphia, and other programs. Nolan cherishes the rounds he and his son played together, particularly one at Spyglass Hill. "You never know what will happen next," says Nolan's dad.
BERT VALENKAMPH DeMotte, Ind.
Three years ago, as his wife, Nancy, was battling endocrine carcinoma, Valenkamph promised her he'd continue fundraising efforts to combat this rare cancer. With a third sold-out event in 2013 at Sandy Pines Golf Club, he expects to top the $100,000 mark to honor his wife, who died in early 2010. Bert is touched by the "kindness and generosity" of his fellow golfers. "I feel I'm meeting my commitment," the 18-handicapper says.
SUSAN BITTNER Saratoga, Calif.
A graduate of the University of the Pacific's dental school, Bittner wanted to support its clinic established to help underprivileged families. Students and faculty members volunteer their services for families who can't afford dentists' fees. To fund the program, Bittner started a golf tournament 16 years ago, now played at the Olympic Club. "Kids don't always tell their parents they're in pain if they know they can't pay for a dentist," Bittner says.
MARTIN GOLDMAN Swampscott, Mass.
To mark the club's 75th anniversary in 1989, then-Kernwood Country Club president Martin Goldman, with member Richard Bane, decided a caddie-alumni tournament would be a fitting way to celebrate the milestone. The club has since raised more than $600,000 for college scholarships awarded to club staffers and their families. "We give to everyone who applies, usually at least $1,000," says Goldman, 86, who is still practicing law.
PASCAL IALENTI Montreal
Moved by the deaths of siblings Maxime and Annick Letendre to cancer, Ialenti started a golf tournament in 2012 to raise money for the families of cancer patients. Now Ialenti, the president of Venmar Ventilation, a maker of indoor ventilation systems, is battling leukemia himself. Nevertheless, the former 10-handicapper says he plans to participate in his tournament in September after raising $137,500 last year.
COLTON YATES Scottsdale
A rising senior at Notre Dame Preparatory High School, Yates has enlisted supporters to donate money for birdies and eagles he makes in tournament play. In the first year of his 501 (c)(3) organization, he has raised more than $5,000. The scratch player, with sights toward college golf and the tour, has directed that money to Companions for Heroes, which gives rescued pound dogs to returning soldiers and first responders suffering from PTSD.
LINDA BARRY SNYDER Columbus, Ohio
Snyder is prominent in local golf circles as an avid tournament player, rules official and past chairwoman of an American Cancer Society event. She determined at an early age that she wanted to donate time and money to the game she loves. A supporter of Evans Scholars, the Ohio State University women's golf team and the Scioto Foundation, the widow of two years says dear friends she has made through golf have been a big support network.
ANN LIGUORI Westhampton, N.Y.
The pioneering female sports broadcaster, known for her coverage of major golf and tennis tournaments, launched her foundation five years ago and started her charity golf classic after hosting an American Cancer Society event for a decade. Her foundation raises money for cancer prevention and research. Liguori is passionate about children's health, driving her to support nutrition assemblies for students and campers where she resides in Long Island.
CHASE SKRUBIS Granby, Conn.
Since 2010, Skrubis has been cleaning and donating used clubs to his fellow First Tee of Connecticut participants and other juniors. Skrubis, 13, uses his basement as his workshop. He has donated 67 sets to kids who can't afford their own. "One child I delivered clubs to didn't even have words for his happiness," Skrubis says. The 11-handicapper gets help from his dad, Steve. Hartford's Swing 'em Again Golf and Golf Pride donate clubs and grips.
JAY BACHER Toronto and Boynton Beach, Fla.
Bacher's determination to help children coping with terminal illnesses and the loss of family members resulted in the Dr. Jay Classic in 1996, which raised almost $50,000 in its first year. In 2002, Bacher sold his dentistry practice at age 58 to work full time for his foundation, which has raised close to $4 million to fund children's grief counseling and pediatric palliative-care programs, now flourishing in Toronto and Vancouver.
JUDY BERBERICH Trophy Club, Texas
After their newlywed son, Jeff, was killed in an automobile accident in 1994, Berberich and her husband, Chuck, honored Jeff's passion for working with kids by helping guardians' legal services in Bay County, Florida. About $650,000 has been raised to give children, from abusive and neglectful homes, a variety of items—in addition to legal advocacy. The couple has moved to Texas, hoping to secure a sponsor now for their golf tournament.
AL VAN DYKE Elkhorn, Wis.
Eighteen years ago, a fellow church member urged Van Dyke to play in a golf marathon for a charity that provides pregnancy counseling and adoption services. Van Dyke played 157 holes to lead the fundraising effort. And he was enthralled by it. An owner of an auto-repair shop, Van Dyke, now 71, has generated about $100,000 since then. "It's a win-win to help a good cause and have fun," says the 14-handicapper. "I just love to play."
CRAIG CHAMBERLIN Jacksonville, N.C.
For 19 years, Chamberlin has helped lead the Marine Federal Credit Union charity golf tournament, which has raised more than $1 million. As CEO of MFCU, Chamberlin has made it a company priority to raise funds for charity. In 2012, the North Carolina Credit Union League honored Chamberlin for his overall service to the state. The Hope for the Warriors organization and the Jacksonville (N.C.) USO were the primary beneficiaries of this year's event.
RYAN PICKETT San Diego and Green Bay, Wis.
Entering his 13th year in the NFL, the Green Bay Packers defensive lineman is a ruthless competitor, but the dad of six has a soft spot for children and the agencies that help them. His foundation held a tournament this year and donated $10,000 to two foster-care agencies. Pickett, 33, picked up golf four years ago after some embarrassing shots at a teammate's event. He still struggles off the tee—"spraying and slicing"—but regularly shoots in the 80s.
MARY ROBINSON Bellevue, Wash.
Losing their mothers to heart disease inspired Robinson and her friend Shelly French to start an event in 2007 to benefit this often-unrecognized disease. Their non-profit organization's annual event directs funds to the American Heart Association and Bellevue's Hope Heart Institute. With retirement and an upcoming move to Palm Springs, Calif., the former president of the Northwest Ladies Golf Association has plans to launch a second event.
TERRY RENNINGER Mountain Top, Pa.
After his daughter Rebecca was murdered in 2009, Renninger and his wife, Teresa, set out to increase awareness for domestic violence. He was inspired by a dream in which Rebecca urged him to act. The avid golfer, who also hosts a concert, helps organize an annual golf tournament and has raised more than $4,000 for the DVSC. He speaks frequently about domestic violence in hopes of sparing others the pain he knows too well.
LARRY LEVINE Rockville Centre, N.Y.
After the Friedberg Jewish Community Center opened a free camp for 96 pediatric cancer patients and siblings in 2006, Levine, a board member of the JCC, was asked to raise funds. "I told them I'd do a golf outing because I don't like going to dinner dances," he says. The Samuel Levine Memorial Golf Classic has raised more than $3.5 million since 2007 and allowed the JCC to add camps in Pearl River, N.Y., and Israel—serving more than 500 children.
REAR ADM. (RET.) EDWARD K. KRISTENSEN Washington, D.C.
A helicopter crash in Afghanistan in 2005 killed Kristensen's son, Erik, on a Navy SEAL recovery mission. Erik had wanted to start a scholarship fund, so Edward and his wife, Suzanne, started a golf tournament with the help of Erik's friends. The event has raised more than $300,000 since 2008 for students from military families at Erik's alma mater, Washington, D.C.'s Gonzaga College High.
CHARLSIE DOAN Dallas
Since she was 6, Doan has raised $154,000 for the Scottish Rite KidSwing Tournament, which benefits the hospital where she receives treatment. "They're like family," she says. She also secures corporate sponsorships. Now 12, Doan was born without her right hand and is an avid golfer. Charlsie enjoys teeing it up once a week with her father, Cameron, a head professional, and her brother, "just for fun," she says. Charlsie also plays basketball and the violin.