Branded Content
OnCore Golf Balls: A Game-Changer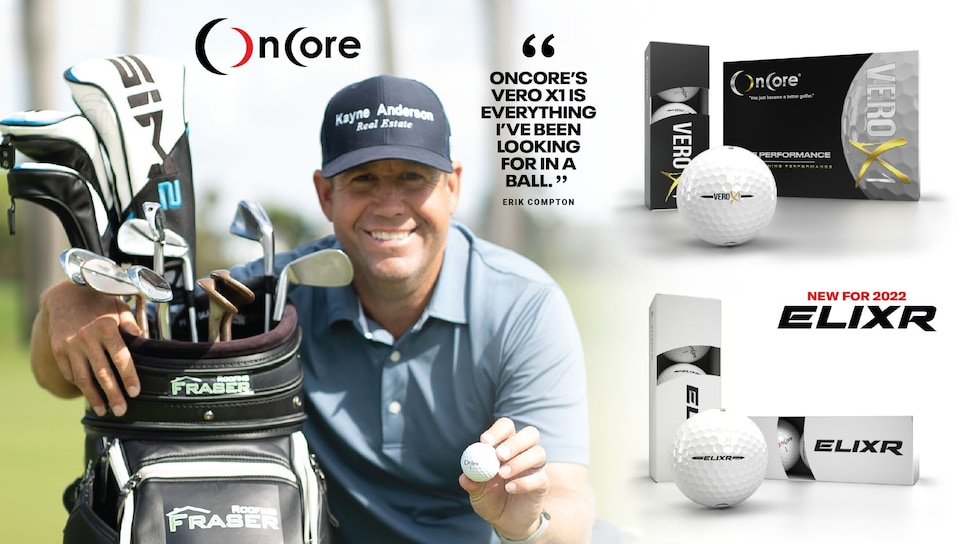 PGA and Korn Ferry Tour pro Erik Compton admits he's been on a 20-year search for the right golf ball for his game—and finally found it.
"OnCore's VERO X1 is everything I've been looking for in a ball," says Compton. "I was extremely surprised by it around the greens. The USGA minimizes what manufacturers can do with a golf ball's distance, so they all fly about the same yardage. That means your short game needs to be a differentiator, and mine has improved tremendously with this ball. It's soft around the green and reacts so differently inside 100 yards than any other ball I've ever played. And that's where my game is better now; I feel like I have an advantage over a lot of guys on Tour."
The key to the VERO X1 lies in its unique perimeter-weighted mantle layer. It pushes mass to the outside of the ball, creating a high moment of inertia that results in significantly straighter ball flight, sustainable spin and increased velocity off the clubface for added distance. But the four-piece ball also features a nano-engineered transition layer between the mantle and the thin cast urethane cover, further enhancing spin and control while softening impact feel. Bottom line: It delivers enhanced performance for every part of your game.
The brand-agnostic fitting service Golf EQ recently reported that VERO X1 performs better than two of the leading models in its category. In fact, the Buffalo, N.Y.-based OnCore offers several ball models, including the brand-new version of its popular three-piece ELIXR hitting the market this spring. This second-generation ball (the original won Golf Digest Gold Hot List Awards in 2019 and 2020) sports a polybutadiene core that delivers higher ball speed, while a slightly firmer cover and mid-compression gives you pure feel and greenside control.

Compton says other Tour pros often ask him about the VERO X1, and he encourages them to try it. It's no wonder that influencers, up-and-comers, and legends like Gary Player, Al Geiberger and Charles Schwab have already made the switch. Likewise, your game can also benefit from OnCore balls, regardless of your skill level. As a nice bonus, they're available at a fraction of the price of the top-selling models. Visit oncoregolf.com for further details on the balls and the brand's accessories, gloves, rangefinders, golf bags and more.