News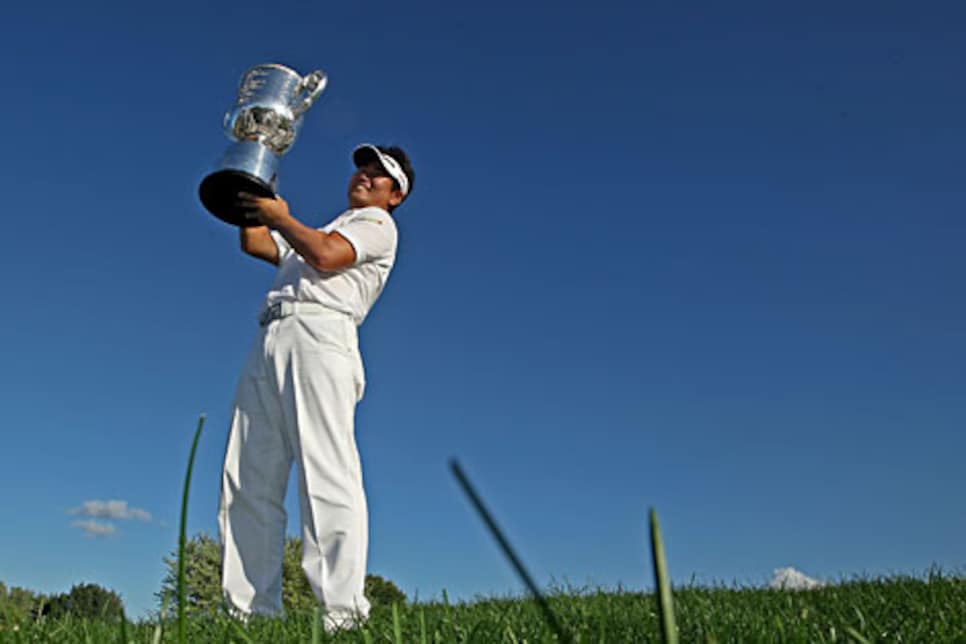 Y.E. Yang went from needing a six-foot putt to keep his tour card to PGA champion in less than a year.
CHASKA, Minn. -- There wasn't much of an after-party. It consisted of a dinner at the Hoban Korean restaurant near the Minneapolis-St. Paul Airport, where Y.E. Yang and his family dined all week, and then a gathering in the lobby of the Eden Prairie Courtyard Marriott late Sunday night. For the most part, the new PGA champion celebrated one of the greatest upsets in golf history with people who spoke his language. Almost all the faces in the crowd were Korean, one of the exceptions being an American caddie by the name of A.J. Montecinos, who as part of the cultural process admits to meeting Yang halfway. "I'm even starting to like Korean music," he said.
Dan Jenkins has already said that Yang will be the Jack Fleck of Tiger Woods' career, but Yang is much more than a club pro from Iowa. He already shanghaied Tiger in the HSBC late in 2006, while Woods was in the middle of winning everything, and this past spring at the Honda Classic, held on to win a tour event in Florida. True, Woods had 70 wins to Yang's one, but the depth of golf talent around the world is something Jack Nicklaus never confronted -- and neither did the almighty Ben Hogan.
I remember seeing Yang in the player hospitality area before this year's CA Championship, at a table with K.J. Choi and agent Michael Yim just a few days after his win at Honda. At the time, Yang's win over John Rollins on a leader board devoid of star power in Palm Beach Gardens didn't resonate. Choi was the man in Korea, only three years older, but the guy was still recognized as the trailblazer, the Se Ri Pak of his countrymen. Yang was the apprentice. Now he's the first Asian-born winner of a men's major.
Now it is Yang who is on the front pages of the Korean papers, and it was Yang on the phone with South Korean President Lee Myung-Bak in the locker room at Hazeltine Sunday night, wrapped in a towel after a post-round shower, hair still wet. It's amazing that Yang would want to wash any of that afterglow off, after striking a Shaun Micheel-like shot that Tiger could not answer.
The Choi and Yang stories are similar in a sense that both their parents are farmers from Jeju Island, both had the career interruption of mandatory military service -- although it was while in uniform that both were able to hone their games. They now live as neighbors in suburban Dallas, with Choi recently moving from his home in Houston. Whether on the road or now at home, the Koreans are like the Japanese players on tour in that they like to stick together.
The language barrier is part of it. Ken Kennerly noticed that after Yang won his tournament in March, but words aren't always necessary in communicating a feeling. Out on the road, promoting his event, Kennerly bumps into Yang and an interpreter is not needed. "I continually say, 'Ken Kennerly, Honda Classic,' and a big smile comes on his face,' Kennerly said.
The big smile on Yang's face as he lifted and shoulder pressed his golf bag for the grandstands around the 18th green at Hazeltine was another way of showing that words aren't always needed in getting the message across. He was the stronger of the two golfers in the final twosome that afternoon, and when Yang hit the historic 3-hybrid, it led Woods to missing his second straight green.
__ Yang's Cash-for-Clunker Program__
It was shocking to all but Yang, who went through the process with Montecinos as if it were he and K.J. in a Tuesday practice round. There was never a sign of worry on his face, never a change in his stride or rhythm. All those players who have melted in the final round over the years, and Yang treated the situation as if Tiger didn't exist.
"He's got a heart and he's not afraid to show it," Montecinos said.
The caddie's story is a good one as well. He grew up the son of a combination golfer and construction worker, moving from Chicago to Texas to California as Jimmy Montecinos, or "Jimmy The Greek" as he was known by the hustlers, tried to mount a career. A mixture of Italian and Spanish, his son A.J. was good enough to get a scholarship offer from Eddie Payton at Jackson State, the historically black college in Mississippi that dominates the National Minority Tournament.
Jimmy made it as high as the finals of Champions Tour Q School and drove his son across the country during a Christmas break to check out the school. "Eddie told me it was about 60/40," Montecinos said of the black-to-white percentage at the school. "But I got there and it was 99.8 percent black." Didn't matter, Montecinos fit right in and got his picture in Sports Illustrated's Faces In The Crowd when he won the individual title and Jackson State the team title in 1997.
Montecinos, 35, bounced around after college. He played the Montgomery Sports mini-tour; worked in the cart barn at the opening of Trump International in West Palm Beach; was a teaching pro in Detroit;, coached Jim Dent's son and the golf team at Talladega College; caddied for former Jackson State teammate Tim O'Neal for a two years; opened a clothing company based around a Christian logo that delivers the message "God is in Control"; and was existing on peanut butter sandwiches when Hoss Uresti, brother of Omar Uresti, called in late 2007 saying he needed to caddie for Yang during second stage qualifying at Oak Valley near his parent's home in Beaumont, Ca. They won medalist honors, but Yang went to Q School finals with another caddie, got his card, and finished 157th on the money list. Back at school last winter, Montecinos got the call again.
They came to the last hole 20 under, hit a ball in the water, took a drop, missed the green, and wedged on to six feet. Yang didn't know what the number was. Just before the putt, Yang turned to Montecinos and said, "18 OK?" Montecinos said, "No. Make." Yang made to finish right on the number at 19-under par. Otherwise, he's not at PGA National winning the Honda or at the PGA taking out Tiger. He is the last name in the PGA Tour media guide under "Other Prominent PGA Tour members."
This time, Montecinos stuck as Yang's caddie. The Buick Invitational was their first tournament. After the AT&T National Pro-Am, Montecinos drove Yang in his Mitsubisi Gallant with 160,000 miles on the odometer from Pebble Beach to LAX in Los Angeles. Along the way, Yang asked Montecinos how much he owed on the clunker and how much on his house. When Montecinos told him $10,000 and $150,000, respectively, Yang made like he was doing two air pushups. "OK, Yang make two million, we pay," Yang said. After winning the Honda he told Montecinos, "See, I told you."
The car was taken care of after the Honda and the mortgage was handled at the PGA. "I don't see much of a barrier; he understands more than he gets credit for," Montecinos said. "I call him Mr. Yang. He calls me Mr. Bean because he says I remind him of the English comic who doesn't speak."
Yang Over Woods: It's No Mirage
At the trophy presentation, Yang locked arms and toasted with his Korean wife who was raised in South America. Jessica and Y.E. wrapped their arms as if it were his wedding ceremony, calling it the happiest day of his life. When he first started playing golf, Yang told her to give him five years, and on the fifth year he won. His three young boys -- fluent in Korean, English and Spanish -- were there as well in one of those scenes that typify the changing face of golf. Their names are Hyeonwoo, Isu and Kuungmin and go by Tony, Kevin and Danny.
When I got back to the press tent after talking to Montecinos, there was a voice mail from one of my old bosses, a legend in sports journalism, who predicted that in 2016, there will be three Koreans on the medal platform. His point was that Yang's victory coupled with Thursday's announcement of golf's Olympic bid making the cut will lead to a perfect storm not only in South Korea, but that entire part of the world. "They're tougher," was the last part of the message.
With Woods around and wanting a gold medal, I'm not sure if that's going to happen. But I am sure that Yang isn't going to follow Micheel's injury-riddled footsteps and not win again. This could be more like Zach Johnson immediately validating his green jacket or Angel Cabrera coming back to win a Masters after a U.S. Open.
Yang will be on the Presidents Cup team, where he'll probably face Tiger again in some form, and their rivalry will build along with the lore. Whether this turns men's golf upside down the way Se Ri Pak's LPGA Championship and U.S. Women's Open victories in 1998 led to domination by the Korean women on the LPGA Tour is unlikely -- but so was Yang's victory over Woods.
It's like the caddie with the Bible in his bib said when asked the message behind that day's reading. He told the reporters gathered around him that without speaking or preaching, God is in control. "Ice Man (George) Gervin is a friend of mine in San Antonio," Montecinos said later, "and he used to tell me, 'Everything you see out there is a mirage.' "
Except this wasn't. Y.E. Yang beat Tiger Woods for the 91st PGA Championship.