Best of 2013
17 Awful (But Mostly Funny) Golf Fails from 2013
"If you want to increase your success rate, double your failure rate." -- Tom Watson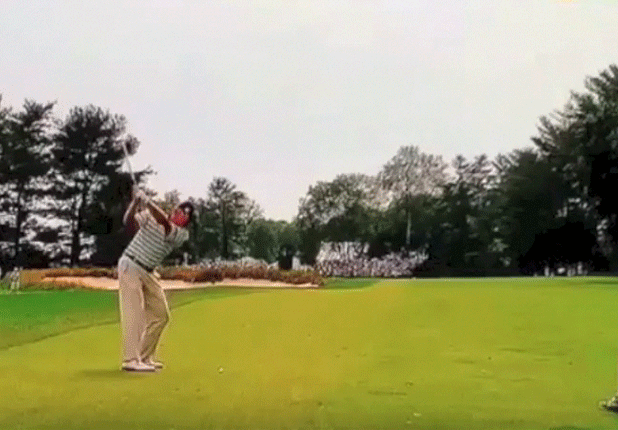 Don't see this kind of fail very often. On tour, that is.
Standing in the middle of the fairway on Merion's par-5 second, Steve Stricker essentially blew his chances of winning the 2013 U.S. Open when he shanked his second shot out-of-bounds en route to a triple-bogey 8.
Suddenly, the "Big Break" has a whole new meaning
Adjust your Dufs off camera next time
All this innocent fan wanted was a nice picture with Jason Dufner. Turns out she got a viral one instead.
Why didn't he just let the caddie mark the ball?
Fail Championship
He was trying to say "Deutsche Bank Championship," but what accidentally came out of this local news anchor's mouth was
"Douchbag Championship."
The rap video that never was
Special thanks to
AdamSarson.com
for these GIFs, and if you don't know what they're from, you're one of the lucky ones. They're taken from a hopelessly strange NBC-PGA Tour rap video about the FedEx Cup, which was promptly deleted from YouTube when people began watching (and making fun) of it.
Introducing your 2013 British Open Champion
Phil Mickelson was trying to retrieve his drive from the rocks on Saturday at the 2013 Pebble Beach Pro-Am when he slipped on the rocks. Poor lefty. Looks like it hurt.
Stick to golf, Rory
Rory McIlroy tried to play tennis earlier this year, and almost accidentally exploded his head instead.
Photo By: Getty Images
Wasn't expecting that. . .
A Really unlucky Fail
During the third round of the BMW Championship, Justin Rose was making a practice swing when his divot flew forward and moved his ball. Sorry, Justin, that's a one-stroke penalty.
We get it, they're highlights.
On Friday at the 2013 British Open, ESPN was obviously very excited about their new "highlights" tag, because they
WOULDN'T TAKE IT DOWN.
Was that a putter shank?
Shank might not be exactly the right word, but either way, Dufner was trying to make some kind of practice stroke when he sent the ball shooting in the wrong direction.
Style police, arrest that man
Tom Watson is a legend, no doubt about it, but this shirt selection at the British Open leaves a lot to be desired.
FAIL
It's safe to say that no matter how bad your night was, or who allegedly "rolled" who, comments like this are totally uncalled for.
At least he apologized.