Breaking 80: Mastering Impact
When you play with golfers who shoot under 80 regularly, the sound of their shots is a little different, isn't it? They compress the ball with a downward strike that is powerful and efficient. The sound of the ball jumping off the clubface and piercing the air gets your attention. Even their putting strokes look better, the contact sounds more solid, and the ball rolls smoothly instead of skidding. If you want to know how they do it, these drills are designed to help you sense what impact feels like to a 70s-shooter.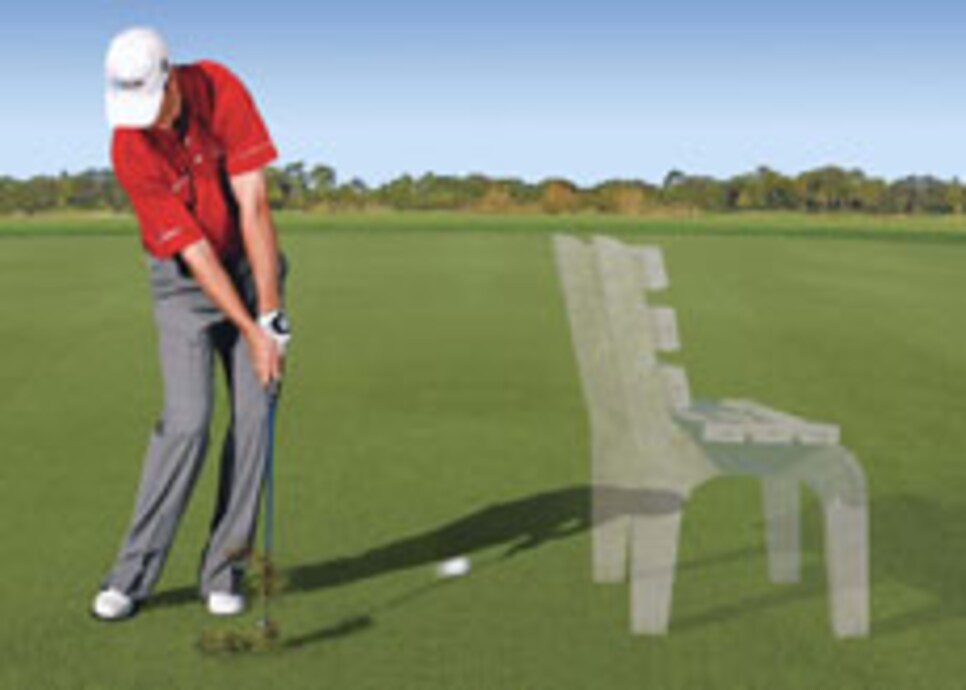 Johnson: "Mike taught me this visualization drill to ensure I hit my irons as solidly as I can. To be in the correct impact position (pictured), the shaft needs to be leaning forward. To get this feeling when you're practicing on the range, imagine hitting shots that have to fly under a park bench right in front of you. Your hands have to lead the clubhead through impact to make the ball fly low, and they have to continue moving left past impact to keep the clubhead from hitting the bench. To me, this is what impact feels like."
Making solid contact has a lot to do with the proper swing path. Stick two golf shafts together and put them in the ground where your ball would be. The shafts should be on a 45-degree angle to the ground, parallel to your clubshaft at address, and angled back off your right hip. Practice making slow-motion swings: During the backswing, your club should slide along the top of the shafts; on the downswing, it should come under the shafts, with the hosel hooking around the bottom of the clubs. Once you've rehearsed this path five times, step away and use the image as you hit real shots.
Johnson: "The difference between an 80s-shooter and a 70s-shooter often is the ability to avoid three-putting. You have to hit lag putts solidly to get them close enough to hole the next one. My advice? Commit to a line and speed that feels right. Then focus all your attention on solid contact by keeping your body and head still during the stroke."