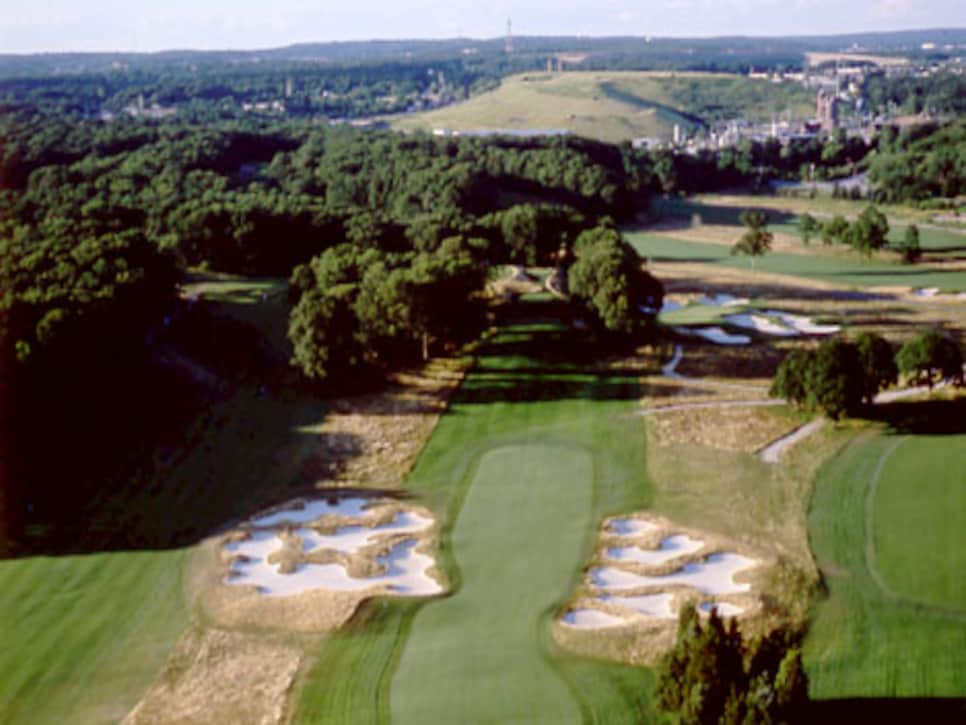 Power stood out as the main separator at last year's Golf Digest U.S. Open Challenge, the event put on by Golf Digest, the USGA and NBC Sports at Torrey Pines. That'll be the case when Michael Jordan and two other celebrities -- and maybe you -- take on Bethpage Black in the '09 Challenge.
At Torrey Pines, where the setup required extreme length, the amateurs with more clubhead speed had a distinct advantage. A near-scratch player with tour-level swing speed, Tony Romo bit off huge chunks with drives of 290 yards and more. From the rough, Romo could swing fast enough to significantly advance the ball. His power made Torrey manageable, and his score of 84 was the result of mediocre chipping and putting.
By contrast, the much slower-swinging John Atkinson had to play close to mistake-free golf just to make bogeys. For the first few holes he did, keeping the ball in the fairway and reaching some par 4s in three shots. But when his shots began to stray, Atkinson had difficulties with the rough. An 11-handicapper at Torrey, Atkinson shot 114.
__I use a variety of weighted swing aids, some of which measure swing speed. I plant several of them around my house, and when I see one, I usually take a few rips. Using them has made me stronger, more flexible, improved my timing and helped me swing the club faster. Try some yourself.
Athletic ability is a big part of producing clubhead speed, but correct posture, grip and technique are just as important. Every amateur has power leaks. Learn from an instructor what yours are, and ask for fixes and drills. You'll find that swinging the club faster is more physics than force.
Find a green surrounded by thick stuff, and spend a bunch of time hitting as many different shots as you can. Pay close attention to how the ball reacts and how the club goes through the grass. You'll start to understand what's possible, which also means accepting that some of these shots are basically impossible.
It's helpful to think of the technique from rough around the green as similar to an explosion from sand. It's important to keep the blade open so it goes through the grass without grabbing. You've got to swing harder than you think, but most of the force is to get the ball up, not shooting forward.
Of the four players, Matt Lauer played the most erratic golf. Like Justin Timberlake -- who shot 98 -- Lauer is a good athlete with clubhead speed in the 100 mile-per-hour range, which allowed him to reach greens in regulation and recover from the rough. Subtract the nervousness that afflicted him early, and he would have scored much lower than the 100 he shot.
Finesse from deep rough around the greens is the other skill amateurs must have to avoid big scores on a U.S. Open setup. Because even the pros have to concede a loss of precise control when the grass is high and the greens are hard, it's easy for an amateur who lacks proper technique to repeatedly leave the ball in the rough or send it skittering across the green.
Last year, Justin Timberlake exhibited surprisingly sophisticated skills, learned no doubt from his caddie and coach, Butch Harmon, whose father, Claude, was a short-game master. Timberlake's greenside shots popped up nicely and landed softly, usually stopping within 20 feet of the hole.
By contrast, Matt Lauer's strong grip made it hard for him to keep the blade of his wedge open long enough to properly cut under the ball. Several of his greenside shots came out hot and running or were smothered short of the putting surface, with the result a double bogey or worse. Even Tony Romo seemed a little lost around Torrey's greens. On the fourth hole, he faced a touchy chip from intermediate fringe that he stubbed, advancing the ball only inches. Romo showed good technique, but he lacked the confidence to make the aggressive through-swing that distinguishes the short recoveries from high grass of Phil Mickelson or Tiger Woods.
The surest way to double and triple bogeys is double and triple chipping. It happens because a lot of middle-handicappers have no concept of how wedges work -- how to open the face, use the bounce and consistently produce spin.