1 / 1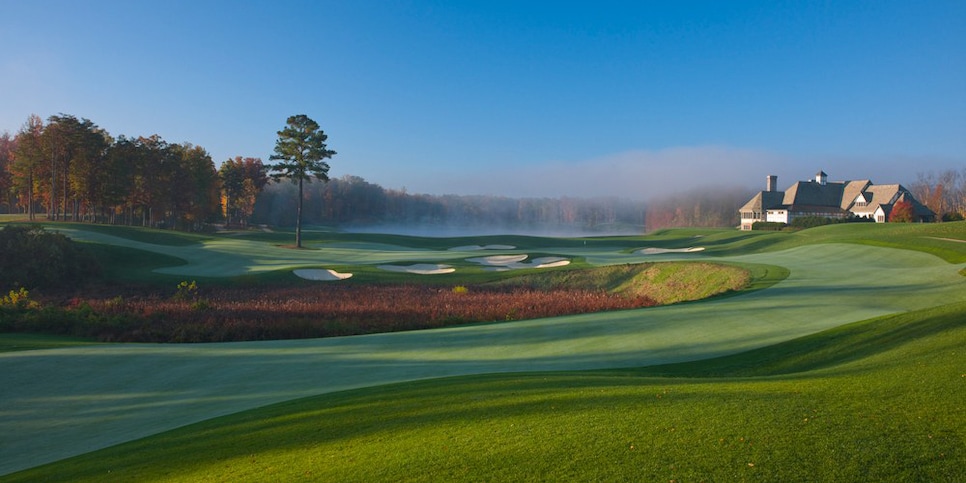 Overview
Since the only way to successfully establish bentgrass tees, fairways and greens in hot, humid Richmond was to create expansive corridors to allow plenty of sunlight and air to the turf, Kinloch Golf Club has more double fairways posing options and alternate routes than nearly every other course on the 100 Greatest, except perhaps National Golf Links of America. In 2016, George prepared a long-range masterplan of adjustments, including expansion of the alternate fairways on nine and 11, for improved visibility and playability, and removal of thick rough between bunkers and fairway edges. Enhancements will continue in the future.
About
Designer
Lester George/Vinny Giles
Awards
100 Greatest: Ranked since 2005.
2023-'24 ranking: 74th.
Previous ranking: 66th.
Highest Ranking: 29th, 2007-'08.
Best in State: Ranked first in Virginia since 2005.
Panelists
Ratings from our panel of 1,900 course-ranking panelists
100 GREATEST/BEST IN STATE SCORES
Reviews
1 / 8
Review
"Incredible piece of property and the course will not disappoint. Outstanding condition and beautiful views. The 19th hole is a great way to finish the round, Par 3 over the lake with the clubhouse in the background."
Read More
2022
2 / 8
Review
"Been a while since playing here....Conditioning was excellent and the course was challenging, but lenient. As a longer hitter this is a course I could enjoy playing all the time. It helps to be accurate off the tee to setup the approach, but there is breathing room. Then the conditioning makes it all the more pleasant when trying to score from the approach in.."
Read More
2022
3 / 8
Review
"This course resembles Augusta National, in the green and tee box draped azaleas and a magnificent winding stream that carves throughout, more so than any I have yet to experience. The 9th hole epitomizes Shot Options with four others that utilize split fairways impeccably."
Read More
2020
4 / 8
Review
"Fantastic conditioning at a beautiful club. Tough from the back tees."
Read More
2018
5 / 8
Review
"Fabulous club with impeccable services. Practice area gracefully and logically transitions players to the course. The course itself is immaculately maintained and offers a wealth of risk-reward opportunities, forcing players to think strategically rather than just "grip it and rip it." Only drawback is the overall difficulty of the course, which will leave most players frustrated. But and absolute must to play and experience."
Read More
2018
6 / 8
Review
"This Lester George's magnum opus. The club is welcoming, the clubhouse expansive and luxurious, and the course magnificent. Don't turn down an invitation."
Read More
2018
7 / 8
Review
"Kinloch is a great golf experience. The staff is very engaging, the caddies are knowledgeable and the course is fantastic. The course is challenging and offers many shot options, the greens are fast and the fairways are shorter than many courses greens. Be sure to play the 19th hole."
Read More
2018
8 / 8
Review
"Excellent golf club. Very interesting shots with split fairways, or cross bunkers or ravines to hit over. Amazing short game practice area and putting green. Also, very cool hog hole to settle bets. Golf course always in excellent condition but plays slow and wet majority of the time (or at least when I have been there and the first question I ask when somebody has played there "was it wet?")"
Read More
2018
Readers
Collection of reviews from our readers
There are no reader ratings yet
Reviews
There are no readers reviews yet. Be the first to write a review.