News
The leaders are throwing darts at Sherwood CC and other takeaways from Day 2 of Zozo Championship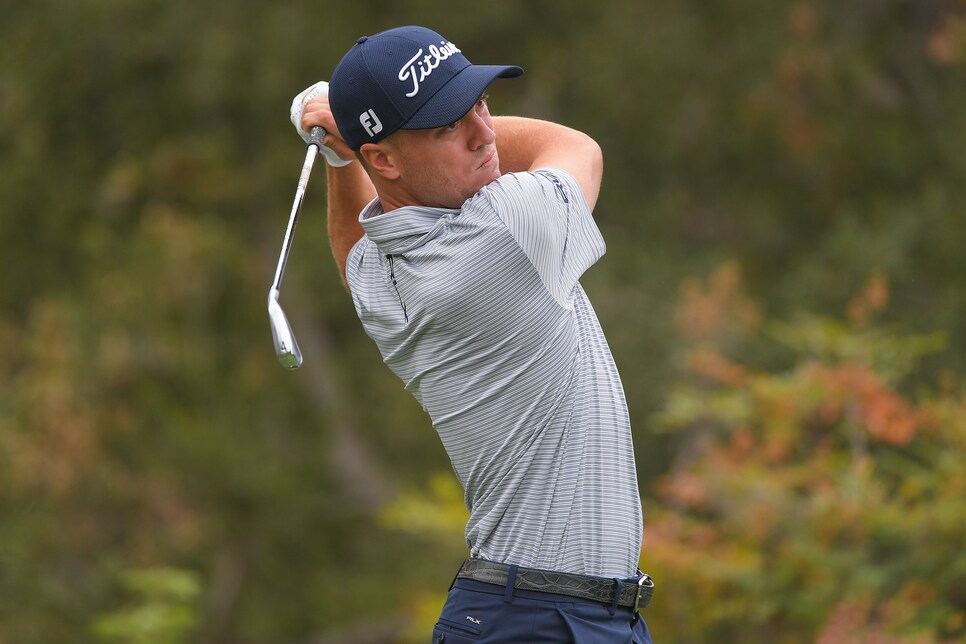 Justin Thomas hits a tee shot on the ninth hole during the second round of the Zozo Championship.
Ben Jared
Under different conditions, maybe in a different era, Tiger Woods would have made a huge move. Improving by 10 shots from his first round in the Zozo Championship at Sherwood Country Club, Woods shot a 66 on Friday. And he didn't gain a single stroke on the lead.
That's how frantically the birdies and eagles were falling on an overcast and windless day, ideal for scoring, in the hills of Thousand Oaks, Calif. The outrageous numbers, for only 77 players in the field, were these: 451 birdies made to go with 11 eagles. That's an average of six birdies per player. And even with the unfortuabnte 80 suffered by Japan's Naoki Sekito, the scoring average was 67.8. At Sherwood, the golfers were Robin Hood, stealing red numbers by the bagful.
Richy Werenski broke Woods' competitive course record with an 11-under 61, and Justin Thomas seized the lead at 14 under with a second-straight 65. That was a popular number in the second round, with the top five players writing it down, and the scoring onslaught on the very short layout only figures to continue for what should be a true weekend shootout.
Our takeaways from the day.
JT's change of attitude on greens is huge
When Justin Thomas is at his best with the putter in his hand, he's as formidable as any player out there, and on Friday he continued his scorching play on the greens, the embers of which were stoked on the second nine in the first round.
After being frustrated by shooting even par on his opening nine on Thursday, Thomas shot 29 on the back in scoring 65. The back nine was again his playground Friday when he added another five birdies, including four straight at one point. Of course, it helps that there are three par 5s on the inward holes.
Thomas, who has scored 66 or better in seven of his last 14 competitive rounds, continues to benefit from the work he did with putting coach John Graham during the FedEx Cup Playoffs. They have worked on his resilience when the putts aren't falling.
"I called [Graham] on the way home [Thursday] and he said, 'I'm proud of you, that was a big day,' " Thomas said. "I feel like there's many, many times when I've had a front nine like that in the past where I'm maybe not putting poorly, I'm just making nothing, and then I continue to do that on the back, instead of continuing to try to feel like I can make everything and stay in my process and start making some putts. So days like yesterday were huge for me mentally, and scoring-wise obviously."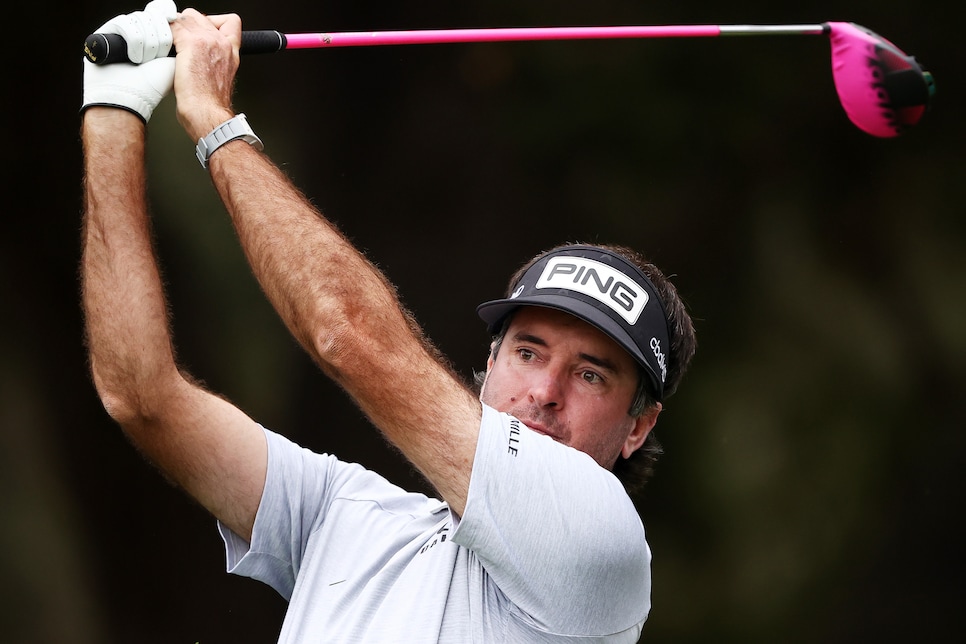 Bubba Watson plays his shot from the second tee during the second round of the Zozo Championship.
Bruce Bennett
Bubba Watson grew up in the Florida panhandle. His Southern accent wouldn't ever peg him as an L.A. Valley Guy. And yet there is something about the Hollywood vibe that Bubba wholeheartedly embraces, and it shows in his play.
Watson has won three times at Riviera Country Club, and he's in position to win another championship about 36 miles up the freeway after making eight birdies and an eagle in scoring 63. He's only three shots back heading into the weekend.
"When I come to L.A. I just love it, hanging out with all the guys I know from here, people from Warner Brothers, some celebrities here and there," said Watson, adding that he went to Bible study with popular Southern California pastor Judah Smith. "It's just shooting the breeze with guys that I really look up to and learn from when it comes from the mental side of so-called being a celebrity and how to deal with life that way. It just makes L.A. … bring the best out in me."
For Watson, too, playing with guys he's comfortable with makes a huge difference. For the first two days at Sherwood he was grouped with a couple of younger guys in Cameron Champ and Dylan Fritelli, with the latter shooting 65 on Friday to get into a tie for second. Watson kept them laughing the entire round, including when he made eagle after a 3-iron approach at the par-5 16th and reminded them that "this old guy's still got it."
"It helps out a lot, so I can stay loose," Watson said. "When I'm joking around with guys and shooting the breeze, it makes it easier for me, just makes me just not really think about much and just poking fun at people and just having a blast out there. You know, a lot of times we get stiff out there. … there's certain guys that just don't talk much, and so when you have guys that you can joke around with and shoot the breeze with, it loosens me up and that's really what over the last couple weeks."
Watson's definitely on a good-vibe roll. He tied for seventh last week in the CJ Cup.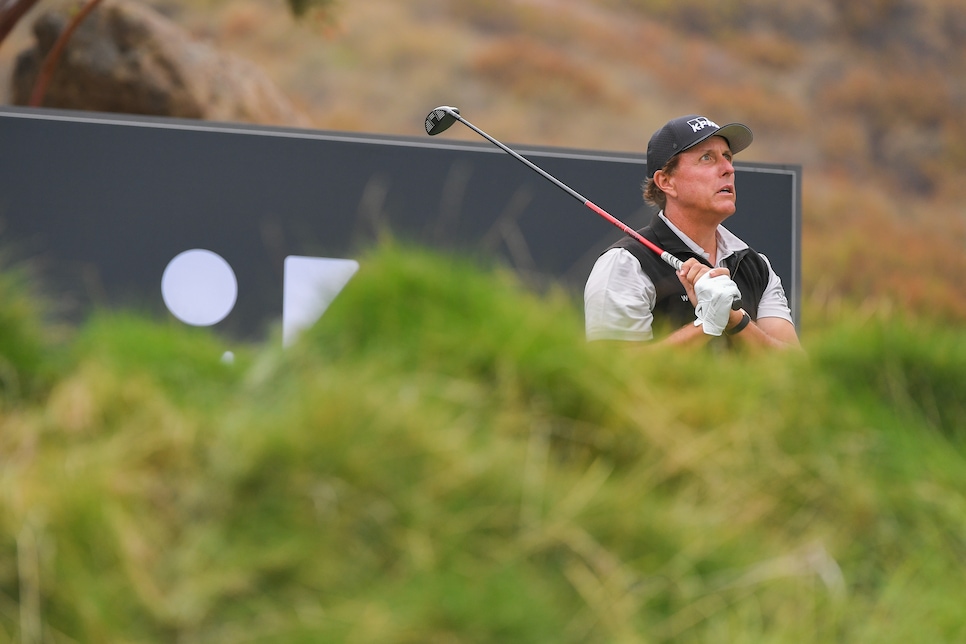 Phil Mickelson watches his shot on the 13th tee box during the second round of the Zozo Championship.
Ben Jared
Phil Mickelson taunted by Mr. Play-by-Play
The play-by-play tool on the PGA Tour's website is a beautiful thing. You can see how every golfer played each shot on every hole. Coming in the not-too-distant future: video of every shot of every player.
Of course, the play-by-plan reads like a robot wrote it—because it did—but it can still get to be funny, though that's usually not a good thing for the players. In Mickelson's case on Friday, it was as if he was being mocked by Mr. Play-by-Play.
On his fourth hole—the par-5 13th—Mickelson's tee shot was described this way: "267 yards to unknown." Unknown? Ouch. That means the ball flew off of ShotLink's planet, in this case into Sherwood's left brush and oak trees. A terrible slice by Lefty. So, Mickelson re-teed with a penalty, and then proceeded to do this: "239 yards to unknown." Shorter and more crooked slice, and all of sudden Phil is hitting his fifth shot from the tee. The third drive found the fairway, the approach went into a greenside bunker and a missed six-footer resulted in a quadruple-bogey 9.
Incredibly, with that quad, Mickelson shot one-over 37 on that side. He made one bogey, but four birdies—including three straight after the quad.
Mickelson ended up scoring 74 and at two over he has no chance of winning. It makes you wonder if the PGA Tour Champions is looking better and better. Consider: Lefty won in his senior debut at Ozarks National in late August. He switched back to PGA Tour and finished T-44 at the Safeway Open and missed the cut in the U.S. Open. He then won his second Champions start last week, followed by a couple of mediocre efforts in the Zozo. Phil playing that senior event in Phoenix, rather than the Houston Open (with a gallery that Lefty wasn't happy about), the week before the Masters seems a decent bet now.
When Jim Herman got into this week's tournament at the very last minute—after Adam Scott withdrew following a positive test for COVID-19—it was basically business as usual for the late-blooming 42-year-old pro.
When Herman won his first PGA Tour event, the Houston Open in 2016, it got him an instant ticket to his first Masters the following week. This year, he was 191st in the FedEx Cup standings going into the final regular-season event, the Wyndham Championship—and he won it with a stunning weekend of 61-63. That vaulted Herman into the opening FedEx Cup Playoffs event in Boston.
This week, the Cincinnati native didn't qualify for the 78-man Zozo Championship until Scott couldn't play. Clearly, Herman is not a "happy to be here" type of guy. He opened with an OK 70, and then on Friday was poised to shoot 64 before bogeying the 18th. Herman settled for a 65 that put him at nine under, five shots off the lead.