Takeaways
Japan's golfing 'Elvis' in control at Zozo, Morikawa suffers the S-word and Pat Perez is predictably funny in the booth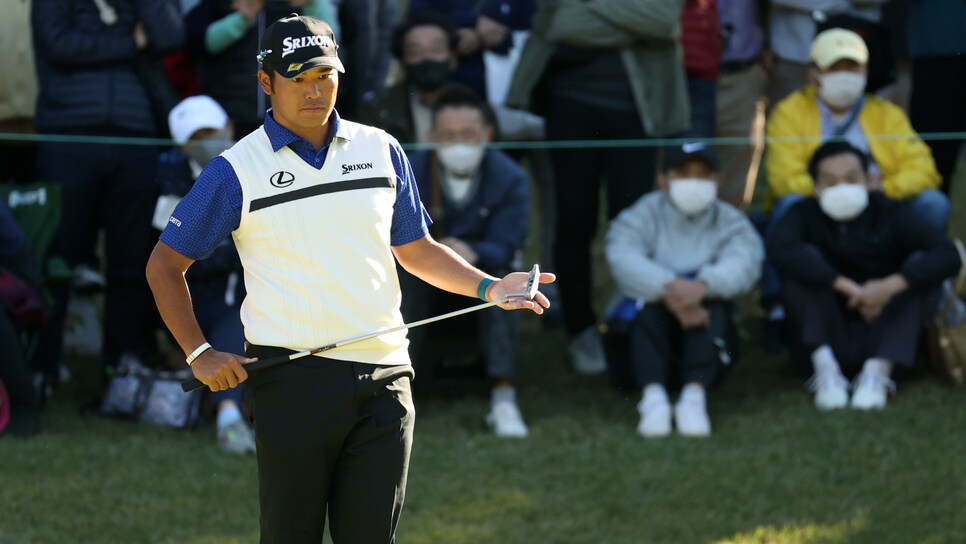 Hideki Matsuyama lines up a putt on the 12th green during the third round of the Zozo Championship.
Atsushi Tomura
The Golf Channel did something savvy this week. With undoubtably smaller broadcast audiences because most of the U.S. has been asleep during the heart of play at the Zozo Championship outside Tokyo, the network took a bit of a leap by rotating in players after their rounds. Rickie Fowler was the first guest, followed by Charley Hoffman during the second round, and then the ever-colorful Pat Perez on Saturday.
Perez came through by providing some keen insight into the task Hideki Matsuyama faces as the Masters champion and now sporting icon tries to close out a victory on home soil in the Zozo Championship.
"I played behind Hideki [on Friday], and it's like seeing Elvis," Perez said.
With another solid round on Sunday (Japan time), Matsuyama will have the chance to deliver the kind of triumph that his now legion of fans will talk about for the rest of their lives. In April, he became the first Japanese player to capture the Masters, but there was also deep disappointment when he couldn't bookend that in the Olympics, where Matsuyama lost in the playoff for bronze.
Thousands of adoring Japanese golf fans are following the 29-year-old around every hole at the tree-lined and pristine Narashino Country Club. Yet, remarkably, he has hardly showed any nerves. On a clear and breezy Saturday following Friday's frigid round, Matsuyama shot a second-straight two-under 68 to get to 10 under and take a one-shot lead over Cameron Tringale.
The margin would have been two, but Matsuyama suffered a rare terrible miss from the 18th tee, hooking his ball so badly it ended up jailed in the adjacent fairway. From there, he eventually was short of the green on his third shot and went on to make bogey.
Still, Matsuyama would seem to be a happy frontrunner. In two appearances now in the Zozo in Japan since the event was inaugurated in 2019 (it was moved to Sherwood Country Club in 2020 because of the pandemic), Matsuyama hasn't shot worse than 68. And this course isn't going to yield a 62 like Collin Morikawa shot last week in challenging winner Rory McIlroy in Vegas.
After Matsuyama striped his tee shot on the par-3 16th to short range—an opportunity he would convert for birdie—Perez grunted in the booth and said, "That's just going to be hard to catch. He knows what he's doing. He's a phenomenal player."
More than his play, Perez marvels at the way Matsuyama handles all of the attention that comes his way.
"He has so many cameras around him all of the time," Perez said. "I tried to say hello. I told him I don't know how you deal with the cameras all of the time. He said, 'I pull my hair out sometimes.' … He's had it for so many years now. It's second nature to him. I can't believe being the guy he is in the country right now. Everybody wants him to win. And here he is leading. And the pressure … it doesn't look like it phases him at all."
Here are three other takeaways from Round 3 of the Zozo.
Tringale soaking up the challenge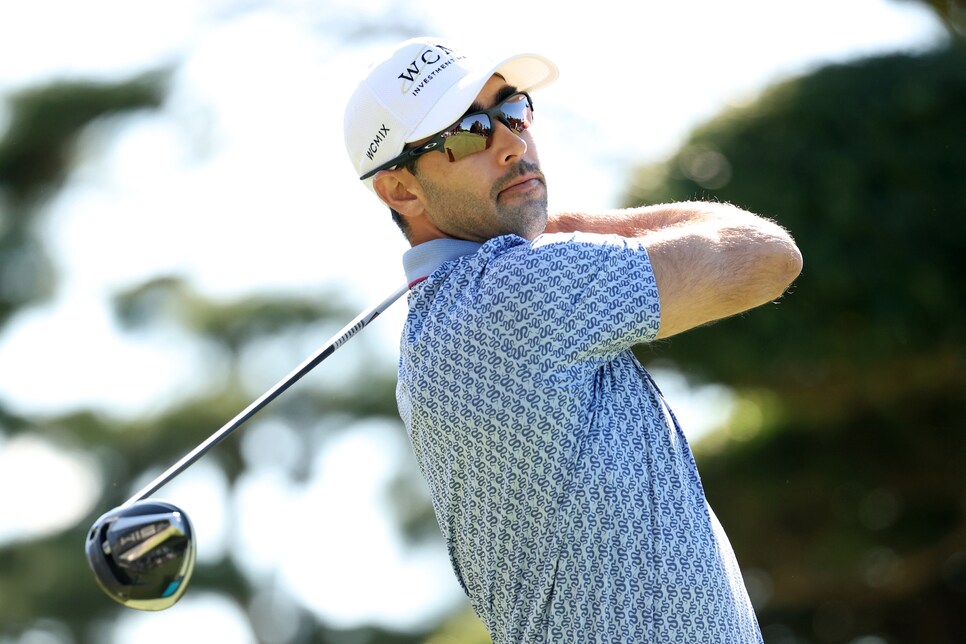 Cameron Tringale hits his tee shot on the 10th hole during the third round of the Zozo Championship.
Atsushi Tomura
There's one player who will have the b est shot at catching Matsuyama, and that's the 34-year-old Tringale. He'll be grouped with Matsuyama for a second straight day after matching him with a 68 in the third round.
Tringale is clearly enjoying the fight. He appeared to be a man trying to make lifelong friends, waving and giving a thumbs up so much that the announcers joked that he was channeling Phil Mickelson.
"I'm not obviously going to win anyone over, but I'm just enjoying the moment," Tringale said. "The crowds are really respectful and fun and happy, so I'm trying to mirror that back to them and let them know I'm enjoying being here."
This is yet another shot for Tringale to earn his first tour win. This is his 314th start, and he's earned more money than any other player without a victory. Three more shots behind him on the board are Sebastian Munoz, Brendan Steele and Matt Wallace. Perhaps the pressure and expectations being squarely on Matsuyama's shoulders on Sunday will help Tringale in his latest pursuit of a victory.
Morikawa actually suffered the dreaded S-word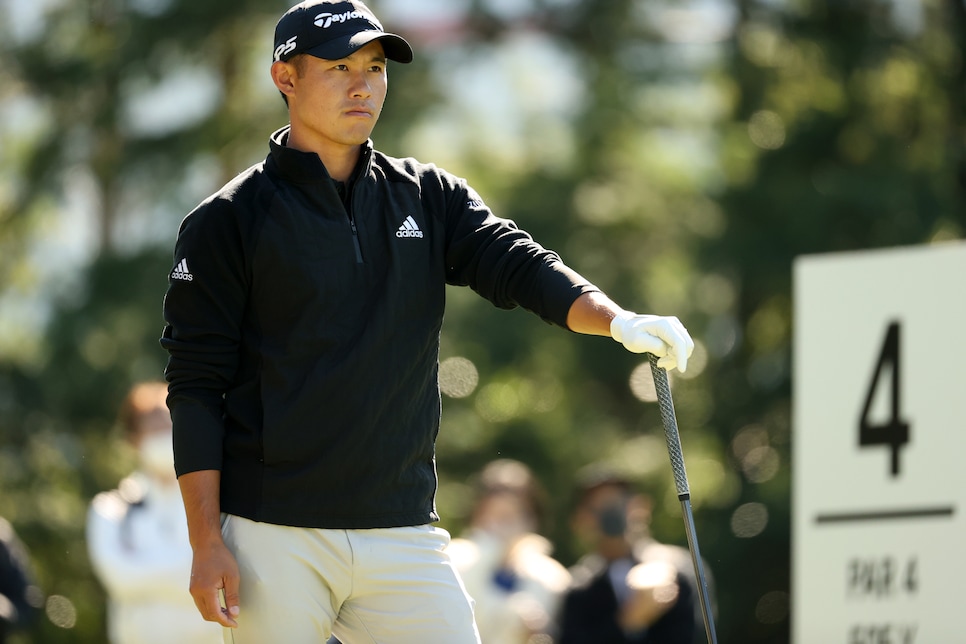 Collin Morikawa stands on the fourth tee during the third round of the Zozo Championship.
Atsushi Tomura
Morikawa could have begun his press briefing by discussing his best shot of the day—his chip-in on the 18th hole that polished off a three-under 67 that put him in eighth, six shots off Matsuyama's pace.
Instead, Morikawa—ever honest and self-effacing—started his interview with one of the most shocking shots he's hit as a pro. He didn't even have to talk about it, mind you, since it was too early in the television coverage for anybody to have caught it. We'll let the reigning Open Championship winner describe it …
"Well, I did something in my career that I haven't done yet, [which] was shank a shot," Morikawa said. "I don't think many people know this. I was in the middle of the fairway on 6, the par 5. … Yeah, shanked a pitching wedge straight in the trees. So really good way to start the day after being one under through five."
Hackers rejoice. The S-word can happen to the best of them. Morikawa bogeyed 6 and had to battle through a round that really only looked respectable because, after missing the green pin-high at 18, he chipped in for an eagle 3.
This was decidedly not one of those rounds when one of the world's best ball-strikers was sending missles at the pins.
"It was kind of a grind," Morikawa said. "I really had no clue where the ball was going to go. I was kind of just trying to make contact and, thankfully, the putting was working today."
Perez comes through with comical Charles Barkley story
Putting Perez on the air with a live mic was seemingly as bold as Roy Kent being tabbed as a TV pundit on "Ted Lasso." Roy proceeded to toss blue insults all around, causing his studio partners to cringe. Perez can be hilarious, but away from the cameras he's not exactly PG-rated. So kudos to Golf Channel for giving him a shot, even if it meant some guy in the production truck had his finger poised an inch above the delay button, ready to strike at the first f---.
Perez turned out to be a predictably colorful guest, even if his mood was not the best after a third-round 73 that concluded with a bogey. He provided details about the coiffing of his mullet and shared a funny story of the text he got early Saturday morning from Charles Barkley: "He texted me, 'Did you retire? I haven't seen your name on the leader board. And if you did retire, let me know so I can buy you a gift.' "
Perez chuckled. "I might just take the gift anyway," he said.
Perez, 45, said he soon will make his 500th start on the PGA Tour in a career in which he's won three times and never lost his card.
"If you had told me at 22 that I'd have three wins, 500 starts, and not lose my card, that I've had that kind of career, I think I would have taken it," Perez said.