Gambling
Zozo Championship 2020 DFS picks: Is it crazy to trust Jordan Spieth this week?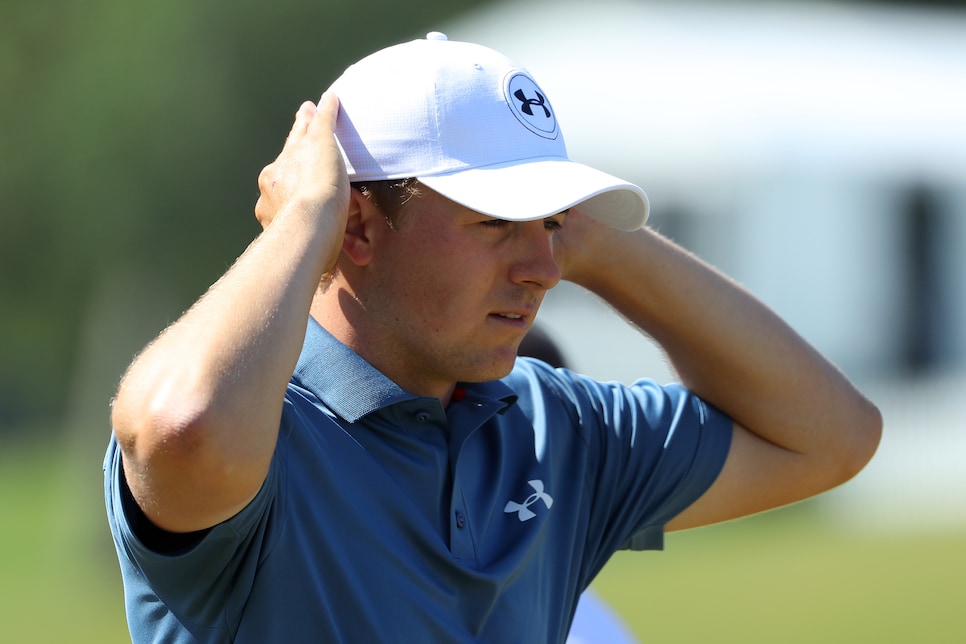 You might have clicked on this headline, seeing a suggestion that you should use Jordan Spieth in your DFS lineups this week, and clicked to see the outrageous herewith. In all sincerity, Spieth is still struggling (mightily) with his consistency—but he was 13th in DraftKings scoring last week at the CJ Cup, and now he has one of the lowest prices ever—$6,900 on DraftKings and $8,400 on FanDuel. Scroll down to read why we're on Spieth and a number of other players with value at this week's Zozo Championship at Sherwood Country Club.
High Upside: Justin Thomas ($10,600 DraftKings | $11,800 FanDuel)
There's little argument that Justin Thomas is one of the best tee-to-green players on the face of the Earth, and the numbers back it up. Per the RickRunGood.com golf database, Thomas has gained 1.69 strokes per round from tee-to-green since the restart. That's the most in this field. He was one of the few golfers in the top 20 of the CJ Cup last week who lost strokes putting. It's a Nicklaus course, which means a fade off the tee will play very well. That's JT's preferred shot shape off the tee. Thomas would only need a "warm" putter to wreak havoc on this field.
Safest Option: Rory McIlroy ($10,400 DraftKings | $11,700 FanDuel)
There's one glaring weakness in McIlroy's game right now: his approach play. Since the restart, in 11 events, McIlroy has gained a total of 3.64 strokes on approach. To put that into perspective, he gained a total of 23.77 strokes on approach in the 11 events prior to the tour's shutdown. Last week he lost 3.9 strokes on approach, his worst performance since February 2018. So why is he safe? Well, despite the historically bad performance, he still finished T-21. His floor is so incredibly high because the rest of his game is so strong.
Most Likely To Disappoint: Xander Schauffele ($11,200 DraftKings | $11,600 FanDuel)
We've reached critical mass with Schauffele. He's the hottest player on the planet and is playing in a no-cut event this week. He's likely to be a popular play at $11,200 on DraftKings, which is the most expensive he's been at any point in the last three years. Golf is so volatile that when you combine a high price tag with projected high ownership, you are usually better off avoiding that situation. This is more about game theory than it is about Schauffele's game.
Pick To Win: Patrick Reed ($9,600 DraftKings | $10,800 FanDuel)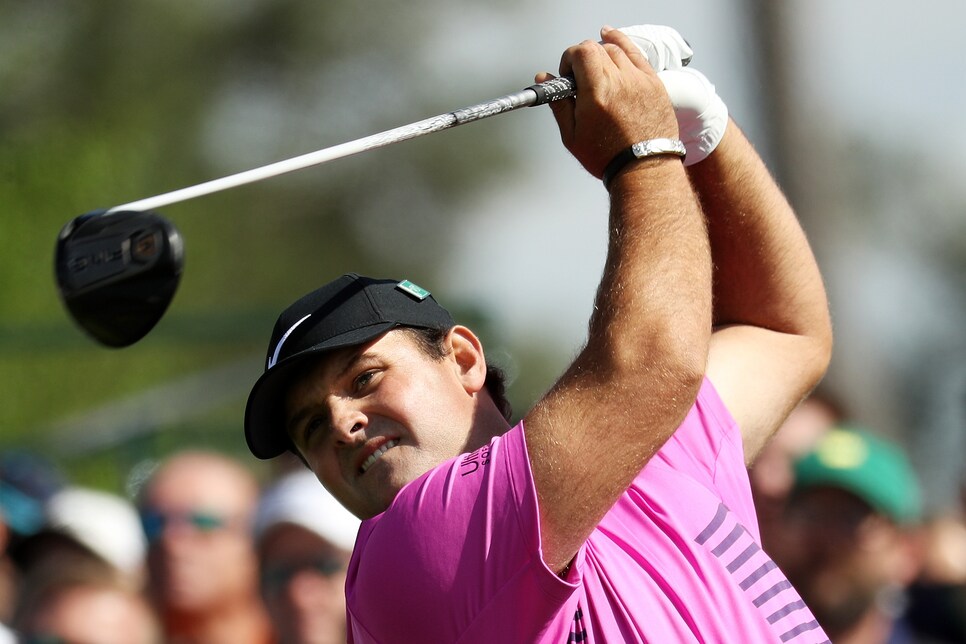 Reed is flying under the radar, even after his strong play at the U.S. Open, likely because he didn't play the CJ Cup last week and played in Europe the week before. That European event was the BMW PGA Championship, one of the premier events on that circuit, in which Reed finished T-3. Reed is a "big game hunter" who has found success in some of the most impressive tournaments. Six of his eight PGA Tour victories have come in playoff events (two), World Golf Championships (two), the Tournament of Champions (one) and majors ('18 Masters). The price allows him to be a core play without breaking the bank.
High Upside: Joaquin Niemann ($8,400 DraftKings | $9,700 FanDuel)
Niemann started slow last week, opening with an even-par 72 at the CJ Cup. He kicked it into gear the rest of the week, finishing sixth in the tournament but fourth in scoring over the last three rounds. His closing 66 was reminiscent of the seemingly countless low rounds Niemann has tallied in the last year. If he can put it together for four rounds, he's going to make a ton of noise.
Safest Option: Harris English ($8,800 DraftKings | $9,800 FanDuel)
After a rare missed cut at the Shriners, English was back to his normal ways last week, finishing 10th at the CJ Cup. That's nine top-25 finishes in his past 11 starts! The most exciting part about English is his ability to grind over a four-round event. He opened with an ugly 75 (+3) on Thursday but was excellent over the final three rounds to notch that top 10. In a no-cut event, a golfer's mind-set is also very valuable, and English just proved that he won't give up if things go sideways at times.
Most Likely To Disappoint: Russell Henley ($8,100 DraftKings |$9,200 FanDuel)
Henley was a core play last week and it paid off in a big way, there's no need to chase it again now that he's $1,000 more expensive. Not only is he more expensive, but he will be on plenty of radars after his T-3 last week. Game theory says it's time to take a week off from Henley.
Pick To Win: Bubba Watson ($8,700 DraftKings | $9,900 FanDuel)
It's rare to consider Watson outside of a "Bubba track" week (TPC River Highlands, Riviera, Augusta National), but here we are! Watson led the field last week in strokes gained/tee-to-green, one of the most important stats on tour. He gained 11 strokes last week and 10.99 at the U.S. Open, which are his past two starts. Obviously the putter has the tendency to hold him back, but the tee-to-green game has been too good to overlook.
High Upside: Lanto Griffin ($7,000 DraftKings | $8,100 FanDuel)
It might've felt like a disappointment last week for Griffin, who shot his worst round of the week (72) on Sunday while falling to a T-7. However, that marks his fourth top-20 finish in his past seven starts. Per the RickRunGood.com golf database, he's one of the few golfers in this price range who gains strokes in all four major strokes-gained categories.
Safest Option: Ryan Palmer ($7,100 DraftKings | $8,200 FanDuel)
Another week, another top 25 for Ryan Palmer. He finished T-17 at Shadow Creek, which is his fifth top-25 finish in his past nine starts. Not only does he have good results, but the way he's doing it is also encouraging. He's been gaining plenty of strokes on approach, and last week was his best driving week since the Sony Open.
Most Likely To Disappoint: Gary Woodland ($7,300 DraftKings |$8,400 FanDuel)
Woodland was shockingly bad last week, losing 11.20 strokes off-the-tee. That's, by far, the worst of his career for someone who is known for his driving ability. He's dealing with a torn labrum in his left hip, which is clearly impacting his game. He doesn't have a top 20 in any of his past seven starts and hasn't really contended since the restart.
Pick To Win: Sebastian Munoz ($7,200 DraftKings | $8,700 FanDuel)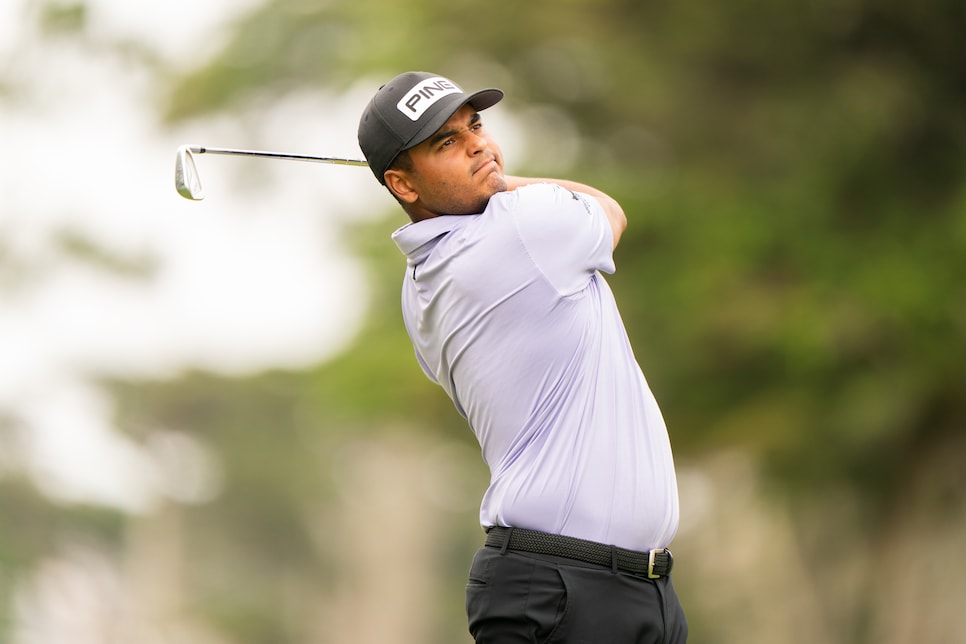 Darren Carroll/PGA of America
Last week, Munoz notched one of the most quiet ninth-place finishes you'll see. His rounds of 71-70-67-69 were solid. Solid is a word you can use to describe the past few months from Munoz, who has only one finish worse than T-27 in his past seven starts. That run includes consecutive top-10 finishes at the BMW Championship and Tour Championship, plus a T-18 at the Northern Trust. This is a great price on someone with consistent top-15 upside.
High Upside: Jordan Spieth ($6,900 DraftKings | $8,400 FanDuel)
I cannot believe that Spieth's name has finally made an appearance in this article series, but as I teased above, I think it's time. Let's be clear, his game is in shambles. Not even his magic putter has been cooperating lately, and his world ranking is dropping like a meteor. That being said, he can provide serious value in fantasy formats. For example, he finished T-38 last week at the CJ Cup but ranked 13th in DraftKings scoring. His ability to rack up birdies (despite the double bogeys) is much more suited for the fantasy game. Now he's priced at the lowest he's been in any "real" PGA Tour event in the past three years. That's enough for me to buy back in.
Safest Option: Adam Hadwin ($6,700 DraftKings | $7,600 FanDuel)
If it's a high floor you like, Hadwin is your guy. Coming off a T-28 at the CJ Cup, Hadwin never seems to play himself out of contention. He rarely makes mistakes and grinds over every shot. He's unlikely to finish inside the top five and win you all the money, but if you're just looking for someone who can be better than the field average for four days and comes with a low price tag, Hadwin might be your man.
Most Likely To Disappoint: Kevin Na ($6,900 DraftKings | $8,000 FanDuel)
While Na does possess massive upside, he hasn't been tapping into it nearly enough. He's now gone eight consecutive events without a top-25 finish. Even his best finishes require him to lean on a hot putter, which is usually unsustainable. Not even the "Las Vegas Na" narrative could produce good results, he went T-43 and T-45 in the two events in the city he resides.
Pick To Win: Kevin Streelman ($6,600 DraftKings | $8,000 FanDuel)
Streelman is a "boom or bust" type player who seems just as likely to miss the cut as he is to finish inside the top five. He played well at the CJ Cup last week, finishing T-21, and he was T-3 at the Safeway Open just a few starts ago. He's one of the few golfers in this pricing tier with legitimate top-five equity.