PGA
PGA Championship 2022: The only thing standing in front of former teammates Will Zalatoris and Cam Young is each other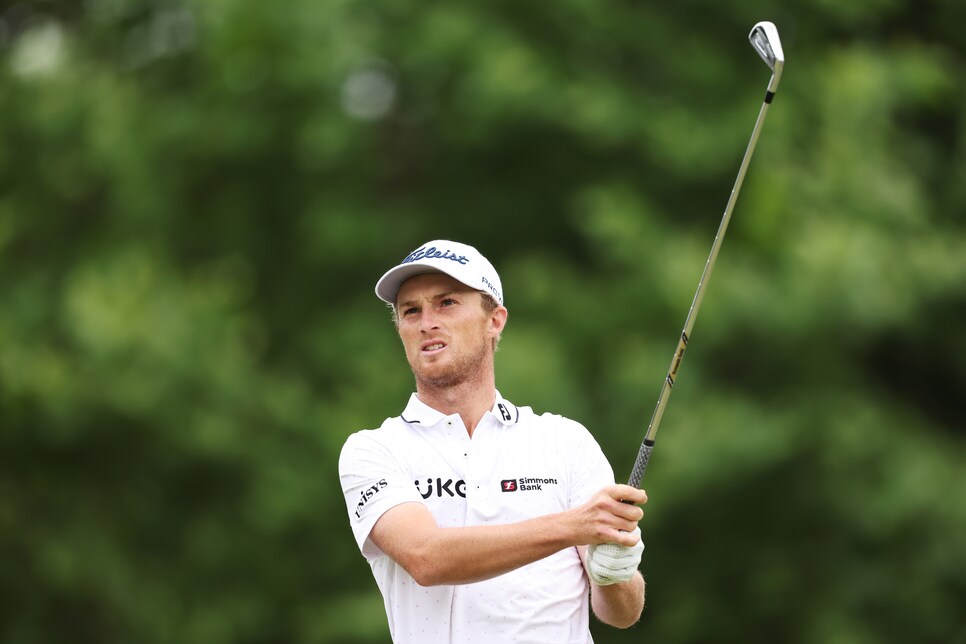 TULSA — They took separate routes to get here at the PGA Championship. Cameron Young fought the wind and somehow won, turning in one of the rounds of the tournament. Will Zalatoris … well, Zalatoris came out on the business end of Saturday, walking off the 18th like he needed a hot shower and a hug. But Young and Zalatoris will start Sunday in the same positions at the same time, and though they share the same destination where they want to go allows only for a party of one.
"I've been very consistent and I've been around the lead a decent bit," Young said after a third-round 67 that left him in fourth place, four shots behind 54-hole leader Mito Pereira. "So I don't know if it feels that much different. Obviously there's bigger stands and more people, and it's the PGA Championship, which means a lot to me given my family connection to it. But golf-wise it feels very similar to what I've been doing. I don't think it's terribly different."
"Just stick to my game. Got nothing to lose tomorrow," said Zalatoris, who lost his 36-hole lead thanks to five bogeys but remains in the mix after a 73, T-2 and three back of Pereira. "I know I'm playing some really good golf, and hopefully at the end of the day it adds up to the lower score."
Young and Zalatoris are former college teammates at Wake Forest, and we tell you this as a warning, because it will be invoked so much during Sunday's broadcast that if you constructed a drinking game around this premise you'd be comatose by the turn. While it is a good backstory, it is just that. Major championship Sundays don't give a damn about backstories, and there is no room for fraternal rapport.
Or maybe that's just the vibe after a particularly inhospitable day. After being blanketed with heat and humidity on Thursday and Friday someone in Tulsa turned the calendar back to March. It was rainy in the morning and windy for most of play, and in a state known for high-powered offenses the PGA of America delivered something those in Norman and Stillwater rarely see: defense. Statistically speaking Round 3 mirrored Rounds 1 and 2, but Thursday and Friday featured 20 club professionals, none of whom came close to reaching the weekend. With just the world's best on its tee sheet, Southern Hills broke scorecards and damaged pysches. The wind and wet made the course long, and the pins were far from accessible. Only six players shot 68 or lower, with 17 guys posting a 75 or higher.
One of those low rounds belonged to Young, although some have argued he may have been playing a different course. It wasn't a clean performance, if only because such a thing was impossible in these conditions, yet his three bogeys were negated by four birdies and punctuated with an eagle at the drivable par-4 17th.
"Yeah, the eagle came at a really nice time," Young said, his tee shot coming to rest 20-something feet from the hole. "I had just kind of butchered 16 from the middle of the fairway and wasn't terribly happy with myself. So, I mean, just to hit a solid shot there on 17 and kind of give yourself what should be a pretty easy birdie was momentum enough, and for that putt to go in is a huge bonus."
Should you be unaware of Young, let us be the first to congratulate you on awaking from your yearlong coma. He is a native of Scarborough, N.Y., and as alluded above his father is a PGA professional, working out of famed Sleepy Hollow. Young earned his card thanks to back-to-back wins this time last year on the Korn Ferry circuit and has been lights-out in his freshman campaign on tour, ranking ninth in scoring average and owning three runner-ups and a third-place finish. Heading into Southern Hills he was a lock for Rookie of the Year, which still may happen although the three-day performance of Pereira suddenly puts the issue in doubt.
Nevertheless, Young's star is bright and one that Southern Hills has made brighter. Perhaps the only knock is he's never been on this stage before, and major championships are not kind to greenhorns. In a way they are like rodeos, and every good bull rider will tell you that you need to get thrown off a few times before learning how to stay on.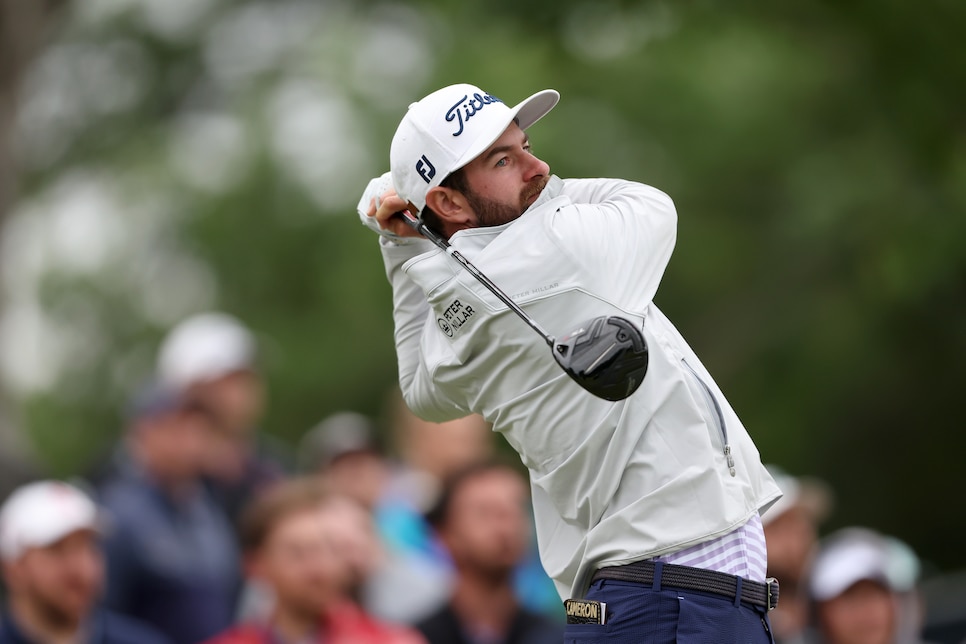 As for the reigning Rookie of the Year, Zalatoris has avoided the dreaded sophomore slump. He ranks first in approach and second in strokes gained/tee-to-green, has finished T-6 or better in three of his last four starts and fell just short in a playoff at Torrey Pines. His ceiling possesses such a rare height that it almost has him on the precipice of stardom.
However, "almost" is the operative word, Zalatoris' short game being the reason for the modifier. It was bad last year, finishing 73rd in around-the-green and 122th in SG/putting. It's worse in 2022, 96th in around-the-green and a whopping 185th in SG/putting. The short game is not so much an issue as it is a capital-O Obstacle, punctuated by a stroke that is so shaky on short putts that it routinely goes viral. Yes, even the most well-rounded players aren't perfect. He is young, not even 50 tour starts to his name, and he already has four top-10s in major including a runner-up at last year's Masters. He is very, very good. But he holds an invitation to be great and the putting is keeping him from opening the envelope.
However, through two days it was that very flaw that served as Zalatoris' weapon. Zalatoris made the most of Southern Hills' slow greens (the maintenance staff kept the speed in check both due to the greens' massive slopes as well as adhering to the wind) leading the field in SG/putting and converting nine-of-10 putts from four-to-eight feet. Considering the man was ranked 208th out of 210 players on tour in the four-to-eight category heading into the week, it seemed to signal the long-awaited breakthrough was near. Though the breakthrough remains in view it is now farther out, pushed away by the very vessel that brought him close. Zalatoris opened his third round with four bogeys in his first seven holes, losing a whopping two strokes to the field in that stretch via the flat stick. Following a bogey at the seventh Zalatoris was five shots back of Pereira and running hot.
But on the verge of falling out of the proceedings Zalatoris jumped back in on the second nine. The wind slightly died down, but more importantly his putter finally woke up. He dropped a 35-footer for birdie at the par-5 13th, and the forever stoic Zalatoris unleashed a look that showed he was done being pushed around. He stayed afloat instead of stumbling in to stay within shouting distance.
"I've got nothing to lose," Zalatoris repeated afterward. "Mito played an incredible round today. You could argue today was as good as JT's 67 in the morning with the winds yesterday. I think you've got to go out and get it. Everybody's got to go out and earn it. Just like I said, keep doing what I'm doing and hopefully it adds up to the lowest score."
For Young and Zalatoris to meet that ambition, they will need a bit of providence. For Pereira to slip up, for Matt Fitzpatrick—who's tied with Zalatoris but in the final pairing—to stall, and hope that Abraham Ancer or Seamus Power don't go stupid low. That is a lot of ifs.
Then again, what are the odds of college teammates (drink) finding themselves in the penultimate pairing of the PGA Championship, vying not just for the Wanamaker but their first tour win? That's what on tap tomorrow. To get there, Zalatoris and Young will have to battle one of golf's toughest tests. To tackle the demons each must face when climbing the sport's tallest mountain. The only thing standing in their way is each other.
MORE PGA CHAMPIONSHIP COVERAGE FROM GOLF DIGEST