Place Your Bets
Which PGA Tour pro will join LIV Golf next? This gambling site's odds are pretty interesting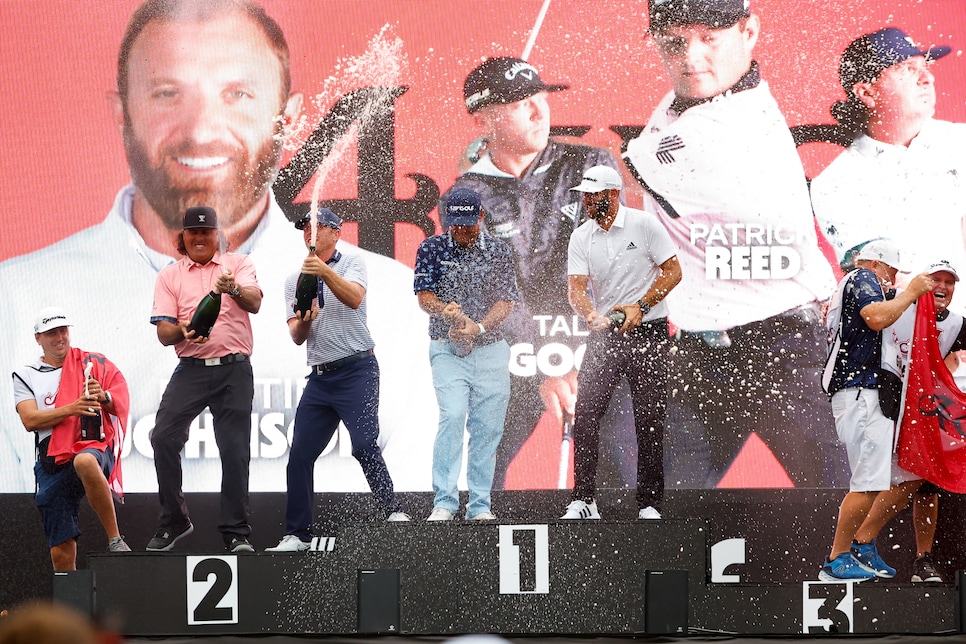 Think you know which PGA Tour pro is leaving for LIV next? Well, you might be able to make yourself some LIV-like money gambling on it. OK, so probably not LIV-like money, because those dudes are getting PAID, but some money. Although, apparently, those guys might not be getting paid quite as much as originally thought . . .
Anyway, we're getting off topic here. Point is, if you look hard enough, you can bet on which PGA Tour pro will be next to go to Greg Norman's renegade league. And the hypothetical odds, courtesy of Bookies.com, are kind of interesting.
Let's start with the site's overwhelming favorite, Cameron Smith. The recent Open Championship winner has reportedly already signed with LIV, something his fellow Aussie (and Cam), Cameron Percy spilled the beans about. This seems like it's a lock, but you can still bet it at -1000, meaning to win $100, you'd have to risk $1,000. Pretty steep, but again, this is probably a lock. And again, these aren't the actual odds you can bet, but a good starting point if you still have a bookie. Not that we're endorsing that sort of thing. But we do endorse legal golf gambling . . .
Back to these hypothetical odds, rumors—and we should emphasize these are completely unsubstantiated rumors—of another Cameron, Cameron Young, leaving have been circling thanks to a story in The Times on Wednesday. And, probably as a result, the favorite to win PGA Tour Rookie of the Year is listed at even odds.
So, too, is 2021 Masters champ Hideki Matsuyama. There are other rumors floating around that this guy has been offered an insane amount of money by LIV. Not Tiger Woods money, but up there. And it makes sense considering how much his Masters win resonated in Asia. Anyway, he's +100 (risk $100 to win $100 as well).
You can check out the full listing at Bookies.com, but a few others of note are Patrick Cantlay (+350), Xander Schauffele (+400), Viktor Hovland (+450), Collin Morikawa (+600), and Will Zalatoris (+600). Of course, none of this means anything, but sportsbooks usually always know more than anyone.
As for those players who have even less of a chance of going? Vocal LIV critics Justin Thomas, Jon Rahm, and Jordan Spieth are all listed at +2000 (or 20-to-1 odds), and Rory McIlroy is +3000. Yeah, we're not taking that bet, either.