The Loop
Yes, Lane Kiffin is claiming he offered Matt Leinart's 11-year-old son a scholarship to FAU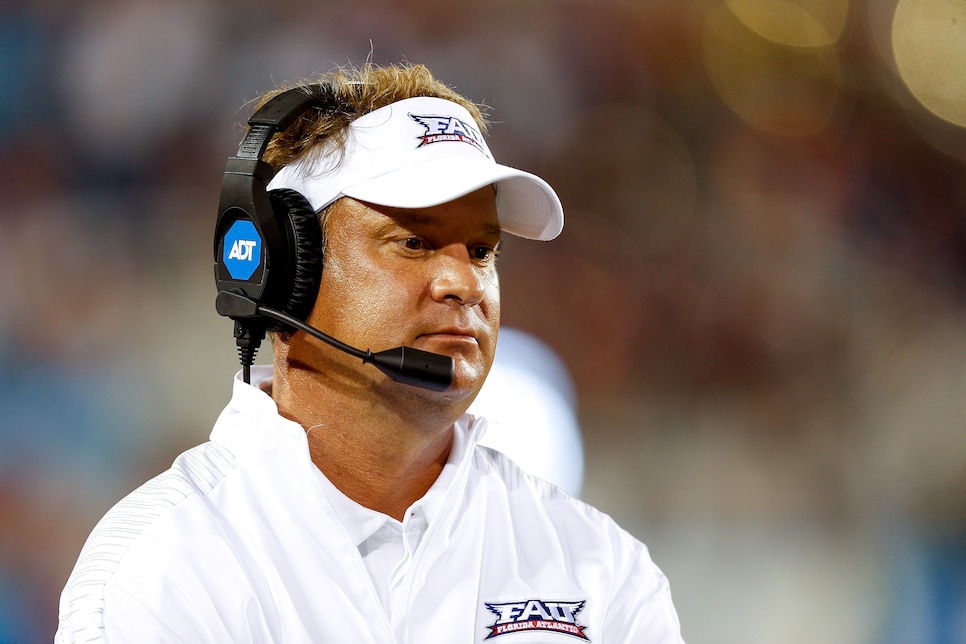 Earlier this week, Fox Sports college football reporter Bruce Feldman tweeted out of video of former USC quarterback Matt Leinart's 11-year-old son Cole dropping a dime to his receiver in a flag football game. Feldman mentioned that Cole is "already 5-7 and has a huge arm," then adding, "Shocked that Lane Kiffin and FAU haven't already offered him [a scholarship]."
Less than two hours later Kiffin responded in what could have been a joking manner considering his hilarious Twitter presence, but apparently was not. He actually was way ahead of Feldman, claiming he has already made Cole the offer:
This is nothing new for Kiffin. The Florida Atlantic coach once offered 7th-grader David Sills a scholarship to play quarterback when Kiffin was still at USC back in 2010. Sills is now a star senior wide receiver at West Virginia University, where he's hauled in seven touchdowns this season, tied for the sixth-most in the NCAA. According to walterfootball.com, Sills is projected as the 11th best receiver in next year's NFL Draft. So there's no question Kiffin has an eye for talent, no matter how far away that talent is from being in college.
Like the Sills situation, this could all mean nothing when Lane is in his first season at Alabama seven years from now and Cole Leinart is playing somewhere else. But at least he has the inside track on him, due in large part to his relationship with Cole's dad Matt, who he coached at USC. If this kid is anything like his dad, he's going to be a stud. All Kiffin needs to do now is find a 12-year-old future Reggie Bush to complete his 2025 squad.