Amateurs
The new U.S. Girls' Junior winner has two USGA champs—one age 19, one age 61—to thank for her victory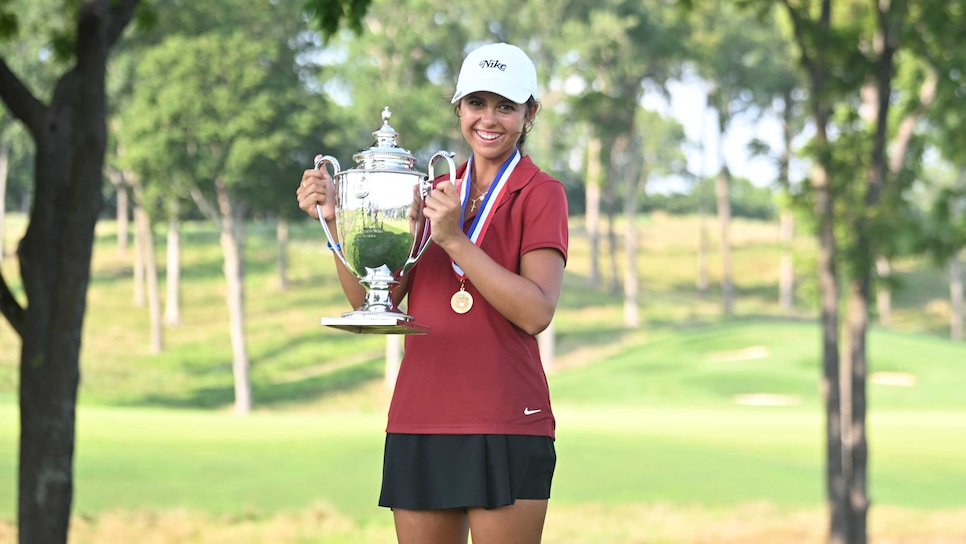 Yana Wilson poses with the Glenna Collett Vare Trophy after her victory at the 2022 U.S. Girls' Junior.
Kathryn Riley
A big year for Yana Wilson got that much bigger on Saturday when she claimed the biggest title in junior golf. The 15-year-old from Henderson, Nev., won the 73rd U.S. Girls' Junior Championship when she pulled out a pulled 3-and-2 victory over Gianna Clemente to claim the title.
Wilson rallied during a seesaw 36-hole championship match at The Club at Olde Stone in Bowling Green, Ky. She was 1-up through the morning 18, but found herself trailing after 24 holes. She had a chance to tie things up on the 26th hole, but pulled a makable birdie putt. But on the 27th, she made birdie to even up the match, then won the 28th hole with a par to take back the lead. Birdies on the 31st and 33rd holes sealed the victory.
"It means a lot," Wilson said. "Today, I looked at the boards that [the USGA put up] walking up to hole 1, and I saw a lot of the girls who won the U.S. Girls' Junior had won the U.S. Open, and they have really just become legends. Hopefully one day I can join them."
Indeed, Wilson joins the likes of Mickey Wright, JoAnne Carner, Hollis Stacy, Amy Alcott, Lexi Thompson, Inbee Park and Ariya Jutanugarn as winners of the 18-and-under championship.
"Yeah, honestly I learned from my mistakes that I made last year playing Rose in the quarterfinals," Wilson said, "and I feel like that really helped me with this year because I know what not to do now."
Wilson also picked up a little advice this week from another USGA champion: two-time U.S. Senior Open winner and Kentucky native Kenny Perry. The 61-year-old's grandchildren befriended Wilson during the week, and she and her father were invited to a dinner with Perry earlier in the week.
"He just told me to hit fairways and hit greens, kind of what Rose has been telling me to do. It's been great."
Wilson's résumé also includes two wins in the Drive, Chip & Putt national finals at Augusta (2019 and 2021). She played on the 2022 U.S. Junior Solheim Cup team, and she's a member of the state champion Coronado High women's golf team in Nevada, a school that had four team members playing this week in Kentucky.
With the victory, Wilson grabs Glenna Collett Vare Trophy and gains an exemption into next year's U.S. Women's Open at Pebble Beach.
"It's insane. It's honestly unreal," Wilson said. "Nothing has really sunken in yet. On the back nine I didn't really realize that I was in an actual match because I was just trying to play my best golf possible … Pebble [Beach] looks amazing. Actually, my dad has played Pebble Beach twice, and I've only seen No. 18 once because I think we went to go get dinner when we visited there. No. 7, the par 3…I'm so excited to play it."