U.S. GIRLS' JUNIOR
Tournament favorite Megha Ganne disqualified from Girls' Junior after first-round mishap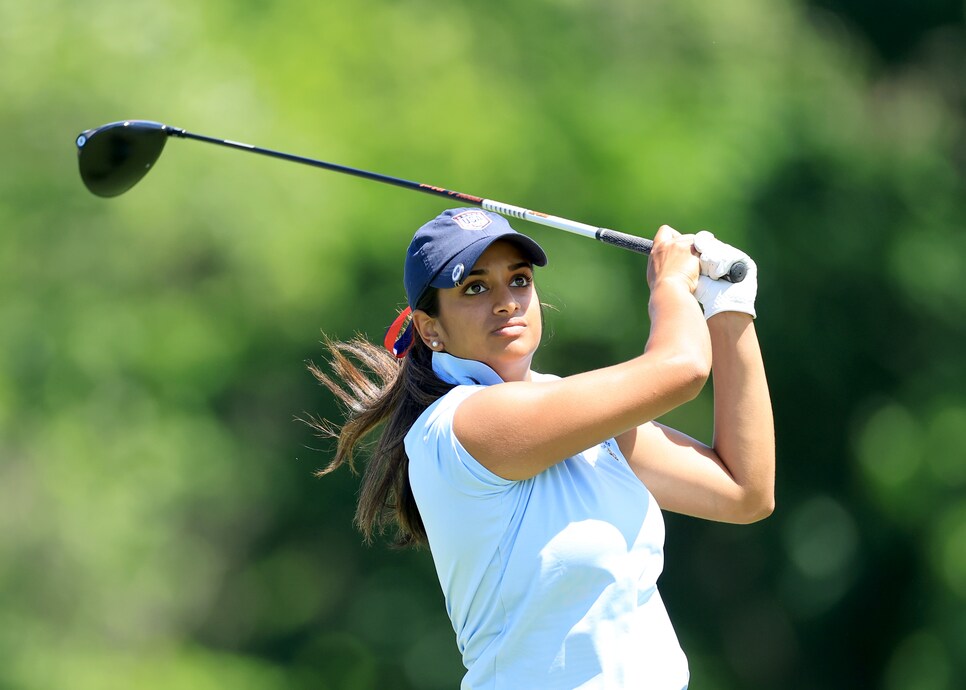 It was a tough Monday for the top draw at the U.S. Girls' Junior Championship.
Incoming Stanford freshman Megha Ganne, No. 16 in the World Amateur Golf Rankings, was disqualified from the first round of stroke-play qualifying after signing an incorrect scorecard. Ganne told Golf Digest that she signed for a par on the par-4 17th hole at the Club at Olde Stone in Bowling Green, Ky., when she made bogey. She made USGA officials aware, and she was disqualified.
"I signed for a 70 instead of a 71, by accident," Ganne told Golf Digest. "I checked my hole-by-hole scores but must've unknowingly glanced over it. I notified the USGA staff as soon as I saw it incorrect on the leaderboard at lunch."
The USGA responded, saying: "The player unknowingly signed her scorecard for a lower score, and under Rule 3.3b (3) was disqualified. She came to us shortly after realizing her mistake."
Rule 3.3b (3) states that there are two outcomes if a player signs a scorecard with an incorrect score on a particular hole. If the score returned was higher than the actual score, then the player's total score for the hole must stand, meaning they have to count their mistake. In the case of a returned score that was lower than the player's actual score, the result is always disqualification.
Ganne, 18, just competed on the victorious U.S. Curtis Cup team at Merion Golf Club earlier this summer and was a heavy favorite to win the U.S. Girls' Junior. She was the highest ranked amateur in the field and was the player with the most championship appearances in the field having played four previous times.
The field at the Girls' Junior is now down to 155 players and the top 64 after Tuesday will advance to the match-play portion of the event. The 36-hole championship match is scheduled for Saturday.
Ganne already has some outstanding accomplishments under her belt from junior, amateur, and even professional golf. Fans may remember her from the 2021 U.S. Women's Open at The Olympic Club, where she played her way into Sunday's final pairing with Yuko Saso and Lexi Thompson. The New Jersey native even shared the lead after the first round, shooting an opening 67.