The Grind
Xander Schauffele's great timing, Tony Romo's Tiger Woods tribute, and Greg Norman gets snubbed
Welcome to another edition of The Grind, where we're sorry for not chatting in awhile, but we've been busy. Because when you win a green jacket, life gets pretty crazy. That's right, I exorcised some big-time demons by winning the 2022 HGGA Championship (my annual buddies trip) kicking off quite the green jacket tour. No, you didn't see me sitting in the royal box at Wimbledon, but there was a celebratory dinner with the family: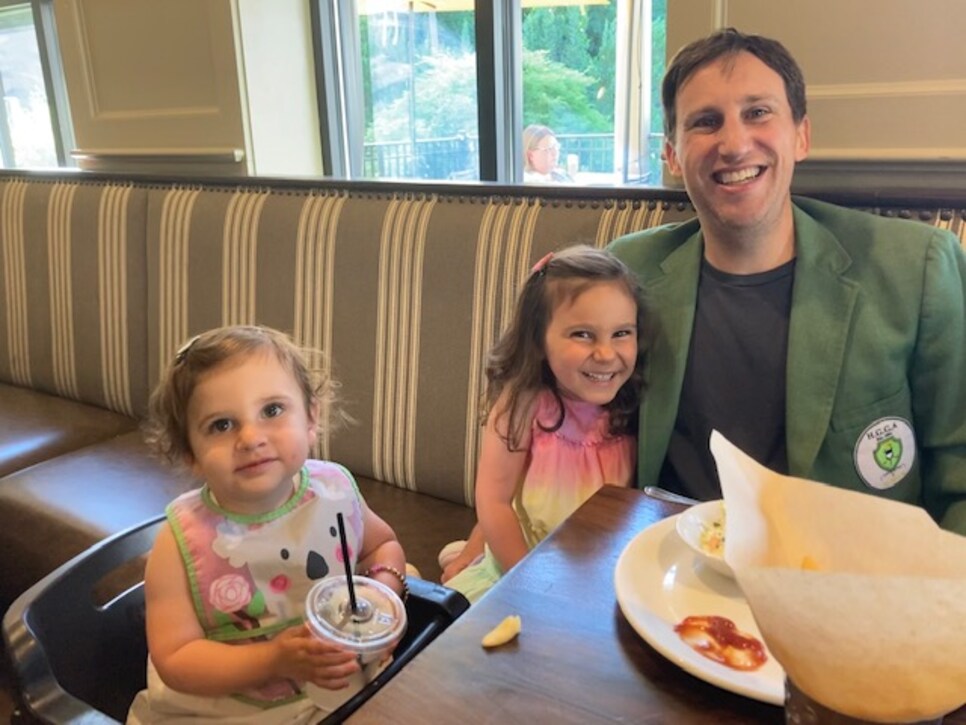 A triumphant trip to Chipotle: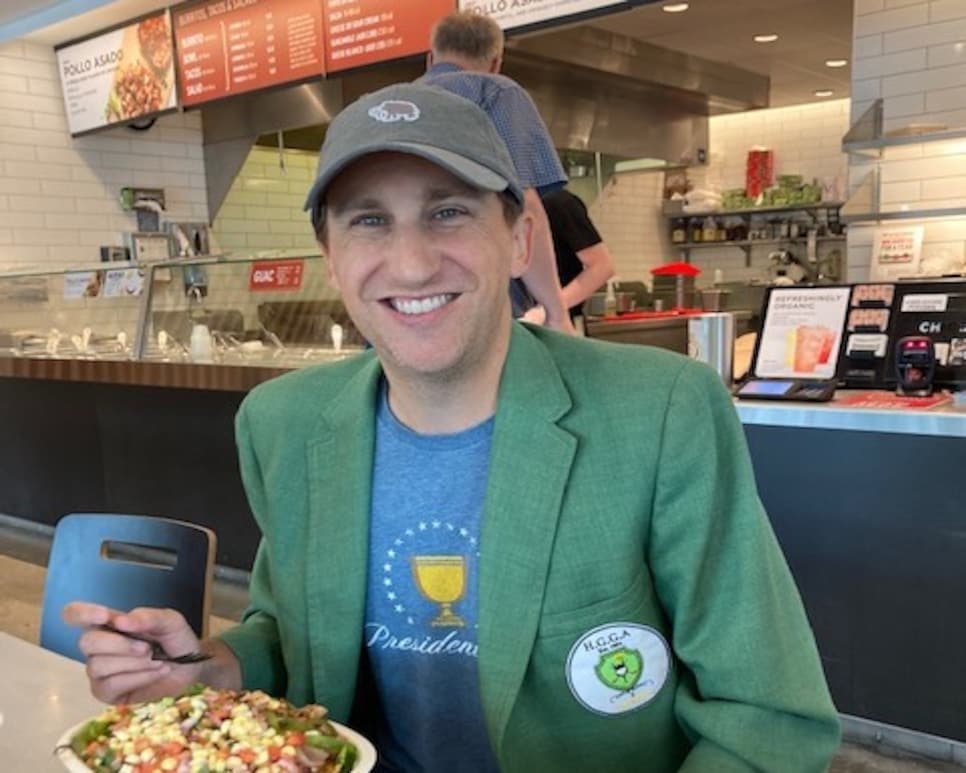 And, of course, the return to glory . . . Costco: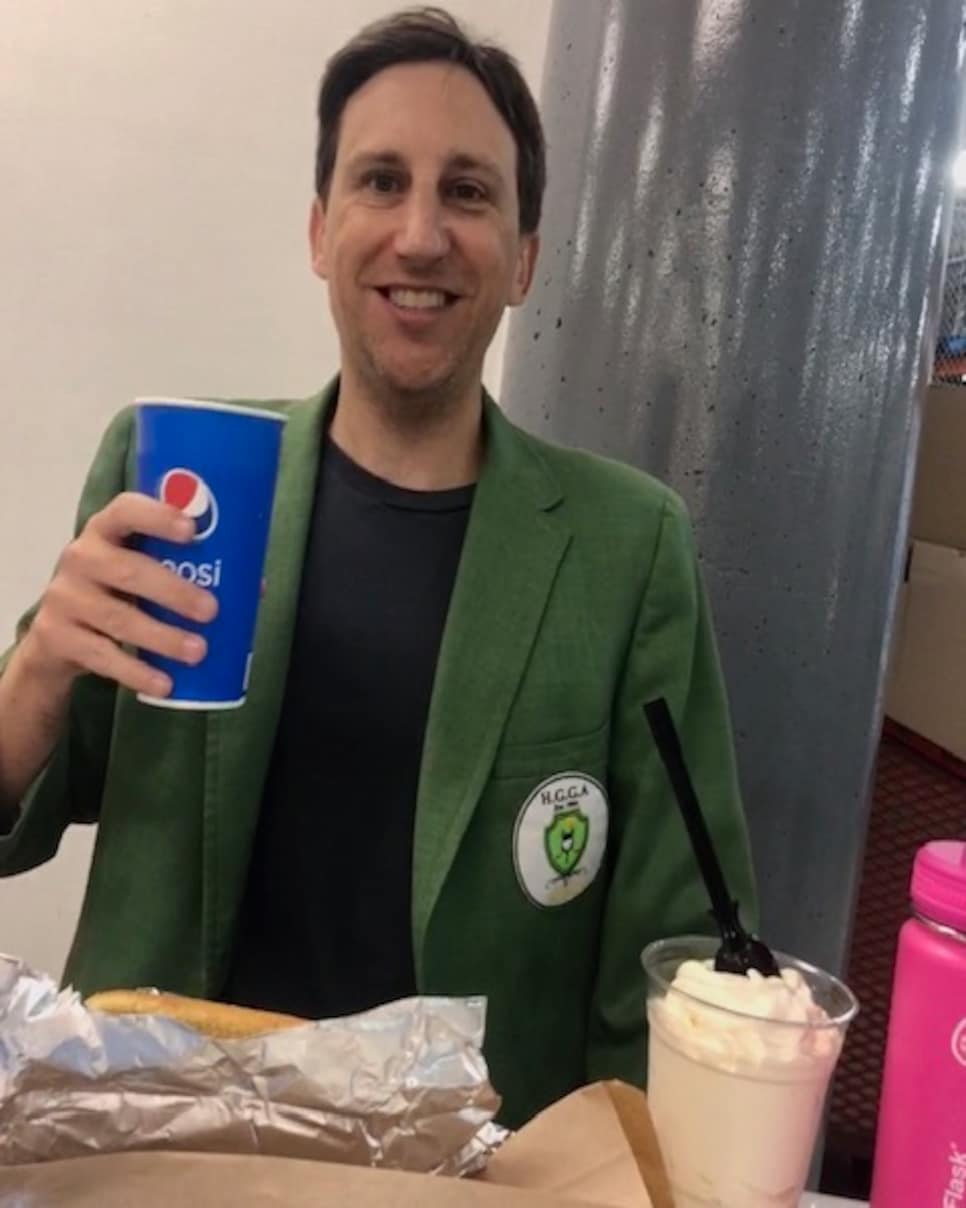 What a whirlwind it's been! And the best part was my oldest daughter being so excited that I "finally beat Scottie Scheffler" to claim this coveted coat. Hey, I'm not going to correct her. Anyway, let's get caught up on everything else that's been happening in the world of golf.
Xander Schauffele: Suddenly, the guy who couldn't win can't lose! What a turn of events for Schauffele, who won a second-straight start at the Genesis Scottish Open and a third straight if you count the star-studded JP McManus Pro-Am. I didn't jinx him by declaring him my new favorite player a couple years back! Yay!
Of course, that long winless drought wouldn't have been so long if my guy had gotten credit for winning when he was low gross at the 2020 Tour Championship. Regardless, he finally caught a nice break with some good timing by winning the first Scottish Open that counts as a PGA Tour event. Throw in that team title with Patrick Cantlay earlier this year and suddenly my man Xander is up to seven PGA Tour titles. That's two more than Rickie Fowler, who doesn't get credit for his 2015 Scottish Open win. The red-hot Schauffele is now the favorite behind only Rory McIlroy entering this week's British Open. You know I'm not betting against my guy.
Trey Mullinax: Heralded as a big star coming out of Alabama, Mullinax took a big hit to his career three years ago. Literally. That's when he was hit in the head by an errant drive by a playing partner during a pro-am, an injury that really set him back. But now he's back on the PGA Tour and he's got plenty of job security after claiming his first victory at the Barbasol Championship.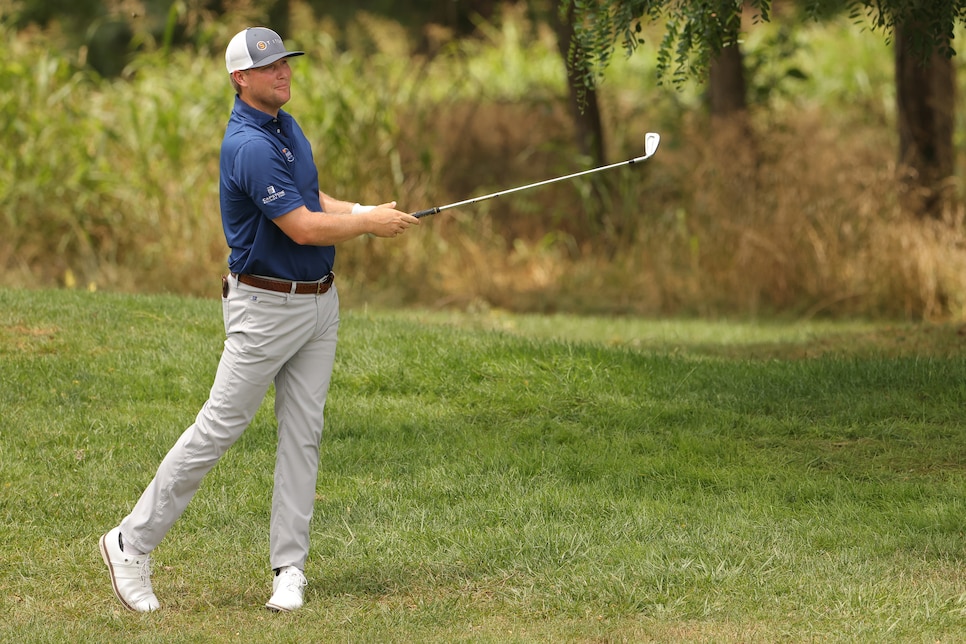 Anyway, good for Trey. And you wonder why PGA Tour pros hate pro-ams so much.
Ben Griffin: First off, congrats to this guy for going from a 9-to-5 job as a mortgage loan officer to earning his PGA Tour card. Griffin accomplished that amazing feat last month. But this past week, he kept his dream year alive by firing what might be the most spectacular 59 in golf history. Sure, it was just a round with friends, but have a look as he dunked his approach on his final hole to shoot golf's magic number:
So sick. Good thing the camera was rolling!
Sand Valley: My word, what a spectacular place. And I'm not just saying that because I won the HGGA Championship there. I haven't been to Bandon Dunes (yep, I'm the only one at Golf Digest), but I can't imagine it being much more spectacular than this place—especially after two new courses (Lido and Sedge Valley) open in the next two years to join the amazing Sand Valley and Mammoth Dunes tracks.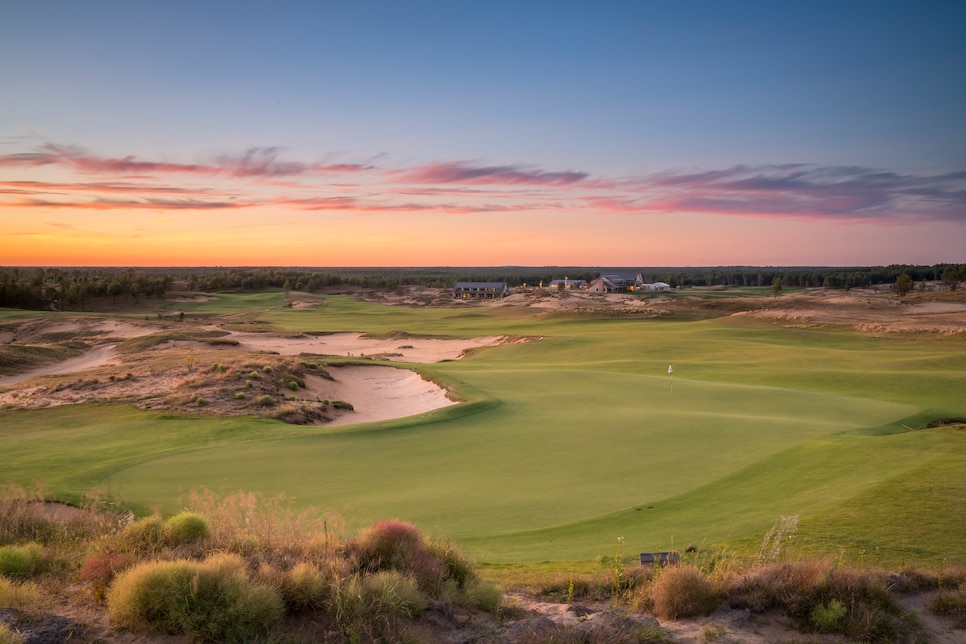 Courtesy of Jeffrey R. Bertch
For the first time in HGGA history, we've already made a commitment two years out to return. As a non-cheese eater, I never thought I'd feel so at home in the Cheese State, but now I feel like an honorary Wisconsinite. And I can't wait to come back—hopefully, with the green jacket still in my possession.
Greg Norman's Open week: Remember a few weeks ago when we ripped The Shark declaring he would play in this year's Open after more than a decade away? And the R&A basically telling him to get lost? That was rough, but things have gotten even worse for Norman after he was also told not to show up for the Celebration of Champions at St. Andrews this week—even though he's a two-time champ:
Wow. Note to self: Do NOT mess with the R&A.
Xander haters: They're awfully quiet these days, huh? Not that there are many out there, but we see you on Golf Twitter with your "He only plays good in limited-field events" or "when there's no cut." Yeah, we see you. And hopefully, that's all done with. Of course, winning a first major this week would really quiet the critics. Although, they'd probably come up with something like, "He can't win a major on U.S. soil" or some other crap, because you can't win arguments these days.
"Golfing" haters: I work with a few people who think saying the word "golfing" is as disgusting as a sewage-filled penalty area. They think they're so pure. And yet, it turns out that true purists have always used the phrase!
As someone who has never persecuted those who say "golfing," you love to see it. Well, hear it.
The golf world (minus Greg Norman) has arrived at St. Andrews for the 150th Open Championship, AKA the granddaddy of them all. Or something like that. One hundred and fifty playings of this bad boy is wild to think about. There's been a lot of chatter that this momentous event could mark the last time we see Tiger Woods cross the Swilcan Bridge. I don't believe that for one second, but it promises to be a special week with the GOAT walking this hallowed ground.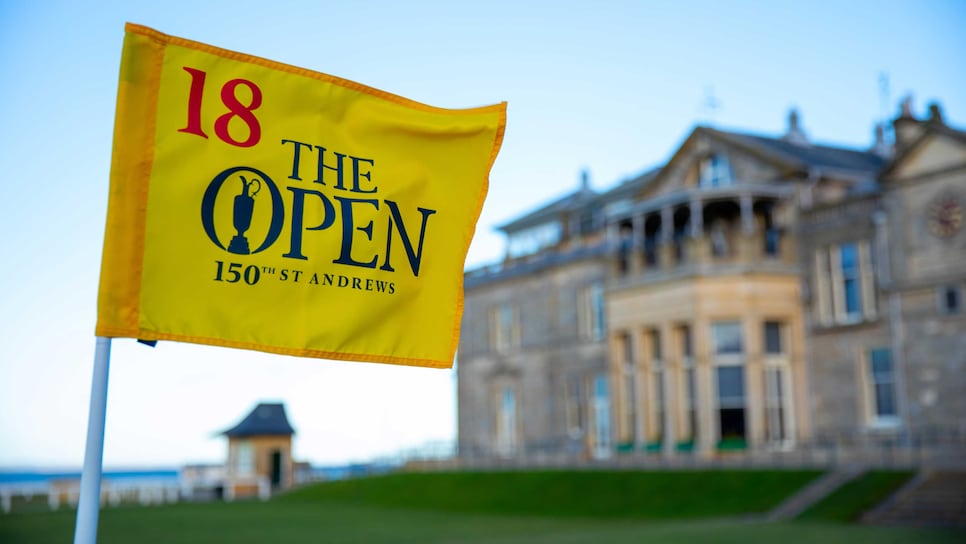 Random tournament fact: Tiger Woods and Jack Nicklaus are the only two golfers to win the Open twice at The Old Course. Could there be a more fitting stat?
RANDOM PROP BETS OF THE WEEK
—Tiger Woods will retire after this week: 1 MILLION-to-1 odds
—Tiger Woods will win this week: 60-to-1 odds (Actual odds . . . tempting!)
—Tiger Woods will never NOT be invited to the Open: LOCK
JT Poston informed everyone of a pretty big mixup:
Hey, it's better than when JT (Poston) was mistaken for a valet during his rookie season. The guy has come a long way!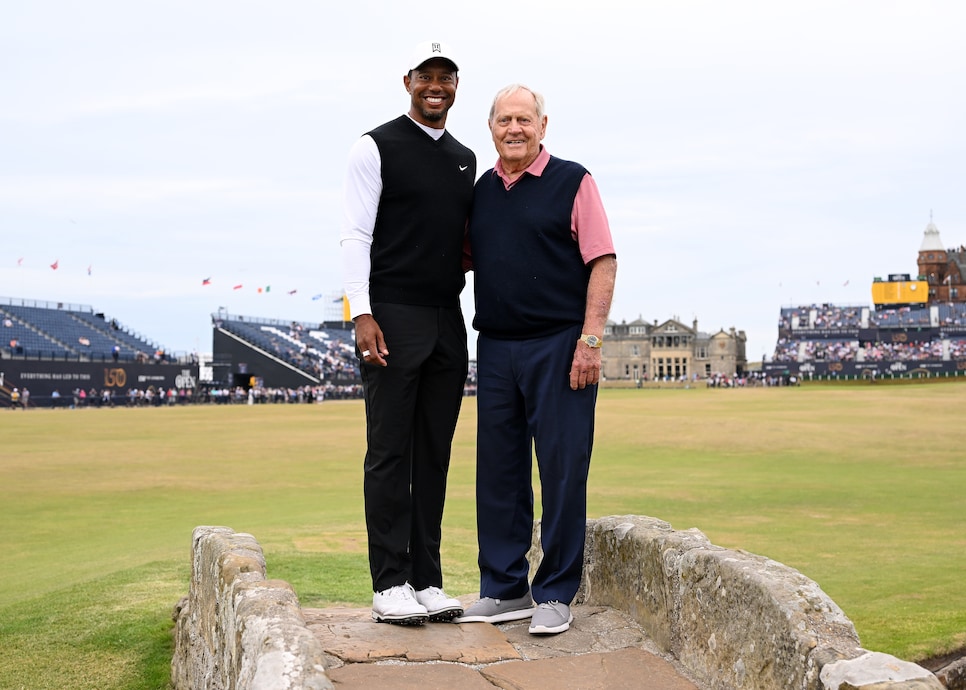 That's 33 majors right there. Or 38 if you count U.S. Amateurs. Or, 50—an even 25 per piece—if you count U.S. Amateurs, Players Championships, and BMW Championships (the old Western Open) like we did for a recent Local Knowledge podcast on the history of pro golf's majors. Anyway, you get the point. What an amazing photo.
VIRAL VIDEO OF THE WEEK (TRICK SHOT DIVISION)
Kyle Berkshire's latest shot is unbelievable:
That might be the best anyone has ever hit a golf ball.
VIRAL VIDEO OF THE WEEK (RANDOM DAGGERS DIVISION)
The Tiger Woods-Justin Thomas bromance has reached new levels this week with the pair essentially having their own buddies trip at St. Andrews. That being said, Tiger still likes to put the young whippersnapper in his place every now and then:
VIRAL VIDEO OF THE WEEK (COURSE PREVIEW DIVISION)
Looks like the Old Course is going to play firm and fast!
Somewhere, Mike Davis is very, very jealous.
THIS WEEK IN PUBLIC DISPLAYS OF AFFECTION
Tiger and Rory waving to Rory's daughter was great:
But even better was Tiger putting balls at Rory's feet on the practice green:
Toss in that trip to Ballybunion and this bromance has been rekindled as well. Should Justin Thomas be worried?!
THIS WEEK IN CELEBRITY GOLFERS
What a week for Tony Romo, who came from behind—and overcame some recent back issues—to claim a third American Century Championship, this time in a playoff against Mark Mulder and Joe Pavelski: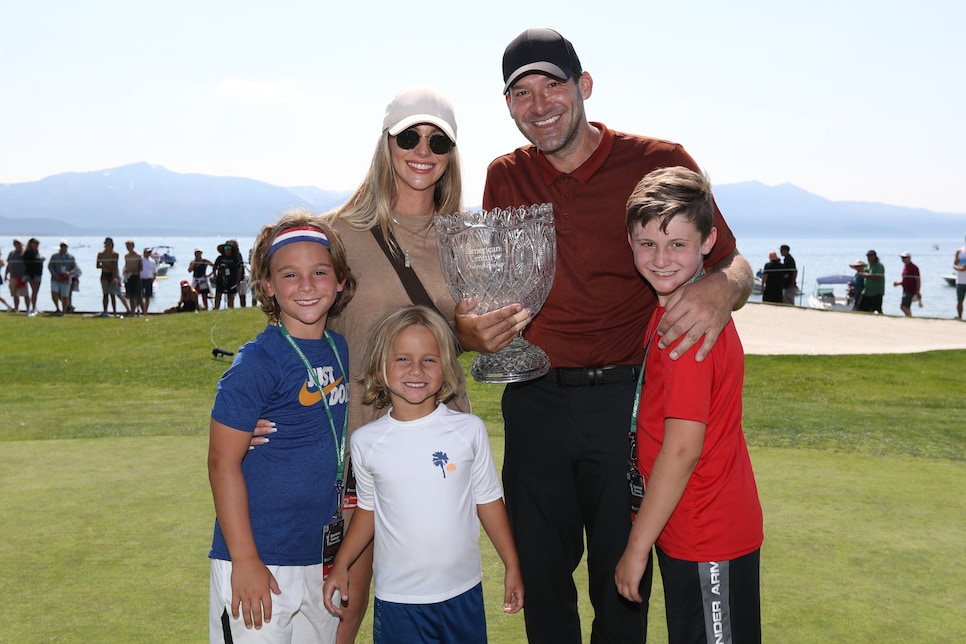 Isaiah Vazquez/Clarkson Creative
Love the Tiger Sunday red. I always do the same on my golf trip. Even though our final round was on Saturday. Anyway, there have been some worthy challengers to the Celebrity Golf throne (Mulder, Steph Curry, John Smoltz, Mardy Fish, etc.), but Romo has reclaimed it. At least, for now. And for a guy who never won a Super Bowl, at least he can say he's won three Super Bowls of Celebrity Golf.
Tiger Woods on those going the LIV Golf route was strong to quite strong: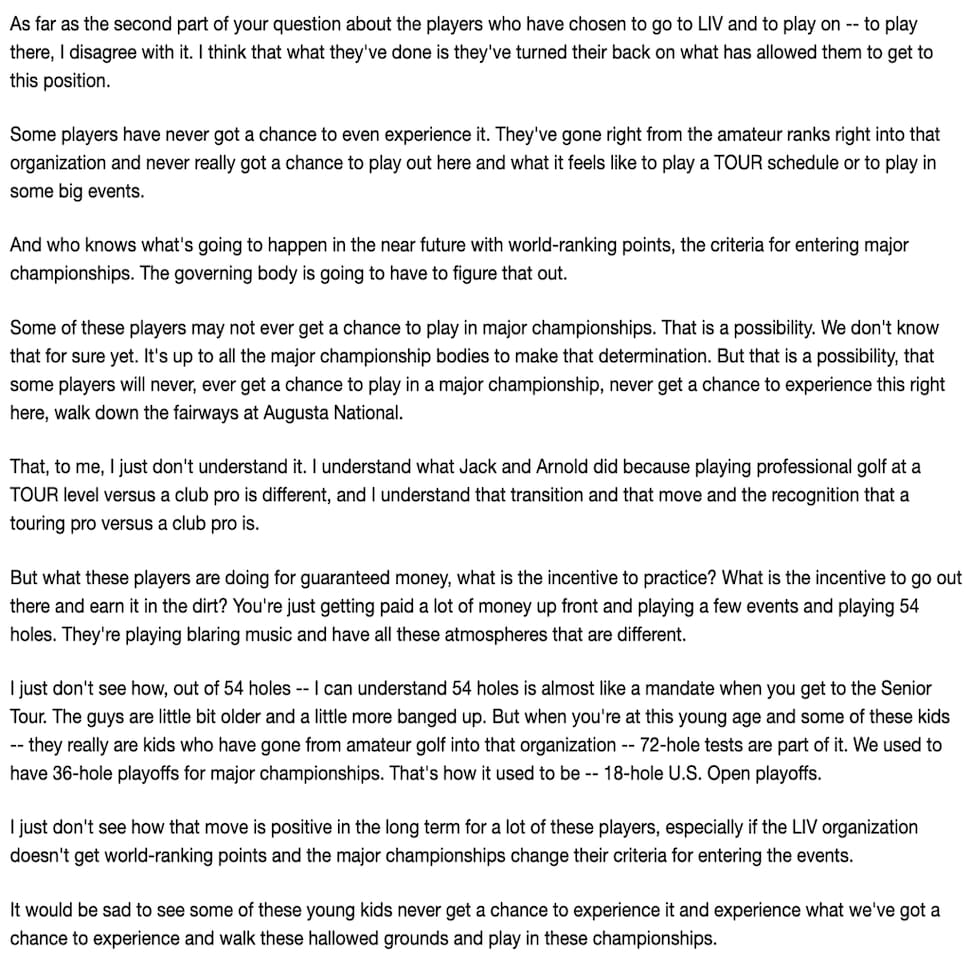 Congrats to Jerry Kelly for winning the Senior Players Championship. Great to see my fellow Wisconsinite do well. . . . Kurt Kitayama has missed more cuts than he's made in his first full PGA Tour season and yet he has three top-three finishes, including a pair of runner-ups. When he gets hot, he gets hot. . . . Tiger Woods will play with Matt Fitzpatrick and Max Homa the first two days at St. Andrews. Golf Twitter might actually break. . . . And, finally, enough about everyone else, let's talk more about me and my big win! What a glorious walk up 18 at Mammoth Dunes it was!
That's four green jackets to go with two Golf Digest Editor's Putters. I basically have Phil Mickelson's major career now. Minus the millions in prize money, of course.
RANDOM QUESTIONS TO PONDER
Will there be another 150 Open Championships?
Will there be another 29 HGGA Championships?
Where should I wear the green jacket next?