SENIOR PLAYERS
After calming message from wife, Jerry Kelly captures Senior Players for second time in 3 years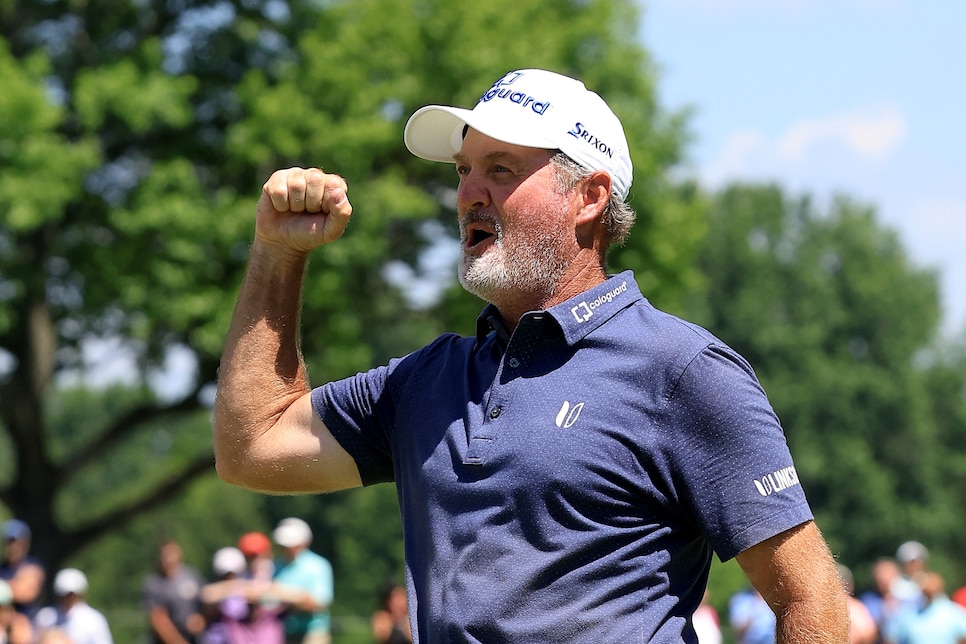 AKRON, Ohio — The Senior Players trophy is going back to Wisconsin. Again.
Thanks to three birdies in his final six holes Sunday at Firestone Country Club, Jerry Kelly pulled away from playing partner Steve Stricker and Schwab Cup leader Steven Alker to capture his second Bridgestone Senior Players Championship in three years. Kelly, 55, won for the 10th time on the PGA Tour Champions and now has finished 1-2-1 in the last three years at Firestone's South Course.
"It feels great. The first major is awesome, but the second one, even more validation," said Kelly, who beat fellow Madison resident and close friend Stricker—the defending champion—by two strokes after closing with a two-under 68. His 11-under 269 total was four strokes better than any previous aggregate total at Firestone and eight strokes lower than his winning score in 2020.
Alker finished three back after a bogey at 18 to tie for third with Ernie Els at eight-under 272, marking the Kiwi's seventh top-three finish in his last eight starts, including a victory in the Senior PGA Championship. Alker shot 69 while Els had a 68 before leaving for the Open Championship at St. Andrews.
Kelly, who shared the 54-hole lead with Alex Cejka, didn't make a birdie Sunday until he converted a four-footer at the par-4 13th after hitting what he called, "one of the best shots of my life." From behind trees in the right rough, Kelly sliced a 3-iron utility from 214 yards that he thought was coming in too hot, but the ball hit into the hill and checked up near the hole.
"That kind of opened the door. That was the turning point for me," Kelly said. "Any tournament you just see, oh, there it was, there's the break or there's the shot or there's the putt. There's always something that separates. You've just got to feed off of it."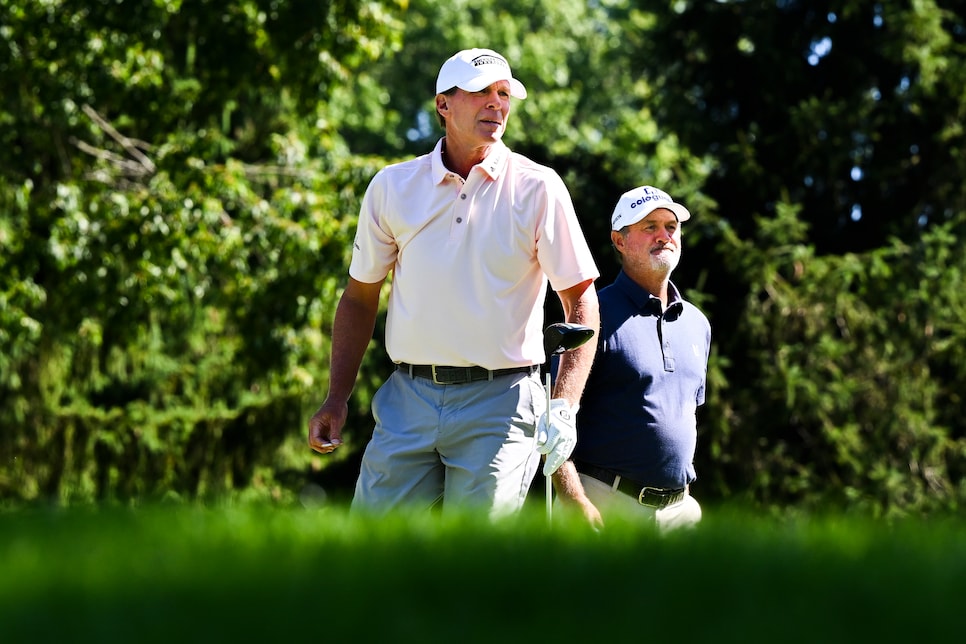 Equally important was that Stricker, who had forged into the lead by going three under in his first 11 holes, bogeyed the 13th from the greenside bunker for a two-shot swing. Kelly then sank a 15-footer from the front fringe at the 16th to break a tie with Alker after Stricker missed from a similar line. A 10-footer for birdie at the 17th sealed Kelly's second win in his last four starts.
Stricker also closed with a 68. Cejka had a 73 to end up T-5.
The victory was especially satisfying for Kelly for several reasons. First, he earnded a berth in the Players, one of his favorite events. "That was a big piece of the desire in winning this tournament," he admitted.
Second, and more importantly, it came with his wife Carol in the gallery even as she continues to undergo treatments for kidney cancer. She also offered her husband some sage advice as they arrived at the course Sunday that enabled him to remain patient.
"Just the fact that she's here this week," Kelly said. "The golf course is that special and she's like, 'You know what, I want to be there for you. I love that golf course, it's really cool just to be out there.'
"This is a different world once you step inside these gates over here. It's an awesome spot," added Kelly, who is comfortable at Firestone, saying it reminds him Maple Bluff Country Club, his home course in Wisconsin. "I love it that she can appreciate that and that she wanted to come here. She gave me the words stepping out of the car, she just said it doesn't matter what happens, I want to see the attitude up the entire time. The lid was on the hole for a long time, and I was rolling my eyes, but I was doing it with a smile on my face. That was keeping me in a positive frame of mind knowing that it would come to me because of that. That was all her with that attitude.
"To come out on top is pretty cool."