PGA Tour Champions
The mastery (and mystery) of Steven Alker continues with his victory in the Senior PGA Championship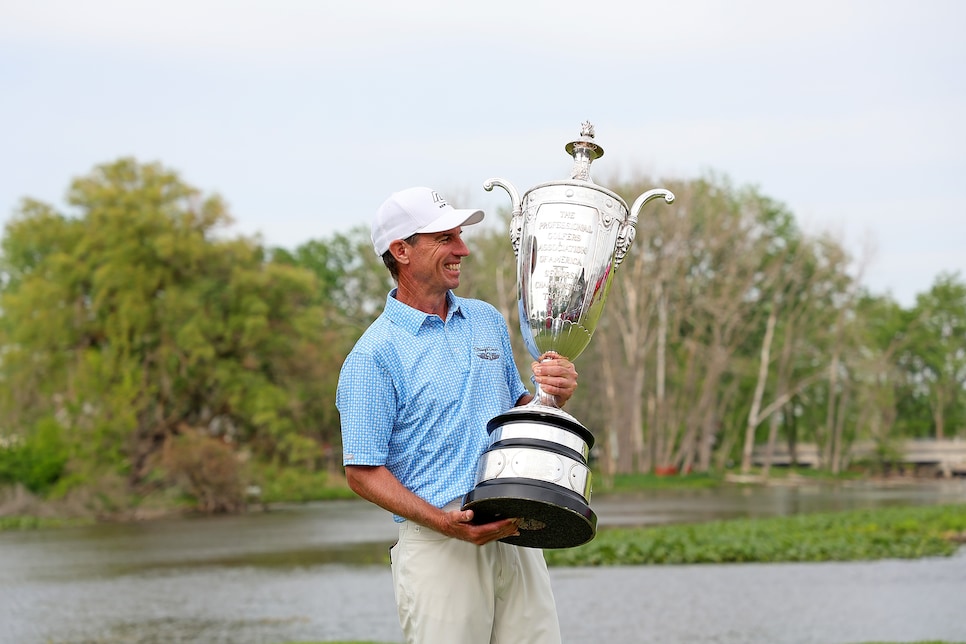 The magical mystery tour continued for Steven Alker on Sunday, when the man who came from nowhere added a major championship to his inexplicably remarkable PGA Tour Champions run.
Alker, 50, came from four shots down at the start of the final round, shot an eight-under 63 at Harbor Shores in Benton Harbor, Mich., and won the KitchenAid Senior PGA Championship by three, his third win in his last five starts and his fourth in 19 starts as a senior.
The mystery is how this journeyman, a native New Zealander who had never found a home in professional golf, turned 50, played his way onto the senior tour and immediately became a dominant player. Paul Goydos wants to know, too, asking where he's been the past 50 years.
"Just perseverance," a euphoric Alker said. "That's all I can say. Just perseverance with a capital P."
Magical is the only way to describe his ascension that reached a pinnacle with this victory and the $630,000 first-prize money. He has finished in the top 10 in 16 of his 19 starts, nine of them top-three finishes. Moreover, in his last five starts, he has finished first, tied for second, first, tied for third and first.
"Lot of things," Alker said, attempting to explain his meteoric rise. "Support, and the game coming around, people helping me just to get me in shape, caddie, everybody. It's been a great run. I'm just enjoyed playing out here. It's been so much fun.
"I can't put my finger on one thing exactly. I look back and I go, geez, did I really have the game or did I have the attitude? I think right now, I've matured and it's a second wind. That's the biggest thing, I've had these 18 months, two years, 50s coming up, so let's stay in shape. Let's keep playing. We have a second career. Let's go for it. Let's go."
The past had been a perennial grind for Alker. He made 86 PGA Tour starts without a top 10 and missed the cut in 47 of them. He made 80 European Tour starts and missed the cut in 42, with only a single top 10. He had 304 starts on what now is called the Korn Ferry Tour, though he played it when it was the Nike Tour, the Buy.com Tour, the Nationwide Tour and the Web.com Tour. He did win four times, but missed the cut in nearly half those starts.
The history in the wake of his senior debut is ancient and now largely forgotten, though Stephen Ames remembers.
"I watched Steven play on the European Tour, Korn Ferry Tour, and all of the sudden out here, wow," the runner-up Ames said. "It's fantastic, great to see. Any person that's an un-name player coming out, getting a name for himself the way he's been doing, it is phenomenal."
Alkers completed 72 holes in 16-under par 268. He birdied the 15th and 16th holes to go two ahead, a lead that increased to three when Ames bogeyed the 17th. Ames, who shared the 36-hole lead and was the 54-hole leader, shot 70 in the final round and finished second. The seemingly ageless Bernhard Langer, 64, who briefly shared the lead with both Alker and Ames on the back nine, made three consecutive bogeys, then a double bogey on 18 to shoot 71 and fall to third place.