The Grind
Wyndham Clark literally breaks through, Brooks and Jena make a big announcement and the scariest part of the Ryder Cup venue
Welcome to another edition of The Grind, where we only care about coronations that take place on Sunday and involve a certain golfer wearing a red shirt with black pants. No offense, Great Britain. Although, sadly, it seems like those days are behind us, especially with Tiger Woods' longtime caddie, Joe LaCava, leaving the 15-time major champ (with an injured Tiger's blessing) to join forces full-time with Patrick Cantlay. It's sad to see the end of a partnership that gave us arguably the greatest win in golf sports history:
Like they say, don't cry that it's over, smile that it happened. And we'll always have 2019. Good luck with your new gig, Joe, and get better soon, Tiger. OK, let's talk about what else is happening:
Wyndham Clark: This wasn't a total shock considering how Clark has been playing, but picking up your first PGA Tour title at a designated event—and doing it in dominant fashion—is pretty darn impressive. Such was the case for Clark, who cruised to a four-shot victory over Xander Schauffele to reel in $3.6 million.
And after, he celebrated his breakthrough win by literally breaking through a glass window:
Not going to lie, that looks fun. For the season, Clark has made 17 of 19 cuts, while racking up nine top-25s and six top-10s. He's No. 5 in FedEx Cup points, meaning Wyndham is in great shape to earn a regular season bonus. Too bad that's sponsored by Comcast now and not WYNDHAM. Talk about a sponsor's dream.
Adrian Meronk: There have been a lot of firsts for this guy, including the first Polish golfer to win on the DP World Tour and the first Polish golfer to play in the Masters. But now it looks like he'll be adding another achievement this fall as the first Polish golfer to play in the Ryder Cup. That's because not only did Meronk win for a third time on the DP World Tour at the Italian Open, but he did it at Marco Simone Country Club, this year's Ryder Cup venue.
Yep, he'll fit right in with the whole Team Europe/MOLLYWOOD vibe.
Thailand: Congrats to this emerging women's golf powerhouse for capturing the LPGA International Crown. Ariya and Moriya Jutanugarn, Patty Tavatanakit and Atthaya Thitikul proved to be too formidable of a foursome to deal with at TPC Harding Park, sweeping Team Australia in the final after beating Team USA in the semis.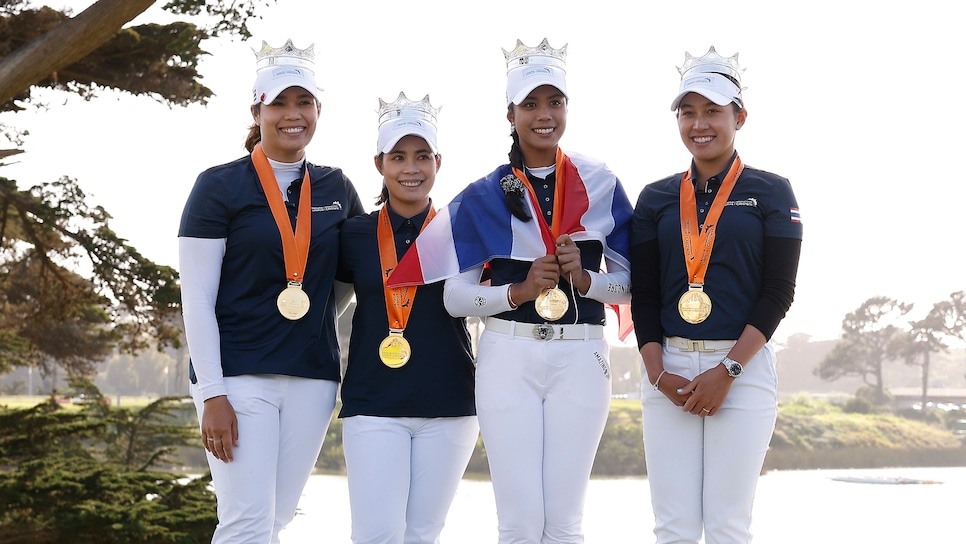 And Thailand was the six-seed at the tournament! And you think the NCAA men's basketball committee is bad at seeding (UConn as a No. 4?!). Anyway, love the fact that the winners actually getting crowned. That is baller. And how timely with King Charles finally getting his!
Rory McIlroy's struggles: We didn't want to hit the panic alarm following that missed cut at the Masters, but it's time after the three-time Wells Fargo champ only finished T-47 at Quail Hollow. A place he absolutely owns. Yep, Rory is officially (back) in a slump.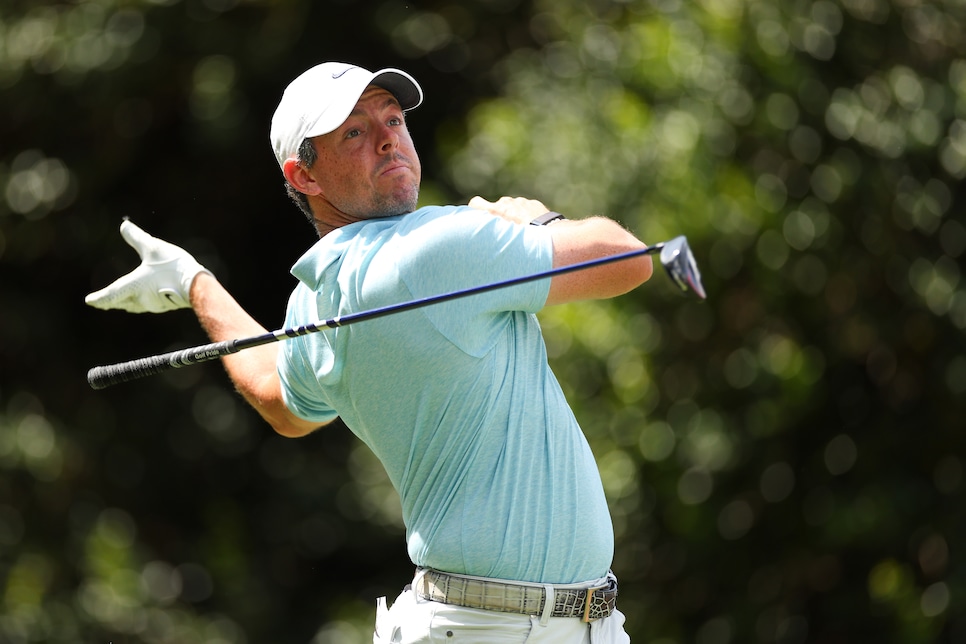 As our Shane Ryan wrote after listening and watching McIlroy all week, it appears the stress of the PGA Tour vs. LIV battle over the past year has finally caught up with the four-time major champ. Rory has been wearing a lot of hats these past 12 months and he's no spring chicken anymore after turning 34 on Thursday. Besides, just being a dad is hard enough. Heck, I got in 34,000 steps over the weekend without even stepping on a golf course. It's playground szn, y'all. Anyway, at least McIlroy can still turn to pizza for fuel, unlike this guy …
Justin Thomas' diet: Ahead of the Wells Fargo, the two-time PGA champ revealed he's on a health kick that's seen him cut out all gluten and dairy. That means no (gulp) beer and (gulp) pizza. "I would do some messed up things for pizza," Thomas said.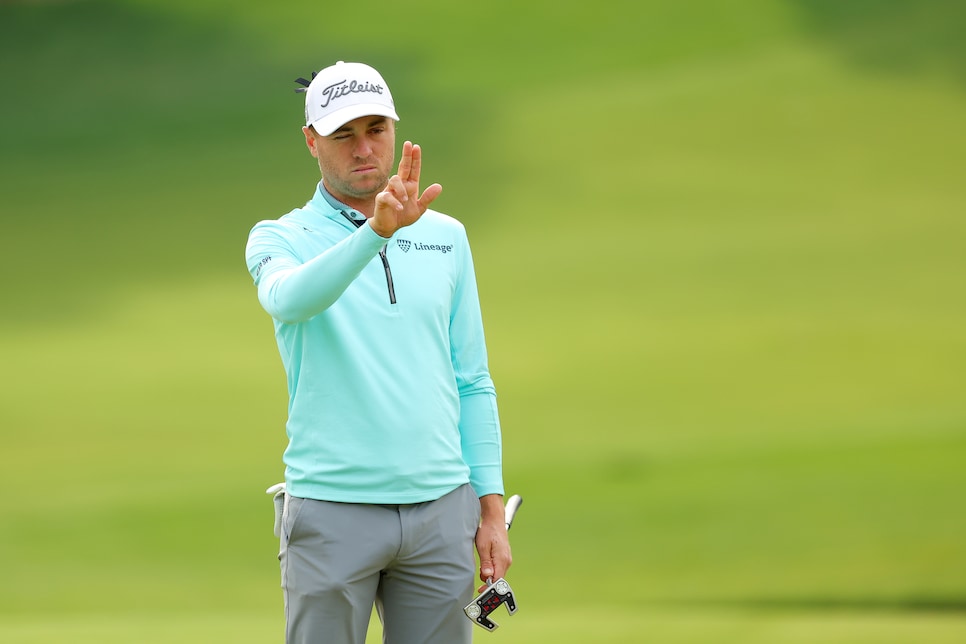 Why in the world would someone voluntarily do something like this? Well, Thomas is hoping it will help him maintain better energy levels, especially in the heat. Good for him wanting to win so bad, but that's quite a sacrifice to make for your craft.
Fighting MMA guys: We've seen plenty of entertaining golf fights through the years, but what took place in Oklahoma was just an absolute beatdown. According to someone close to the situation, some golfers got mad that kids were coming on the course, and those kids' fathers decided to challenge the golfers. One problem: the golfers were also former MMA fighters. Whoops. Have a look:
What are the odds? That's a tough break. Still, it's a reminder to always be careful who you step up to.
Snakes in a bunker: "Snakes on a Course" could definitely be a worthy sequel to "Snakes on a Plane." Heck, it would be easy to get Samuel L. Jackson involved because he spends most of his free time playing golf. Anyway, while we've seen snakes pop up in scarier places than sand traps, it was alarming to see one slithering around a bunker at Marco Simone in the middle of a tournament, especially considering that place is going to host the Ryder Cup in a few months:
Does European Ryder Cup captain Luke Donald have inside info that a bunch of top Americans are terrified of snakes? If so, talk about putting home-course advantage to use in devious (and brilliant) fashion.
The PGA Tour heads to Dallas for the AT&T Byron Nelson, AKA that one that used to be hosted by Byron Nelson, AKA that one that Jordan Spieth contended at when he was still in high school. Spieth figured to be one of the favorites this week, but he withdrew on Monday citing a wrist injury. Tough break for the local fans. And a bad sign for Spieth's chances of completing the career Grand Slam at next week's PGA Championship.
Random tournament fact: Since the tournament moved to TPC Craig Ranch in 2021, there's been one winner. And the sheriff around these parts goes by the name K.H. Lee. Another win this week would have to make this the most unlikely three-peat in sports history.
RANDOM PROP BETS OF THE WEEK
—A fistfight will break out this week at TPC Craig Ranch: 1 MILLION-to-1 odds
—K.H. Lee will win again at TPC Craig Ranch: 20-to-1 odds (Actual odds)
—Jordan Spieth will enjoy some pizza and beer while watching: LOCK
Phil vs. the USGA. Tale as old as time.
TWEET(S) OF THE WEEK (CLEAN LANGUAGE DIVISION)
With Tiger and Joey no more, our new favorite player-caddie duo steps into the spotlight. First, Geno Bonnalie tweeting a pick-up line at Tiger:
And then his boss, Joel Dahmen, being even more direct about looking to play golf in the Charlotte area after missing the cut at Quail Hollow:
TWEET OF THE WEEK (CURRENT-EVENTS-RELATED DIVISION)
VIRAL VIDEO OF THE WEEK (CELEBRITY-GOLFER DIVISION)
From the green room to the green! Will Levis can absolutely crush a golf ball:
Hopefully, he'll find some golf buddies on the Titans.
VIRAL VIDEO OF THE WEEK (CADDIE DIVISION)
More from Geno, who is part of a new underwear campaign with fellow caddies Aaron Flener, John Limanti and Joel Stock:
Good stuff, guys. Are we entering the Golden Age of caddie commercials?
THIS WEEK IN PUBLIC DISPLAYS OF AFFECTION
Congrats to Brooks Koepka and Jena Sims, who announced they are expecting their first kid this fall:
Netflix needs to do a follow-up "Full Swing" episode showing a struggling Brooks, but this time with him being distraught over his diaper-changing form.
THIS WEEK IN PUBLIC DISPLAYS OF ATHLETICISM
How about this dude's reflexes?
Quick as a cat out there. Well done.
Marcel Siem gave arguably the best walk-and-talk interview of the walk-and-talk interview era:
The line at the 3:20 mark, "Oh my god, it's horrendous, trust me," steals the show, though. More mic'd up Marcel, please!
Perfect form on that club twirl, Bella. Oh, and on that swing. … Tommy Kuhl, a fifth-year senior at Illinois, DQ'd himself for fixing aeration holes on the green after shooting 62 at a U.S. Open local qualifier. Classy move, but what a shame because that might be the greatest score ever recorded. … A handful of members of The Grange Golf Club in Adelaide are upset with the condition the course was left in following the recent LIV Golf event. Shocked that this would happen when they literally called one of the holes the "Party Hole." Shocked. … And, finally, congrats to, well, me, for winning the closest-to-the-pin competition at Travelers Championship Media Day to take home this sweet Travelers Championship replica trophy that's a hit with the whole family!
What a beautiful edition to the house. And, hopefully, just the first trophy of the season.
RANDOM QUESTIONS TO PONDER
How much beer could Justin Thomas (not) drink out of that trophy?
Can Joe LaCava get Patrick Cantlay to pick up the pace?
Would Tiger want a media day closest-to-the-pin winner to caddie for him next April?