Rules
College player shoots course record (on aerated greens) in U.S. Open qualifier, promptly DQs himself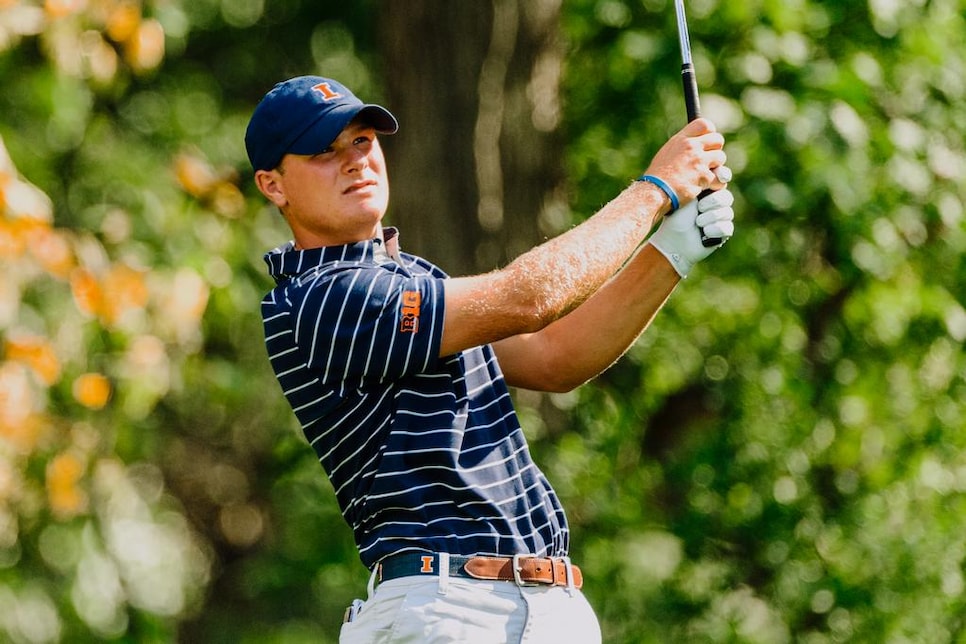 Craig Pessman/Illinois Athletics
For most of us, showing up to a course with aerated greens is so demoralizing that the round is over before it even starts. Now, just imagine that scenario at a U.S. Open local qualifying venue, which is what players faced on Monday at Illini Country Club in Springfield, Ill.
For Tommy Kuhl, it was just another obstacle to overcome en route to Los Angeles Country Club, which he was one step closer to after going thermonuclear on the punched greens. Kuhl, a fifth-year senior at Illinois, shot a course-record 62, easily locking up medalist honors and moving on to U.S. Open Final Qualifying. Or so he thought.
As Monday Q Info first reported on Twitter, Kuhl went out to follow some of his teammates after setting Illini CC ablaze. While watching fellow fifth-year senior Adrien Dumont de Chassart compete in a playoff for the final of five spots up for grabs, another teammate, Jackson Buchanan, mentioned how hard it was putting on the aerated greens all day to Kuhl.
The moment Kuhl heard that, French writes, he knew something was wrong.
"I felt sick to my stomach," Kuhl said. "I knew I wouldn't be able to sleep if I didn't tell the rules official."
Kuhl realized that he had repaired aeration marks multiple times during the round, which is not allowed under the Rules of Golf. In 2019, when many of the rules were simplified, Rule 13.1c(2) was amended to allow repair of "almost any damage on the green." The key word there, of course, is "almost." As the rule reads, "any damage" includes ball-marks, shoe damage (spike marks), indentations from a club or flagstick, animal damage, etc. Unfortunately, that etc. did not include aeration marks, nor did it include natural surface imperfections or natural wear of the hole.
As rules official Todd Bailey told Monday Q, Kuhl would have been within his rights to fix the aeration marks had a local rule been enacted on Monday. That was not the case, and once Kuhl realized he had fixed them multiple times he had to DQ himself.
"I should know better. It comes down to me. I should know that rule," Kuhl said.
Numerous players from the Illini CC qualifier who spoke with Monday Q came clean that they also fixed aeration marks throughout the round, though none of them qualified. Kuhl was the unlucky one among them who happened to have a career day, putting LACC legitimately in his sights. Sadly, that dream is dead, but at least Kuhl won't be having nightmares over a rules infraction he didn't admit to.