Year in Review
What we'll remember in golf from 2022
GolfDigest.com staffers offer their favorite golf memories from the past year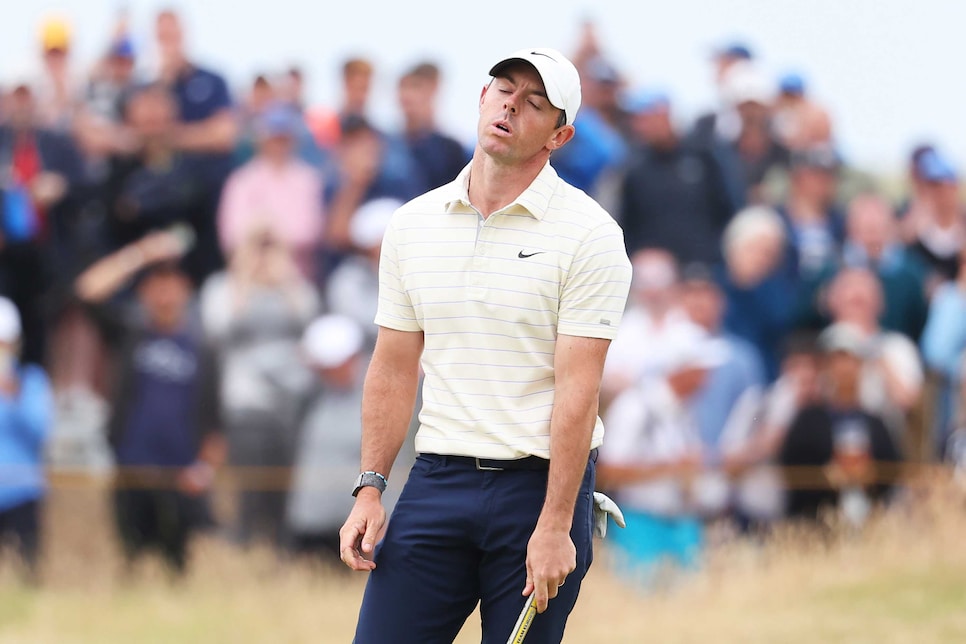 What a long, strange year 2022 turned out to be. The rise of LIV Golf dominated conversations and headlines, leaving a trail of questions and angst that lead us, somewhat sheepishly, into 2023. But in reaching out to members of our staff for their lasting memories of the past 12 months, LIV was nowhere to be seen/heard. Rather, it was primarily individual moments with family, friends and even an Emmy Award winning actor that left indelible marks on us, proving that golf doesn't have to be played for millions of dollars for it to be at its most meaningful. Indulge us, once again, as we share our favorite memories of 2022.
As a consumer of tournament golf for more than 40 years, I can think of plenty of times when I felt uncomfortable as I watched a player prepare to execute an important, pressure-packed shot. We're talking edge-of-your-seat nervousness here. What comes to mind off the top of my head: Tom Watson's flop shot at the 17th hole in the 1982 U.S. Open at Pebble Beach; Jack Nicklaus' difficult 40-foot putt on the 18th hole in the '86 Masters; Fred Couples' chip on the 12th in the '92 Masters as his ball hung precariously on the slope in front of the green; Watson again with a par putt to win the 2009 Open Championship at Turnberry; Dustin Johnson's three-footer to force a playoff with Jordan Spieth in the 2015 U.S. Open at Chambers Bay. Those weren't "cover you eyes and then peek through your fingers" occasions, but you sure held your breath for a moment.
At this year's AT&T Pebble Beach Pro-Am, we were compelled to both shield our eyes and hold our breath. And maybe say a short prayer. During Saturday's third round, Jordan Spieth played a shot that still gives me chills. I'm sure it does Jordan, too, given the genuine danger involved. His drive on the iconic par-4 eighth hole stopped less than two feet from the edge of the cliff at the end of the fairway. Rather than take a drop, he instead elected to take a stance over the ball, his left foot planted on the precipice. Should he have slipped in the course of making a pass at the ball, he almost certainly would have fallen on the rocks 60 feet below. It was a harrowing scene. It was crazy. It was genuinely scary. Fortunately, it had a happy ending. Spieth escaped injury. He saved par, too. —Dave Shedloski
The U.S. Open scoreboard said Keith Greene shot 83 in his opening round at The Country Club. His demeanor said otherwise as he hugged friends and chugged beers, a smile never leaving his face. "Hey, look around where we are at," Greene told me on that Thursday afternoon, the smell of Corona lightly dancing off his breath. "How could you possibly be upset being here?"
Greene, 29, had 12 career starts on the PGA Latinoamerica and Canada tours, making one cut for a whopping $656. He didn't have much to show for the seven years he spent bouncing around Florida mini-tours. In spite of the struggles, watching summers turn to fall without any status to speak of, Greene never second-guessed himself, knowing where he wanted to go and believing his sense of direction was true. That dream arrived this summer at the national championship thanks to a 70-68 at the final stage of qualifying—two shots better than Rickie Fowler, who played at the same site—to earn an invite to Brookline. Afterward, realizing what he had done—that the demon he had spent a lifetime chasing had been caught—Greene gave an emotional interview that went viral, for his story epitomized the romanticism at the heart of the U.S Open's "open" ethos.
In a sense you can say the feel-good tale ended there; The Country Club was unkind to Greene, his 83 followed by an 81 to finish last among the 156-player field. But afterwards Greene sure didn't look like a guy who had come out on the business end of a beautifully sadistic course. "This isn't the end," Greene says. "This is a dream come true. It also shows the other things I want to do I can do. I feel like I belong here. I just have to show it."
To me, Greene's moment came at an interesting time, a week after a long-feared schism came to fruition. Professional golf's civil war raised uncomfortable, existential questions about the game and where it's going and what it all means; it was at the center of the sport's universe in 2022 and will continue to be in 2023. True as that may be, Greene and his story are a reminder that even the smallest stars—if only for a moment—can burn bright. —Joel Beall
May 1, 2022, a day I will never forget. Not only was it the best golf moment of my year, it may end up being the best of my life.
Our club here in Florida was closed for maintenance and, at the last minute, a group decided to head to Rio Pinar to get in a quick round. There were five of us, and they obliged the fivesome, but only because two were junior golfers—my son Brady, who was 15 at the time, and his buddy Owen.
The round was non-distinct, just five friends playing together like so many times before. (Owen's father Steve and my good friend Mike rounded out the group.)
Then it happened. Standing on the par-3 eighth hole, Brady, always the first to pull the trigger when playing ready golf, stepped to the back tee box, 198 yards from the pin and staring into a steady breeze. He insisted on hitting 4-iron, which, of course, I was against. I thought 5-iron to the front portion of the green was the play. Settle for an easy par.
But 4-iron it was, and Brady took a mighty swat. Seconds later Owen said, "Bro, that just went in the hole." Brady responded: "I think it did." The three of adults couldn't see that far, but we all knew the ball was heading directly at the pin.
Rather than wait for the remaining four to hit, I told Brady we couldn't wait any longer. So he and I jumped in the cart, turned video on from our phones and drove toward the green. We didn't see a ball, although I was looking over the back of the green, thinking it was likely there. Brady started running, a full-out sprint, and … boom, the ball was at the bottom of the cup.
I yelled, "It's in the hole" as we looked back to our buddies still on the tee. Brady plucked it from the hole, gave me a big bear hug and then he kneeled down, gave our friends a thumbs up, then put his head down and took a couple deep breaths. Thirty years earlier—Sept. 17, 1992—I made my lone ace with my late grandfather there to witness it, and now I was able to celebrate the same feat alongside my son. It was a day neither of us will ever forget.
I sure am glad he hit the 4-iron. —Jay Coffin
Speaking of holes-in-one ... I, too, have had the pleasure of being with my son, Shawn, when he made a ace at our home club, Rock Ridge C.C. in Newtown, Conn., in 2017. The shock followed by unbridled excitement of son and dad celebrating (plus a cool plaque to hold the ball and scorecard sent days later by colleague Joel Beall) remains in the top spot, but another shot by my boy was my favorite memory of the past year.
On the same hole as his ace, the par-3 ninth at "The Rock," Shawn dumped his tee shot in the pond fronting the green. Not wanting to end on a poor shot, he teed it up again instead of going to the drop area. The shot was a carbon copy of his ace, with a fade that landed short and left of the hole and rolling towards it after landing.
Sure enough, the shot struck the stick and dropped. Shawn went nuts for a few seconds before stopping. "Why aren't you going crazy, dad?" he said.
With a total straight face I replied, "Nice par, buddy."
For a full five minutes he was having none of it. "No, I'm counting that as a hole-in-one" and similar words streamed from his mouth, but I was steadfast, explaining to him time and again that it only counted if you did it on your first shot. He was frustrated by my refusal to give in. Then I said something that made it better: "You know, a hole-in-three is rarer than a hole-in-one."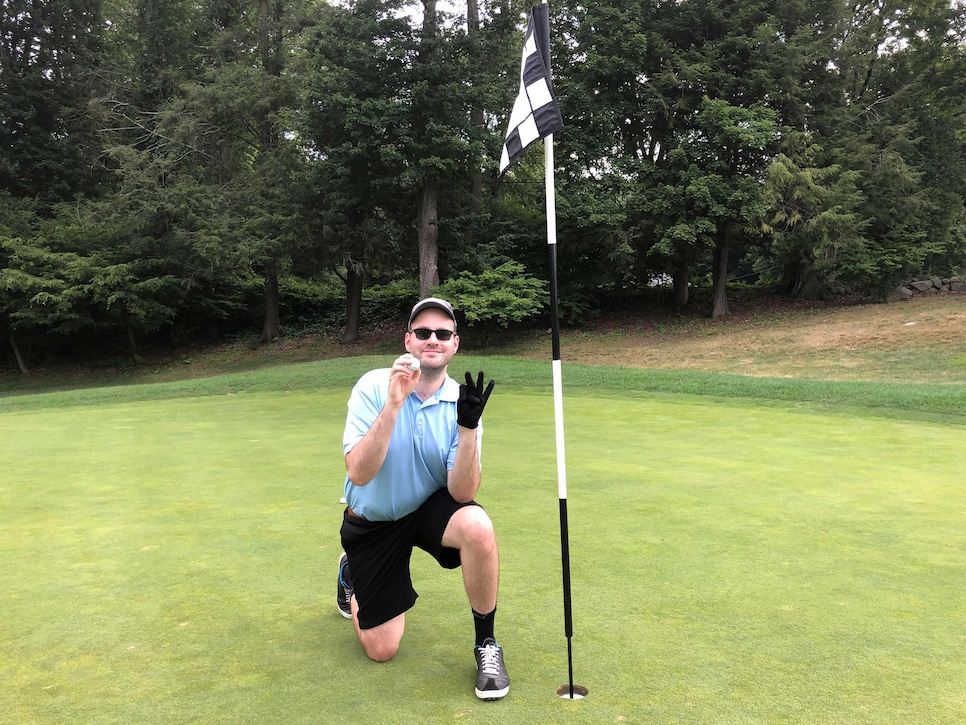 That did the trick. Now he was proud of his accomplishment and the trip to the green to retrieve the ball and pose for the obligatory photo was a triumphant one. A helluva par and a helluva memory. —E. Michael Johnson
My golf season featured rounds in idyllic locales alongside an eclectic assortment of characters. But the memory that jumps out to me now was in April, in a parking lot of a forgettable central Connecticut golf course. My oldest son had determined he wanted to make a go at playing golf in college, and had worked all winter on his swing and his fitness to prepare. But his first tournament took place over a raw, windy weekend, and nothing went right. Tracking the live scoring from down the road—I distracted myself with a tee time at a local muny—I saw Charlie rack up bogeys, and was half-expecting to need to fish his clubs out of a greenside lake at day's end. But when I pulled into the parking lot that afternoon, it was apparent my firecracker son had improved more than his swing. Well over par, well down the leaderboard, Charlie placed his clubs in the trunk, plopped into the passenger seat and announced the round he had completed was the most impressive he ever played. "Because I didn't have it all day," he said when I asked why. "But I never stopped trying." In the golf season that followed, Charlie would have much better tournaments, and he's indeed landed an opportunity to play golf after high school. I believe it all can be traced to that day, when he learned to measure progress in ways other than score. —Sam Weinman
One more hole-in-one story: I had the chance to cover the Masters and U.S. Open in 2022, but the best shot I saw in person this year came from my best friend. What an absolutely wild sentence to type. When I became an avid golfer in high school, it was Matt who got me out there. We hacked it around every local muny in New Jersey. And so it was absolutely surreal for Matt to make the first hole-in-one I've seen in person this year, an absolutely flushed 9-iron on Hollywood's signature 15th hole. What a far cry from the Rockleigh Blue and Rockland Lake executive courses—to be playing as a guest at one of New Jersey's most exclusive jaunts and be celebrating one of golf's great achievements. —Stephen Hennessey
The final round of a major championship, for someone who helps coordinate news coverage for a golf website, can be packed with frenetic moments. But the finishes at the four men's majors brought me unusually visceral feelings. Most recently, there was the torrent of energy that surrounded the Old Course on Sunday at The 150th Open, fans doing everything they could to will Rory McIlroy on to victory. But, try as they might, they couldn't get the ball in the hole any faster for their hero, and the collective release of melancholy was overwhelming. It's a shame for Cam Smith, given the incredible round he played to win the claret jug, but the "Auld Grey Toon" wanted to have its roof blown off, and it didn't happen.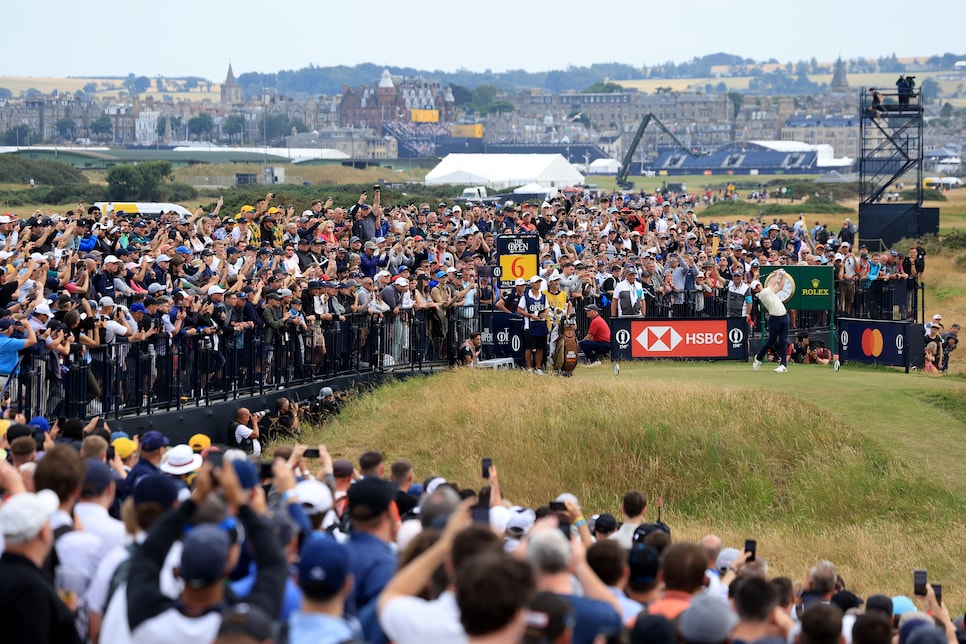 Similarly, the PGA Championship ended with sadness for a golfer who fell short, Mito Pereira's 72nd-hole splash stealing his chance at major glory. The grace in which the native of Chile handled himself after making a costly double bogey sticks with me still as you wonder whether that moment will ever be vanquished.
The U.S. Open brought with it a crazy déjà vu as I saw Matt Fitzpatrick win a USGA title at The Country Club for the second time in nine years. Having been there behind the 18th green when the Englishman won the U.S. Amateur in 2013, I couldn't help think about all that had transpired for him from then to now—a throwback golfer who wasn't too proud to accept the need for change in order to grow. It caused me to reflect personally and ask myself had done the same. I'd like to think so.
Then there was the Masters, Scottie Scheffler capping an incredible start to his 2022 season with a convincing triumph. I didn't take that one in on the grounds at Augusta National, despite having spent the previous eight days at the course. Nope, I was isolating after testing positive for COVID that morning. It was a heck of a way to celebrate covering my 20th Masters. Let's just say it's a lot more fun listening to the champion's press conference in a media center than a hotel-room bed. —Ryan Herrington
While in L.A. in November, I had five hours to kill before a big family event. I did what any of us would do with time to kill. I played golf.
Fortunately, a Twitter friend who lives out there was gracious enough to host me at his club. We're on the first tee introducing ourselves to another twosome, and when one of them said "Hi, I'm Billy," my heart skipped a beat. It was actor Billy Crudup, who has played a large role in two of my all-time favorite movies: "Big Fish" and "Mission: Impossible III."
Somehow, I resisted the urge to fanboy out, and it didn't hit me until after the round that he must have appreciated that, because he gave me his phone number so we could set up a round when he's back in N.Y. (he's in L.A. until February for work). We just talked about golf, about life (Crudup had just visited his son at a college in Boston the previous weekend), about how diabolical the greens were that day, about his love for New York, where he lives, and my love for neighboring New Jersey, where I live. I realized that as recreational 7-to-15 handicappers (Billy is probably a 12, and he hits a mean 220-yard hybrid), we're all just trying to get the ball in the hole, have a beer or two, and talk about common interests.
I could have gone full Chris Farley and said "dude, you remember 'Mission: Impossible III'? … That was AWESOME." Instead, we just treated each other like two strangers who just met and happen to both struggle to keep it in the fairway and routinely miss five-footers. No matter how famous, successful, rich or powerful you are, golf has a way of putting everyone on level ground instantly, which is one of the main reasons we all love it so much.

Having said that, if you're reading this Billy, call me. I finally watched "Almost Famous" for the first time, and I'd love to go scene-by-scene with you if you have a moment. —Christopher Powers
In 40 years as a sportswriter, I've learned to mostly detach myself emotionally from my work. At least in public. I remember the years that I covered the San Diego Chargers in my hometown and simply gritted my teeth at horrible playoff losses, even if I would have been screaming at the TV from the couch. It's been the same over the last two decades of covering professional golf. I can count on one hand the times I've become truly emotional about something on which I was reporting. Before this past July, the last time was sitting greenside as Tiger Woods closed out his improbable win in the 2019 Masters. The occasion before that was probably following Jack Nicklaus as he walked over Swilcan Bridge at St. Andrews for the last time as a competitor in the 2005 Open Championship.
Then came this past summer's inaugural U.S. Adaptive Open, run by the USGA at the Pinehurst Resort in North Carolina. Just reading the pre-tournament biographies, I knew there would be a compelling story for every one of the 96 golfers. But when I saw these people on the grounds, my reporter's facade cracked. I was overcome with awe and admiration. There were tales to be told, but this was about something personal: to take away from this experience a renewed gratitude for my own good fortune, as well as a greater appreciation of what golf's inherent joys and challenges can do for every person who watches or plays.
I formed a particularly close bond with Cindy and Mark Lawrence. Cindy was the only double amputee in the event, having lost both of her legs above the knee because of raging infections she developed after giving birth to her daughter. She walks and plays golf on two curved blades below her always colorful golf skirts. The Lawrences were everything all of us would hope to be in life-changing circumstances: grateful, giving and infectiously happy. And Cindy was a hell of a scrappy golfer. So, yes, when she drained a lengthy putt on the 18th hole in the final round and celebrated with Mark as if they'd won the Masters, I had to blink away the wetness in my eyes. There are moments, even for jaded sportswriters, when tears are the only option. —Tod Leonard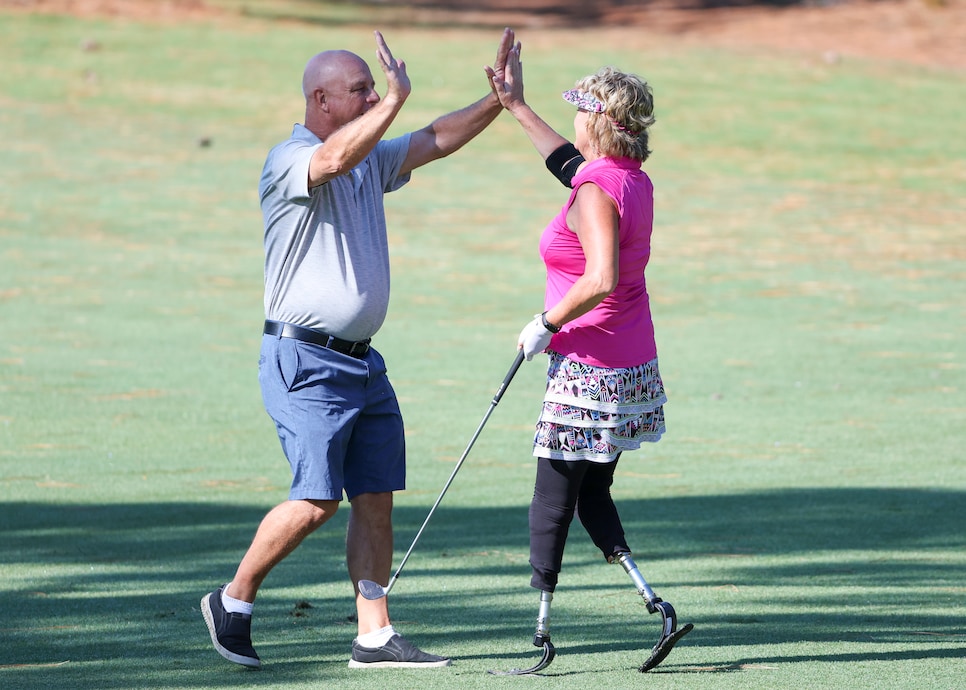 Cindy Lawrence high fives her husband Mark during a practice round at the 2022 U.S. Adaptive Open.
Jeff Haynes
On Dec. 10, 2022, there was a One-Day Individual Tournament of Champions taking place at True Blue Golf Club and Caledonia Golf & Fish Club. On Dec. 9, 2022, there was another event, which featured my dad and I each trying to break 100. I'm not totally sure what happened on the 10th, but I do know that the golf that occurred on the ninth was a massive failure in all respects, except for having a good time.
Over a few days in December, my dad and I tested a majority of the bunkers and water hazards at Caledonia and Grande Dunes in South Carolina. To be fair, there were some decent to great shots here and there, but certainly nothing that would warrant either of us quitting our day jobs. But, to be honest, who cares? We took a few days off of work, ate at a BBQ place located behind a gas station, lounged in a hotel watching the "Ocean's" film series and got to play some even-better-than-advertised top courses. A good time was had by all, except for our Super Senior playing partners who probably have been cursing our name ever since. —Greg Gottfried
When I think back on 2022, it's going to be hard to remember it as anything other than the year I used my job to get better at golf. To be clear, this wasn't all my idea, but once it was pitched to me, I was all in. And as I learned throughout a 12-week journey with the great team at The Golf Performance Center in Ridgefield, Conn., being all in is what it takes to make real improvement—at least, when you're a father of two young kids and you just hit the (gulp) big four-oh. But for the first time in my life, I utilized both a fitness and practice plan (again, it helps when you're spending part of the workday working on your game), and the results were amazing. By the end of those three months, I was hitting the ball farther than ever before and I had sliced my handicap almost in half. Maybe most importantly, my work with TGPC's clinical psychologist kept me from choking under pressure on my annual golf trip like I usually do, leading to my first "green jacket" in five years. I don't write all of this to brag, but rather to inform you that there's always time to improve—if you put in the time. Although, again, it helps when it's part of your job. Now I just need to find a (slightly) new angle to pitch to my bosses in 2023 … —Alex Myers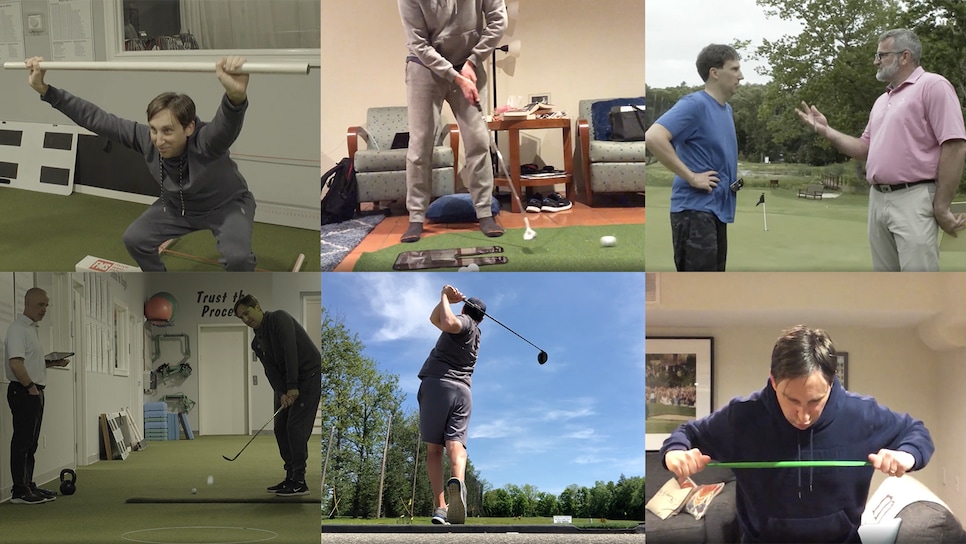 For the second year in a row, a group of 15 friends and I (plus a handful of extremely helpful spouses) embarked on our own private Ryder Cup. My educated guess is that many of our readers do something similar, whether it's a true match-play competition or just an annual friends' outing, and I also suspect that it's as special to you as our "Channels Cup" has, in a very short time, become to me. Covering professional golf was a dirty business this year in so many ways, and even the most straight-backed idealist had his sense of poetry and romance slashed and battered. To find a bit of purity, in any corner, was incredibly valuable, and this was mine.
What can I tell you about our trip? We went to Cape Cod in the fall, played Falmouth Country Club (not a real country club) and Bass River, took the competition very seriously, and had almost too good a time every night in a mansion-like AirBnB that ended up being cheaper per person than an average hotel. Our opponents wrote and performed a song, and somehow it wasn't the least bit awkward. We played so much golf that one person ended up in the hospital with heat exhaustion (he's fine now), we drank more than our healthy share when the results were in, and Team Carolinas & Canada, defending cup-holders, lost to Team World (read: other U.S. states) despite a spirited Saturday comeback. Socially, recreationally, any way you cut it, it was replenishing, and a reminder of what this game makes available when you go looking. —Shane Ryan