U.S. Amateur
What caddie Willy Wilcox said (twice) that helped semifinalist Ben Carr fend off a furious comeback in the U.S. Am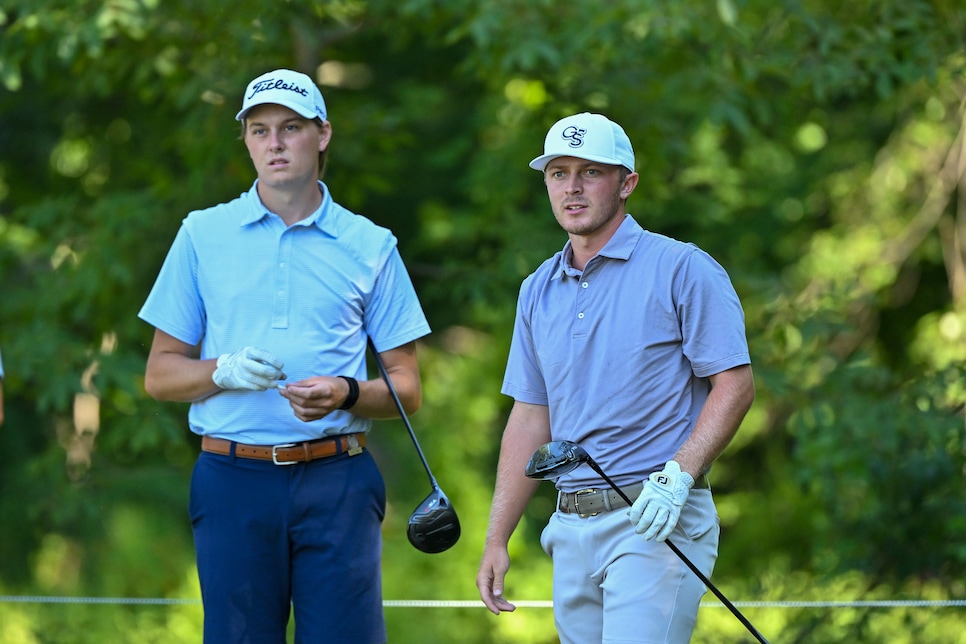 Alex Price (left) watches Ben Carr's tee shot on the fourth hole during the quarterfinals at the 2022 U.S. Amateur.
Grant Halverson
PARAMUS, N.J. — When asked if he had a second to chat following Ben Carr's U.S. Amateur quarterfinal victory, caddie Willy Wilcox said "sure, but I didn't do anything." Carr, who is headed to the semifinals in just his second appearance, might disagree.
As Wilcox will tell you, Carr is the one hitting the shots and holing the clutch putts. Wilcox understands how it works better than anyone, considering he's a former PGA Tour pro who has been through hell and back both on and off the course.
Wilcox's years of experience have paid off in a big way for Carr at Ridgewood Country Club, no matter how much he says they haven't. The fifth-year senior at Georgia Southern had only played in two USGA events prior to this week, and now he finds himself in the semifinals of the United States Freaking Amateur, one win away from earning a likely exemption into the 2023 Masters.
"He's great with numbers, he's a great green reader," Carr said. "Obviously, he played on tour for a couple of years. He's a great player himself, he's been around great players, great caddies. He knows his stuff. He's been a huge help."
It wasn't a yardage or a second look at a putt, however, that Carr appreciated the most during the tense quarterfinal against Alex Price on Friday. Up until the 12th hole, Carr was in full control, leading the lefty from Division III Christopher Newport University, 4 up. But a clutch birdie from Price at Ridgewood's famous "five-and-dime" hole suddenly shifted the momentum.
Despite a nagging back flare up, Price was able to halve the par-5 13th after a poor second shot and then won the 14th out of nowhere. Price had found the right rough off the tee, while Carr pounded his drive about 70 yards past him, putting himself in position to potentially slam the door. Carr then missed the green left and made a mess from there, allowing Price to win the hole with a bogey.
"I was pretty nervous, I'm not going to lie," Carr said. "The crowds got pretty big, and I haven't played in front of a lot of big crowds.
"That's when I started to feel it a little bit," he added. "I thought before that I was in really good control."
Standing on the 15th tee, Carr leaned on Wilcox for some sage wisdom.
"I asked Will 'I need you to help me reset,'" Carr said. "And he just told me you're still in a really good spot. If you were to be told before the match if you were 2 up with four to play, would you take it? And I said yes, and sure enough I gave him [Price] that hole too."
Price did find the green at the par-3 15th to apply some pressure, and Carr's tee shot came up short right in a greenside bunker. He then failed to get it on to the green with his second, chipping his third on and leaving himself with eight feet for bogey. Price poured in his birdie putt to earn the win and cut Carr's lead to 1 up. Enter Willy, again.
"Willy says the same thing on 16 tee," said Carr. "And I finally started to hit some good golf shots."
Carr proceeded to launch a high fade down the left side of the 16th fairway, then halved the hole with a par. At the par-5 17th, where a number of matches have been decided this week, he hit another mammoth tee shot down the left side that left him with a prime opportunity to reach the green in two. Price, who found the rough from the tee, had to lay up and found the rough again. Carr ripped a hybrid that came up two paces short of the green, where he cozied up his eagle putt to five feet and he went on to win the hole, and the match, with a conceded birdie.
"To hit that hybrid into 17, and then the touch on that putt, it's going to help me sleep a little better tonight," Carr said.
"It's awesome," Wilcox said of advancing to the semifinals. "I've known Ben for four years now, since he was 18 and he just graduated high school. During COVID we were playing golf like five times a week, became really good friends then. We were good friends from the first time I played with him, I just happened to move to his hometown, Columbus, Georgia."
It helped, too, that Wilcox was planning to be in the New York Metropolitan area this month anyway for a Rage Against the Machine concert at Madison Square Garden ("Unbelievable, my neck's recovered now. Two days ago it was a little stiff," he says). Given the results so far, though, this duo might want to make this more than a one-time thing.
"He's incredible," Wilcox said. "At the start, we were just like, oh man, it'd be so cool to get to match play, because this only his third USGA event. We were just, like, match play would be dope. To make the semis, four people left, pretty sick. But he's ranked 70th in the world, so he's no slouch."
He's certainly not. Last July, Carr won his second Southeastern Amateur in his hometown, setting a tournament scoring record with a 21-under-par total over 54 holes. In his fourth season at Georgia Southern, he placed inside the top eight in nine of the 12 events he played in.
Now, he has a chance at the biggest win of his life, though just getting this far is an incredible accomplishment on its own. Carr, your typically extremely polite Southern kid, isn't worried about all that, though. It's just him and Willy vs. Ridgewood.
"We just had so much fun out there," Carr said. "Two guys from Alabama and Georgia, just up here in New Jersey, almost like a foreign country, just having a good time on the golf course."
Wilcox is plenty excited, too, especially with the fact he can just sit back, watch, carry the bag and impart any other knowledge he's banked from a life of grinding on the golf course.
"No, no, no," Wilcox said when asked if he wishes he was hitting the shots. "I'm really happy to be watching him flush, because he's hitting it so good and then he makes putts when it matters. It's just been one of those special weeks."