BMW Championship
Hideki Matsuyama gets bad break, but Jon Rahm saves him from rules controversy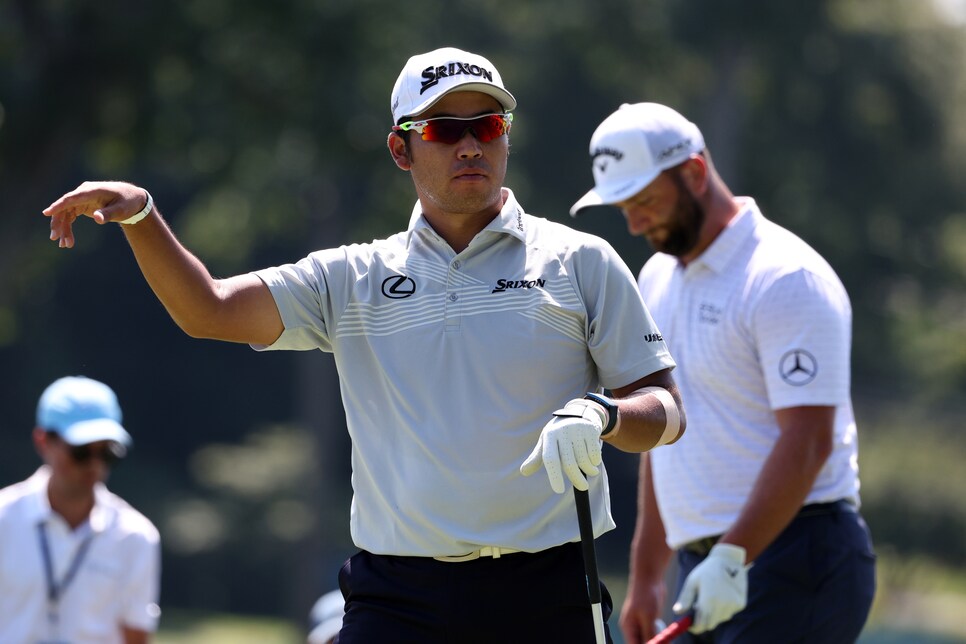 WILMINGTON, Del. — Hideki Matsuyama caught a bad break. Jon Rahm prevented it from being worse.
It's been an odd campaign for the 2021 Masters winner. Matsuyama has been very, very good at times, winning twice this season, finishing fourth at the U.S. Open and entering the playoffs 11th in the FedEx Cup standings. But his year has also been marked by a number of injuries. He withdrew from the Valero Texas Open after Round 1 with a neck complaint, and had to pull out of the Players Championship with a back issue. He skipped last week's event in Memphis, also citing a neck injury, and in his last appearance Matsuyama departed mid-tournament following an opening-round 77—which included hitting three balls in the water en route to a 9 at TPC Twin Cities' 18th hole—at the 3M Open, this time indicating his wrist was injured.
There was also an incident at the Memorial, where Matsuyama was disqualified for using a nonconforming club. Against that backdrop, what happened to Matsuyama Friday afternoon at the BMW Championship makes sense.
The Japanese star came out of the gates firing in Round 2 of the BMW Championship, racking up four birdies in his first six holes to vault onto the leaderboard. At the par-3 seventh, that fire threatened to be doused. Matsuayama's tee shot went right of the green, hanging on a hill just outside a bunker. But after a few practice swings, Matsuyama's ball rolled off the bank and into the sand. Worse, it appeared a rules official questioned if Matsuyama caused the ball to move, which could have resulted in a one-stroke penalty.
However, cameras caught Rahm coming over to help Matsuyama, asserting to the rules official that Matsuyama had not done anything to cause the ball to move, with the rules official ultimately giving Matsuyama the benefit of the doubt. Matsuyama played his second from the bunker and hit it to 10 feet, and cleaned up what remained for a 3.
Granted, we're less than a week removed from Cam Smith getting penalized a day later for accidentally breaking a rule, so perhaps Matsuyama should not celebrate just yet. But for the moment, given what happened and how bad it could have been, that's a damn good par for Matsuyama.