BMW Championship
The small equipment change that solved Justin Thomas' summer woes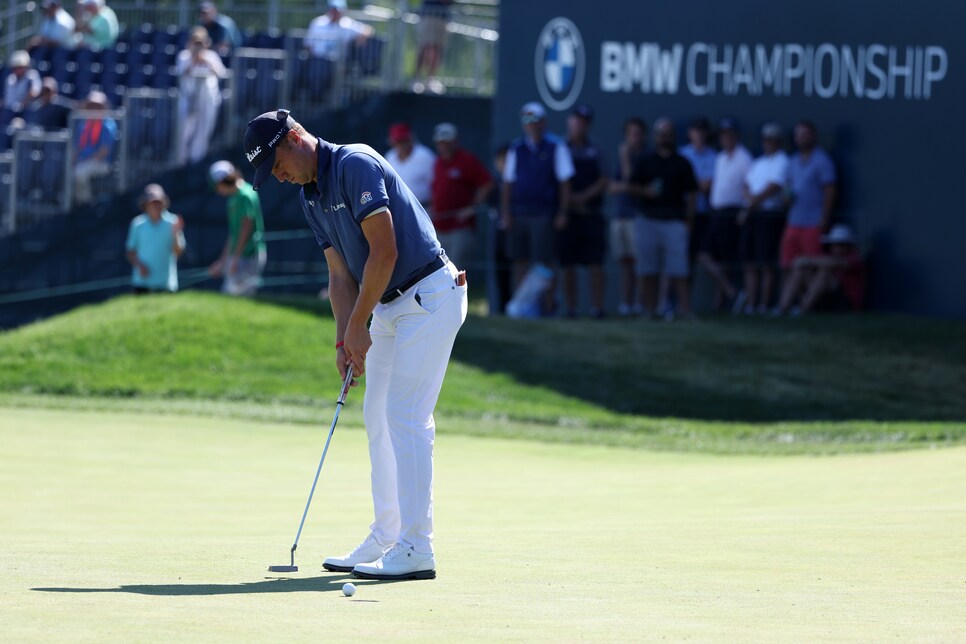 WILMINGTON, Del. — Justin Thomas was content, at least as content as Thomas can be mid-tournament, which is to say he was still slightly annoyed. Few have the appetite for competition like the 29-year-old and even fewer are in such command of their game, a dynamic that begets a ferociousness where anything less than great is no good. But on Thursday afternoon Thomas lowered that guard to acknowledge that yes, things had gone well. Especially in an area that, as of late, has been the bane of his existence.
"I played really solid. I felt like I managed my game really well. I didn't have total control of my ball," Thomas said after Round 1 of the BMW Championship. "I didn't drive it as well as I would have liked or wedged it as well as I would have liked, but I putted the ball the best I have in a very, very, very long time. I mean, even every putt I missed, I hit it exactly where I wanted to and it looked like it had a chance to go in. It was nice for it to feel comfortable and hit the speed that I wanted on my putts and see some of those fall."
Thomas is in contention at the second leg of the tour's playoffs thanks to an opening 66 at Wilmington C.C. In itself this isn't surprising. He is the reigning PGA champ, a player who is fifth on tour in scoring and seventh in the world ranking and 10th entering the week in the FedEx Cup standings. A 66 from Thomas feels as routine as the mail. Yet the Thomas who captured the Wanamaker has not been the same Thomas since.
The results, even by Thomas's lofty standards, are not terrible. Save for a final-round duel with Rory McIlroy and Tony Finau in Canada—Thomas ultimately leaving with a bronze medal—they haven't been great, either. He finished T-37 at the U.S. Open and T-53 at the Open Championship. Missed the cuts at the Scottish Open and Charles Schwab Challenge. There was a respectable T-13 last week at the St. Jude Championship, although it was a finish of the backdoor variety.
"I feel like my game is getting close. I'm playing a lot better than the scores, and I feel like the results are showing," Thomas asserted earlier this week in Delaware. "But that's how golf is sometimes. I just have to stay patient and hope I get one one of these next two weeks, preferably the second."
It's not so much that Thomas was failing to contend, but why. Specifically, the putter.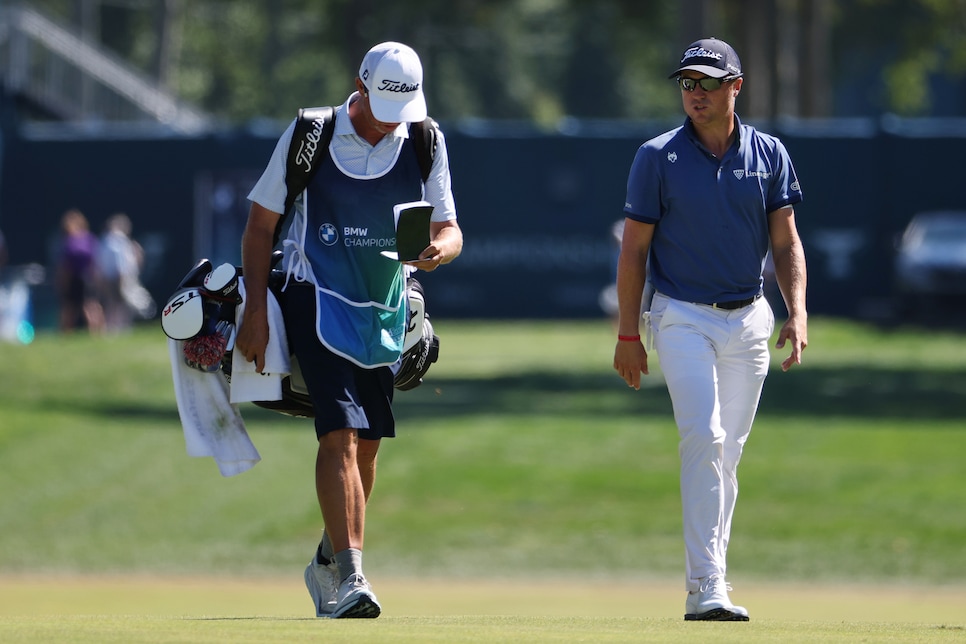 Although he's far from a short-game savant, the putting has been particularly cruel the past two months. Thomas finished 62nd out of the 69 players that made the cut in Memphis in strokes gained/putting. The U.S. Open wasn't much better (56 out of 64 that reached the weekend), and the flatstick was the reason why he had a quick exit at the Scottish Open (-2.32 SG/putting over two rounds). The slump led Thomas to make a putter change this week in Wilmington. Nothing drastic; he's still using a Scotty Cameron T5 model, only this club is slightly shorter.
"I switched because it was the exact same feel. [Cameron] did an unbelievable job," Thomas said. "It's very difficult to make putters the exact same in terms of feel. They may be the same but none of them are ever the same in terms of clubs in general. But it feels identical, so getting adjusted and acclimated to the speed wasn't difficult, but just being a little bit shorter was so much easier for me to get in a good setup. That's something we looked at earlier this year and we were going to mess with this off-season, but I haven't been putting great for how I feel like I should be, and it was just one of those things. I'm like, if this is going to be an easy adjustment that's going to help me improve, then why wouldn't I do it."
The adjustment is relatively simple, with the new length—this model is about half an inch shorter—allowing Thomas' arms to hang down in a more comfortable position while keeping his shoulders level. It's also worth noting another change with the putter: This model has Thomas' personal logo branded on the back of the face. Fitting, for he put his stamp on this course Thursday afternoon.
It wasn't pretty; Thomas hit just six fairways on the day. But what he lacked in accuracy he made up in approach, missing just one green in his round, and didn't let those opportunities go to waste—the putter switch worked. He made the putts he was supposed to make and a few you don't expect, highlighted by a 40-footer for eagle at the par-5 14th. Just as importantly, he felt good about the rolls that didn't drop.
"Yeah, it felt great. It was the best I've putted in an extremely long time," Thomas said. "Every single putt I hit was exactly where I wanted, the speed I wanted it. It was nice. I hadn't felt that in a while."
Now, anyone at this level can fall into a decent putting day. Replicating that performance over four rounds is a different rodeo. But that is a problem for tomorrow and Saturday and Sunday.
On Thursday, Thomas finally had the answer to a problem he's been unable to solve. And that could be a problem for the rest of the field.