News
Why Phil Mickelson wasn't upset with Sergio Garcia's 20-minute ruling at the BMW Championship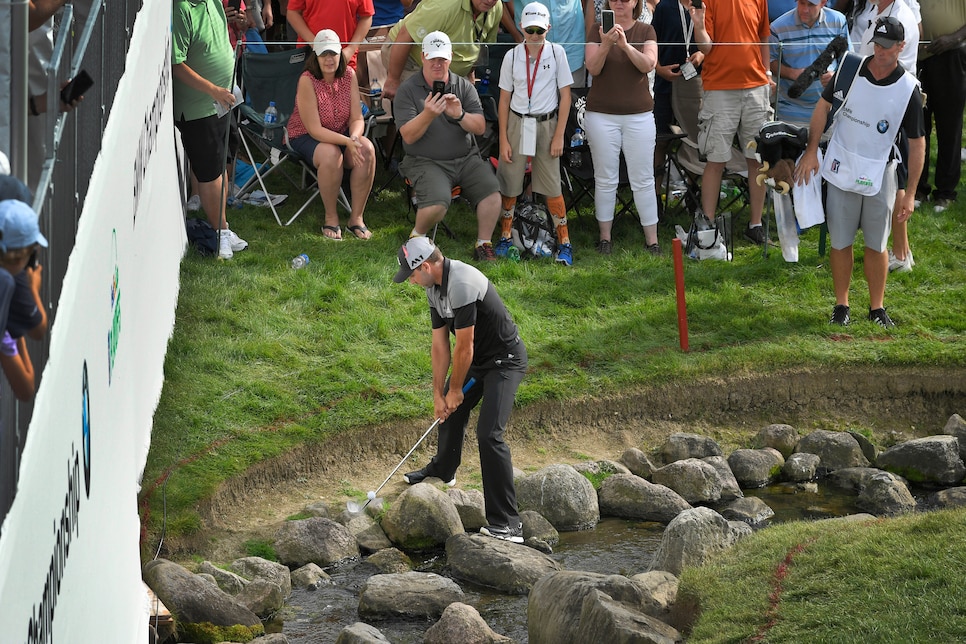 On a day when Wesley Bryan took less than 90 minutes to play 18 holes, Sergio Garcia required a 20-minute ruling to play one shot at the BMW Championship. But playing partner Phil Mickelson handled the lengthy delay -- made worse by the fact the two were on their final hole -- well, because he's the first to admit he's had a few, um, adventures on the golf course.
"I was thinking this is what my playing partners go through most of the time," Mickelson told reporters after. "I was just on other end of it. I've been on his side of it a lot."
But still, Garcia's situation was rather unusual. After finding a hazard guarding the 18th green at Conway Farms with his second shot, he (eventually) got to take a drop -- still in the hazard -- due to the grandstand affecting his backswing. Even the drop took time, though, with Garcia's ball bouncing forward and into the creek both times before he was allowed to place it on the rocks. Garcia then hit his third shot off another grandstand, but got up and down to save par and punch his ticket to this week's Tour Championship.
"I was feeling bad for the people behind me and for Phil because they were waiting but it was an important moment and I wanted to make sure to -- I would do what was best for me at that time and obviously within the rules and that's what we did," said Garcia, who shot 69 to finish T-12. "I obviously didn't want to do anything wrong either. So, it was important to get it done the right way."
Here's how it, well, some of it unfolded:
Garcia found out after that a bogey would have been enough to advance. It was an extra shot to play with that Mickelson could have used, but after lipping out an eagle chip on 18 -- after chipping in for eagle on 15 -- the five-time major champ's PGA Tour season came to an end. Well, again, eventually.
"I needed that extra 38 minutes to read that putt," Mickelson cracked.