News
Phil Mickelson gives a perfect Phil Mickelson answer when asked about not laying up on Thursday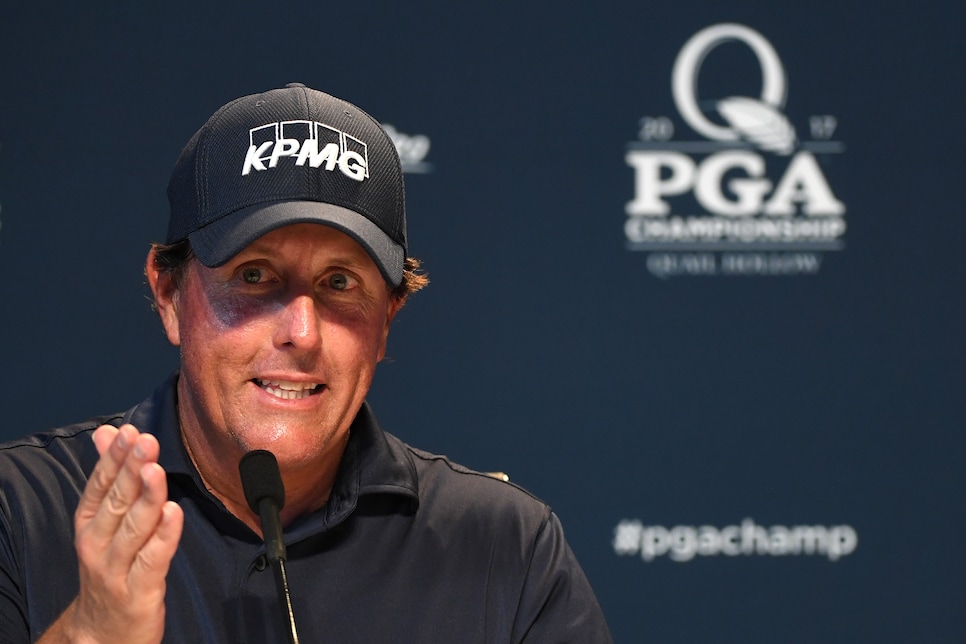 Phil Mickelson capped what was arguably his best round of 2017 on Thursday with a birdie on Conway Farms' closing par 5 that required an aggressive second shot. Well, aggressive in the mind of those watching, perhaps. To the five-time major champ, the decision to go for the par 5 that's protected by a creek in two was a no-brainer, and he let everyone know about the firepower he still possesses at 47 in his post-round presser.
Here was the classic exchange Mickelson had with the Chicago Tribune's Teddy Greenstein:
Q. Any thoughts of laying up on 18?
PHIL MICKELSON: Seriously?
PHIL MICKELSON: I had 260 to the front and I fly my 3-wood 275. I had ten yards -- 270 the carry the bunker. I wasn't concerned about the carry. Just a good 3-wood that was going to take the water out of play. Just directionally to get it right.
According to PGA Tour Shot Tracker, Mickelson hit his second shot 270 yards into the left greenside bunker before getting up and down for the finishing birdie that gave him an opening 66. Mickelson also went with a go-to line of his, "I think I made that shot look a little easier than it was," when describing the sand shot. Vintage Phil.
Mickelson doesn't have to worry about making the U.S. Presidents Cup team anymore after being one of Steve Stricker's two captain's picks, but at No. 36 in the FedEx Cup standings, he needs a solid performance at this week's BMW Championship if he's going to crack the top 30 to advance to next week's Tour Championship. The type of shots -- and confidence -- he displayed on No. 18 on Thursday certainly won't hurt his chances.