News
Why Mike Tirico interviewing President Trump was particularly awkward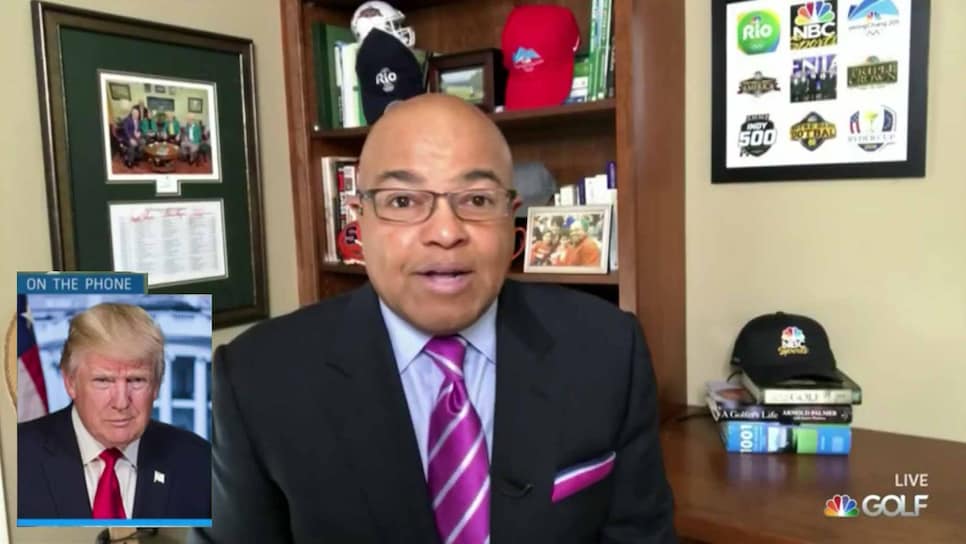 If golf fans didn't have a rooting interest—other than finally seeing live sports again—for Sunday's TaylorMade Driving Relief skins game, they sure got a chance to pick sides during the made-for-TV event when President Donald Trump called into the NBC broadcast. The First Golfer's appearance, not surprisingly, was a lightning rod of conversation on social media. But it was also particularly awkward—or, at least, potentially awkward—considering who conducted the interview.
Mike Tirico hasn't just played golf with Trump in the past, he's actually accused the president of playing by his own set of rules on the course. Rick Reilly details an alleged incident between the two in his book, "Commander in Cheat," in which Tirico claims he hit one of the best shots of his life—a 3-wood from 230 yards—only to be disappointed to discover his golf ball in a bunker when he arrived at the green.
According to Tirico, Trump called it a "lousy break." But after the round, the announcer claims Trump's caddie told him what really happened.
"Trump's caddy came up to me and said, 'You know that shot you hit on the par 5?' " Tirico said. "'It was about 10 feet from the hole. Trump threw it in the bunker. I watched him do it.'"
That is quite the tale. But when Trump referenced the two playing previously right before he hung up the phone, Tirico paid the President a compliment.
"I got to see first-hand," Tirico said. "You're a good putter, knock it to kick-in distance often."
We can only imagine the reaction on social media had he mentioned that story instead.