The inaugural Golf Digest March Madness Architects of Golf tournament, born out of desire for the actual NCAA basketball tournaments never played and inspiration from a course-enthusiast on Twitter, Eric Hart, began last week—featuring competition between 70 architects or architectural teams, each represented by one golf course. Following a series of play-in games to pare the field to 64, golf fans on Twitter voted on each round of match-ups to decide who would advance (see the bracket below).
More than 50,000 votes were tallied in the first two rounds, yielding many predictable results and also a few surprises. Though the merit of these Twitter votes can be debated, the results are assuredly an indication of where hearts—if not heads—are when it comes to golf courses and those who build them.
Now we're getting down to serious business, as we're already through the Sweet 16 and onto the Elite Eight, with voting to determine our Final Four. Almost every team still alive—the architect/course team, that is—is a powerhouse. The match-ups in these next two rounds will be epic and include many of America's greatest courses, and we're eager to see how the votes line up.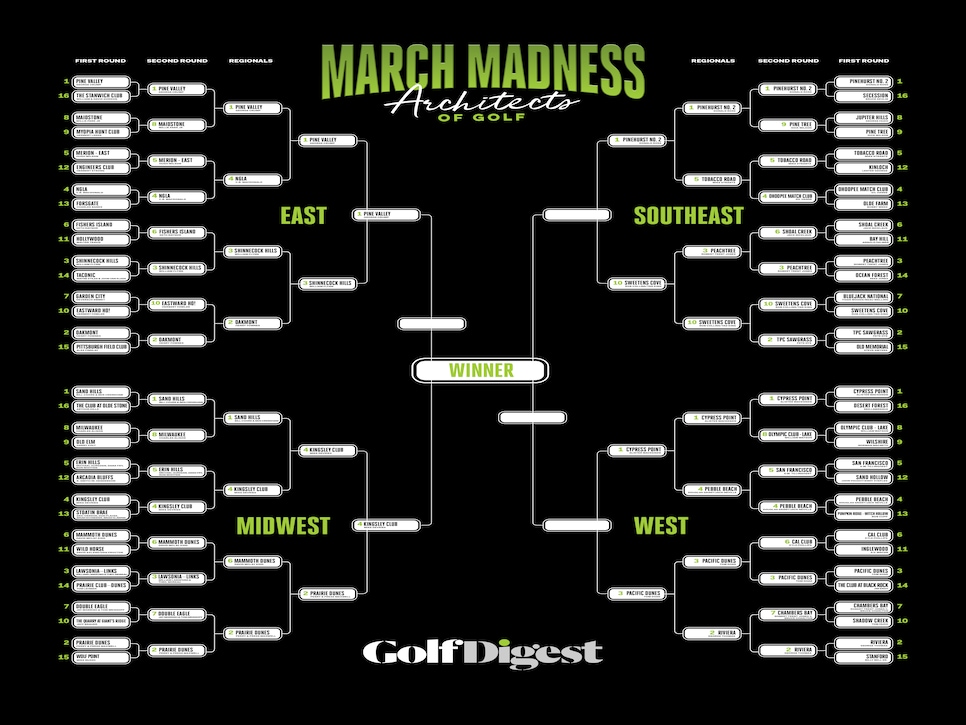 (This bracket reflects the completion of both regional semifinals. Voting continues today in the Elite Eight. Scroll down to vote in the East and Midwest regionals.)
Here are breakdowns of each region from me, and from Golf Digest Senior Editor for Architecture, Ron Whitten.
RON WHITTEN'S SOUTHEAST REGION OVERVIEW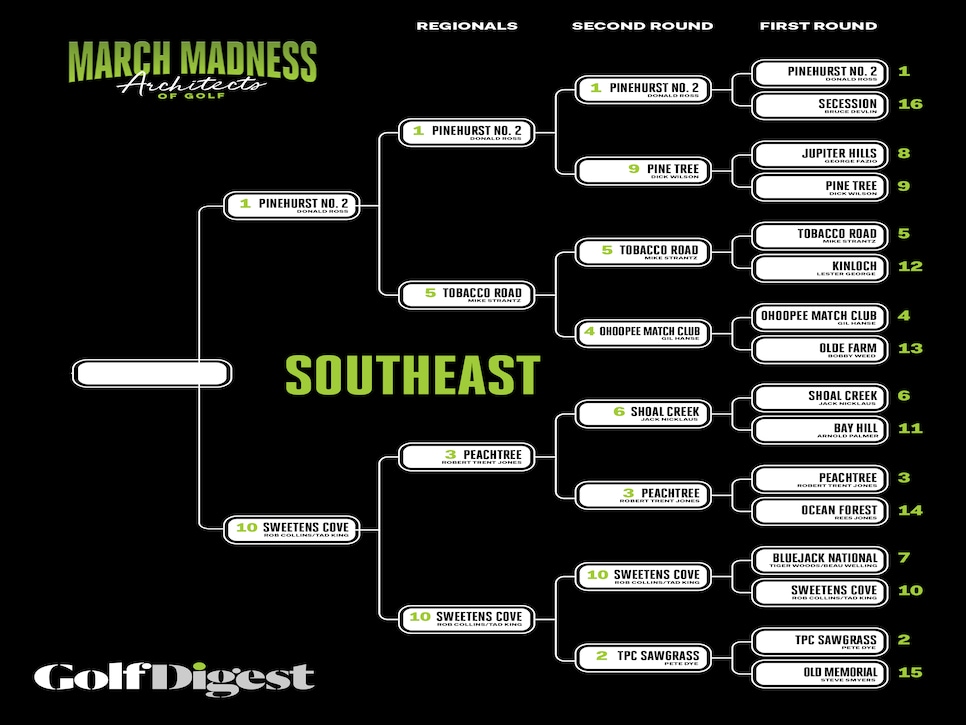 The most topsy-turvy of any region, with five of the top eight seeds already gone, two of them in the opening round. Tenth-seeded Sweetens Cove has become the darling of the tournament, but let's face it—its architect Rob Collins is a great guy with a ton of imagination, but he's still just a one-hit wonder at this point, with a nine-hole course no less. Beating Pete Dye and TPC Sawgrass was a stunning achievement, and now he's squaring off against Papa Jones, the legendary Robert Trent Jones, who pretty much made golf course design an actual money-making profession, and whose 50-years of accomplishments overshadows Collins' by 49 years.
But third-seeded Peachtree was not, in my estimation, the best Trent Jones work to seed in the tournament, and I'm surprised it has come this far. Thus, I predict the fantasy for Sweetens Cove will continue for one more round, as it upsets Peachtree. As for top-seeded Pinehurst No. 2, Donald Ross's masterpiece (retooled by Coore and Crenshaw, but we're not supposed to mention that, are we?), against fifth-seeded Tobacco Road, the masterwork of the late Mike Strantz, my heart continues to feel it's Tobacco Road's to lose, but my head tells me Pinehurst No. 2 will prevail. And the winner might have its work cut out against the Cinderella of this bracket, Sweetens Cove.
The Southeast is the most disrupted region, at least by seed. The story here is Sweetens Cove, a nine-hole course in Tennessee that many, including my colleague Ron Whitten, didn't think should even be in the tournament. Clearly, in a Twitter competition, they should be. Sweetens has run from a play-in game all the way to the Sweet 16, propelled by a nation of ardent worshippers who vote in unison.
Given Sweetens' early-Bernie Sanders-like voting strength, it might take a Biden-like consolidation of votes from the other three courses to knock it out.
The other semifinal, Pinehurst No. 2 and Tobacco Road, will be an entertaining a clash of old and new, subtle and flair. No matter which course advances, the regional final should be fascinating. In one scenario we will find out if Sweetens Cove loyalists (assuming they show out versus Peachtree) actually think it's a better course and architect combo than Pinehurst No. 2 and Donald Ross. In the other case, it will be a battle of polarizing favorites, with the late, beloved Mike Strantz and Tobacco Road going up against an upstart course that clearly admires and takes cues from the former's the unconventional extremism.
RON WHITTEN'S WEST REGION OVERVIEW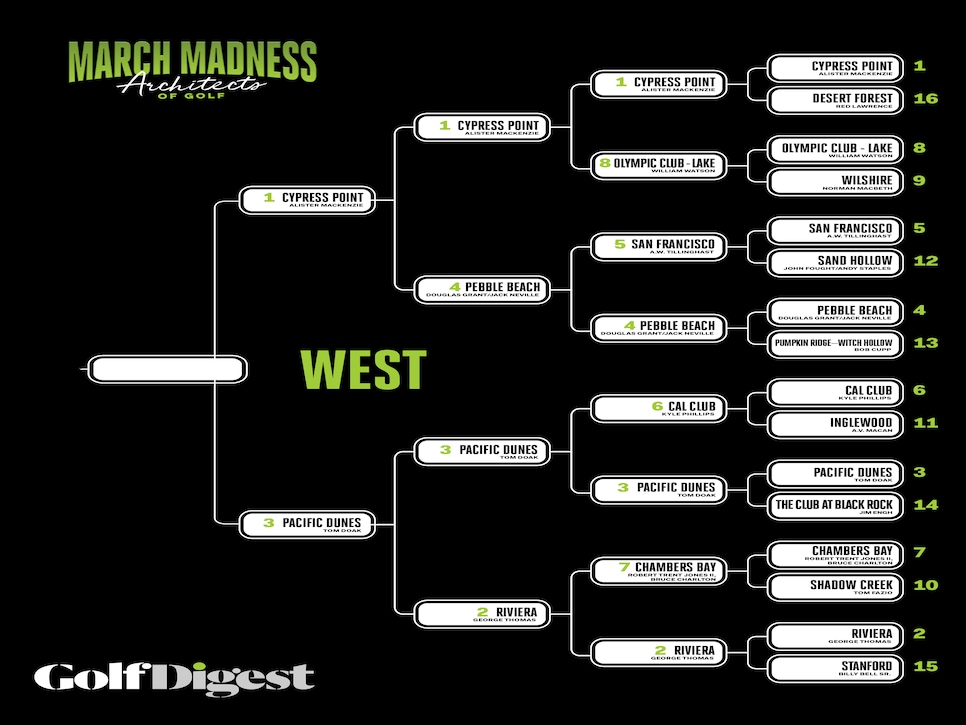 Another region where the top four seeds advanced and thus has lacked much excitement. With three of the four courses bordering the Pacific, you've got to feel second-seeded Riviera is the underdog in this region, since it's a couple of miles from the shoreline and has no ocean views whatsoever. But this is George C. Thomas Jr. versus Tom Doak, two literate designers who've written extensively and authoritatively on golf architecture when not producing stunning designs. This is another heart versus head struggle for me. My heart is with Thomas and his underdog Riviera, but my head tells me Doak's Pacific Dunes will prevail.
As for top-seeded Cypress Point versus fourth-seeded Pebble Beach (Just a four seed? Really?), Cypress has everything in its favor, a legendary architect in Alister Mackenzie, a stunning set of ocean holes and holes in sand dunes as well. Pebble has a less accomplished architect (although Jack Neville did more designs than just this one—check out his modest back nine at Pacific Grove Municipal, for instance) but Pebble has more ocean holes than Cypress Point, and better ones, too. Still, when you put the contest as MacKenzie versus Neville, it's no contest. Cypress Point wins, and faces Pacific Dunes for a spot in the final four.
There were no major surprises in the West—in fact, there have been very few closely contested matches. We're left, however, with a situation where one of these teams is not like the others.
Three of the four courses here showcase some of the game's greatest views and oceanfront holes. Riviera, however, is landlocked, and views are neither part of the architecture nor the experience—unless you count the scenic, elevated tee-shot at the first just outside the clubhouse door, or the climb toward eighteen with the iconic clubhouse beyond.
Cypress Point vs. Pebble Beach is a battle for the ages. Cypress has historically held the head to head advantage in most rankings, but this game will measure voters' affection for a place as much as their assessment of its architecture. In the other game, Pacific Dunes' wind-whipped and rhythmic intensity battles Riviera's clean presentation of classical architectural concepts. It's often debated whether Pebble Beach or Pacific Dunes offers the public a better show along cliffs, but Pacific Dunes may get a crack at an even bigger prize: Cypress Point.
RON WHITTEN'S EAST REGION OVERVIEW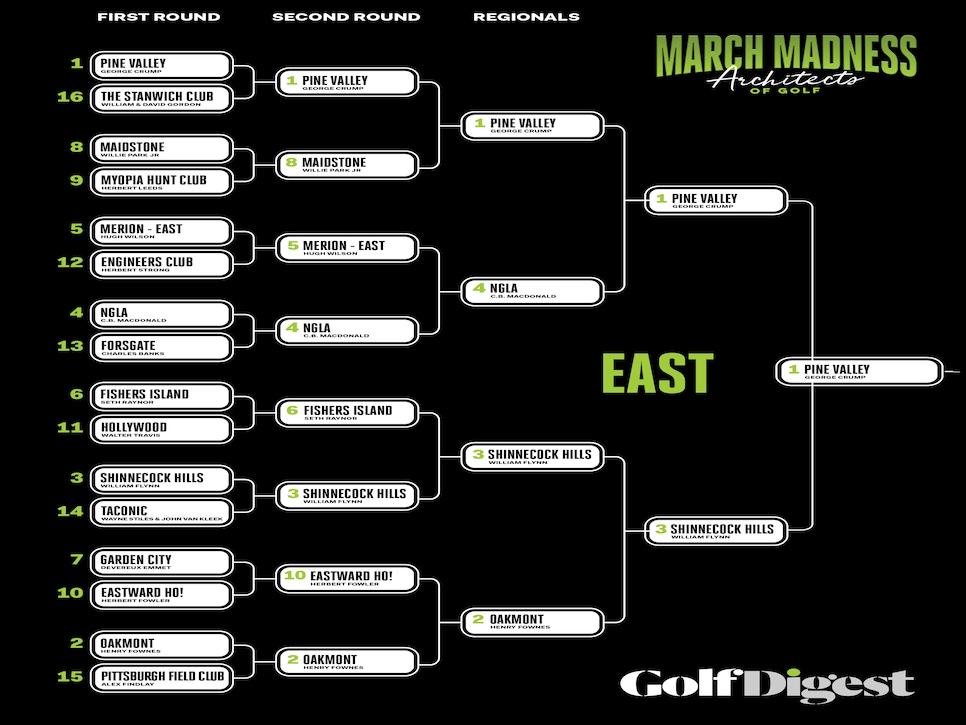 Everything is proceeding by form in this Regional as the top four seeds square off. I still think these four courses could easily have constituted the Final Four. If we're voting on the architect as represented by the course and not the course itself, C.B. Macdonald (National Golf Links) ought to win comfortably over Pine Valley, seeing how it's the Father of Golf Architecture against a one-time Armchair Architect. But in a head-to-head contest between the respective courses, it's much, much closer. I see it as top seed Pine Valley by a vote or two over fourth-seeded National Golf Links of America, although personally I think NGLA is the more architecturally sound golf course.
Same scenario with second-seeded Oakmont versus third-seeded Shinnecock Hills. William S. Flynn (Shinnecock) has a far greater portfolio than H.C. Fownes, another one-and-doner. But the Twitter world is focused on the product not the pencil, so Oakmont prevails.
So the regional final will pit the two most notorious examples of penal golf architecture in America. Which proves golfers who hang around Twitter are masochists, just like the rest of us.
Many voters have expressed regret that these four courses and architects are confined to this region—any one of them could conceivably with the entire tournament. But there's no getting around the fact that an overwhelming number of important, architecturally groundbreaking American courses were founded in the Northeast. Geography and history are to blame.
National Golf Links of America and Pine Valley are two of the most influential courses ever built. Macdonald's NGLA, an archetype of strategic design, has informed a distinct lineage stretching from protégé Seth Raynor all the way to contemporary creations. I would argue Pine Valley is even more significant: combining wild indigenous terrain with an unabashedly penal code of ethics, it created a new, distinctly American golf nomenclature, whereas NGLA's roots are distinctly British.
The other half of the bracket is the tournament division: 19 professional majors (including 14 men's U.S. Opens) have been contested at Shinnecock Hills and Oakmont (Pine Valley and NGLA have combined to host zero). This is Mozart vs. Beethoven, with Shinnecock's flowing yet assertive melodies playing off Oakmont's relentless, almost Germanic persistence. A Pine Valley/Oakmont final would pit together two one-hit wonder owner/architects (Crump and Fownes), while if NGLA and Shinnecock advance it will be the battle of property lines—they neighbor each other.
RON WHITTEN'S MIDWEST REGION OVERVIEW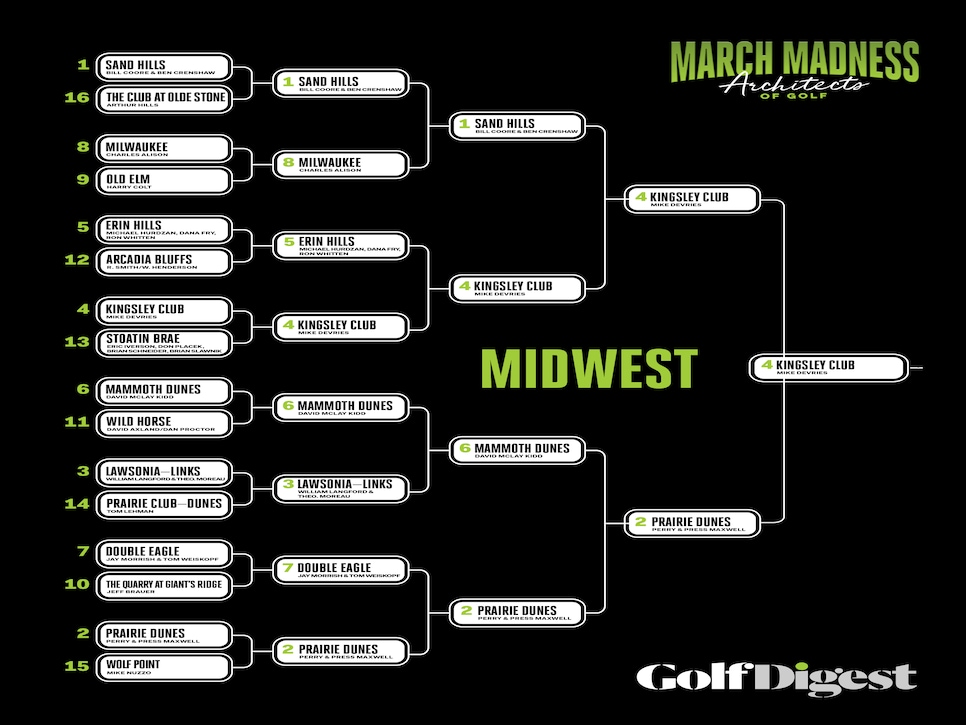 Three present-day architectural firms in the final four in this region, and you can bet every one of them worships the architecture of Perry Maxwell, the one long-gone architect represented (still alive?) in the Midwest. Coore and Crenshaw's top-seeded Sand Hills in Nebraska was inspired by Maxwell's second-seeded Prairie Dunes in Kansas, and I still believe those two will square off in the regional finals.
But let's give a shout out to David McLay Kidd, whose sixth-seeded Mammoth Dunes (the only public-access course on the entire left-side of the bracket) pulled a genuine upset of third-seeded Lawsonia in the second round, and a shout, too, to Mike DeVries, whose fourth-seeded Kingsley Club outscored my beloved No. 5 seed Erin Hills. But it's the end of the line, Mike and David. I don't expect a mammoth upset by Mammoth Dunes, and Kingsley will not be King of this region.
Two of the tournament's most closely contested games took place in the Midwest last week. Erin Hills held a lead for most of the day over Kingsley Club, until a strong contingent of Kingsley fans rallied late to turn out the vote and push it past its Wisconsin rival. Mammoth Dunes and Lawsonia were also nip and tuck, with David McLay Kidd's course at Sand Valley outlasting a strong showing from the old Langford & Moreau favorite.
One might think Sand Hills is bullet-proof at this point, but if ever there was a contender to knock it out this round it would be Kingsley, a course that checks all the necessary boxes: extreme architectural variety, artistic shaping, an incredible and spacious site, a serene and undisturbed playing experience and a fervid following.
Mammoth Dunes and Prairie Dunes will be interesting. More people have probably played and enjoyed Mammoth, but that doesn't seem to effect voters' actions in this tournament. These are two courses that are wildly fun to play in different ways, but the thought here is that it will be Sand Hills vs. Prairie Dunes in a Great Plains battle royale to represent the Midwest.