John Dunn Tucker (9 1909)/Donald Ross & Walter Travis (A.9 1907)/Donald Ross (R. 1923, 1935)
In 2010, a team lead by Bill Coore and Ben Crenshaw killed and ripped out all the Bermudagrass rough on Pinehurst No. 2 that had been foolishly planted in the 1970s. Between fairways and tree lines, they established vast bands of native hardpan sand dotted with clumps of wiregrass and scattered pine needles. They reduced the irrigation to mere single rows in fairways to prevent grass from ever returning to the new sandy wastelands. Playing firm and fast, it was wildly successful as the site of the 2014 Men's and Women's U.S. Opens, played on consecutive weeks. Because of its water reduction, the course was named a Green Star environmental award-winner by Golf Digest that year. In 2019, Pinehurst No. 2 and No. 4 hosted another U.S. Amateur Championship, and the USGA announced Pinehurst No. 2—in addition to hosting the 2024 U.S. Open—will also have the 2029, 2035, 2041 and 2047 U.S. Opens.
100 Greatest History: Ranked since 1966. Highest ranking: No. 9, 1995-02. Previous ranking: No. 29
Watch Golf Digest's latest "Every Hole At" course videos below:
Panelist comments, Pinehurst No. 2:
"A true thinking-man's course. Donald Ross demands shot-creation. Off the tee, there are great lines for shot visualization but it can also trick you if not careful or exact."
"Though I had seen the restoration on television, the actual experience of playing the course and seeing the changes up-close was better than expected. There is tremendous atmosphere and history surrounding Pinehurst, which makes it feel like an incredibly special place to play a round of golf."
"The green complexes at #2 should be studied… I love that once you make it on the green, there are a lot of putts to be made, but hitting the green in regulation is a challenge, due to the upside down dish greens."
"Nothing short of spectacular. The greens are even more terrifying now, as they are surrounded by more short grass and sand. The waste areas and sandy scrub are just awesome. The course played rock hard and fast, which made the golf course much more interesting as it was possible to run up approach and recovery shots. A great, great golf course."
"The course is very pleasing to the eye with hardpan and wire grass lining the fairways against the backdrop of the tall pines."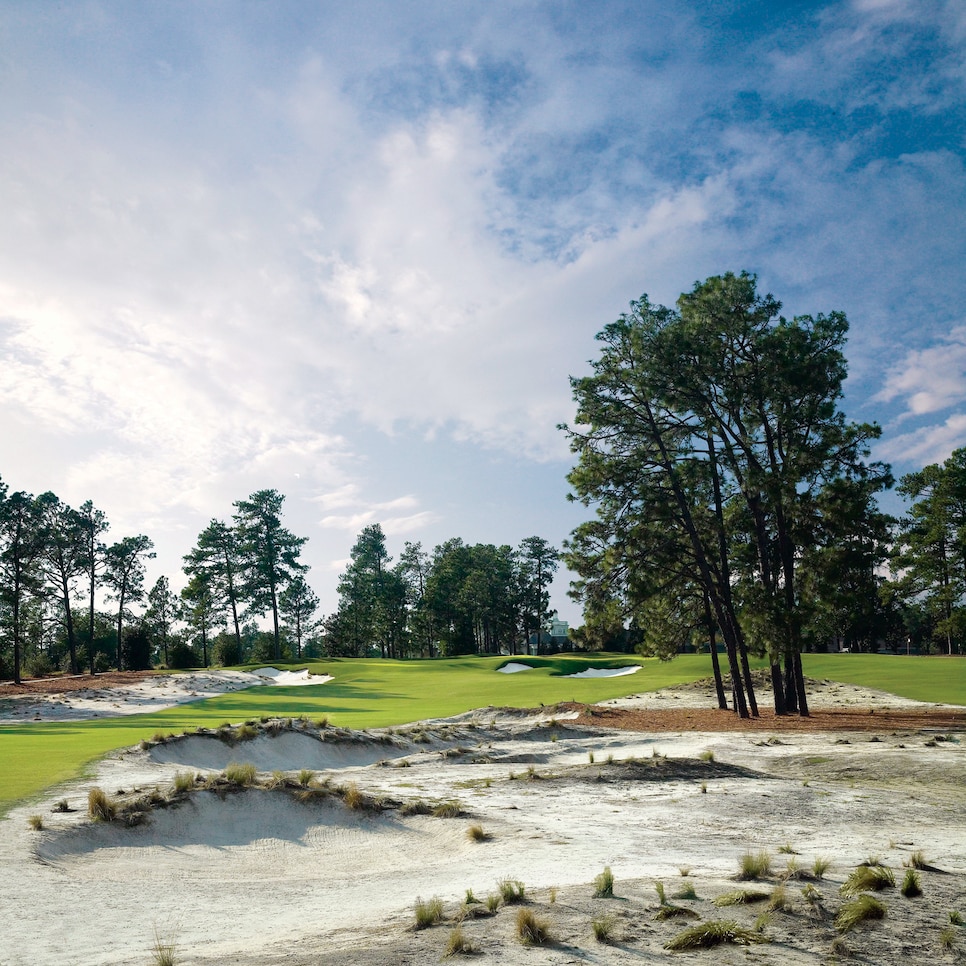 The 13th hole at Pinehurst No. 2.
Courtesy of the resort