Course Rankings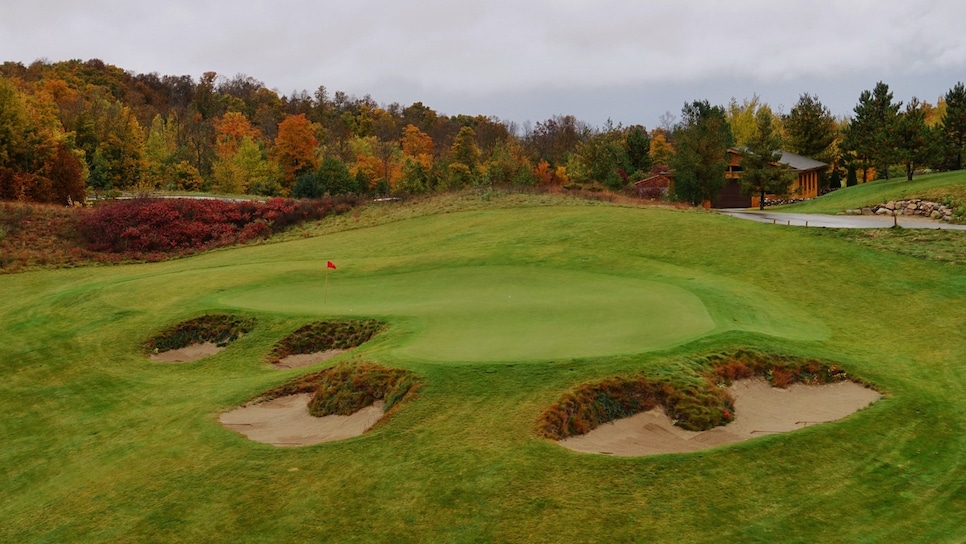 Expertly routed across glacial domes and over kettle holes, Kingsley Club opens with a split fairway, a high-right avenue separated from a low-left one by a cluster of sod-face bunkers. It's an attention grabber than is repeated in various fashions throughout the round. For instance, the hilltop green on the short par-3 second seems tiny in comparison to the deep shaggy bunkers surrounding it. The long par-3 fifth plays over a valley with a tongue of fairway ready to repel any shot that comes up short. The par-4 sixth seems to slant in one direction, then cant in the other direction once past a lateral ridge that runs down the fairway. Every hole has its own character. With roughs of tall fescue and occasional white pines and hardwoods, Kingsley is all natural and all absorbing, a thoughtful design by Mike DeVries, who grew up in the area playing No. 12 Crystal Downs.
100 Greatest/Second 100 Greatest History: Ranked on America's Second 100 Greatest: 2013 through current. Highest ranking (previous): No. 114, 2013-2014. Previous ranking: 126.
It's easy to lose one's concentration taking in the dramatic scenery. When standing on the third tee, players get a great view of nearly every hole on the front nine. Aesthetics are tremendous with the tranquility, undulation, and rolling fescue off the tee.
One of my favorite modern-day courses that isn't talked about enough. Mike DeVries designed an inland course that plays like a links. Fabulous design variety with a lot of undulations and interesting contouring to both engage and affect strategy.
The round at Kingsley Club begins right away with the golfer being forced to make a decision. Great opening par 5 with split fairway—unlike most first holes in golf.
Shot values are very high and much is asked of the golfer in terms of execution AND creativity. The ground rewards good drives and second shots. The player is always walking on a razor's edge between a birdie and a bogey (or worse).
The course is not just a skills' test, but a mental test for every single hole, and can be played so many different ways.