News
When setting up major championship golf courses, length matters less than you think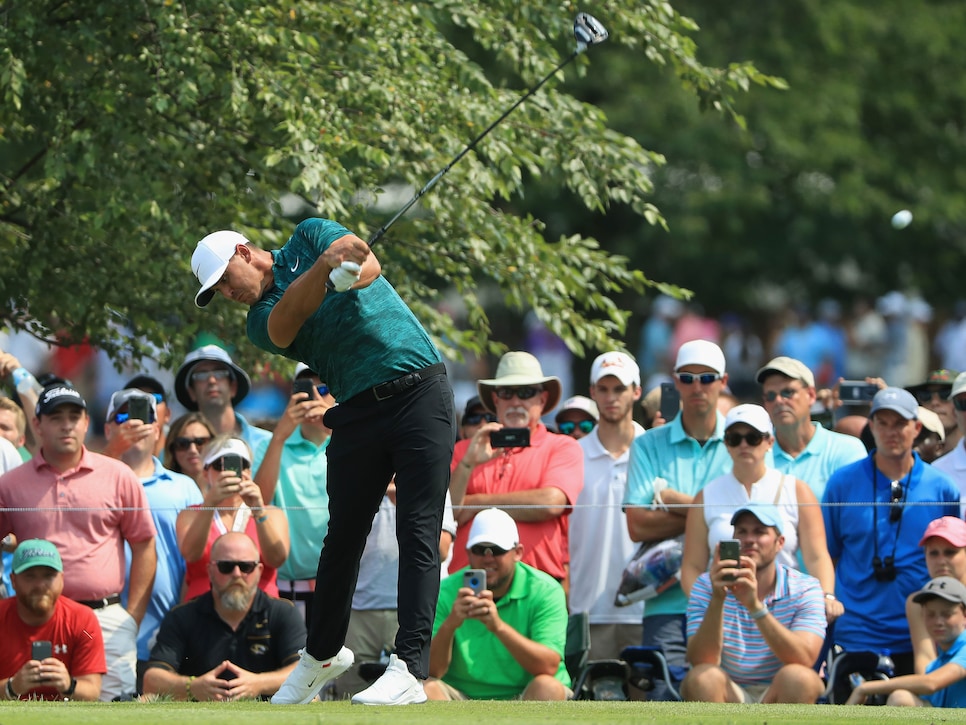 Sam Greenwood/Getty Images
If you signed up to play in the member-guest at Bellerive, you'd probably be in for a rude awakening.
At more than 7,300 yards, the Robert Trent Jones design known locally as the "Green Monster of Ladue" is feared for its crowned fairways, deep bunkers and huge greens. And with the typical deep rough and quick greens you see on member-guest weekend, it's not a surprise when most players can't defend their number.
But under conditions more challenging than any "regular" week—and par set at 71 vs. 72, the tour players in the field at the PGA showed up at Bellerive licking their lips. A brutally hot summer left the greens vulnerable to super tight cutting—which means they needed lots of water and a taller setting on the mower.
So, on a course where the club champion at a run-of-the-mill course would have trouble breaking 90—and several club pros failed to break 80—we got four days of fireworks. Brooks Koepka's score of 264 was the lowest shot in PGA Championship history. The Sunday leaderboard was a sea of red—where only one player in the top 30 shot a round over par. Before, when the cut came on Saturday morning, it took a score of even par to survive, which was the lowest in major championship history.
By any measure, the players took on Bellerive and beat into submission.
Jim McLean isn't surprised. The Golf Digest 50 Best Teacher has worked with tour players for more than 30 years, and for most of that time was based at Doral in Miami—where the Dick Wilson-designed Blue Monster was renovated first by Ray Floyd and then Gil Hanse to make it hard enough to fight off the tour players. "What happened at Bellerive could happen anywhere now," says McLean, who is now based at The Biltmore in Coral Gables. "That course was extremely long and prepared for a major, but there is almost no course in the world that could withstand perfect scoring conditions."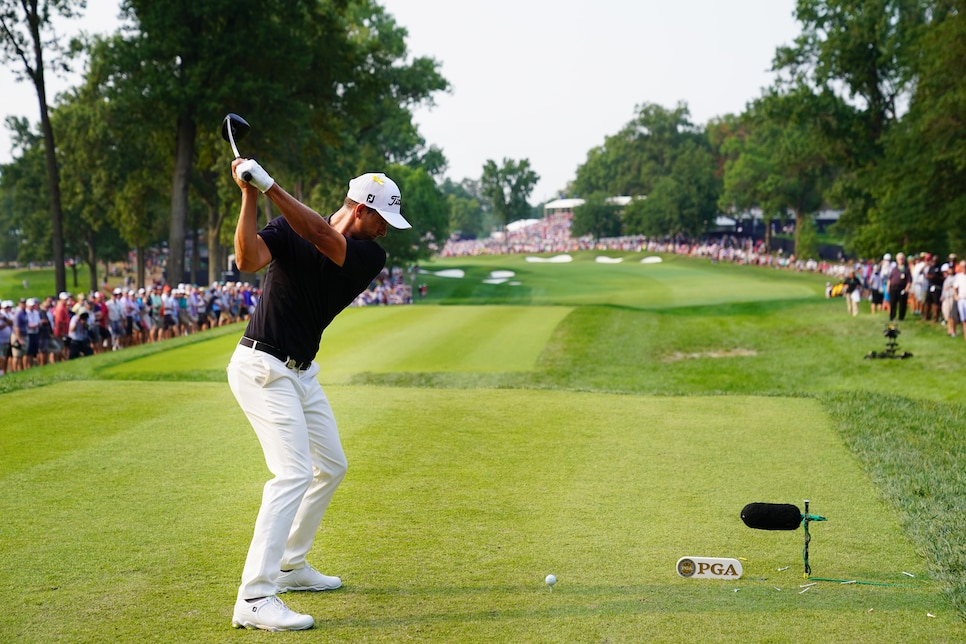 When it's as soft as it was last week in St. Louis, it doesn't matter if you're at the PGA Championship or the Travelers. Every pin is a green light pin.
Bellerive played 7,316 yards for the PGA this week, but McLean believes a modern design would need to be substantially longer for distance to even enter tour players' minds. "A 520-yard hole was a decent par 5 20 years ago, but now you have par 4s that long, because players are hitting 190-yard 8-irons now," says McLean. "The ball is going 40 yards longer than it used to, which means a 7,100-yard course from the 1980s would have to be 7,800 yards today." But even Erin Hills' 7,741 yards didn't protect it from Koepka at the 2017 U.S. Open. He bombed it to death with his driver at shot 16-under, which tied the U.S. Open scoring record set by Rory McIlroy in 2011.
The two most glaring hallmarks of the "distance war" are the gaudy driving distance averages players are recording and the clubs they're hitting into the green. Koepka averaged just under 320 yards off the tee, and hit 11 wedges on Sunday, including one from 157 yards to 10 feet on the 495-yard 15th hole. On the last three holes, with the tournament in the balance, Koepka hit a 5-iron to six feet from 237 yards, and 338- and 324-yard drives right down the middle.
"Brooks Koepka is what everybody has talked about for years," says Golf Digest 50 Best Teacher Hank Haney. "There's going to be somebody who is big and strong and hits it forever with touch and feel. Dustin Johnson is the same way. There are big men in basketball who have feel and touch, and they dominate. That's just the way it is in sports. Why should golf be any different? And don't think for a second that there aren't a lot more coming."
The distances players hit the modern driver-ball combination—and the short clubs it leaves them into most holes—tends to muddle comparisons with players from different eras, but Haney is unequivocal about where golf stands now vs. the past. "The equipment is way better. The coaching is better. The players are better. It's all of it," he says. "Times are different now. You can tell me all about how Ben Hogan hit it. Give Brooks Koepka a 1950 iron, and he's still going to be hitting 7-iron when Hogan is hitting 3-iron. I mean, look at the two of them. How can you say players now aren't better athletes? And before you tell me about how the equipment makes the game easier, what about the courses? You can't compare the speed and firmness of the courses today to what they played before. They tore up Bellerive because it was soft, and they could stuff every iron shot in there. What do you think the greens were like when Hogan played? They ran about 8. The courses now are so much harder it isn't even close. The equipment has just equalized what they've done to the courses."
Koepka's 264 was the lowest aggregate score in PGA history, and tied Henrik Stenson's 264 at the 2016 Open Championship for lowest in any major. And of the 12 lowest scores in major championship history, Greg Norman's 267 at the 1993 Open Championship is the oldest. But when you compare the aggregate winning scores from the four majors year to year, the results are quite as clear cut. In 1993, the winners were a combined 44-under (thanks to Lee Janzen's record-setting 8-under finish at the U.S. Open). This year, they were 38-under (again, thanks to the USGA making Shinnecock a comparative torture chamber). In 1958, the winners combined to shoot 11-under.
All of the scoring analysis—and the USGA's obsession with protecting par—is wasted effort, says Haney. "I don't know why people are obsessed with what the score is," he says. "You should be obsessed with the quality of the leader board. How was this not a fun tournament to watch? Great competition. Amazing leader board. The course is a little boring, but you had birdies, eagles, players making double. It was even Augusta-like. I'd rather have it that way every single time."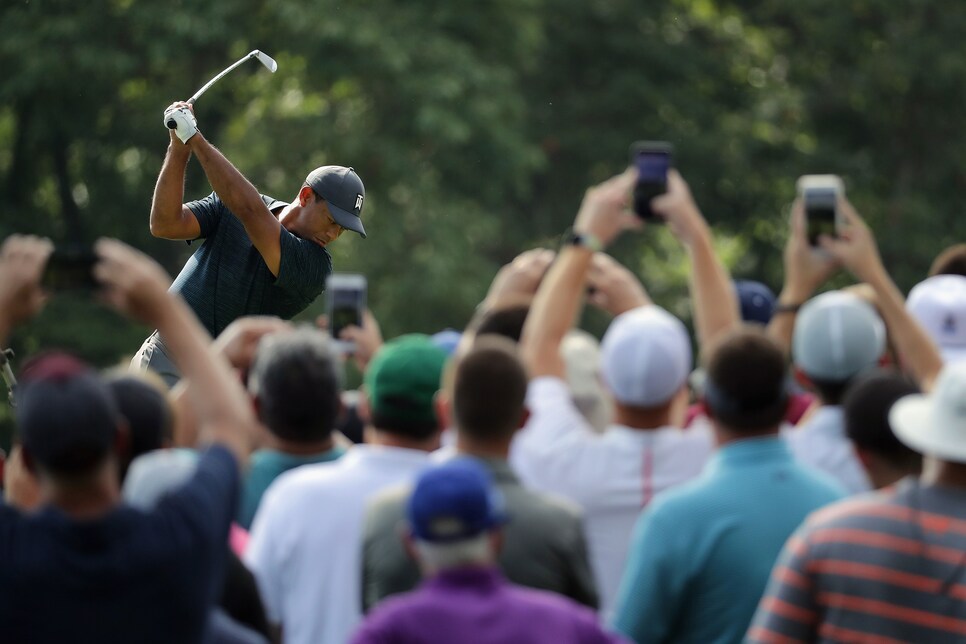 Richard Heathcote/Getty Images
Of course, the irony of Bellerive's relatively "short" 7,300 yards is that a venue that was a pushover for the tour players would still be a punch in the mouth for the average club golfer. "A good club champion couldn't break 100 if he teed it up there," says McLean. "It's no wonder the average player doesn't want to get shorter with equipment rules restricting the ball. But engineering could do something that could restrict the high speed players while leaving the average players alone. I think that's what needs to be done."
While the argument raged on Twitter and Facebook, Claude Harmon III had much more pragmatic responsibilities last week. He coaches Koepka, and he spent the days before the tournament working on—of all things—Koepka's putting setup. The chatter about how the course would play was meaningless inside the ropes, Harmon says. "The thing is, they play golf outside. The conditions are what they are. The players show up and play the course that's in front of them. They don't have any control over if it's long, short, soft or firm. You can say what you want about how easy or hard Bellerive was, but Dustin Johnson is the longest, straightest driver in golf and he didn't win. The players still have to hit the shots."