News
PGA Championship 2018: Brooks Koepka's latest response to his critics? Just another major title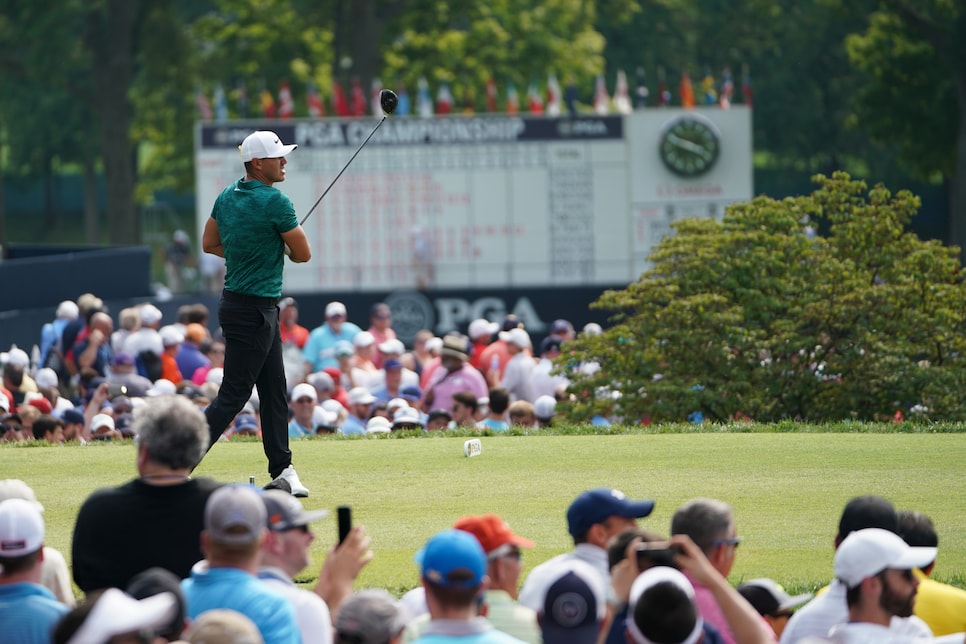 Photo By: Montana Pritchard/PGA of America
ST. LOUIS — Brooks Koepka does not care what you think about him. In and of itself that doesn't mean a whole lot, until you consider it's coming from someone who feels that he doesn't get asked enough questions, isn't featured high enough on ESPN.com's home page or gets annoyed when he's not listed as a "notable" when the tee times come out at a major championship.
There was no ambiguity about it, or lack of context, Sunday night at Bellerive Country Club. Just the same blunt force that he applies to one of his drives.
"I don't care what anybody else says," he said matter-of-factly after bench-pressing his third major championship in the last 14 months and second in the last two. "I try to acknowledge all the fans as much as I can. But there's always going to be people that hate you. You've just got to move on with it and use that as motivation."
Koepka's shoulders are as broad as the Show Me State, and the chip they carried as big as the Gateway Arch. It's that motivation that is the Creatine to his vast talents. His victory at the PGA Championship was as impressive as one of his gym sessions—Sunday of this year's U.S. Open he threw up 225 pounds 14 times the morning before the final round, then beat Shinnecock into submission with the type of nuanced golf that belies his bulging biceps.
At Bellerive, a squelchy, longish, hit-splat-and-repeat venue that felt more like a run-of-the-mill PGA Tour course than a classically creative major-championship track, Koepka bludgeoned the dull Midwestern quagmire into submission, eschewing irons for one driver after another as he attacked it with impunity both off the tee and into its large, soft greens en route to a two-stroke victory. Making it all the more impressive was the platoon of challengers that he held off on the final day, including Tiger Woods and Adam Scott.
Playing two groups ahead of Koepka, Woods turned back the clock not quite far enough again, charging to within one of the lead on multiple occasions, each roar louder than the last. He went out in 32, getting up-and-down for birdie from a greenside bunker on the par-5 eighth then sticking his approach from 172 yards out of thick rough to 10 feet on the ninth for another to close out the side.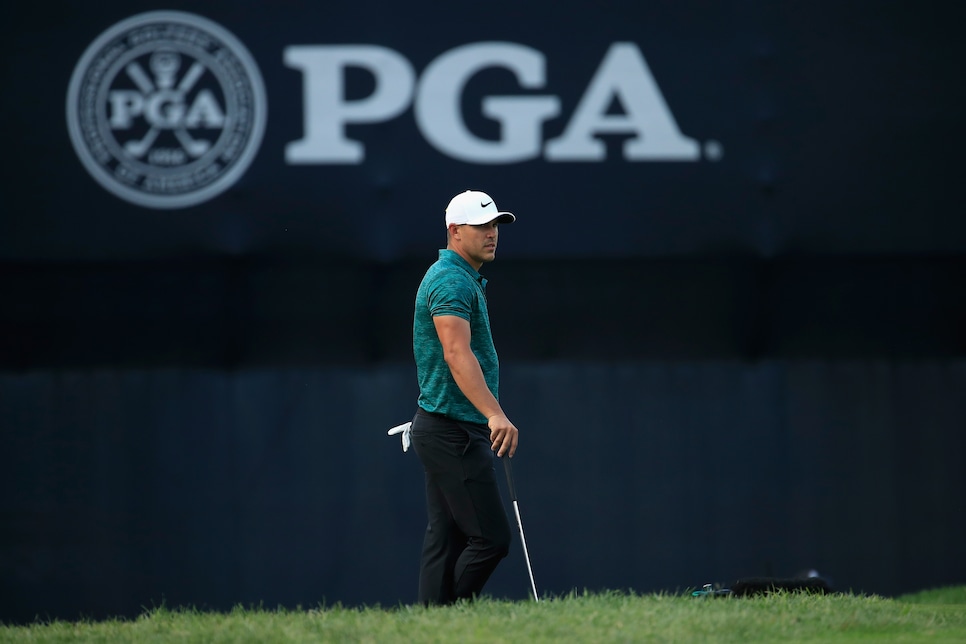 "You could hear a different roar like every 30 seconds," Koepka said. "It's pretty obvious when Tiger makes a birdie. I think everybody at the golf course cheers for him."
As if they don't for Koepka? Not that any of it seems to bother the 28-year-old Hercules.
"I remember the loudest roar I think I've heard was when I was hitting my putt on 8," he said. "When [Tiger] made that putt [on 9], and I was over it, and everybody's roaring, I'm like, all right, just make this one and try to get through that."
Koepka did, cooly rolling in a five-footer of his own to stretch the lead back to two. It was the second of three straight birdies as he went on to stiff his own approach on the ninth, putting it to seven feet despite having driven into a fairway bunker.
There were other contenders, too, including Koepka's boyhood idol and playing partner for the day, Scott, as well as defending PGA champion, Justin Thomas. All wilted at one point or another.
Koepka doesn't do wilting. He does lifting, weights and major trophies.
With Scott having battled back gallantly with five birdies in a six-hole stretch around the turn, including one on the par-3 13th, the Aussie was breathing down Koepka's neck and tied for the lead. More than just a bash bro, though, Koepka's response was a thing of beauty as he flagged his wedge on 15 then smoked a 4-iron from 247 yards to six feet on the par-3 16th. Birdies on both, game over.
Koepka didn't even bother marking his final tap-in two holes later to finish off the victory -- another sign of the indifference -- despite Scott motioning for him to so he could have the stage to himself. Instead, he bumped it in and gave a mild tip of the cap to the crowd despite the achievement. In his 100th career start on the PGA Tour, Koepka won the tournament's 100th championship with a PGA record 16-under 264 total that included a pair of 66s on the weekend (and a record-tying 63 in the second round), doing so largely on the strength of shots like the ones he hit late on Sunday.
"It was a laser," caddie Ricky Elliott said of the shot on 16. "He had to push the button. He had to make a couple of birdies to give himself that cushion to come down the last few holes.
"The wedge on 15 was really good after having missed a few putts. But the shot he hit into 16 I couldn't believe it. We just needed it in the middle of the green and to two-putt it, and he goes, 'Give me the 4-iron' and he pitched it 10 yards short [of the pin] and it ran up to the hole. I can't answer what was going through his head."
With Koepka, it's usually not much. Except maybe the haters.
"I have a lot of self belief," he said. "I knew, even today, when everybody was making that charge, if I just hung in there, made one more shot, one good shot at a time, kept it rolling, I knew I was going to have a chance to kind of separate myself maybe a little bit."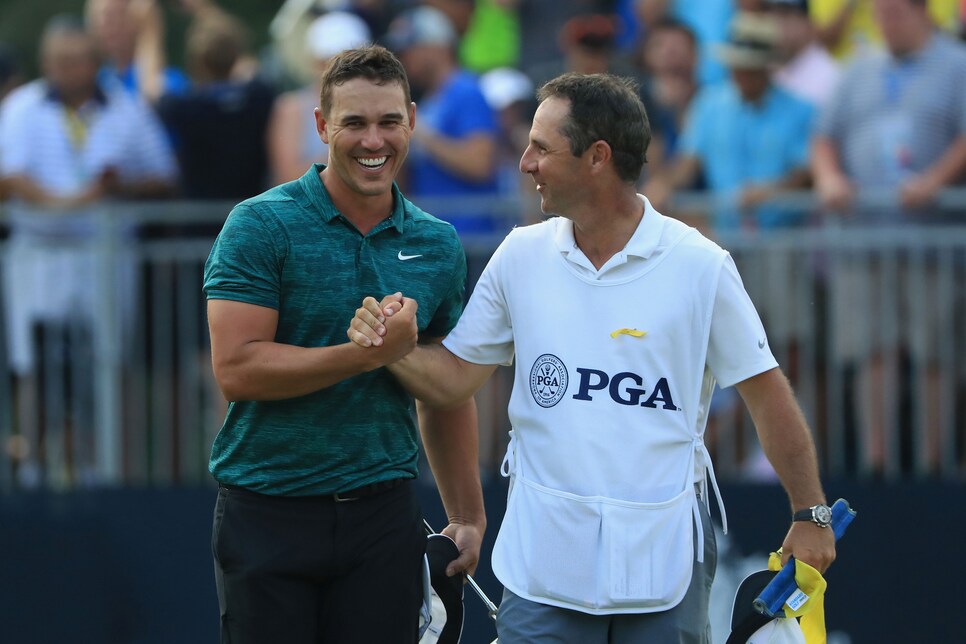 With three wins in his last six majors he has certainly done that.
"When you win a major you're in a different category," said his swing coach Claude Harmon. "When you win two majors you're in a different category. And when you win three majors you're in a different league. He always saw himself as someone who could be that player. He doesn't get asked a lot of questions and we joke about it. He's the reigning U.S. Open champion, shoots one under on Thursday and doesn't get asked one question [by reporters]. If you think that goes unnoticed, it doesn't."
It won't go without recognition now. Koepka's latest triumph puts him in rare air and will almost certainly give him Player of the Year honors, both from his peers and the writers who cover him. He already has a Hall of Fame resume. Does he feel like he'll finally get the respect and appreciation he so badly covets?
"I hope so," Koepka said.