WGC-Dell Match Play
Frantic Friday approaches at Match Play, and here's where all 16 groups stand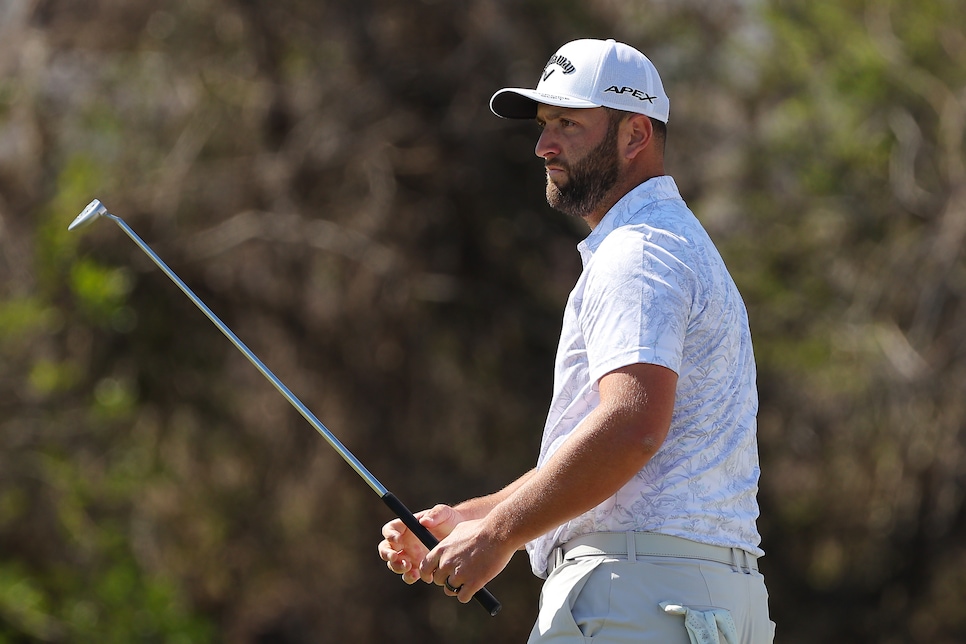 Jon Rahm reacts to his putt on the 12th green during the second day of the World Golf Championships-Dell Technologies Match Play.
Kevin C. Cox
AUSTIN — The most exciting Friday in golf is imminent, and while the WGC-Dell Match Play has given us plenty of drama through two days of group play—15 of 32 matches went to the 18th hole on Thursday—almost everything is up for grabs on Friday as the round-robin portion ends and players jockey for spots in the 16-man knockout round. Only the group winners will make it through to the weekend, so let's take a quick look around the 16 groups and see what's happened, where things stand and what we can expect on Friday.
Group 1: Everybody was dying to see Jon Rahm and Patrick Reed on Friday, us included, and ideally at 2-0. But this is the Match Play, the most volatile event on the planet, so of course Reed went 0-2 and is already eliminated. Rahm, though, looks indomitable at 2-0 and now controls his own destiny; only a loss to Reed opens the door for Cameron Young and Sebastian Munoz.
Group 2: Sergio Garcia's ridiculous comeback and even more ridiculous rescue shot on 18 to steal a tie against Morikawa turned this group topsy-turvy:
Group 3: Viktor Hovland is a man possessed! His first win was 1 up over fellow Euro Sepp Straka, and he did one better against Cameron Tringale Thursday, prevailing 2 and 1. Will Zalatoris delivered the hammer blow to Tringale on Wednesday, but his 4-and-2 loss to Straka on Day 2 means Hovland is in "destiny control" mode. Win or draw, and he's through.
Group 4: This group, so far, belongs to Seamus Power. Are you noticing a theme here? It's a European romp! Revenge for the Ryder Cup! OK, not really, but Power has arguably been the most dominant player in any group with two 5-and-4 wins, and if he plays the 15th hole Friday, it'll be the first time.
Group 5: In a group with last year's runner-up Scottie Scheffler, match-play legend Ian Poulter and former Ryder Cup darling Tommy Fleetwood, you'd hate to be the fourth guy ... unless you are Matt Fitzpatrick. The young Englishman is absolutely cursed at the Ryder Cup but is on a rampage here. He's already bludgeoned Fleetwood and Poulter, and if he can complete the treble with a win against Scheffler Friday, it'll be one of the really surprising runs in the tournament's group-play era.
Group 6: All you need to know here is that Kevin Kisner is a certified match-play killer and continues to pursue his MO of "being really annoying." Trailing Luke List 2-down at 14 on Thursday, he tied the match in two holes, made a clutch birdie putt on 16, and broke List's heart with a final birdie on 18 to steal it 1 up. Now, Kisner faces Justin Thomas in a win-or-draw scenario, but Thomas and List are both still alive if he falters.
Group 7: This really, really seemed like Xander Schauffele's group, and it still might be, but after beating Takumi Kanaya, he got out-dueled by Lucas Herbert, who's now 2-0 and controls his fate. And by the way, if you expected this tournament to jolt Tony Finau out of his mini-slump, it didn't—he's 0-2 and has looked just this side of woeful. That's not Herbert's problem, but Kanaya? He might be:
Group 8: Is Dustin Johnson ever going to lose another match? After becoming only the third player to go 5-0 at the Ryder Cup in the current format, he's won two in a row at the Match Play, and the victories weren't particularly close (3 and 2, 4 and 2). Max Homa could spoil his streak on Friday and propel himself and Mackenzie Hughes into playoff position, but at this point? Don't bet on it.
Group 9: It's a battle of graying Brits: Richard Bland, 49, vs. Lee Westwood, 48. If Bland wins, he's through. If Westwood wins, he's got at least a playoff. As Bland himself joked on Tuesday, there may be an ambulance following them. Assuming they both survive, though, one of them could become the oldest player to make the round of 16. Meanwhile, Bryson DeChambeau is eliminated because this happened on the 18th against Westwood:
Group 10: This group has been defined by Paul Casey withdrawing twice, handing walkover wins to Alex Noren and Corey Conners because of a bad back, and both also have beaten Louis Oosthuizen. All of which sets up a Noren-Conners Friday showdown, and,look, if you tell me that Canada is about to face Sweden ... well, I'm hoping you're talking about Olympic hockey. Curling in a pinch. But this is almost as good. Almost.
Group 11: One of the more mind-blowing stats in this tournament is that Keegan Bradley has now gone 14 matches without a win. However! He did manage to make a birdie on 18 to tie Adam Scott, which kept Scott at 1-0-1 and left Jordan Spieth and Justin Rose with a prayer. The Spieth-Scott match is one of the on-paper highlights of Friday, right up there with Kisner-Thomas.
Group 12: You already know about Billy Horschel—he's now won seven straight matches in Austin, counting last year's championship run, and he's barely had to break a sweat. That should change Friday, when Thomas Pieters, who looked extremely good until he handed his match to Min Woo Lee, waits with a chance to force a playoff. This will be Horschel's hardest fight of the week so far, and another test of whether he's actually invincible.
Group 13: This is a little bit of a dull group, and it's good that the spiciest figure, Tyrrell Hatton, is the man sitting at 2-0 heading into Friday's match with Daniel Berger. That's the one match we wanted to see with some stakes in play, and Berger still has a crack.
Group 14: As the last man in the field, Maverick McNealy stunned Joaquin Niemann with an absolute walloping on Wednesday, winning 8 and 6 in one of the most lopsided results ever at this event. He seemed to be coasting against Kevin Na on Thursday, but for the second straight day, Na reversed a 3-down deficit, this time finishing with a tie. All of which makes for a complicated Friday, but we'll give the edge to McNealy, who has the advantage of playing 0-2 Russell Henley, the only player in the group eliminated and we suspect his motivation is running pretty low.
Group 15: Abraham Ancer lost a 1-up lead to Brian Harman on the 18th hole Thursday and had to settle for a tie. But with a 1-0-1 record, he still has the slight edge on the group when he faces Webb Simpson Friday.
Group 16: Finally, this is the Brooks Koepka group, and we got what we wanted: a Koepka-Shane Lowry Friday match that will likely decide the group winner (although Harold Varner III is not out of it yet). Root for Koepka if you want, but we have to advise you: Win or lose, don't ask for his autograph.