WGC-Dell Match Play
Sergio Garcia pulls out a tie that felt like a win as he searches for confidence ahead of the Masters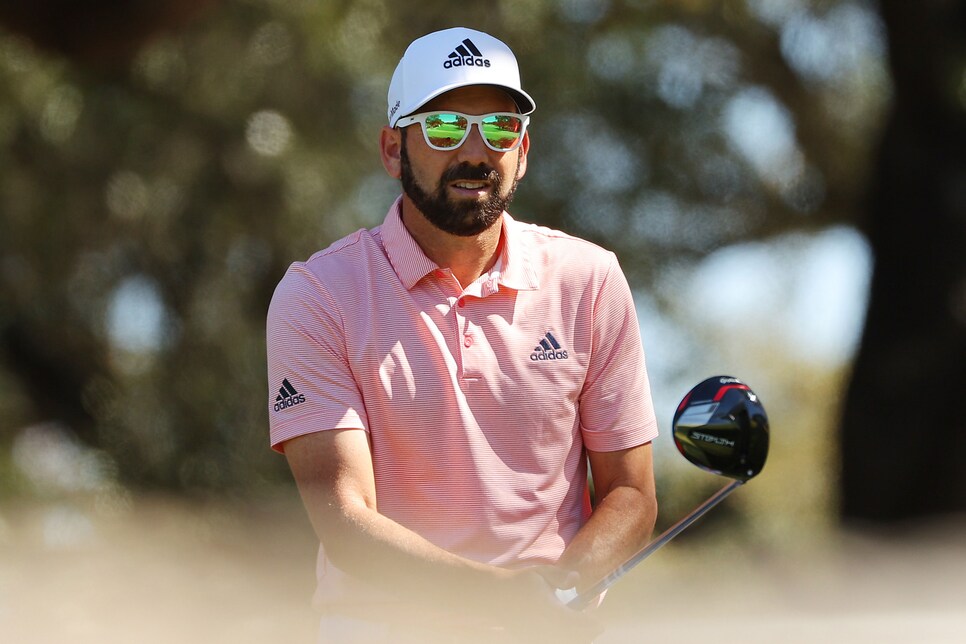 Sergio Garcia prepares to play his tee shot on the eighth hole during his Thursday match with Collin Morikawa at Austin Country Club.
Kevin C. Cox
AUSTIN — Let's get theoretical here: If you were a golf writer, and you saw Collin Morikawa leading 3 up with five holes to play, and you considered the fact that he won his opening match on Wednesday and went 3-0-1 in the Ryder Cup, you may—just may—have been planning to write a story about how, following his struggles at the WGC-Dell Match Play in 2021, he has started to become one of America's rising match-play stars.
And if you were such a writer, well … Sergio Garcia was having none of it.
On the 14th hole at Austin Country Club, Garcia stuck his approach to eight feet and made the birdie to go 2 down.
On 15, Garcia's approach was just average, but he went ahead and drilled a 30-footer for birdie to go 1 down.
On 16, a par 5, he reached the fringe in two and nearly made the eagle putt. Tie ballgame.
Just that quickly, the purely hypothetical Morikawa narrative was buried about a mile deep in Texas hill country, and Garcia—also a Wednesday winner, in blowout fashion, over Jason Kokrak—was on the offensive. When Morikawa found the bunker on the par-3 17th and Garcia left himself 18 feet for birdie, the Spaniard seemed on the verge of taking the lead by winning a fourth straight hole. But Morikawa executed a spectacular up-and-down, Garcia left his birdie putt three inches short, and they were on to 18 tied. (Insert your "vagaries of match play" line here.)
On the home hole, Garcia seemed to put himself in serious trouble when he pulled his drive into the rocks and mulch, but that's when he pulled off some of his quintessential recovery magic from 113 yards with a 52-degree wedge:
The result? A tie. But for Garcia, known for his own match-play prowess given he's earned more points than any golfer in Ryder Cup history, it's the kind of tie that feels very much like a win.
"I mean, if you would offer me a tie, a half on the 14th tee," he said, "I would have definitely taken it and walked—run—to the clubhouse."
As for that near miracle on 18, Garcia actually seemed to think it could have been better.
"The first thing that was going through my mind was, 'why didn't you make a better swing off the tee?' " he said. "I had a rock a little bit behind my ball so I knew I had to get steep. The good thing is I had an opening, so I didn't have a tree in front. So that was nice. But I had to get really, really steep with my 52 [degree wedge]. The way it came out, I thought it had a chance of getting to the top and getting fairly close to the hole, but unfortunately it didn't."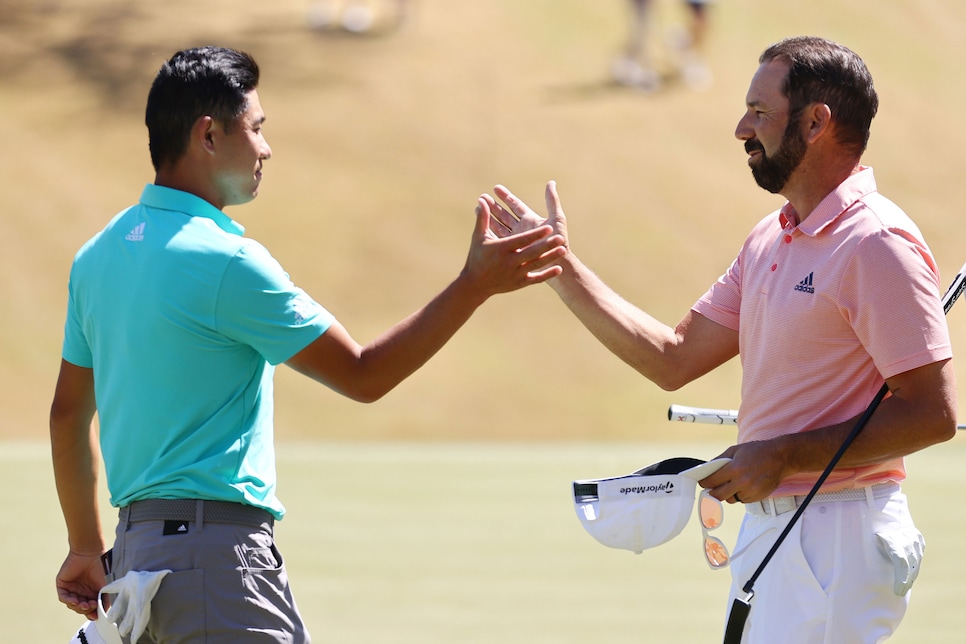 Morikawa and Garcia shakes hands after tying their match on the 18th hole.
Michael Reaves
Still, he was more than happy with the result, both of that shot and the match. By his own high standards, Garcia has been playing "OK, not amazing" so far in 2022, with no missed cuts but no top-10s either.
"That is a little bit of lack of confidence," Garcia said. "But I definitely feel like I'm not getting the results when I'm hitting the ball well … but you just got to keep going at it, keep trying and hope that things kind of start happening a little bit, kind of like it did on the last five or six holes, and we'll see."
Still, in order to regain the kind of form that wins majors—the form he had in 2017—he admitted that "it still needs to improve." On Friday, Garcia faces Robert MacIntyre. A win gets him no worse than in a playoff with Morikawa to advance out of group play into the knockout stage, and he can still move through with a tie. At that point, preparing and improving for the Masters will be less critical than the more immediate goal: surpassing his best-ever result at this event, a semifinal in 2010, and perhaps winning the first WGC of his career.