WGC-Dell Match Play
Billy Horschel has become a match-play terror; maybe it will get him on a U.S. team someday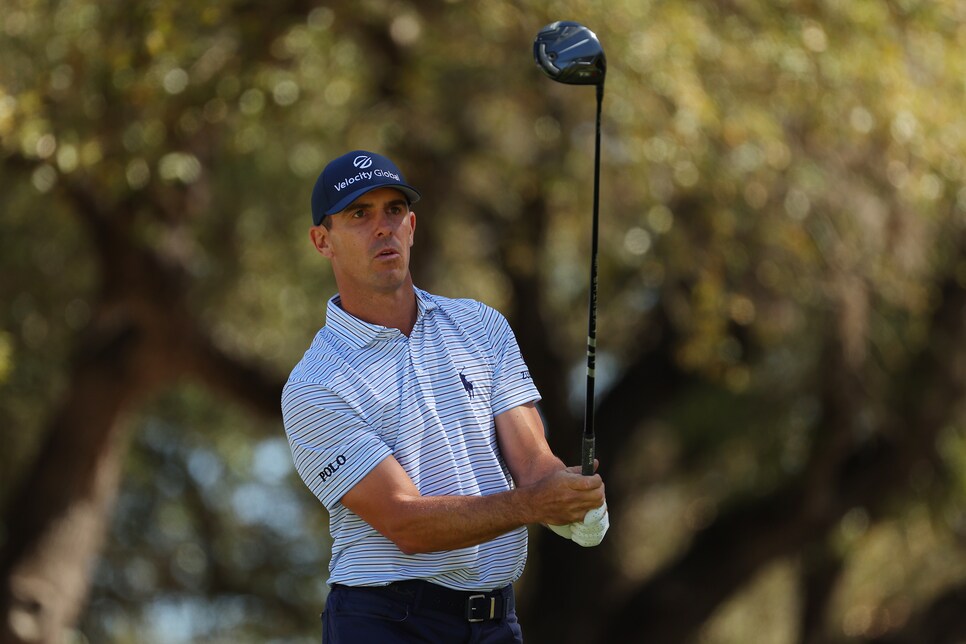 Billy Horschel plays his shot from the eighth tee during the second day of the World Golf Championships-Dell Technologies Match Play.
Kevin C. Cox
AUSTIN—"Billy, what would your Ryder Cup record be if you were European?"
"It would be winning, I'll say that."
That exchange came after Horschel's relatively stress-free 3-and-2 win over Tom Hoge on Thursday at the WGC-Dell Match Play, his seventh in a row at this event following last year's title run. It was easy enough to believe him. The irony in the question is that despite his match play success—he's now 10-4-1 lifetime in this event—he's never played in a single Presidents Cup or Ryder Cup. Even Kevin Kisner, America's other star-crossed match-play genius, got a Presidents Cup spot. But a combination of bad luck and poor play at the wrong time and sheer American depth has left Horschel on the outside looking in every time. But if he were, say, English instead of American? He might be the next Ian Poulter.
None of the "what might have been?" fantasies have stopped him from piling up wins in Texas. On a cool, windy day, with gusts reaching 20 mph, Horschel adopted a somewhat conservative approach for the second straight day, and as on Wednesday, when he beat Min Woo Lee by the same 3-and-2 score, he was the beneficiary of a struggling opponent.
"I felt like I haven't played anything special the first two matches," he said. "Just tried to put the pressure on my opponent, especially when I get up in the match."
Nor was his round mistake-free—three-putts on 12 and 13 turned a 5-up lead to 3-up and gave Hoge a glimmer of hope. But Horschel's play during the rest of his round alternated between a kind of resolute consistency and flashes of brilliance. The first flash came on the opening hole, when he buried a 42-footer to send Hoge a message about exactly what kind of day he was in for. Another birdie on 6, this time a 15-footer, extended the lead to 3-up, and on the seventh, a par-3 playing particularly tough in the wind, Horschel hit a 190-yard 6-iron to 19 feet, made par, and watched Hoge make bogey in the difficult conditions.
After the two three-putts, it was back to the steady side, with three straight pars and a birdie on 16 to clinch the match. Although he got some help from his opponent, part of Horschel's match-play skill lies in knowing exactly how to manage his round in the face of an adversary off his game.
"You have to learn that a little bit," he said. "We're all aware of that, but you have to learn how to play when your opponent isn't playing great or isn't hitting really good golf shots. So that's why it's one of those things where, when I've got the tee or I'm hitting first into the green, yeah, I would love to hit it to within 10 feet. But 20-footers serve a purpose just as good as 10 feet, because now it puts the pressure on him to have to hit a good golf shot, which both guys have struggled with doing the last two days."
When asked to answer the difficult question of why he's had so much success in this format, Horschel had to resort to cliches, but he did point out that the broader perception of him—an emotional player, veering on hot-headedness at the worst of times—wasn't quite accurate in match play, where he's able to move past his temporary frustrations and focus totally on the next shot. Plus, on the more practical side, he's just really good at putting inside 10 feet.
Horschel plays Thomas Pieters on Friday, and it looked like that might be a "winner takes the group" match until Pieters collapsed late and handed a win to Min Woo Lee. Now, Horschel can advance to the knockout rounds with a win or a draw, and even a loss will give him a chance to win a playoff against Pieters (and possibly Lee). If he does win Friday, though, it would make eight straight victories. Tiger Woods holds the record with 13. Horschel could only laugh at the absurdity of that run.
"That means even if I win the rest of my matches, that's five, so I'm short by one," he said. "So, I better come next year and win at least one match? You know what, there's stats that he has accomplished and that he has that are just mind blowing. Things that you just can't imagine."
For the moment, Horschel will take another win and a berth in the Saturday knockout stages with a chance to join Woods as the only back-to- back winners in the event's history.