WGC-Dell Match Play
Maverick McNealy, last man in the WGC-Match Play field, starts week with merciless blowout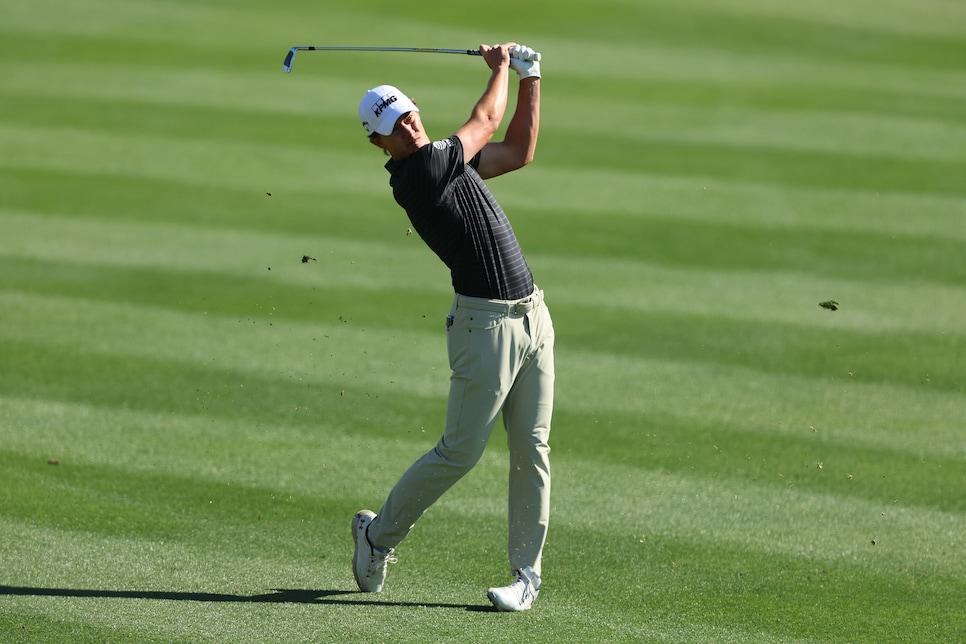 Maverick McNealy plays a shot on the second hole during the first day of the WGC-Dell Technologies Match Play.
Michael Reaves
AUSTIN — On Sunday night, watching his brother Colt play adult club hockey a few miles north of Austin, Maverick McNealy got a phone call. It was his agent, who had just received his own call from Sam Burns' agent to let him know that Burns was withdrawing from WGC-Dell Technologies Match Play after his victory at the Valspar Championship. That meant McNealy, who was prepared to head for the Dominican Republic and the Corales Puntacana Championship as the first man out of the WGC, slipped into the final spot. Moments later, his brother's team scored the winning goal in the third period with just 15 seconds left—not a bad five minutes for the McNealy boys. (Trivia: Each of the four brothers, Maverick, Colt, Dakota, and Scout, are named after American cars, influenced by their grandfather's career in the Detroit auto industry.)
McNealy took advantage of his good fortune on Wednesday, starting out quickly at Austin Country Club and never relenting as he posted an 8-and-6 victory over Joaquin Niemann, the highest seeded player in their group. In the 23-year history of WGC-Dell Match Play, only seven other matches have been this lopsided or worse, a group highlighted by Tiger Woods' famous 9-and-8 victory over Stephen Ames in 2006, and which includes Ben Crane's surprising 8-and-7 win over Rory McIlroy in 2011 and Kevin Kisner's 8-and-6 win against Ian Poulter in the 2018 quarterfinals.
"I hit a couple really good ones," McNealy said, in what amounts to a significant understatement. "Just the stretch holes three through seven … I was really happy with that stretch especially."
That five-hole masterclass started with a pinpoint approach on the third to nine feet and a 6-iron to nine feet on the par-3 fourth—both players made birdie. It continued with a tough par on No. 5, a birdie on No. 6 after hitting a utility club to 22 feet from 254 yards, and a final birdie on No. 7 courtesy of a 22-foot putt.
By the time it was over, McNealy had gone from 1 up to 5 up. At that point, barring a miraculous comeback, the match was essentially over, but McNealy didn't hold back, taking advantage of a Niemann mistake on the ninth hole to go 6 up, and again on the 11th to go 7 up. Finally, he left himself an 18-footer for birdie that Niemann conceded after being out of position to end the match on 12.
As McNealy spoke on the phone with his grandmother in the aftermath, Niemann made his way to the locker room, changed quickly and exited for the parking lot, looking appropriately shell-shocked. McNealy was at his leisure, and despite his soft-spoken nature, it was clear he was enjoying the moment.
Why shouldn't he? This is his first WGC start, and at 26, he's only played in four majors. McNealy is trying to climb into another echelon, and this win is an important step.
"I think there's three tours within the tour," he said. "There's the 'I-just-got-on-the-tour' tour where you're playing in the Korn Ferry category and reshuffling and playing whenever you get the opportunity. And then the top 125, you get to pick and choose your schedule, but you're not necessarily guaranteed the invitationals, WGCs and majors. And then there's the tour that the top 50 in the world play, where they're in all four majors, all four invitationals and all the WGCs, and then they pick and choose a handful of favorite other events and that's their schedule. I'm kind of at that point right now, 60-something, 70-something in the world [he's currently 74th] where a really good couple of weeks could put me in that top 50 and start getting me into tournaments that I want to play in."
This was the first time he's played competitive match play since the 2017 Walker Cup—not counting the matches he plays at home for "$5 birdies or Chipotle"—and the format seems to suit him. He'll play Kevin Na on Thursday and Russell Henley on Friday, and it's possible that even just one more win will see him through to the knockout stage. At that point, anything is possible, up to and including a jump into the top 50 and the Masters berth that would bring. He's already on tour, but the rarefied tour of his dreams is within his grasp.