News
Brooks Koepka is still human and four other takeaways from Day 2 of St. Jude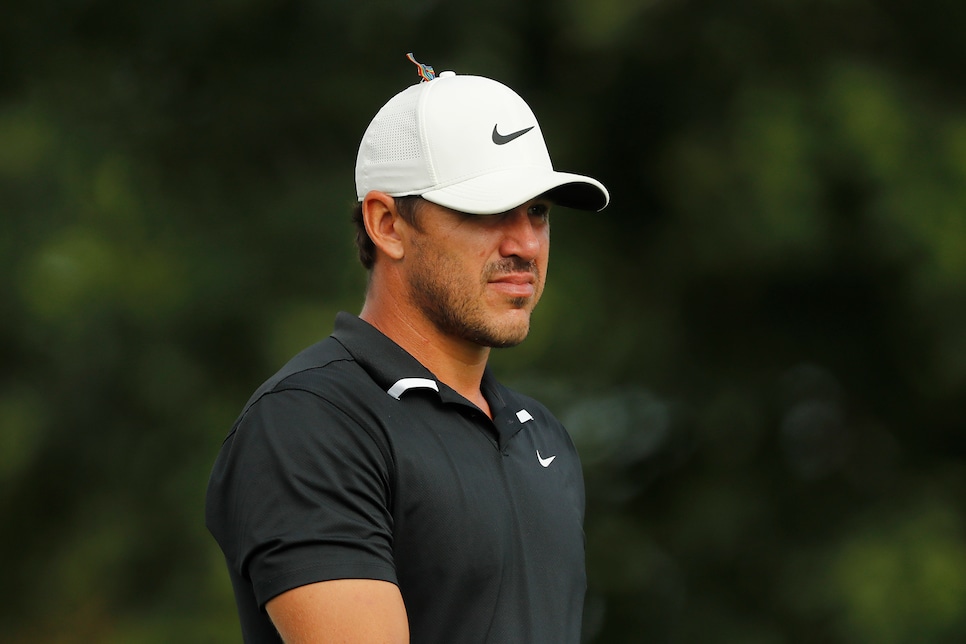 Brooks Koepka looks on at the 13th hole during the second round of the World Golf Championship-FedEx St Jude Invitational.
Michael Reaves
Due to inclement weather in the afternoon forecast in Memphis, the PGA Tour moved the second-round tee times up at the WGC-FedEx St. Jude Invitational. Because of that, and the small WGC field at TPC Southwind, we're already through 36 holes.
That means we have an early edition of takeaways from Day 2, which featured another low round from the greatest golfer in history, Brendon Todd. OK, maybe that's an exaggeration, but the man is on absolute fire. We'll get to him in just a second.
Did Brooks get his bad round out of the way?
The natural, knee-jerk reaction [no pun intended] to Brooks Koepka's scorching hot first-round 62 at TPC Southwind was "Well, he's back. Hand him the PGA's Wanamaker Trophy now." To be honest, it was warranted. When this guy's putter gets cooking, it gets COOKING.
That appeared to carry over into Friday, as Koepka got going with a birdie on his second hole, the par-3 11th. He followed with six straight pars and a birdie on the 18th to turn in two-under 33, putting him at 10 under. Ball game, right?
Unfortunately, for those who hopped on Koepka at a very juicy betting number this week [ugh], a runaway this is not. The four-time major champ double bogeyed the par-4 second despite being just 110 yards away from the pin on his second shot. With three feet left for par, Koepka three-putted, missing three consecutive three-footers. That momentum-killer led to an extra pair of bogeys a few holes later, and he finished with a one-over 71. Perhaps we shouldn't have crowned him just yet.
But one could argue that Koepka got his bad round out of the way. He's still first in the field in strokes-gained/approach through two rounds, as well as second in strokes-gained/tee-to-green and first in greens in regulation. Similarly to last week, the ball striking is just fine. It's tough to shoot under par when you lose over 4.5 strokes on the greens like he did on Friday. That won't happen again on the weekend, and he certainly won't three-putt again from three feet. Plus, does this sound like a guy who is worried?
"I just putted bad. It wasn't really anything other than that," said Koepka. "Felt stress-free other than just missing some short ones. On the back nine they felt good, they were just missing, and on the front they just weren't good putts.
"I'm just pleased I hit it well. It's fine, I'll be just fine. I wouldn't worry."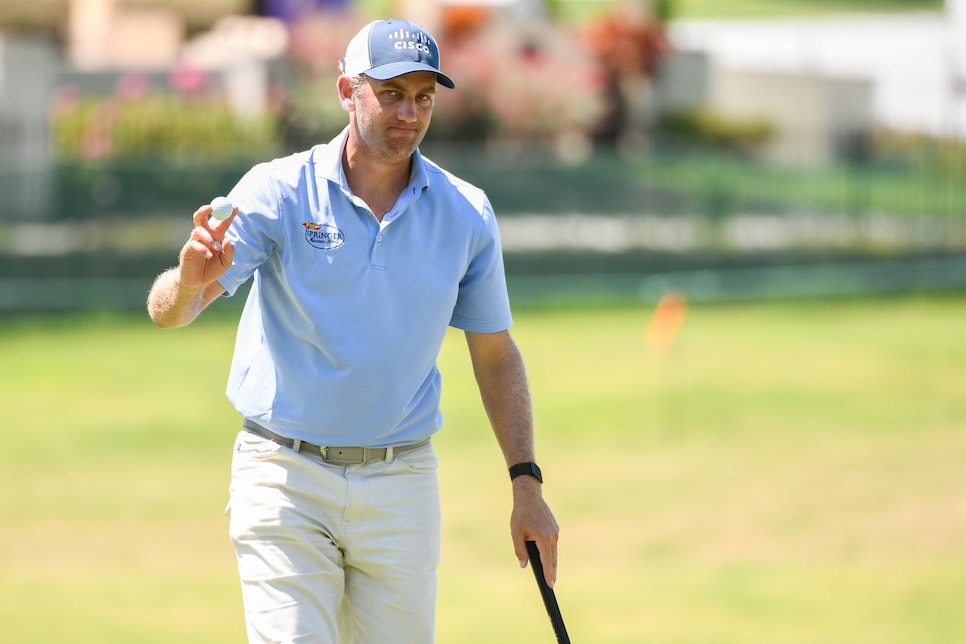 Brendon Todd waves after finishing the 18th hole in the second round of the WGC-FedEx St. Jude Invitational.
Ben Jared
Another day, another low one from the ToddFather. This guy is either for real, like for real for real, or he is on what could only be described as the greatest golf heater of all time. We have multiple Justin Ray stats about to come your way in a second, but first, how about this one from Thursday?
Todd almost added a seventh today, settling for a five-under 65. Unlike yesterday, on Friday he was bogey-free, a common occurrence for him when he hits his irons well and rolls it like he has so far this week.
Through two rounds Todd ranks first in strokes-gained/putting, having gained 6.832 total. As good as that is, it's tough to keep up for all four days. Anyone who watched the final round of the Travelers knows even a locked-in Todd is not immune to going cold. But, once again thanks to Justin Ray, Todd is 2-for-2 lifetime on the PGA Tour when he has the 36-hole lead. Of course, neither of those victories were a WGC with the likes of Koepka, Rickie Fowler, Jason Day and Justin Thomas creeping in the rearview mirror.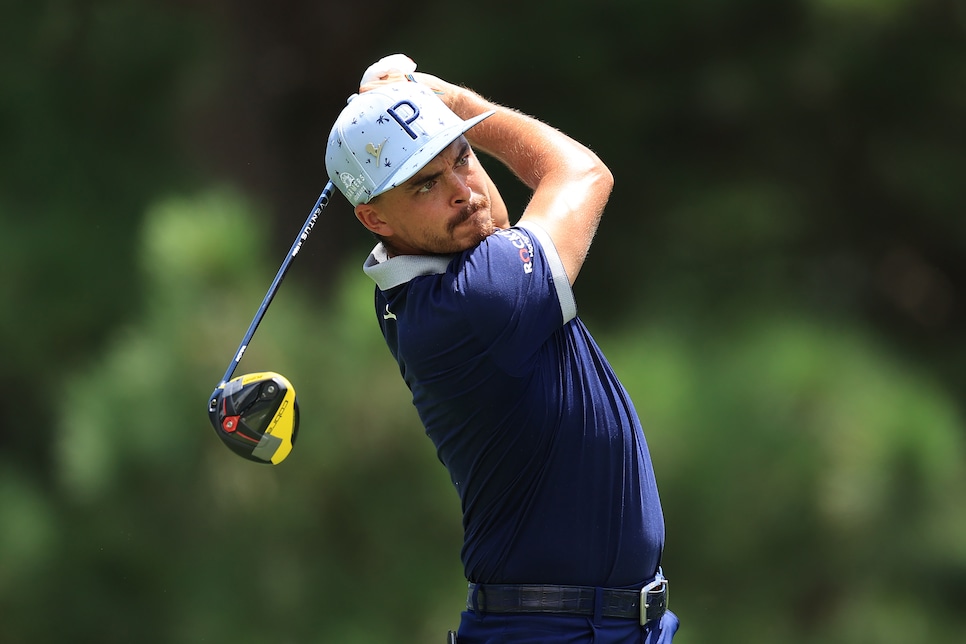 Rickie Fowler watches his drive on the 17th hole in the second round of WGC-FedEx St Jude Invitational at TPC Southwind.
Andy Lyons
Can Rickie Fowler get it done on the weekend?
History, both recent and not-so-recent, would indicate no. Aside from his epic Players Championship win, which was from way behind, Fowler has always struggled with weekend pressure. Saturdays have been particularly difficult for him this year, as he ranks 150th on tour in third-round scoring average. In the past, Saturdays have actually been the day when Fowler makes his move, only to falter on Sunday.
These critiques may sound harsh, but they are shared by many who are still waiting for Fowler to win at the clip that his talent shows he should. Swing tweaks have made this a noticeably leaner year for him, but at nine under through two rounds of a WGC, it appears he's back to peak form.
"This year hasn't been my greatest," said Fowler on Friday. "Been working on a lot of stuff. I think this year's been interesting for a lot of people as far as just how everything's coming about, from quarantine to playing, not playing. I feel like I'm heading in the right direction. I think that's been my main goal is go through some changes for the better. Sometimes you've got to take that step back to take two steps forward. I feel like we already made the step back, I feel like we've made a step forward. I'm looking for that next step."
A win this week would be second only to his Players victory, and it'd be a very nice way to go into PGA Championship week, when he'll continue his quest for an elusive first major. We're all rooting for it, but we'll believe it when we see it.
Byeong Hun An drives on the 13th hole in second round of WGC-FedEx St Jude Invitational.
Michael Reaves
Byeong Hun An has gained strokes putting. This is not a drill
That's right, the South Korean, widely regarded as one of the worst putters on the planet [seriously, he's 203rd on tour in strokes-gained/putting], has gained a whopping 2.740 strokes on the greens through two rounds, good enough for 10th in the field. Chances are, when he putts even halfway decent, he'll be in the mix, just like he is this week in Memphis. Rounds of 68 and 65 have Benny Boy at seven under, four back of Todd's lead. Is he finally going to put it all together to claim his first career PGA Tour win? As long as ol' Glass Eyes Benny doesn't show up Saturday, we really like his chances.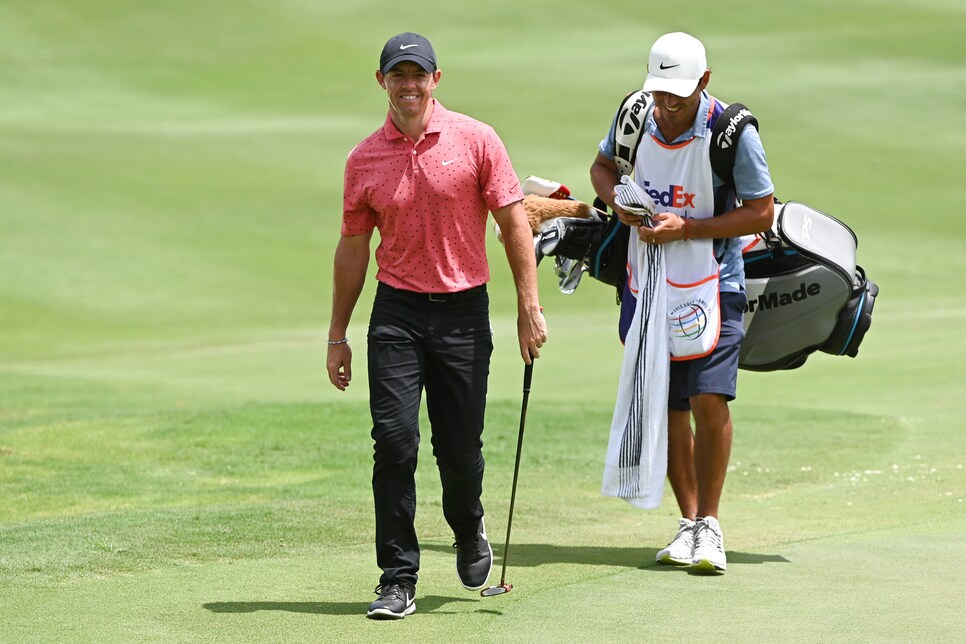 Rory McIlroy walks up to the 17th green in second round of WGC-FedEx St. Jude Invitational.
Ben Jared
It's our favorite Friday segment—"Who is the live bet heading into the weekend?" Value-wise, it doesn't get any better than the aforementioned Byeong Hun An, who is at 20-1 on DraftKings after 36 holes despite being tied for third at seven under. Just to compare, Matthew Fitzpatrick, who is a six under, is 10-1. Justin Thomas, at four under, is 11-1. Chez Reavie, tied with An, is 12-1. The best number out of that group is clearly An, though you're betting on him to continue gaining strokes putting, which is like betting on the Knicks to cover the spread during a losing streak because "eventually, they HAVE to cover, right?"
If you want to feel confident, Koepka is probably your guy at +550. I already bet him before the tournament, so I may hedge elsewhere if he shoots a low one tomorrow, but for now +550 could be the best number you get on him. A little bit farther down the board you have Webb Simpson at 18-1. Simpson finished second here a year ago thanks to rounds of 68 and 64 on the weekend and is the only player hotter than Brendon Todd right now. Todd, by the way, is the clear favorite at +275.
If you're looking to get nuts, Louis Oosthuizen (five under) is 50-1, while Rory McIlroy, who sits 10 shots off the lead, is 66-1. McIlroy can easily throw up a 61 on Saturday, which would send those odds down to the teens or lower. Could be worth a sprinkle if you're feeling frisky.