Betting Analysis
Wells Fargo Championship picks 2023: Can our experts hit a third straight winner?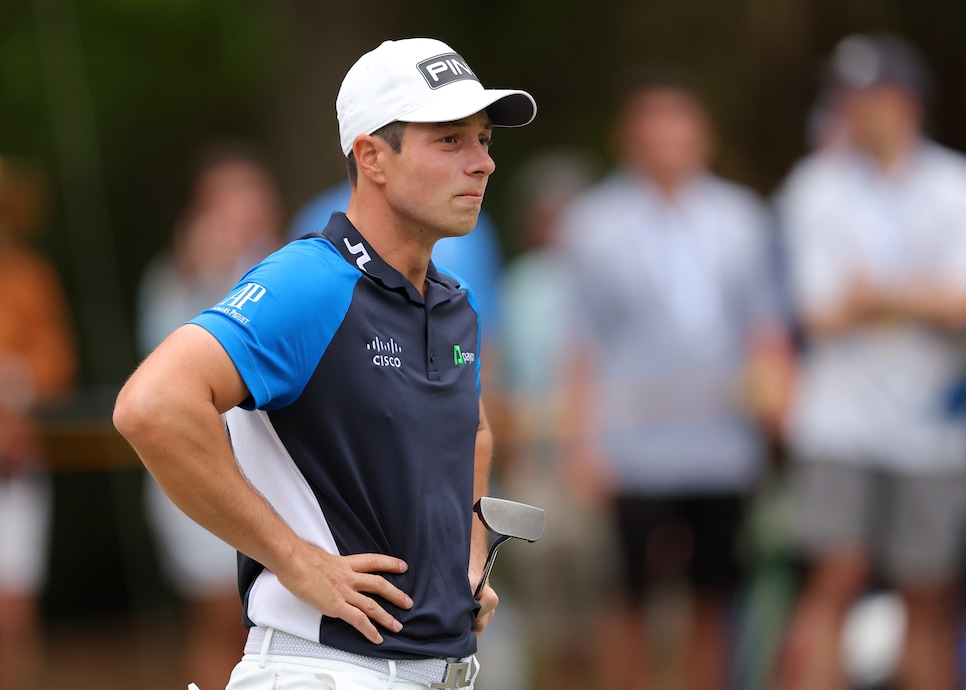 Normally, we do some of our best works on the big-boy weeks. Majors, elevated events, etc. But our panel has feasted on the Zurich Classic and Mexico Open, hitting consecutive winners with both Brandona Gdula and our anonymous caddie touting Tony Finau last week.
Keep in mind, we also hit on Jon Rahm at The Masters, which gives us three of the last four winners on the PGA Tour schedule. This week we turn the page to Quail Hollow for the Wells Fargo Championship, another elevated event that features a star-studded field. Let's bowl a gambling turkey, shall we?
Scroll down to see who we like this week at the 2023 Wells Fargo Championship.
Wells Fargo Championship picks 2023: Our Experts' Outright Predictions
Anonymous Caddie Picker of the week: Xander Schauffele (17-1, FanDuel) — He's comfy hitting the ball right to left when needed which is a big plus around Quail. He's been quiet and due for another W.
Pat Mayo, DraftKings/Fantasy National, Mayo Media Network analyst: Viktor Hovland (18-1, DraftKings) — Around the green play is rarely a large factor in determining the winner at Quail Hollow. Yes, Hovland can certainly be the outlier who can chip himself out of a win, but a break even week may be enough. Between his current ball-striking form, and success at the main crossover course, and a T-3 in his lone Quail Hollow appearance, it's setting up quite nicely for him.
Brandon Gdula, FanDuel/numberFire managing editor: Patrick Cantlay (15-1, FanDuel) — I target Cantlay a lot, but it's for a good reason: he's really good at everything pertaining to the game of golf. Recently, he's been knocking on the door, but the individual event logs show that he just hasn't had every facet click in the same week. If it does, he has the potential to win by multiple shots even at Quail Hollow and in a field like this. Either way, he's a good betting value at 15-1 based on my model.
Rick Gehman, data scientist and RickRunGood.com founder: Viktor Hovland (18-1, DraftKings) — One of the game's best ball-strikers is going to a course that not only rewards great ball-strikers but demands it. Since Pebble Beach, seven starts ago, Hovland has gained a staggering 44.82 strokes ball-striking, per the RickRunGood.com golf database. It's the fourth-best mark in the world during that stretch and two of the golfers ahead of him (Rahm & Scheffler) aren't even teeing it up this week. In his one trip to Quail Hollow (2021), Hovland was seventh in the field in ball-striking and finished T-3.
Stephen Hennessey, Golf Digest dep. managing editor: Cameron Young (20-1, FanDuel) — It's finally time for CY to break through. Don't forget that his new caddie, Paul Tesori, knows this place as well as anybody, having looped for years for Quail Hollow member and Charlotte resident Webb Simpson. His prodigious off-the-tee game should give him another huge advantage against everyone else. And I love that he seems to play some of his best golf on classic, tough golf courses like Riviera and Southern Hills, where he boasts two of his myriad of runners-up.
Christopher Powers, Golf Digest staff writer: Cameron Young (20-1, FanDuel) — This appears to be the square play this week, but I could care less. There couldn't be a more perfect course fit for Cam Y, who had a natural letdown week at the RBC Heritage after a top-10 finish at the Masters. We know he'll drive it well, and he should hit his irons well, too, having gained on approach in six of his last eight starts. He'll be in the mix on Sunday, like he so often is, he'll just need to make some putts to finally get one.
Andy Lack, RickRunGood.com and Inside Golf podcast: Justin Thomas (22-1, BetMGM) — By JT's standards, 2023 has been his most disappointing season in years. I still have a ton of reason for optimism given the fact that his ball-striking remains intact, and what better venue to regain form than where he won the PGA Championship in 2017? Even in a down year, Thomas still has seven top-25 finishes in nine starts this season, and he has gained over five strokes ball-striking in three of his last five starts. While the biggest reasons for his struggles this season include a downturn in iron play and an incredibly shaky flat stick, he still statistically possesses the best short game in this entire field, and he is driving the ball great as well. The approach play is certainly not up to his lofty baseline, but it is still strong enough to lead me to believe he is close enough to winning golf tournaments again if he can just find himself a positive putting week.
Past results: Folks, we're heating up (again). Last week at the Mexico Open, both Brandon Gdula and our anonymous caddie cashed in on Tony Finau's victory at +850. That gives Gdula three outright wins on the season, the most of anyone on the panel. As for our anonymous caddie, that was his first outright winner of the year. As a panel, that makes it three winners in the last four tournaments on the PGA Tour schedule. Can't stop, won't stop.
Wells Fargo Championship picks 2023: Sleepers/Dark Horses Who Could Win
Caddie: Corey Conners (70-1, Caesars Sportsbook) — Another guy who loves to move it right to left and we know the form is still in there from his recent win.
Mayo: Gary Woodland (65-1, DraftKings) — It's pretty hard gaining 10 strokes tee-to-green in one of the weakest fields of the season and only managing to finish in a tie for 39th. This is what happens when you're Gary Woodland and you lose over seven strokes with your putter. Somehow, he's lost seven or more on the greens in two of his past four starts. So the hope is, he's got the bad ones out of the way. Because the driving and irons are on par with the best in the world over the past four months. There is some good news, Woodland's been on the positive side of putting in two of his past three visits to Quail Hollow.
Gdula: Wyndham Clark (75-1, FanDuel) — The designated events have largely been won by studs, with Kurt Kitayama being the lone exception through eight of them so far. For that reason, we shouldn't bank on too many long shots. That being said, Clark has the distance to get a leg up on the field at Quail Hollow, and his combined short game ranks him 38th in the field over the past 50 rounds, per datagolf.
Gehman: Hayden Buckley (130-1, DraftKings) — Buckley's driver is world-class and he piled up strokes off-the-tee. He hasn't lost strokes off-the-tee in a PGA Tour event in over 390 days. Now he's starting to put the rest of his game together and it's translating into results. He finished T-10 at the Valero Texas Open and T-5 at the RBC Heritage in his last two individual starts. Quail Hollow should be able to magnify his strengths and set up well for him this week.
Hennessey, Golf Digest: Keith Mitchell (75-1, PointsBet) — This is the perfect Keith Mitchell course: It's a long ballpark that you can attack with length from the correct positions. The Chattanooga native ranks first on the PGA Tour this season for Total Driving. He's proven to love Quail Hollow with a third-place in 2021 and an eighth-place in 2019 (last year's MC was at TPC Potomac, a far tighter, less-driver track). Mitchell's been playing some great golf, and it wouldn't surprise anyone if he's there with a chance to win on Sunday.
Powers, Golf Digest: Patrick Rodgers (110-1, FanDuel) — Once upon a time, a young P-Rodge was firmly in the mix at the 2015 Wells Fargo Championship at Quail Hollow, opening with a pair of 68s to put himself in contention heading into the weekend. He eventually finished T-2, by far the best finish of his career to that point, but was seven back of winner Rory McIlroy, who shot a course record 61 on Saturday and 69 on Sunday. The two have gone down very different paths since, but Rodgers seems to finally be recapturing the form that made him one of the most highly-touted amateurs in recent memory. That, plus some solid course history, could add up to a much-needed maiden win.
Lack: Cameron Davis (100-1, Caesars Sportsbook) — I have long been a big supporter of Cam Davis and unfortunately that second PGA Tour win has not yet come to fruition, but this is a perfect golf course for the young Australian to find success at. Of players in the 100-1 and up range, Davis is one of the few that ranks top 15 in both distance off the tee and long iron play. He's coming off an impressive seventh-place finish at the Heritage where he gained nearly eight strokes ball-striking, and now travels to a golf course that should fit his skill set to a tee.
Wells Fargo Championship picks 2023: Players We're Fading
Caddie: Collin Morikawa (22-1, BetMGM) — Is no one an answer? All the top guys are in great form, but I'll go with Morikawa only because the course doesn't easily match what he does well.
Mayo: Patrick Cantlay (12-1, DraftKings) — Cantlay's going to burn at some point this year, but that's fine with me at this number. Can't pull the trigger at this price.
Gdula: Matt Fitzpatrick (24-1, FanDuel) — Fitzpatrick is a bit overvalued due to the recent win at the RBC Heritage, which he narrowly stole from Jordan Spieth in a playoff. The tee-to-green game is dwindling a bit for him, and he's doing a lot of the work with the putter. I don't think that's enough to get it done this week.
Gehman: Xander Schauffele (17-1, FanDuel) — Fading someone at the top of the board is such a dangerous game to play, but let me make the case why Schauffele raises some eyebrows compared to his peers. We know Quail Hollow demands elite driving of the golf ball – something that Schauffele has struggled with recently. Since the start of 2023, Schauffele has actually lost strokes off-the-tee. It's a small number (0.03 per round) but still concerning considering he gained 0.35 strokes per round off-the-tee in 2022.
Hennessey, Golf Digest: Collin Morikawa (22-1, BetMGM) — Morikawa is a great fit at most courses, but distance is just too much of a prerequisite for success at Quail Hollow for me to back him. The Riviera comps are real, and he's done well there, but that's a shorter course (by over 200 yards).

Powers, Golf Digest: Tony Finau (17-1, FanDuel) — Finau was able to go back-to-back on tour last summer, but it's a little easier to do that when it's the 3M and the Rocket Mortgage. There's no Rahm or Scheffler this week, but it's still an extremely strong field at an extremely difficult golf course, so I don't see Finau going for the double dip again.
Lack: Sam Burns (25-1, Caesars Sportsbook) — It's hard to make a case for fading any of the top names this week, but from a statistical standpoint, Sam Burns actually rates out the worst for me of all players on this tier of the odds board. He still manages to win golf tournaments despite sub-standard iron play, but his missed cut equity is higher than the other elites because of this. With poor course history as well, Burns is an easy pass for me this week.
Wells Fargo Championship picks 2023: Matchups
Caddie: Adam Scott (+100) over Patrick Rodgers (DraftKings) — Rodgers' form is hard to ignore but I'll go with the former Masters champ at plus odds here.
Mayo: Max Homa (+105) over Jason Day (DraftKings) — Max Homa, currently inside the top 10 of the world rankings, who won earlier this season at Torrey Pines along with a second place at Riviera (a crossover course where he's also won), is now an underdog to Jason Day? TAKE MY MONEY!!!!
Gdula: Sahith Theegala (-126) over Shane Lowry (FanDuel) — Although Lowry's short game is lagging behind his ball-striking, Theegala isn't that far off in terms of the iron play and is actually longer off the tee. He also has the much more precise short game right now, so he has the matchup edge.
Gehman: Jordan Spieth (-110) over Justin Thomas (Bet365) — The only flaw in Spieth's game is his inaccuracy off-the-tee. While that's a concern at Quail Hollow, it's only a small concern. The rest of his game is stout and he's firing on all cylinders. Thomas has struggled to get much momentum this season and his putter routinely plays him out of contention.
Hennessey, Golf Digest: Cameron Young (-130) over Collin Morikawa (DraftKings) — The odds aren't too attractive, but I'm willing to lay it with my pick to win against my fade.
Powers, Golf Digest: Jason Day (-130) over Max Homa (DraftKings) — This line is begging you to bet Homa at plus odds. For once, I'm not going to fall into the rat trap.
Lack: Emiliano Grillo (-110) over K.H. Lee (DraftKings) — Don't look now, but Emiliano Grillo is starting to find form again, with back to back top-seven finishes at the RBC Heritage and Mexico Open. Last week at Vidanta, the Argentine gained over nine strokes on approach, and now he returns to a course where he has logged top-15 finishes in his last two appearances. I'll gladly take my chances that Grillo can continue his hot approach play and ride him in a matchup over K.H. Lee.
Matchup Results from the Mexico Open: Gehman: 1 for 1 (Grillo (+100) over Hossler); Hennessey: 1 for 1 (Norrman (-122) over Malnati); Powers: 1 for 1 (Rodgers (+130) over Clark); Gdula: 1 for 1 (Clark (-137) over Woodland); Caddie: 0 for 1
Matchup Results from this season (Wins-Losses-Pushes): Gehman: 17-7-2 (up 8.75 units); Hennessey: 16-9-1 (up 5.8 units); Lack: 11-5-0 (up 4.82 units); Powers: 13-12-1 (up 0.58 units); Caddie: 13-12-1 (up 0.27 units); Mayo: 8-15-0 (down 7.51 units); Gdula: 11-14-1 (down 4.66 units)
Wells Fargo Championship picks 2023: Top 10s
Caddie: Cameron Young (+225, DraftKings) — Same as my pick to win, Xander, and my top 10, Conners. CY hits it long and loves to move it right to left. Perfect fit for Quail Hollow.
Mayo: Sam Stevens (+1200, DraftKings) — Stevens' putting can always sink him, this we've seen. However he proved himself on the greens at Torrey Pines earlier this year, gaining 5.3 strokes putting in three rounds on the South course en route to a T-13 finish. In fact, there's been a dramatic spilt in his performance on long and short courses in 2023. On courses under 7,400 yards, Stevens missed four of six cuts with T-34 as his top result (air Pebble Beach). In four starts on courses over 7,400 yards: T-13/T-15/T-3/T-2.
Gdula: Tom Kim (+600, FanDuel) — Kim at 6-1 is a really good top-10 number and a lot better than you'll see for him at most places. Is he an ideal course fit for Quail Hollow? Not really because he's not super long off the tee. At his best, he can lead any field in SG/approach, and a putter that can run hot always gives him top-10 upside, too.
Gehman: Rickie Fowler (+360, DraftKings) — It's impossible to argue with the success that Fowler is having lately. In the last 50 tour rounds, he's gained 1.26 strokes per round – the 12th-best mark in the world, per the RickRunGood.com golf database. He's earned three straight top-15 finishes in stroke play events and has five such finishes in his last seven starts. When it comes to Quail Hollow, few can challenge Fowler's success. He's second in strokes-gained to just Rory McIlroy of all golfers who have played at least 32 rounds.
Hennessey, Golf Digest: Davis Riley (+800, DraftKings) — Coming off the win, Riley arrives at another venue that will emphasize his ball-striking prowess. This number doesn't feel like it's giving him enough credit for the team victory at the Zurich.
Powers, Golf Digest: Justin Thomas (+250, DraftKings) — JT certainly hasn't been his elite self this year, but he's still managed a few top 10s and a boatload of top-25s in 2023. He's not far off, and a place like Quail Hollow, which he loves, can flip the "not far off" switch to "very much on."
Lack: Xander Schauffele (+180, DraftKings) — I usually select players farther down the odds board at more appetizing odds, but I can't pass up on an opportunity to get some exposure to Xander Schauffele this week. The 28-year-old is having a typically consistent season, with eight top-20s in 11 events this year, including four top-fives. He embodies the same statistical profile as last season right before he broke through with back-to-back wins, and I would not be surprised if he follows a similar trajectory in 2023.
Top-10 results from the Mexico Open: Gdula: 1 for 1 (Joseph Bramlett +410); Gehman: 1 for 1 (Patrick Rodgers +260); Caddie: 1 for 1 (Emiliano Grillo +490); Everybody else: 0 for 1
Top-10 results from this season: Gdula: 9 for 26 (up 16.2 units); Gehman: 8 for 26 (up 10.6 units); Hennessey: 6 for 26 (up 4.95 units); Mayo: 6 for 23 (up 5.1 units); Lack: 5 for 16 (up 3.1 units); Caddie: 7 for 26 (up 3.4 units); Powers: 2 for 26 (down 17.9 units)
Wells Fargo Championship picks 2023: One and Done
Gehman: Viktor Hovland — I've already made the case for Hovland winning this week but let's look at this from a One & Done perspective. It's an elevated event with a massive purse, so it's worth using one of the best players in the world. When you look at the future schedule, there aren't a lot of natural fits for Hovland and you'll likely opt for others at the major championships. He's playing well, he's had success here and he's worth using in a big event.
Previous weeks: Fortinet Championship: Emiliano Grillo. Sanderson Farms Championship: Sam Burns. Shriners: Taylor Montgomery. Zozo: Sungjae Im. CJ Cup: Matt Fitzpatrick. Bermuda: Denny McCarthy. Mayakoba: Viktor Hovland. Houston Open: Aaron Wise. RSM Classic: Brian Harman. Sentry TOC: Cameron Young. Sony Open: Hideki Matsuyama. American Express: Brian Harman. Farmers: Jason Day. AT&T Pebble Beach: Maverick McNealy. WMPO: Scottie Scheffler. Genesis: Justin Thomas. Honda: Sungjae Im. API: Rory McIlroy. Players: Jon Rahm. Valspar: Justin Rose. WGC-Match Play: Cameron Young. Valero: Rickie Fowler. Masters: Jordan Spieth. RBC Heritage: Collin Morikawa. Zurich: Kurt Kitayama. Mexico Open: Ben Martin.
Hennessey: Xander Schauffele — I like our caddie's call here. He's been racking up some strong finishes, and this is the type of course he should thrive on.
Previous weeks: Fortinet Championship: Cam Davis. Sanderson Farms Championship: Denny McCarthy. Shriners: Emiliano Grillo. Zozo: Hideki Matsuyama. CJ Cup: Sungjae Im. Bermuda: Mark Hubbard. Mayakoba: Viktor Hovland. Houston Open: Jason Day. RSM Classic: Brendon Todd. Sentry TOC: Patrick Cantlay. Sony Open: Matt Kuchar. American Express: Brian Harman. Farmers: Will Zalatoris. AT&T Pebble Beach: Seamus Power. WMPO: Collin Morikawa. Genesis: Justin Thomas. Honda: Chris Kirk. API: Keith Mitchell. Players: Rory McIlroy. Valspar: Adam Hadwin. WGC-Match Play: Tyrrell Hatton. Valero: Nick Taylor. Masters: Scottie Scheffler. RBC Heritage: Jordan Spieth. Zurich: Sahith Theegala. Mexico Open: Gary Woodland.
Powers: Viktor Hovland — Hovland continues to pop in these big-time events and that shouldn't change at Quail Hollow, which should accentuate his ball-striking strengths.
Previous weeks: Fortinet Championship: Sahith Theegala. Sanderson Farms Championship: J.T. Poston. Shriners: Sungjae Im. Zozo: Hideki Matsuyama. CJ Cup: Tyrrell Hatton. Bermuda: Russell Knox. Mayakoba: Thomas Detry. Houston Open: Sepp Straka. RSM Classic: Davis Riley. Sentry TOC: Xander Schauffele. Sony Open: Gary Woodland. American Express: Cameron Young. Farmers: Taylor Montgomery. AT&T Pebble Beach: Maverick McNealy. WMPO: Sungjae Im. Genesis: Collin Morikawa. Honda: Chris Kirk. API: Will Zalatoris. Players: Patrick Cantlay. Valspar: Justin Suh. WGC-Match Play: Tom Kim. Valero: Matt Kuchar. Masters: Tony Finau. RBC Heritage: Rickie Fowler. Zurich: Robby Shelton. Mexico Open: Luke List.
Pat Mayo is an award-winning video host and producer of long and short-form content, and the host of The Pat Mayo Experience daily talk show. Mayo helped create the golf stats and research website Fantasy National along with the Race for the Mayo Cup One and Done contest. Mayo won the 2022 Fantasy Sports Writing Association Daily Fantasy Writer of the Year and is a finalist for three FSWA Awards in 2023 (Best Podcast, Daily Fantasy Writer of the Year, Golf Writer of the Year). His 27 FSWA nominations lead all writers this decade and are second-most all-time. Follow him on Twitter: @ThePME.
Brandon Gdula, managing editor and analyst for NumberFire, a FanDuel daily-fantasy analysis company, recently won the 2018 FSWA Golf Writer of the Year. Gdula also co-hosts the DFS Heat Check podcast. Follow him on Twitter: @gdula13.
Rick Gehman is the founder of RickRunGood.com and the RickRunGood YouTube Channel, is one of the industry's leading experts on golf DFS and gambling. Gehman is co-host of the First Cut Podcast and appears regularly on the Pat Mayo Experience golf podcasts. Follow him on Twitter: @RickRunGood.
Andy Lack is a PGA Tour writer and podcaster from New York City who now resides in Los Angeles. He hosts Inside Golf, a twice weekly podcast focused on the PGA Tour, betting, daily fantasy, golf course architecture, and interviews, as part of the BlueWire podcast network. As well as contributing to Golf Digest, Andy is also a data analyst and writer for RickRunGood.com, where he covers PGA Tour betting and daily fantasy. He came to Golf Digest's betting panel after previously writing for Golf.com, the Score and GolfWRX. In his free time, Andy can likely be found on a golf course. Follow him on Twitter: @adplacksports