Tribute
Why players and caddies are wearing black ribbons this week at the Wells Fargo Championship
At the Wells Fargo Championship, Tommy Fleetwood is one of several honoring the memory of former tour pro and caddie Lance Ten Broeck by wearing black ribbons after his passing last week.
Eston Parker/ISI Photos
The last of Lance Ten Broeck's 355 PGA Tour starts came in 2010 at the Mayakoba Golf Classic. He never won an official tour event and was hardly a contemporary of any of the top players on tour today, but his unique place in the golf world is being remembered this week at the Wells Fargo Championship.
Players and caddies have worn black ribbons on their hats all week at Quail Hollow in Charlotte to honor the Illinois native and former University of Texas golfer who died last Sunday in Florida at age 67. According to the Palm Beach Post, Ten Broeck died of organ failure after battling health issues for two years.
"It's sad obviously, but he had been a little unwell for a while," Adam Scott said. "I had a lot of fun times with Lance early on in my career. It was many moons ago, but I always got along well with him, fond memories."
Ten Broeck played his first full season on tour in 1980 and over his career earned $790,347. He was the winner of the 1984 Magnolia Classic, the predecessor to today's Sanderson Farms Championship, but because the event was played opposite the Masters that year and the PGA Tour did not recognize those events as "official," his best career finish technically speaking was a runner-up to Dillard Pruitt at the 1991 Chattanooga Classic.
As his playing career sputtered, Ten Broeck turned to caddieing when Jesper Parnevik needed a loop in 1999 at the Greater Greensboro Open. That week the team claimed victory, and Ten Broeck continued also to work as a looper for several years later. He even famously played and caddied in the same event at the 2009 Valero Texas Open.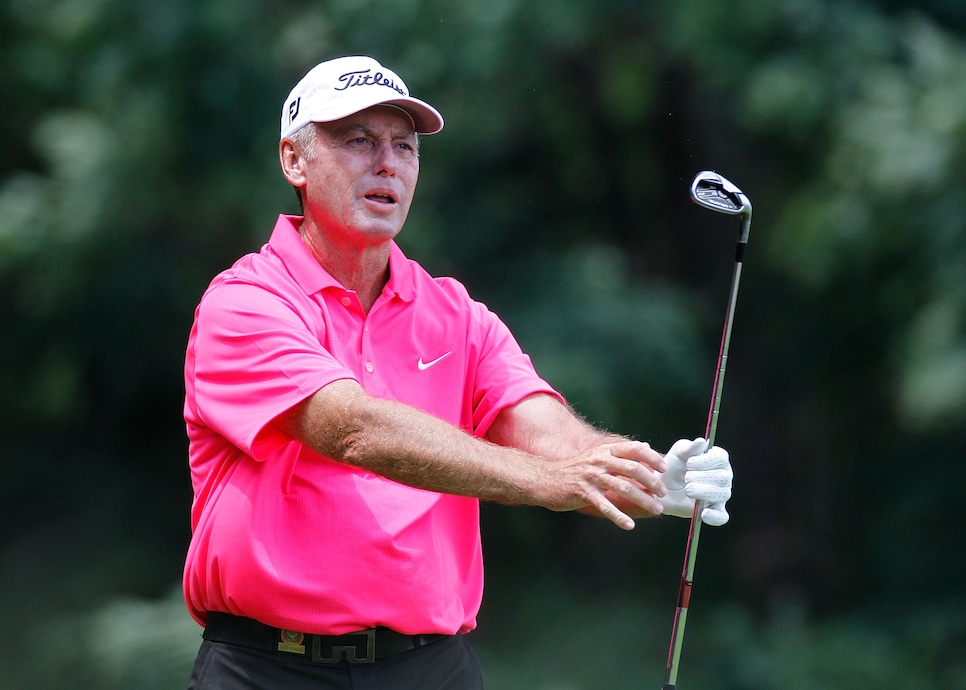 Lance Ten Broeck made 355 PGA Tour starts during his career, but never won an official event.
Gregory Shamus
Ten Broeck's laid back persona and eccentric ways are something that have become appreciated over time.
"I met him once or twice," Tommy Fleetwood said on Friday. "I actually didn't know him as well as a lot of the other guys and I didn't have the opportunity to spend that much time with him, but very cool guy and a great story and obviously loved the game."