Wells Fargo Championship
Wyndham Clark and Xander Schauffele ride the 'energy bus,' put up scorching rounds at Wells Fargo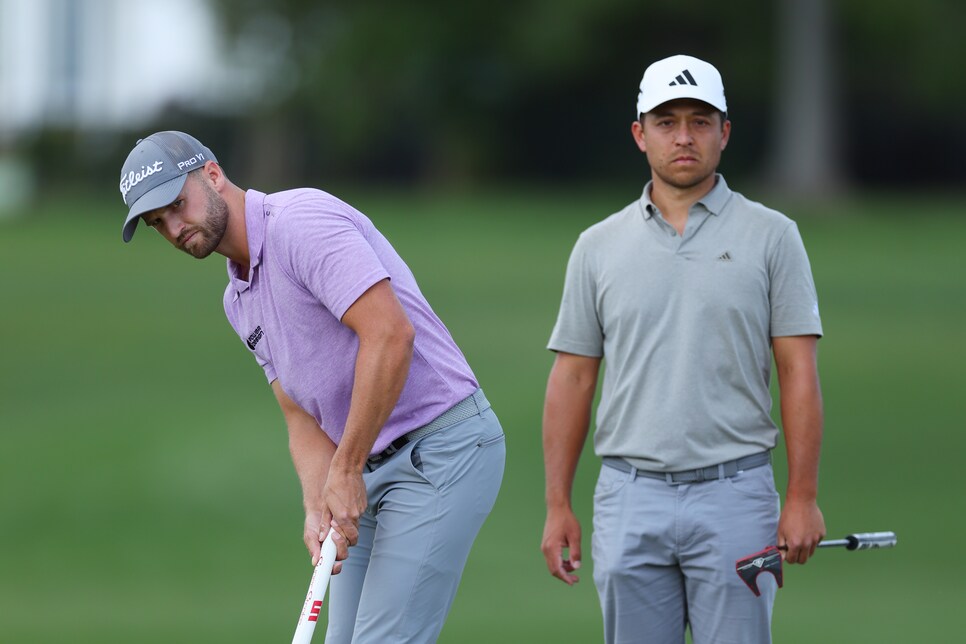 CHARLOTTE — "The Energy Bus" is a bestselling self-help book by Jon Gordon which purports to teach you "10 rules to fuel your life, work, and team with positive energy." It also happens to be the most important of the books Wyndham Clark has been reading this year in an attempt to rescue what has been, by his own admission, a disastrous on-course mindset.
"It sounds kind of lame," Clark said, repeating the title for curious reporters, "but actually it's a really good book."
We can say this for certain: There was nothing lame about Clark's Saturday at the Wells Fargo Championship, where he shot a bogey-free 63—and nearly went 18-for-18 in greens in regulation—to vault from the second-to-last group into a commanding lead at 16 under. His was the best round of the day, and the second-best belonged to Xander Schauffele, his playing partner, who nearly went toe-to-toe with Clark in shooting a 64, leaving him two shots off the lead. The red-hot pairing, shooting a theoretical best-ball 60, leapfrogged Tyrrell Hatton and Nate Lashley in the last group to put those two and the rest of the field in the rearview mirror, with Hatton and Adam Scott closest at 11 under. On Kentucky Derby day, Clark and Schauffele may have turned the Wells Fargo into a two-horse race.
When trying to pinpoint what Clark did well on Saturday, you're forced into a glib answer: everything. He poured in birdie putts of 22, 9, and 11 feet to finish fourth in strokes gaines/putting for his round, stayed all over the pin with his irons to finish third in strokes gained/approach, and was also third in strokes gained/off the tee. When he did make an error with his driver, it was to hit the ball almost too well:
For Clark, his torrid play of late can be attributed to a sorely needed attitude adjustment.
"I'd say I wasn't as good of a player as I am now," Clark said of his past chances to win on tour. "I also think mentally, I was a lot more impatient and fragile out there. I'm excited to see how I handle the pressure tomorrow. It's going to be a fun challenge. Obviously it's going to be tough. I've got one of the best players in the world right behind me and a bunch of other good players."
As Clark explained, the energy bus is about how to frame events in your life in a positive way while flooding yourself and those around with positive energy, which is essentially the opposite of his previous approach. Even when he was playing well, he'd let frustration overcome him, to the point that those around him, including his caddie John Ellis insisted that he make a serious effort to change.
"This time I kind of went all in," he explained. "I was very frustrated with playing good golf but not getting the results. I said, all right, this is kind of the last straw for me."
He's already notched three top 10s in 2023, and on Sunday he'll have an opportunity to finish out the best tournament of his life.
Standing in his way, for the second straight day, is Schauffele, who shot the day's second-best round and needed every bit of it to stay within hollering distance of Clark.
"Monkey see, monkey do is definitely a thing that happens out here," he said with a smile after his round. "It's just one of those things out here, I feel like I've said it before in interviews, you just see someone doing it. Fortunately, it was the guy next to me that I played all day."
Schauffele went out in 32, but after a bogey on 12 he had started to fade in the presence of Clark's supernova. At that point, he caught fire himself, hitting an approach to tap-in distance on 14, burying a 12-footer on 16, and pouring in this eagle on 15:
Only a missed 11-footer for birdie on 18 kept him from creeping to within a shot of Clark, and with that closing stretch, he at least made his opponent pay attention.
"I birdied 13 and I was kind of steady Eddie," Clark said, "I think that kind of got him to where he's like, all right, I'm now three, four back, I've got to put the pedal down. I think that's kind of what happened, I think he got maybe a little more aggressive. I thought Xander was going to birdie in."
Beyond their group, it was a low-key, almost sleepy affair at Quail Hollow, with plenty of scores in the 60s on a very approachable day. Beyond Scott and Hatton, three players lurk at 10 under, six shots behind Clark, including Harris English, Tommy Fleetwood and Sungjae Im. Brendon Todd, in the midst of his latest career surge, turned in the third-best round on Saturday, shooting 65 to play himself into contention at nine under, while a large group that includes Max Homa and Lashley are a further shot behind. Lashley, one of the 36-hole co-leaders, will walk away with the most regret after an even-par 71 that simply wasn't good enough on a true moving day.
It's a formidable chase pack, but Clark and Schauffele have distanced themselves sufficiently that even a solid round should keep them far away from their pursuers. And as life-changing as a win would be for Clark, it would also put Schauffele back in the conversation when it comes to the game's elite golfers; a conversation that has somewhat excluded the World No. 5 in a year dominated by Jon Rahm, Rory McIlroy and Scottie Scheffler.
"I hope we do the same thing tomorrow," Clark said, surely speaking for both, "because it was a lot of fun. "
As long as they stay on the energy bus, the next stop is a big trophy and an even bigger paycheck.