Wells Fargo Championship
Wyndham Clark missed an incredibly rare statistical feat by mere inches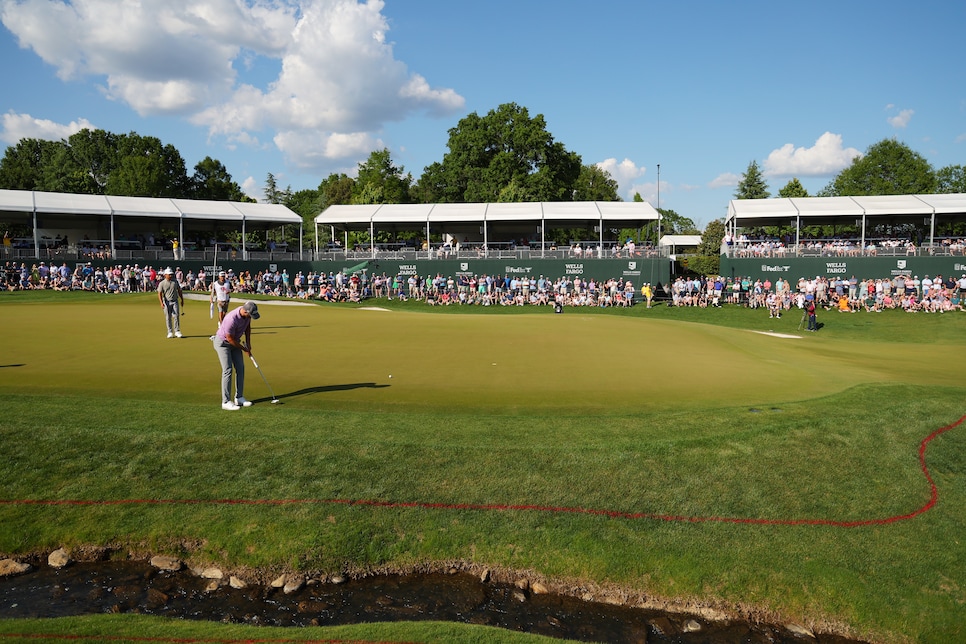 Wyndham Clark stood on the 18th tee Saturday at Quail Hollow after hitting 17-of-17 greens in regulation.
Kevin C. Cox
CHARLOTTE — Wyndham Clark had himself an incredible day on Saturday at the Wells Fargo Championship, tearing up Quail Hollow to the tune of 63, and moving into first place in the process. He'll start the final round two shots ahead of his playing partner, Xander Schauffele, trying to make his first PGA Tour win an elevated event.
In the midst of that ridiculous round, an interesting trend began to develop. After nine holes, he had hit nine straight greens in regulation. When he drove into the right dirt on 11, it seemed like the streak was over, but he pulled off a terrific recovery to find the putting surface. After that, it was a clinical display for six holes, with the GIR never in doubt for a moment. He stood on the 18th tee on a 17/17 streak, and while it may come as a surprise, hitting all 18 greens is actually rarer than an ace:
Clark's drive was perfect—left side of the fairway, 308 yards. That left him 171 yards to the pin, and he hit his approach 173 yards.
The bad news? It was left. It wasn't clear how far left, and it seemed like it had a chance to stay on the green. When it landed, it still wasn't clear, to the fans or the CBS broadcast team. The camera zoomed in, and this was the result, ending 17 feet from the pin:
The official ruling? Fringe! No green! No GIR!
That's brutal ... if you care about such things. Which, as he made clear in his press conference, Wyndham Clark did not.
"I mean, no, I wasn't thinking about that," he said, when asked if he was aware of what he almost accomplished. "I was more thinking I just hope that ball's not going in the water ... the only stat I care about is where I finish at the end of the tournament."
Fair enough, Wyndham, but for a feat so rare, we'll care for you.