Wells Fargo Championship
Rickie Fowler's record-setting bogey, Rory McIlroy's solid start and a hometown boy does good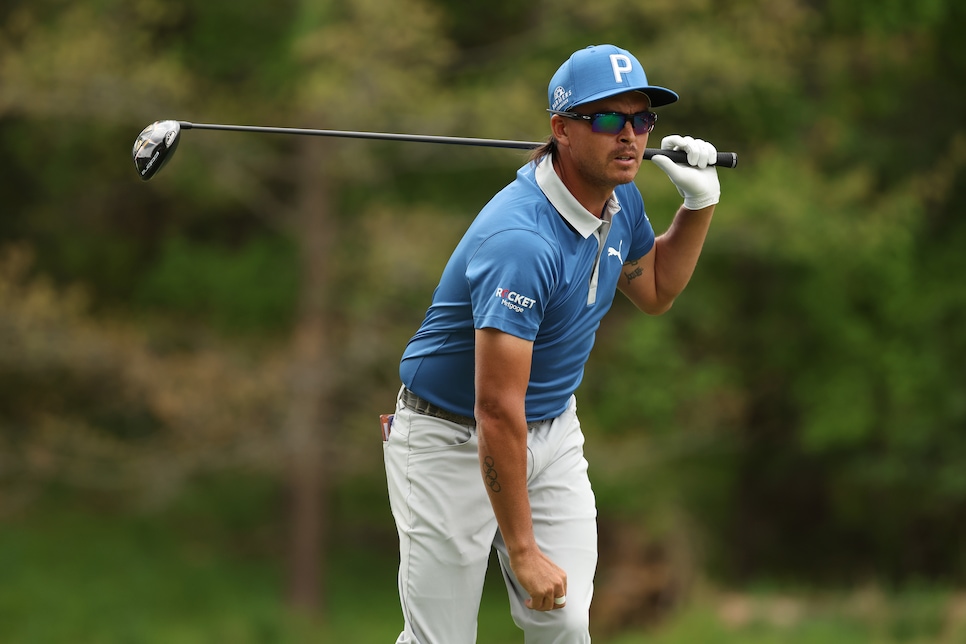 Thursday was not short on fireworks. There were bright bangs from Jason Day, Matthew Wolff and Rory McIlroy, along with a someone-knocked-over-the-cannister-and-the-bottle-rocket-hit-dad's-Camry mishap of Sergio Garcia as the Spaniard was caught on camera saying "I can't wait to leave this tour" after a ruling didn't go his way. Lost in the booms was the work of local boy Denny McCarthy, who provided plenty of colorful flashes of his own on the way to a five-under 65 Thursday at the Wells Fargo Championship.
"Yeah, it's an exciting week," said McCarthy, who grew up in the Washington, D.C. metropolitan area. "There's been a lot of build-up to today's first round, and I was just excited to kind of get out here and get on the course in the morning. It's probably … there's a little stress and tension leading up, but once I get on the golf course I feel really comfortable. It was just a great day. I felt really comfortable out there, was seeing the lines on the greens, was seeing the shots from the fairways and I just had a really good clear committed picture all day."
McCarthy has enjoyed a prosperous run in his five years on tour. He is widely regarded as one of the best putters in the game, and that short-game prowess was on display in Round 1 racking up more than three strokes over the field in strokes gained/putting. But his irons … well, the irons need work, entering the week 128th in approach (after finishing 174th in the category last season). Though McCarthy is undoubtedly a solid player, the second shots are what's holding him back from being something more.
On Thursday, his irons got the job done, hitting 14 of 18 greens and just as importantly keeping the big numbers at bay.
"I was seeing the shots clearly and I was making good, committed swings," McCarthy said.
Given he's yet to win on tour, and all the goodies a theoretical win would bring, it's easy to wonder what could be in store this weekend against the backdrop of family and friends. With a larger-than-usual contingent following his every step McCarthy admitted afterward his Thursday morning felt like Sunday afternoon. "I think that's only a good thing, I felt really comfortable," he said. "If I'm in that spot on Sunday, I got a little taste of it today, honestly. There was a decent amount of people following and I could feel the energy. I think that's only going to bode well for me."
Also helping: home-cooking. McCarthy said his mom had burgers on the grill earlier in the week with steak, crab cakes and salad Wednesday evening. McCarthy didn't know what was on tap for Thursday night—"She likes to change it up a little bit, but usually her meals are pretty darn good, so I'm excited for her surprise"—but we guarantee this: There will be one mighty barbecue should McCarthy earn his breakthrough at TPC Potomac.
Three other takeaways from Thursday's action at the Wells Fargo Championship.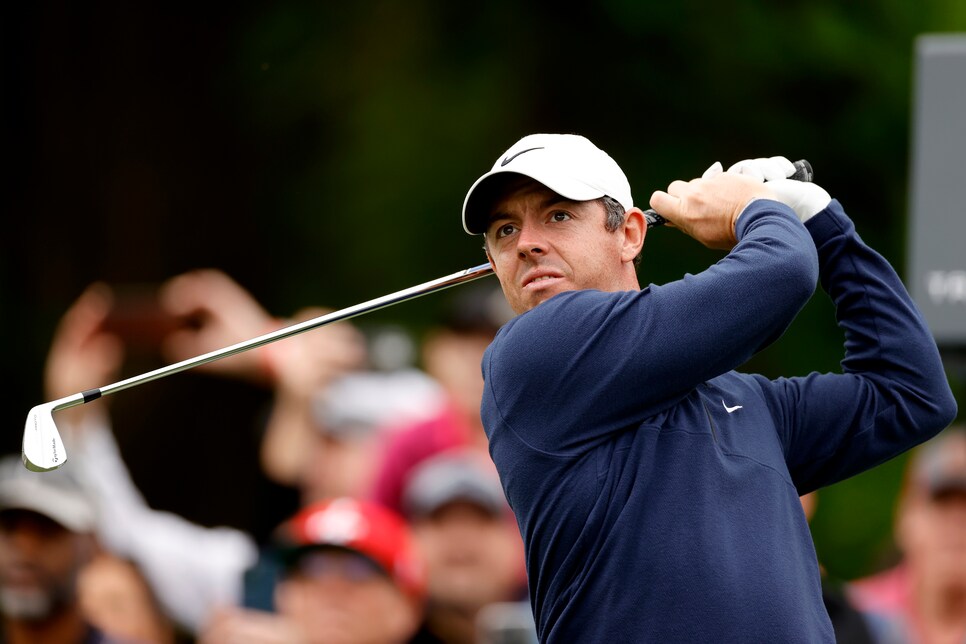 McIlroy is the tournament's defending champ, although that title feels a little off considering the event has moved from its usual locale of Quail Hollow Club in Charlotte, N.C. Conversely, despite the temporary D.C. digs, McIlroy seems at home at TPC Potomac, making five birdies in his first six holes to post a first-round 67.
Truth be told, it felt like it could have been lower. McIlroy three-putted the 17th hole (his eighth) and made double at the fourth thanks to a water-bound tee shot. In that same vein, as McIlroy asserted, it's his first event after a three-week sabbatical so a little rest is expected.
"The three-putt on 17 was an unforced error. I mean, 11's a tough hole, I got a bit of a flyer from the semi rough and made bogey, but you sort of accept that and deal with that," McIlroy explained. "I'm still pretty happy with 67. It could have been a 65 or a 64, but it's still a good start."
Rather than focus on what could have been, McIlroy found pride in bouncing back from his mistakes, rolling off four consecutive birdies after the bogey at the 11th and two straight birds after the double at the fourth.
"Over the course of a tournament you're going to have, you're going to think about shots that you could have held onto, but I think at the end of the week it all sort of evens out. I can't be too disappointed," McIlroy said. "What did I have, five or six holes, five holes left [after the double.] I think I said just play the remaining holes in two under par; if you can do that, it will still be a good day."
"Good bogey" is an oxymoron, save for U.S. Open week. And with all due respect TPC Potomac won't be confused for Pinehurst No. 2 anytime soon. We say that to say this: Rickie Fowler made a damn good bogey Thursday.
Fowler, whose struggles have been well-documented, appeared to get his week going in the wrong direction Thursday, hitting his tee ball into the native area on the par-4 sixth with his third following suit. Though he was able to find his second ball he could only advance it 50 yards, leaving 130 yards and change for his fifth. Fowler would need to scramble to save double and was staring down a triple.
So, naturally, Fowler walked away with bogey 5 thanks to this:
If Fowler's feat seems rare, that's because it is. According to the PGA Tour it was the longest recorded bogey hole-out in the ShotLink Era.
"Actually had a little bit of mud on the ball from hitting in the hazard and played it perfectly," Fowler said. "It drifted right for me and I was just hoping to make 6 and get out of there, but 5 was a bonus."
Better yet, it proved to be a catalyst as Fowler played his final 12 holes in five under (four birdies, a bogey and an eagle) for a four-under 66 to find himself within shouting distance of the lead.
Given his aforementioned time in the wilderness, Fowler needs a good performance in the worst of ways, entering the week 133rd in the FedEx Cup. The golf world has been waiting for signs of revival from Fowler; perhaps his magic at the sixth proves to be long-awaited turning point.
"Yeah, obviously still going through—working on different stuff to ultimately be in a better spot," Fowler said. "So lot of good stuff, just trusting. And yeah, there was a couple that were a little offline and cost me a little bit early in the round, but other than that, a lot of good stuff. Definitely happy with today."
Joel Dahmen is one of the few tour pros to consistently rock the bucket hat. Alas, it is an ensemble that may be nearing its end.
OK, that is pure speculation on our end. But Dahmen should consider a permanent switch to a baseball cap after a six-under 64 Thursday, highlighted by a tour of the front nine in just 29 strokes.
"[My caddie] went a little quiet on me actually," Dahmen said afterward. "Yeah, It was like a no-hitter out there. [Jason Dufner], I played with Duf, he doesn't chat much anyways, and Patrick Reed was kind of doing his own thing. So after I bogeyed 11, I missed kind of a short one for birdie on 10 and then everything was kind of normal after that."
Well, not normal; Dahmen birdied the final hole and finished first in strokes gained/approach. Which warranted … no, begged the question from Golf Digest writer and bucket-hat connoisseur Dan Rapaport: Does Dahmen keep tracking of how he scores in a baseball versus bucket hat?
"That is one for, what, [status guru] Justin Ray or something out there? That's one for someone else out there," Dahmen said. "Yeah, the bucket hat, actually the brim got screwed up this week so it is just super wonky, so actually I have it underneath a couple heavy books at home to just flatten it out. Hopefully the weather's good enough to wear it this weekend, but hopefully it'll actually flatten out. It was too wonky for even me to wear, so that's saying a lot."
Listen, far be it from us to tell a grown man how to dress. But for the sake of your game, Joel, keep the bucket on the sidelines this weekend.