A HAPPY WOLFF
Matthew Wolff says he's not here to win (seriously), but it just might happen by accident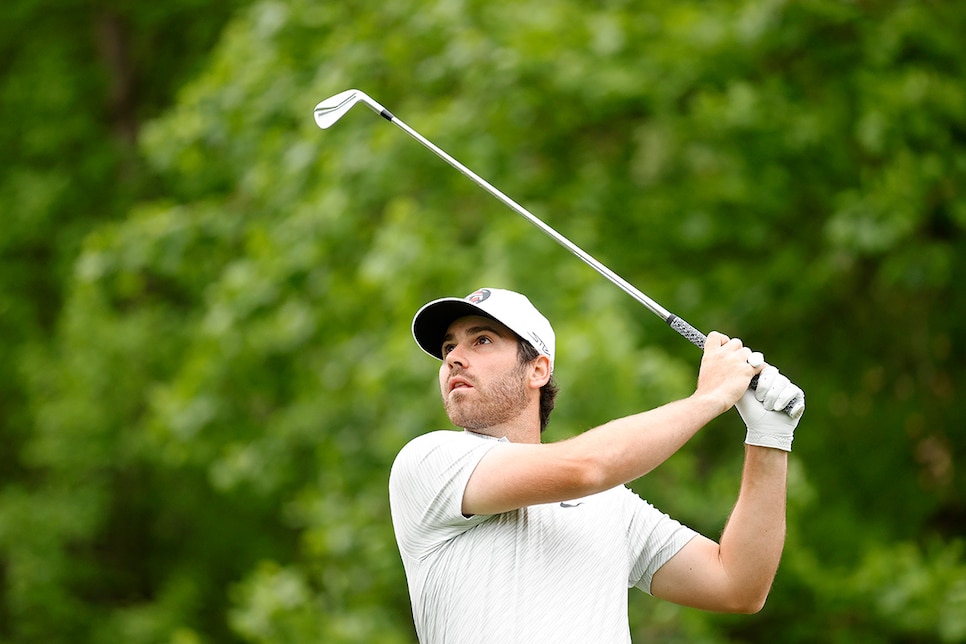 POTOMAC, Md. — Matthew Wolff is not here to win the Wells Fargo Championship. These are his words, not ours.
"To be honest—it's funny," the 23-year-old said after a five-under 65 at TPC Potomac on Thursday that had him tied for the early lead. "But I'm not here to win a golf tournament, I'm here to have a good time."
Call it the anti-Tiger mindset. Just as no one swing fits all, no one mindset caters to the myriad personalities that comprise the 200-plus players on the PGA Tour. Woods and Wolff, the first two letters of their last names aside, are polar opposites. Woods is quiet between the ropes, singularly focused on eviscerating his competition. Wolff is a chatterbox, constantly reminding himself of how good his life is no matter what he shoots.
You likely know this by now: Wolff took an extended break from the game after the 2021 Masters to address issues of mental health. His play was defining his happiness. He simply wasn't enjoying the life he'd always dreamed of living. Two years earlier, he'd shot to stardom with a sui generis swing, an infectious smile and a win in his third start as a professional just three months after his 20th birthday. He, Viktor Hovland and Collin Morikawa comprised the vaunted Class of 2019, adding three young superstars to the PGA Tour landscape. And while those players' climb has remained linear, Wolff's has hit a couple snags.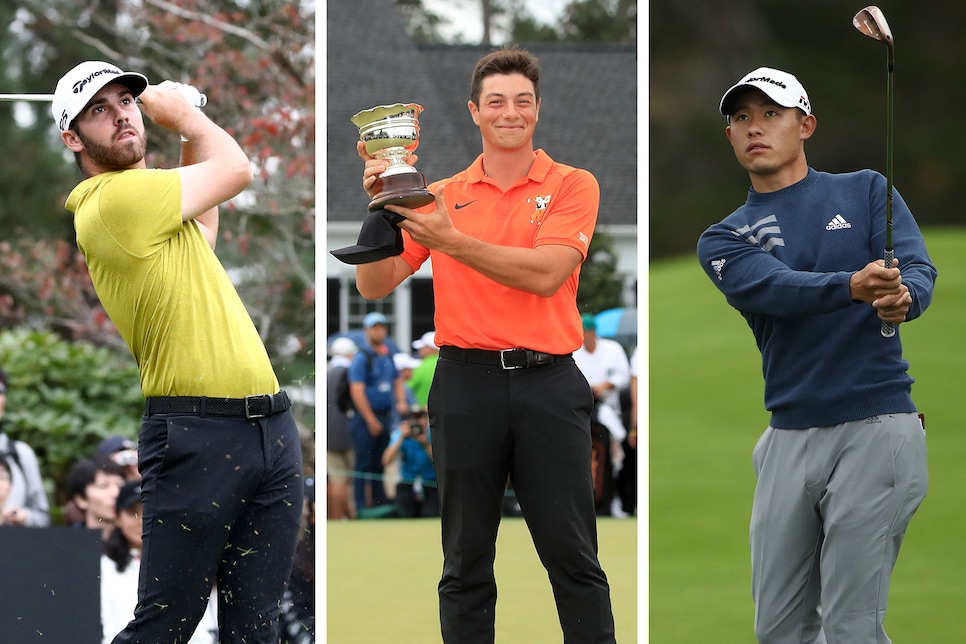 Matthew Wolff, Viktor Hovland, Collin Morikawa
Getty Images (3)
"I think coming out with Viktor and Collin, they're really good friends of mine and I think all the success they've had is great and I'm very happy for them, but I think just like getting put in that group and everyone talking about everything that I could do with the golf ball or all my skills—I just felt like there was so much pressure and so much expectation around me that it was just really hard to live up to," Wolff said.
So Wolff stepped away for a few months before returning at the U.S. Open with an unfettered attitude and a new outlook on life. But mental health is a journey, not a destination, and good play in the fall of 2021 masked continued internal struggles. Wolff came to realize that his sulking and brooding didn't just impact his own play; it rubbed off on his playing partners. And that, to him, was unacceptable.
"Just looking back on it, I think it's happened a couple times and I wish I could go back and reverse it and I feel terrible," he said. "Like I said, I never want to affect anyone else, and I was obviously affecting myself a lot. But just the fact that I knew that kind of with my shoulders down or anything that I was struggling with, it was—it's hard to play good when you're playing with someone who's like that. Like I said, I wish I could go back and redo what I did, but the only thing I can do now is from here on forward is just try to do my best to not have that attitude. If I let it affect myself, that's one thing, but if I let it affect someone else, then that's unacceptable."
That sobering realization prompted some harsh self-evaluation. Change was necessary if he was to shake his reputation and become the man he wants to be.
"It's been a lot of different stuff," Wolff said. "I don't really like to read, so audiobooks a little bit more than reading. Just talking with the people that have been closest to me, the ones that have supported me the most. Kind of knowing and understanding that when people tell me, you know, about how good I am or something like that—not how good I am, but just like just the support that I have, I kind of turn the support into maybe more pressure, or I don't need to turn it into more pressure because they just want to see me happy at the end of the day … I'm on the PGA Tour, I'm 23 years old. And I know I've struggled, but I know everyone in the world would probably trade places with me, so I need to start learning to enjoy myself and realize how good I have it."
The California native/Florida resident has removed all expectations from his process—which is good, because the results he's had this year wouldn't satisfy even the most generous ones.
His six starts on the PGA Tour in 2022 have produced three missed cuts, a 64th, a T-61 and a T-60. Just last week, he played a round at his home course and "lost every ball in his bag." His trip around the back nine Thursday at TPC Potomac, which he made in four-under 31, was the first time he'd ever played those nine holes. Again, this isn't exactly textbook preparation, but everything about Wolff buffs convention. And while he says he's not here to win, should he continue accomplishing his other goal—simply having a good time—a W could well happen by accident.