POTOMAC, Md. — The Premier Golf League re-entered the chat with a publicly leaked letter on Wednesday, reminding golf fans that Greg Norman's Saudi-backed venture isn't the only upstart circuit hoping to loosen the PGA Tour's grip on professional golf. Both the PGL and LIV Golf Investments envision a landscape where the world's top players can compete on multiple tours. But those golfers outside the PGL/LIV Golf scope—your "rank-and-file" players, so to speak—believe there are already two tours at the elite level.
"I joke with Kevin Kisner that I'm always home [in Aiken, S.C.] when he's playing majors and WGCs, and he's always home when I'm playing in regular tour events," says Matt NeSmith, a third-year PGA Tour member who is No. 175 in the World Ranking. "There's absolutely an A-tour out here and a B-tour out here."
A-tour guys hand pick their schedules, star in commercials and play in featured groups. Rory McIlroy, Brooks Koepka, Dustin Johnson, to name a few. B-tour guys take their starts where they can get them, sign modest deals with companies you've never heard of and have the first tee time off No. 10. The divide between A-tour players and B-tour players has been spotlighted by the recent talk of breakaway tours, which hope to entice A-tour players with massive guaranteed paydays—and by discussions about the future PGA Tour schedule.
Speaking generally, A-players want a defined offseason, which would give them the freedom to take a few months off after the Tour Championship in August without worrying about beginning the next calendar year too far behind in the growingly lucrative FedEx Cup. They want to start their seasons in Hawaii in January, as the tour did for decades before switching to a wraparound season for the 2013-14 campaign. These players hold significant sway on tour given their stature and the attention they bring to the sport. As such, there's been a push to reimagine the fall season, which currently features nine events that all carry full FedEx Cup points.
In recent months, a number of different proposals that could go into effect as early as the fall of 2023 have been dissected at Player Advisory Council meetings, most with one commonality: divorcing those fall events from the FedEx Cup race. Being discussed is an idea where the tour establishes a fall mini-series for the biggest stars, with those not qualifying for them playing in separate fall events to improve their standing on tour. Or the tour could continue staging its current fall tournaments but not have them count toward any season-long points race.
While appealing to elite players, a bunch of the rank-and-file guys, however, simply aren't down with that, which is what's making the discussion about how to handle the fall so tricky. These rank-and-file players view the fall season events as vital for their job security as well as a crucial avenue for up-and-comers to establish themselves on tour. They want more playing opportunities, not less.
Differing opinions have turned some discussions about the fall "rather contentious," according to one source familiar with proceedings. "Excluding 25 guys, it's one of the most important parts of the year," NeSmith says. "It's helped me keep my card the last three years. If guys don't want to play, that's their choice. They don't have to play. The option's there. I get it—we all want an offseason. I want an offseason, too. But it's our job. It's what we do. It's our livelihood. If you want to be out here, it's part of it.
"Is playing three events in five months that difficult?" NeSmith asks, somewhat rhetorically. "I'll always advocate for the Korn Ferry guys and the rookies. They need those starts, and they need those starts to count."
The job, then, for the tour's leadership is to find a middle ground that works for both sets of players. The good news for NeSmith and Co. is they've got a willing listener at the top.
"You've got 200-whatever members that you're trying to keep everyone somewhat happy," says McIlroy, former chairman of the Player Advisory Council and one of four players on the PGA Tour's policy board. "I guess it's sort of trying to find a balance of that. It's hard. it's very hard for me to stand here and say I'd like all the fall events to go away and play three or four of these suggested tournaments that they're thinking about because that's good for me, but that's not good for the entire membership."
LIV Golf's challenge to the PGA Tour has gifted the top players leverage, and the PGA Tour has had no choice but to respond with additional dollars—some that's being distributed across the spectrum of players, but the bigger increases going to the stars.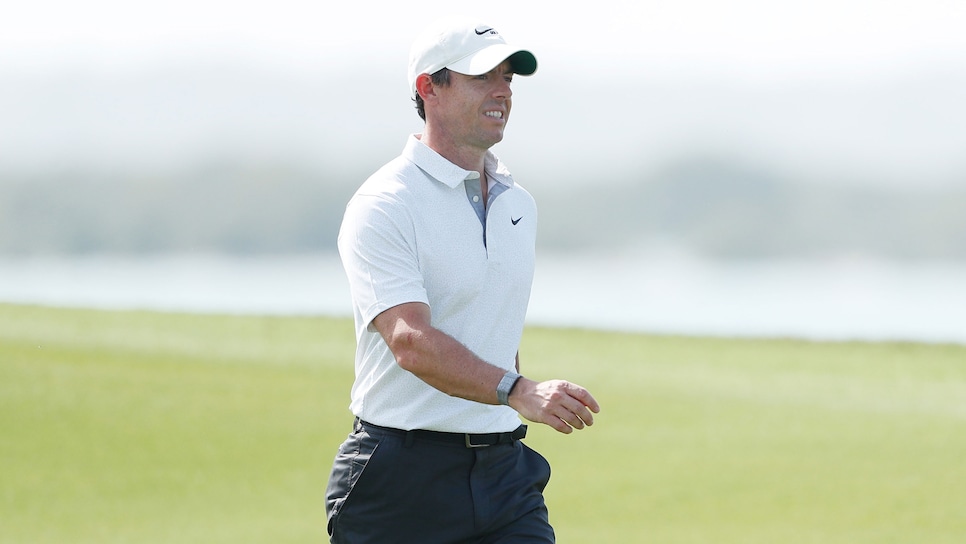 Rory McIlroy says that with many new programs on the PGA Tour benefitting top-ranked players, the fall schedule is one where the interests of other groups might need to come first.
Oisin Keniry
"I have to try to look at things that are going to benefit the entire membership and the entire tour and not just what benefits me or the top players," McIlroy says. "I think there's enough programs in place that benefit the top players right now, PIP program, the Comcast Top-10, the FedEx Cup bonus, all of those things are designed to funnel more money into the top players' pockets. You play the best and the cream should rise to the top by the end of the year. That's why Comcast Top-10, FedEx Cup bonus money is so high. And then you add the PIP in there for the people that make the biggest impact on the Tour.
"So I think the top players, we've gotten a lot of things our own way the last couple years and
I think for us to talk about just taking the fall events away for the guys that sort of need them
and need those opportunities would be very, very selfish. It's a delicate balance. It always has been on the tour with a membership that's this big because you're trying to accommodate so many different people and so many different scenarios. So it's hard for me to sit here and say this is the way I would like the fall because the way I would like the fall probably isn't the common consensus among the membership."
Only there is no common consensus; that is what's making the process difficult. Perhaps, as is often the case with negotiations, the best solution is not one that pleases everyone—it's the one that leaves all parties the least upset.